Good-bye to Vienna and Good-bye to Austria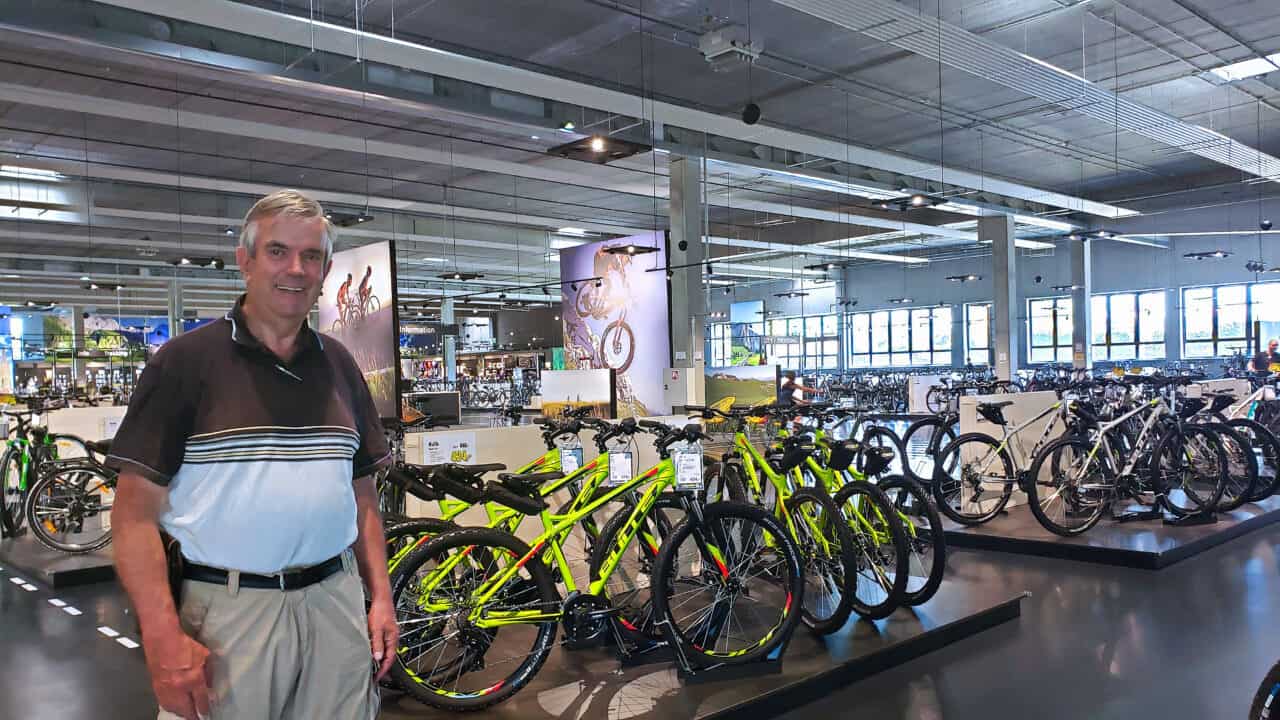 This article is largely about our time in the areas surrounding Vienna. A lot of our time has been spent on our bikes and I recently posted an article about a typical day on the bikes. What you probably don't know is that we just went through a week where I had 5 (or 6) flat tires, 2 new inner tubes and a lot of worry. After the first and then the second flat tire, Mike blamed me for looking for rocks and sharp edges to ride over. After all, it's a bike….it only has two wheels. How can it get 6 flat tyres in one week? By the third flat tire, he figured that something else had to be happening. One day we had driven to a train station and unpacked our bikes from the car when we discovered that I had yet another flat tire. The train was due in five minutes, so we decided to roll the bike onto the train with the flat tire and fix it at the other end. Mike was getting to be an expert at patching my tire by this point and we carried everything we needed with us. It was an extremely hot day and 25 minutes later we were still standing on the platform under the blazing sun waiting for the train. We eventually discovered that this station had been closed due to an accident between a truck and a train at 7 AM that morning. The ticket machine had sold us a ticket for a train that was never arriving. They might have announced this on the speakers on the platform but due to our lack of German we don't know if they did or not.
Based on the locations of the punctures Mike thought that there might be something sharp on the inside of the tire between the tire and the inner tube. He says that he always checks the inside surface of the tire at the point where he patches the inner tube. He does this feeling and rubbing the inner surface of the tyre and by inspecting the outer surface but he never actually found anything. Nonetheless, I have now gone a full week without another flat, so maybe he fixed the issue without knowing it. Sitting on the platform Mike started fixing the tire and had a few more problems than usual. After an hour in extremely hot weather the tire exploded! Mike's temper probably wasn't much better at this point. It wasn't our best day. We did return a few days later, use our train ticket and get in our last ride in Austria before heading for Slovakia. During the course of that last ride, Mike also helped another cyclist who was standing beside the road with his bike which had a flat tire. The guy was very appreciative.
During our investigations into this problem and an issue I had with my rear brake we discovered the largest bike store in Austria. They tell us that their main store in Germany is even larger. Mike was fascinated with this store.
On one of our rides, while biking next to the Danube, we ran into a problem. Our bike route had us crossing the river but there was no bridge in sight. There was a small floating restaurant where we expected the bridge to be. We stood there checking our maps and found out that there was no bridge anywhere in the area at all. We would need to turn around which would make for a much longer and less interesting ride than we had planned. While figuring all this out we saw a small pontoon boat leave the restaurant and noticed that the boat had a couple of bikes on it. It turns out that this small boat was the ferry across the river. You had to walk through the restaurant to board it and, as far as we could tell, there were no signs anywhere advertising this fact.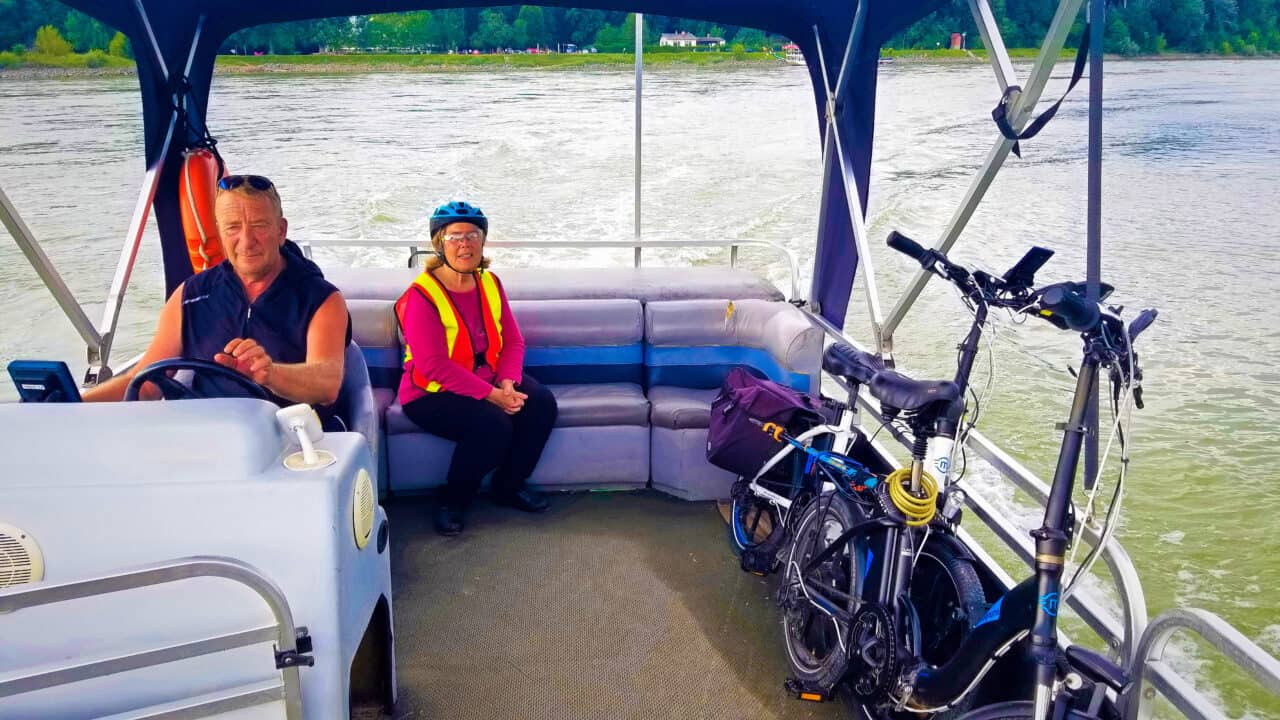 As many of you are aware, almost a month ago, my laptop power switch quit working and the fan went on the blink. We have kept it running by partially taking the laptop apart every time I need to start it and using some electrical device of Mike's to start it. I posted a picture of Mike doing this ages ago. We are still doing this multiple times a day as, due to the fan problems, we dare not leave the PC running when I don't need it. This starting procedure isn't precise and doesn't always work very well. We have had major concerns a few times and at one point dislodged one of the wires elsewhere in the laptop which stopped the screen from displaying anything. I spent ages trying to order a PC in Austria with an English keyboard. I even sent a note to the GM of Dell Austria which didn't help very much. I talked to HP and Dell and finally found a manager at Dell that helped me. Supposedly my new PC is now on order, but I don't know when it will arrive. I am guessing that we will have left for Slovakia before it gets to Vienna and we will have to drive back for it. I will be so pleased to get one that I am not petrified will completely die at any time. Last night we were playing cards over the internet with friends in Canada. At one point they asked what the strange noise that they were hearing was. It was the fans on my laptop acting up. The fans were loud enough to be heard in Canada! Please, just let it live a few more weeks.
Note: Here is a later update on my PC. Before ordering, I had been told that we could expect the PC in 2 – 3 weeks. On the optimistic side, 2 weeks put it at Sept 3. On Sept 2, I found out that the new estimate for it arriving in Vienna was now Sept 16. My guess is that we will still be in Slovakia at that point but quite a long way from the border with Austria. It doesn't matter, when it arrives, we will be driving to Vienna to pick it up, even if it involves a very long drive. Mike has also ordered a new side window for RV from the United States to be shipped to Vienna and we have no estimate at all for its arrival. Having an address to use for shipments scheduled to arrive at future dates is definitely one of the problems when travelling. Amazon doesn't work quite so well when you keep moving around.
On a more interesting note, one day we drove to the Schloss Esterhazy. The Esterhazy's were part of the royalty in the Hapsburg Empire. We signed up for an English speaking guided tour. The tour group consisted of a Turkish woman currently living in Hungary with her young daughter, Mike, and me. This is just another example of how hard the corona virus has hit the tourism industry. One of the rooms we toured is now called Haydnsaal after the composer Joseph Haydn. The internet says "Haydnsaal's unique acoustics and atmosphere inspired the composer Joseph Haydn, who was in the service of the Esterházy princes for over forty years, to create his peerless music."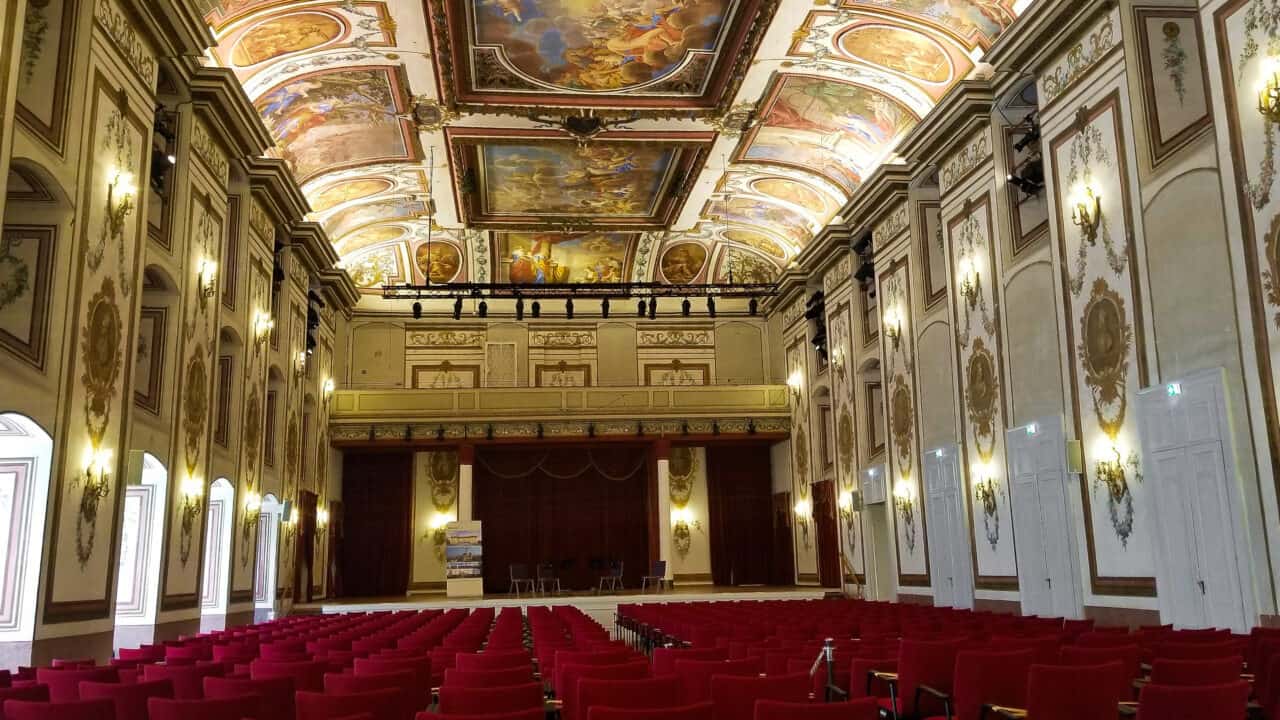 According to our tour guide, the relics inside the palace were of Emperor Constantine, given to the Esterházy's from the Vatican. He then went on to say that there were at least 10 sets of bones worldwide claiming to be Emperor Constantine and sourced from the Vatican. Many of the walls in the palace were 3 m or 10 feet thick and some were two and three times this thick. You could have a room inside the wall! In one of the rooms all four walls were covered in silk tapestry. We found out that three of the walls were covered with silk tapestry/wallpaper made more than 200 years ago. One tapestry was made eleven years ago when the palace went through a major renovation. They did a marvellous job of matching the new with the old and you couldn't tell the difference at a quick glance without the guide to tell you which walls had the new silk.
There was a small village immediately in front of the Schloss that was directly tied to the Schloss and the Esterházys. The village was bombed during WWII and many villages lived in the Schloss while their village and their homes were being rebuilt. Our guide said that his grandfather was one of those who lived in the castle after the bombings. The family has been tied to the Esterházys for generations. The Esterházy's owned many castles, palaces, land etc.. Now a foundation has been set up to manage all of these and open all of them to the public. This foundation is self sustaining without help from the government.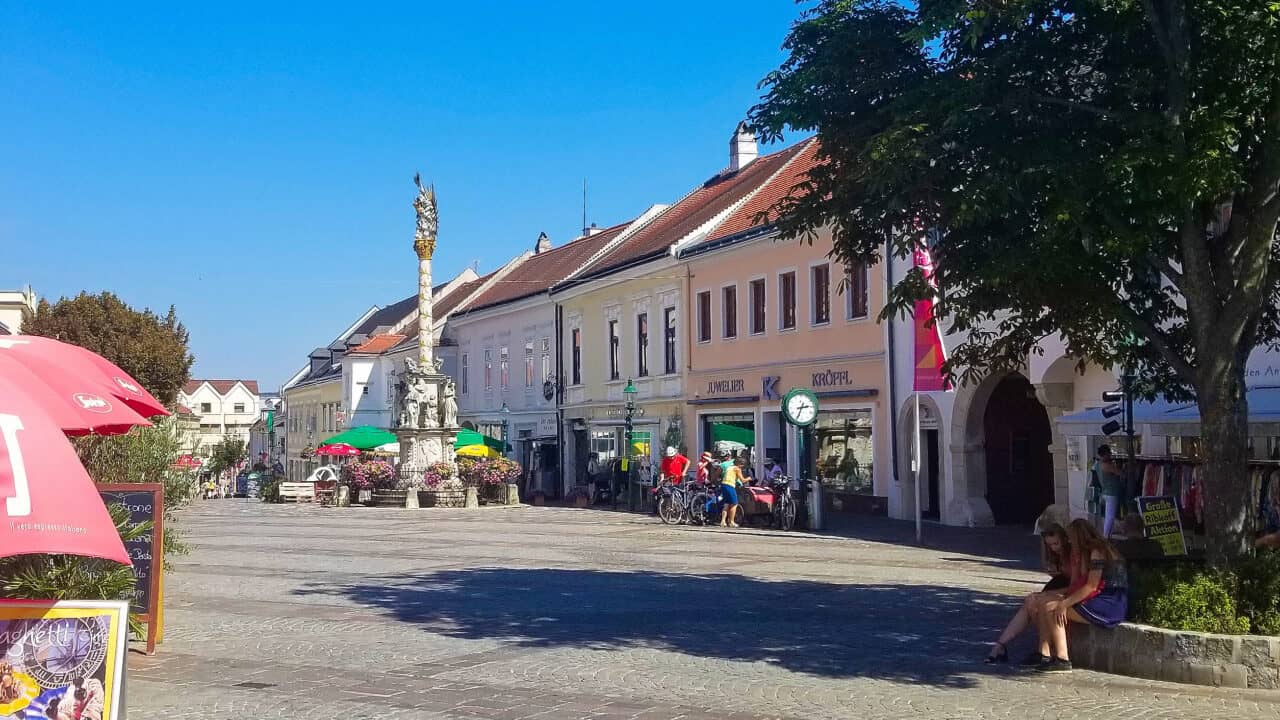 Walking around one town we saw what we thought was a soft drink or candy dispenser on the sidewalk. It turned out that it was loaded with wine bottles for purchase.
As in the rest of Austria, the campground near Vienna, where we spent 17 days, was filled with campers from Austria and Germany. Overall, we haven't found them as friendly with us as campers in other countries have been. It may be because everyone but us speaks German, so why go to the effort of trying to communicate in English. Don't get me wrong, they weren't unfriendly, there was just very little interaction. We did see a few more of the larger motorhomes here than we have seen previously. One motorhome had space for a Mini Cooper inside it at the rear. This motorhome was very close to the ground to allow for the height of the car with a bed above it. Mike thinks that might cause a lot of problems because the tail end of the motorhome would likely scrape the ground frequently. Even this motorhome didn't have slide-outs which is what I think adds tremendously to the comfort and non-camping feeling within our RV. The other large camper was a military style vehicle with huge tires and a great amount of road clearance. It could go anywhere. The owners of neither of these vehicles spent much time sitting outside. For the first time I am thinking that it isn't just Mike and I who stay inside much of the time but other campers who have a lot more room and amenities also. We don't need to sit outside to have space and be comfortable.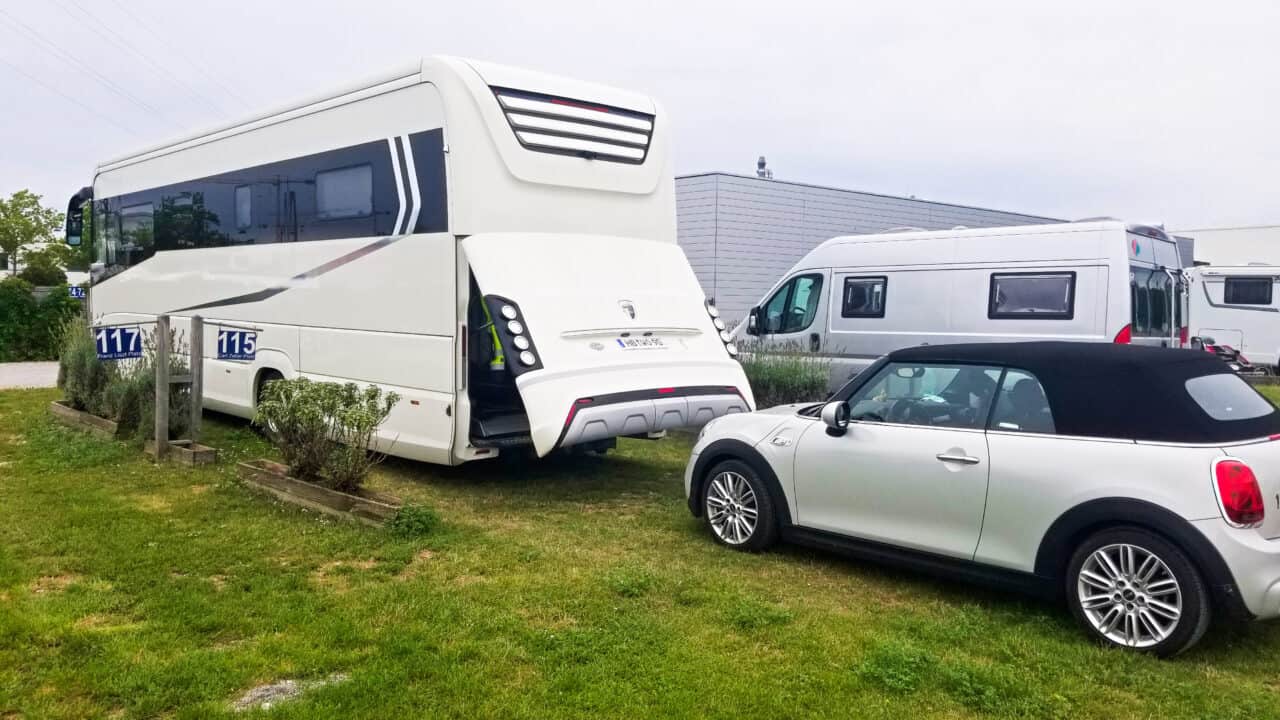 For those of you who are shoppers, I must tell you about a mall that Mike and I drove to one day. From one end to the other, it was over 1 km (.6 mile) long. On the map it was shown as being four separate malls with unique names, but once you were inside, it was all one long two-level mall. If you were running in for one item, you better know where the store was.
My husband is well known for his problems with spelling and phonics.  He thinks that a lot of the words here are spelt much better than they are in the English language.  For example, juwel and musik.  He thinks these spellings make much more sense.  I saw a Slovak webpage online and it concerned me.  The language looks to have no familiarity to English at all.  At least in Austria we recognize and can figure out words like musik and juwel.  I didn't see anything close in the little Slovak that I have looked at.  I also read that German is the main second language in Slovakia.  I was hoping that it was English.  We will see.  We may just lean on Google Translate very heavily.
We have now spent 80 days in Austria on this trip, 49 days last year and 31 days this year. Depending on where we store our RV for the winter and what our route over the next year or two looks like, it is quite possible that we will be back to Austria at some point. Even with 80 days, we didn't get to the eastern portion of Austria between Germany and Italy like we had planned. I had looked forward to staying in the mountains but that hasn't happened yet, maybe next year. We think that it is probably time to move on now. We are heading to Slovakia next. We have been told that the boarder between Slovakia and Austria is open (i.e. no Covid-19 quarantine concerns for travellers crossing the boarder between the two countries). These borders are very fluid at the moment.
Next posting will be from Bratislava, Slovakia.