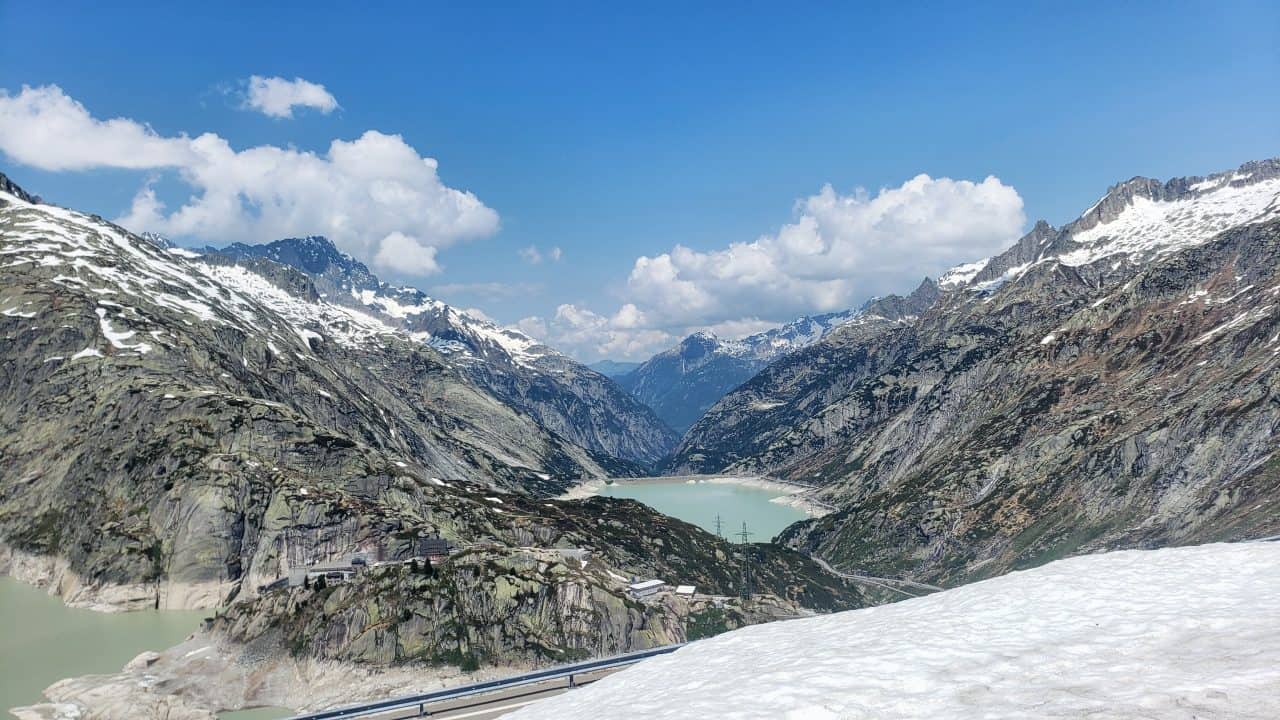 As I write this Mike and I are just leaving Switzerland. We have spent about three weeks touring this country. I can't possibly fit all of our time in Switzerland into one post so I am splitting our journeys into two and will try and post them within a week of each other.
We couldn't be in Switzerland without driving along some of their panoramic mountain roads. The picture above was taken in the Bernese Alps which are a chain of mountains within the Swiss Alps.
As you probably already know, we spent the two weeks camping on Lake Geneva but ended up camping on the French side instead of the Swiss side of the lake. It didn't matter because we had just as many places that we wanted to visit in France as we did in the French part of Switzerland. From our campground in France, the two major Swiss cities nearby were Geneva and Lausanne. While visiting Geneva, Mike and I took a bus tour that turned out to be largely a tour of all the International organizations based in the city. We then paid to transfer to a little city tour trolley that would actually take us more into the area for tourists. The driver told us that the tour was French only, no English. This was very unexpected in Switzerland, where English is very common. We asked for our money back. We weren't too worried as we had our own walking audio tour that we were going to take at a later date. When we returned for the walking tour, one of these little tour trollies drove past us and we heard English coming through their speakers.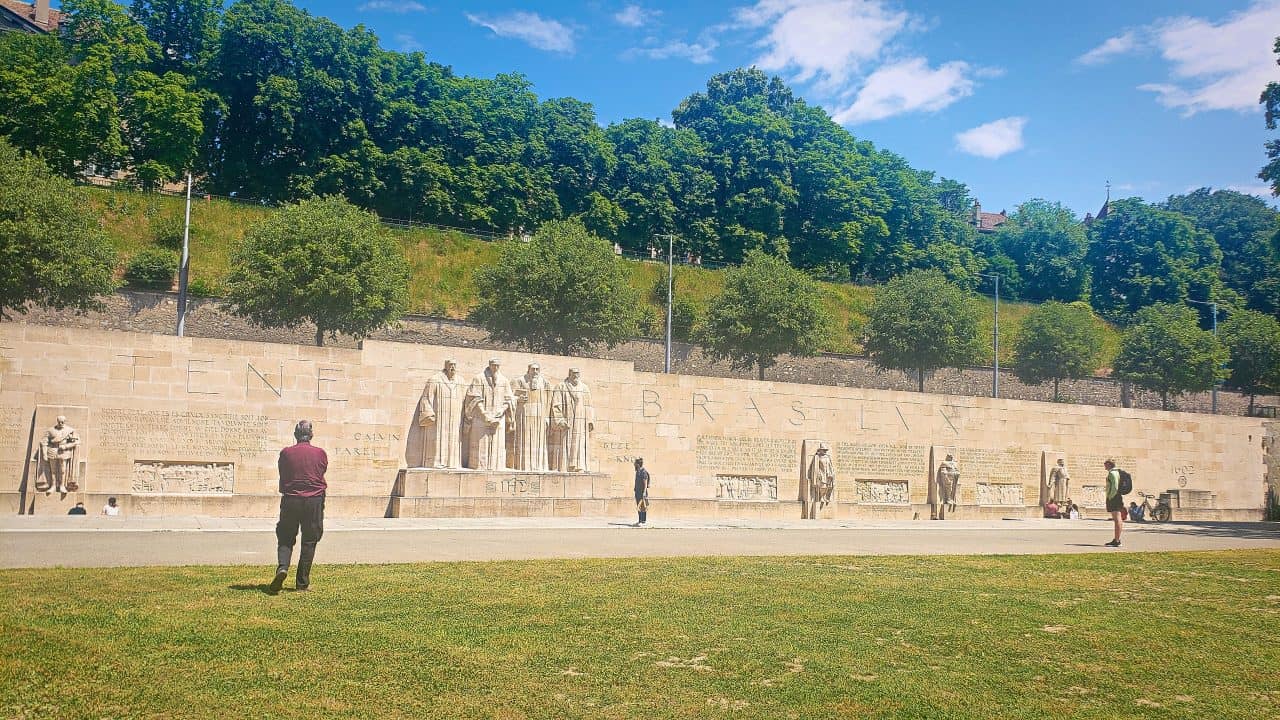 The "Broken Chair" statue is located just outside the European headquarters of the United Nations in Geneva. It was commissioned by Handicap International. I think that it is a great symbol advocating against the use of landmines and depicting the harm they cause.
In 2005 the International Museum of Reformation opened in Geneva next to St. Peter's Basilica where, in the 16th century, Genevans voted for reform. Two years after opening, the museum was awarded the title of "Best Museum in Europe". Mike and I didn't visit the museum but we did go to the Reformation Wall monument in honor of John Calvin. The wall is attached to one of the castle walls with huge five-metre high statues of the four major figures associated with Calvinism. Along the wall is the story of Protestantism. On the wall is the motto that launched the reform movement in Geneva "After darkness – light".
A major landmark in Geneva is the Water Jet Fountain just offshore in Lake Geneva. It was originally built in 1886 and later amplified and relocated. The water shoots up at about 200 km/hour (124 mph) to a height of 140 meters or 459 feet. You can see it from almost everywhere. We didn't take a picture because there were always buildings or things preventing a good shot. We weren't worried because the internet said that the fountain is usually active all day. Well, on our last visit we walked along the shore and guess what, no fountain so therefore no picture. Something that I hadn't realized was that the Rhône River actually starts in Lake Geneva.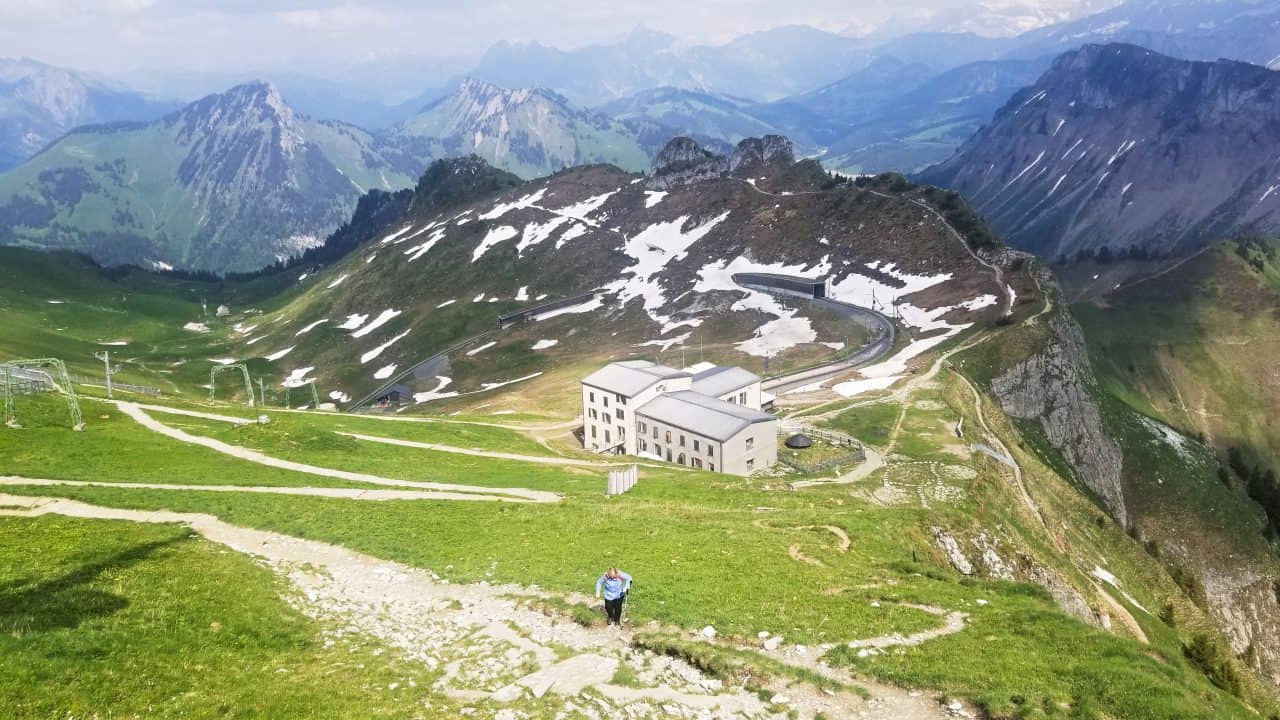 Mike and I visited many towns in Switzerland for which we had audio tours. I swear that every town with a historic section is of a town where the roads go up and down which my cane and I didn't appreciate. We visited Lausanne, which is a major city on Lake Geneva. While travelling there we drove by the city of Montreux with a rack railroad going up. Mike much prefers these rack railroads to cable cars. We decided to return another day and see where it went.
The rack railroad was advertised as going up the mountain to a restaurant and to fantastic panoramic views. Well it turned out that the rail tracks stopped short of the top and you needed to climb in order to actually see the panoramic views. I wasn't missing out on these views. Along with my cane, I slowly made my way to the top. I really regretted not having my second cane with me. While I was walking I was passed by a two-year old child walking with her parents! At one point the mother started carrying the child while still carrying a large bag with juice boxes and various snacks for the family. The father did appear to offer assistance but somehow the mother still ended up carrying everything.
The Swiss are quite proud of the fact that you can drink the clean water flowing into any of the many fountains in Switzerland. People are encouraged to refill their water bottles at the fountains.
I really wanted to visit Basel and I felt like we supposed to visit Bern, since it is the capital city. In all honesty Mike and I both ended up preferring Bern to Basel. I will show you some pictures of Bern in the part 2 of Switzerland post. Basel was pleasant but somehow, didn't quite live up to my expectations. I will say that having more than 180 fountains in town was pretty nice. Our GPS audio tour app covered Basel which is always good. One interesting fact we discovered was that in earlier days, to live in the elite district near the cathedral, you had to prove a noble background that spanned at least eight generations. I guess that leaves both Mike and I out.
The Rhine River runs very quickly through Basel. Mike and I got a kick out of watching people, some in inner tubes, some hanging on to various floating devices, floating rapidly down the river. My question is, what happens when you eventually decide to make for land. You are a long way from your dry clothes and your starting point? We saw a motorless river ferry that used the current to propel the boat across the river and back. The only time we have seen this before has been in really rural areas in the middle of nowhere. It was surprising to see this in the centre of Basel.
Basel was the least busy city that we had been in for ages.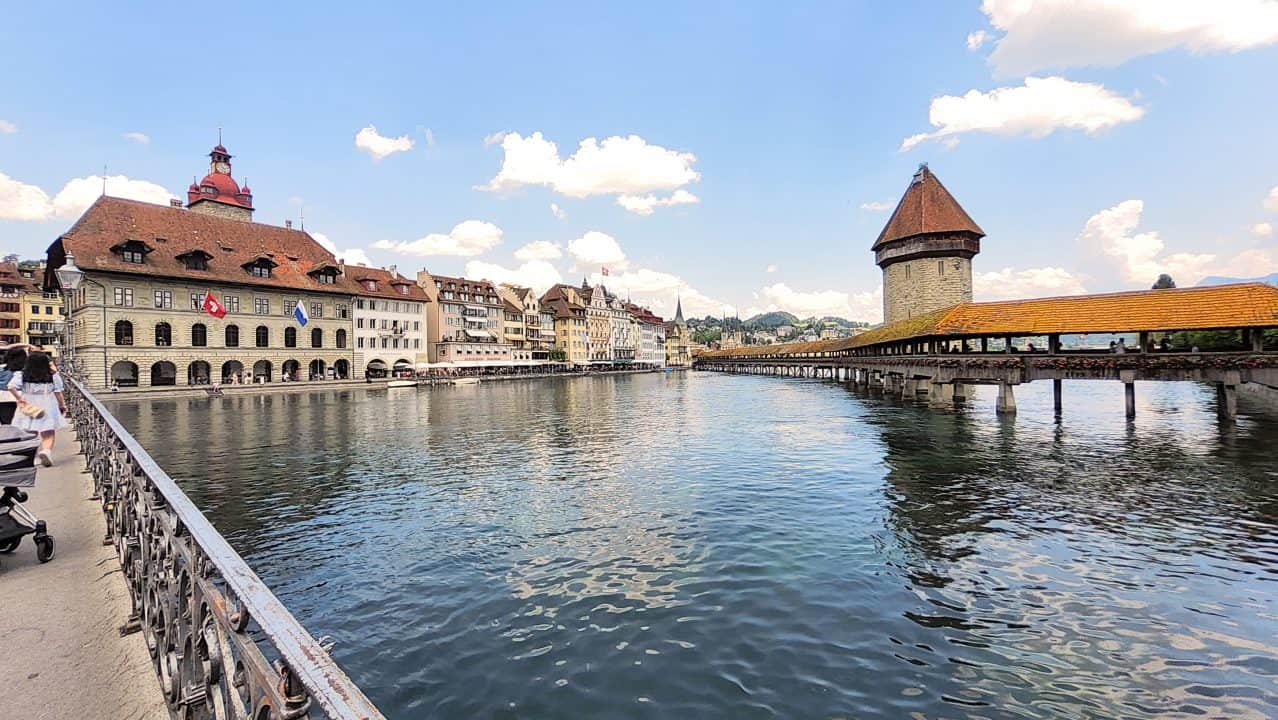 Our favourite of the major cities we visited was Lucerne in the German portion of Switzerland. Lucerne used to have three covered wooden pedestrian bridges but one was destroyed. All three featured a series of triangular panels that lined the bridges' interior roof trusses. None of Europe's other wooden footbridges have this feature. The most famous is Chapel Bridge with its paintings depicting events from Lucerne's history, dating back to the 17th century. Chapel Bridge is the oldest wooden covered bridge in Europe, as well as the world's oldest surviving truss bridge.
The Spreuer or Mill Bridge's triangular paintings are the largest known set of paintings of the Dance of Death from the late Middle Ages. Each painting shows a skeleton or a figure representing death engaging with people from different walks of life intended to remind them of their mortality.
Mike and I took a boat trip on Lake Lucerne which was very nice. The boat trip advertised an audio tour in many languages. After a few minutes of being underway and not hearing anything on the speakers Mike went and checked to see how we were supposed to get the audio. He found a table with a lot of headsets on it. He brought back one for each of us. I felt bad when I saw how many of the tourists didn't have the headsets and probably didn't know that they were available. That part was badly done by the crew. As we wandered around Lucerne we saw lots of buildings with frescoes on the walls which we really like.
While we were walking around Lucerne we met a Scottish couple. They were taking the same small city bus tour that we took. It turned out that it was their 40th wedding anniversary that day. We stopped and had celebratory drinks and ice cream sundaes with them when the tour was finished. Meeting and talking with people from all over is one of the major joys of travelling.
Mike and I both thought that this 17th century church, Jesuitenkirche, was stunning. It was very different from most of the churches that we have seen. It was so very bright and absolutely lovely.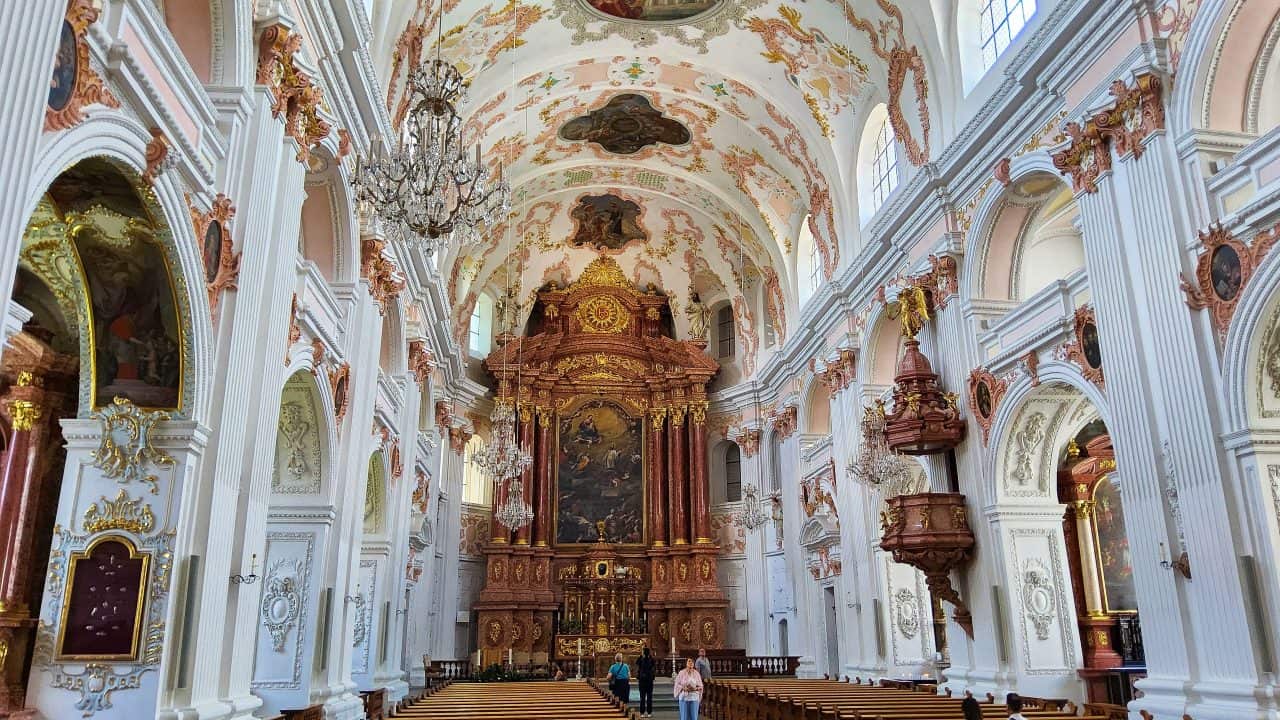 Some trivia: California is more than 10 times larger in land area than Switzerland. We all know that Canada has enough problems with two national languages, Switzerland has four. 63% of the population speak German as their first language. 23% speak French, 8% Italian and a very few, 0.5%, have Romansh as their first language. English is very widely spoken. It wouldn't surprise me if it was the second language for much of the country.
We found Switzerland to be friendlier, cleaner, brighter, with bigger cars, bigger parking spots, and looking much more prosperous than France. On the downside restaurants are V E R Y expensive. Overall we really liked Switzerland. I will fill you in on Zurich and some of the smaller delightful towns that we visited in Switzerland in part 2.