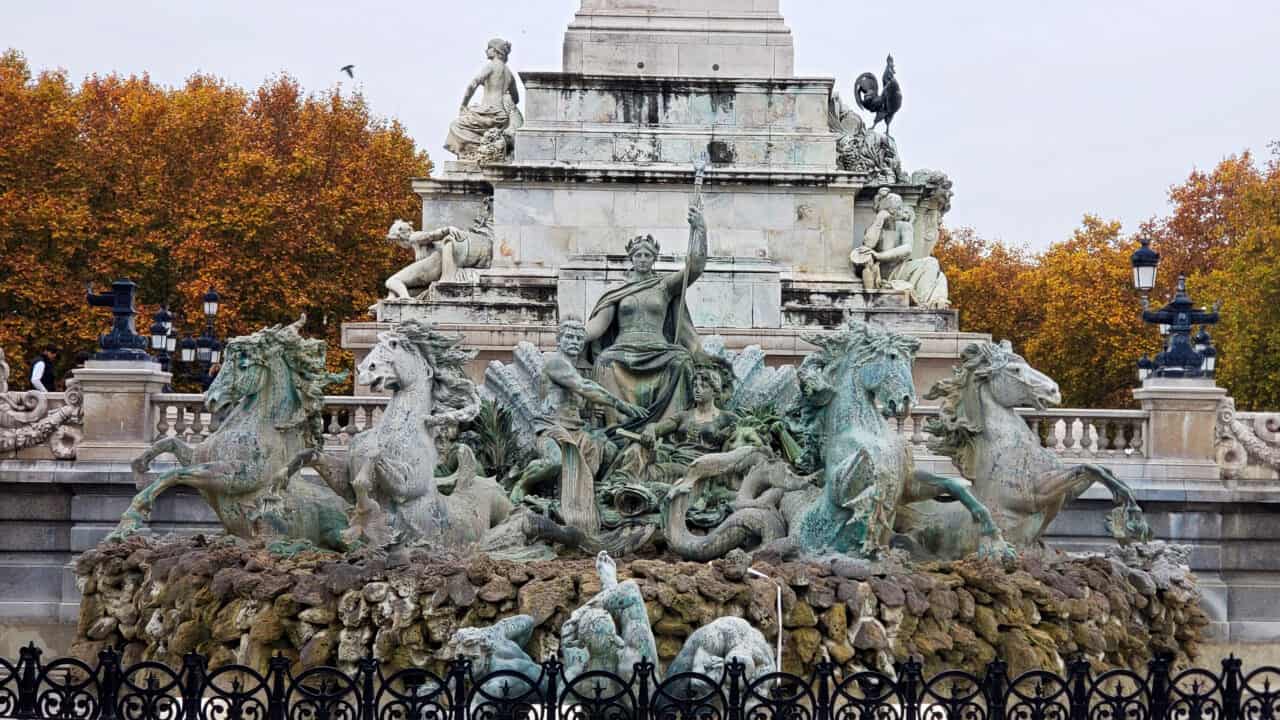 Wine! It is really too bad that Mike and I aren't more into wine. Why aren't we wine connoisseurs or even wine drinkers? Normally we would open a bottle of wine when we had visitors in our RV and that would be all the wine we drank until we had our next visitors. Covid has cancelled that. This entire trip seems to have been about wine. We started in southern Moravia in Czechia, whose wine has a very good reputation, and we are ending this year in Bordeaux. Five of the top six things to see and do in Bordeaux involve wine tours and tastings. Every second, 13 bottles of Bordeaux are sold worldwide. I didn't know that in the 1960s Bordeaux wine was mainly white and that there is still white Bordeaux today. Luckily, we did find sights to interest us.
Our first tour of the city was using one of our audio apps. Normally these tours are for people just walking around the city. The tour I chose was specifically for runners and was 12 km long, but of course we were going to do it on our e-bikes. Later on we tried a second tour app on our phone. One item that is on every tour is La Grosse Cloche, or the Big Bell. This is the name given to a 7800 kg iron bell housed in a medieval belfry over a gate where you enter the old town. The gate with the bell is featured on the city's coat of arms. The inscription on the bell reads "I call to arms, I announce the days, I give the hours, I chase the storm, I ring the holidays and I cry out for fire". The bell has always been extremely important to the citizens of Bordeaux. When the king wanted to punish them for their insubordination, he had the bell removed: the inhabitants would soon fall into line. King Henri II did this to punish them for their revolt of 1548, the bell was returned in 1561 much to the delight of the locals.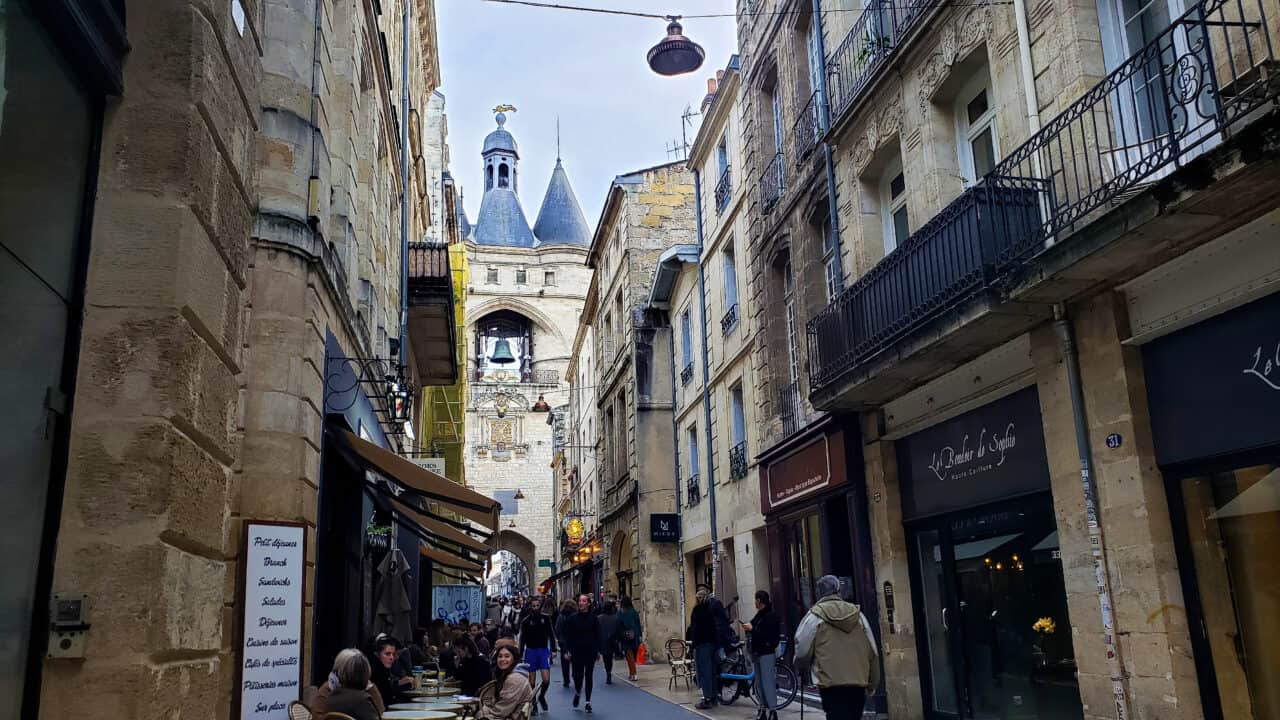 One Saturday when Mike and I were walking around Bordeaux we saw a small demonstration on the Place de la Bourse, or the Stock Exchange Square. There were police there but they were keeping their distance. I tried to ask one, who didn't speak English, what the demonstration was about. I believe that it was an anti-vaccination demonstration. As we were leaving, music started playing. That probably attracted more people than the anti-vaccination message.
The main cathedral, commonly known as the Bordeaux Cathedral, and officially known as Cathedrale Saint-André, is just huge. Mike was fascinated with the exterior of the Cathedral as well as being very impressed just by the size of the interior which had large paintings hanging on the walls much like an art gallery.
Around the city are many fountains, some small and some extremely large and elaborate. It looks like the water was turned off at the end of October which was too bad as we arrived in mid November.
Driving around the outskirts of Bordeaux we saw lots of office buildings and apartment buildings that had really nice, different architectural elements. They weren't wild but they were nice to see. You would often see designs that would give you gardens half way up an apartment building. One building just had some apartments, in different locations going up the building, that had large terraces instead of the standard balconies. It wasn't much but it was enough to break up the standard rectangular apartment building we are accustomed to seeing in North America.
Around Bordeaux, and I think other French cities also, you see lots of monuments to soldiers but nearly all of them are tributes to WW I soldiers or casualties. I am surprised that WW II isn't honoured more often with these monuments.
Mike and I often stop and look at different things. At one point one of us was standing, looking at a single track that a tram ran along, trying to figure out where the tram got its electricity from. The other one was trying to see the inside of the gorgeous opera house. Guess which one was which 😊.
In October, when we thought that we would be storing our camper on the Mediterranean, Mike and I started a Western Europe loop on our bikes at Lyon heading south towards Marseille. We had ridden about 115 km when we decided to change our plan and store our camper near the Atlantic for the winter instead. We have ridden almost 200 km along a new Western Europe loop. We are largely following a bike route called the Canal des Deux Mers or the Canal of the two Seas. The 750 km route follows two canals from the Atlantic near Bordeaux down through western France to the Mediterranean. While riding along the canals we see many small locks. People can rent houseboats in season and travel along the canal for a vacation.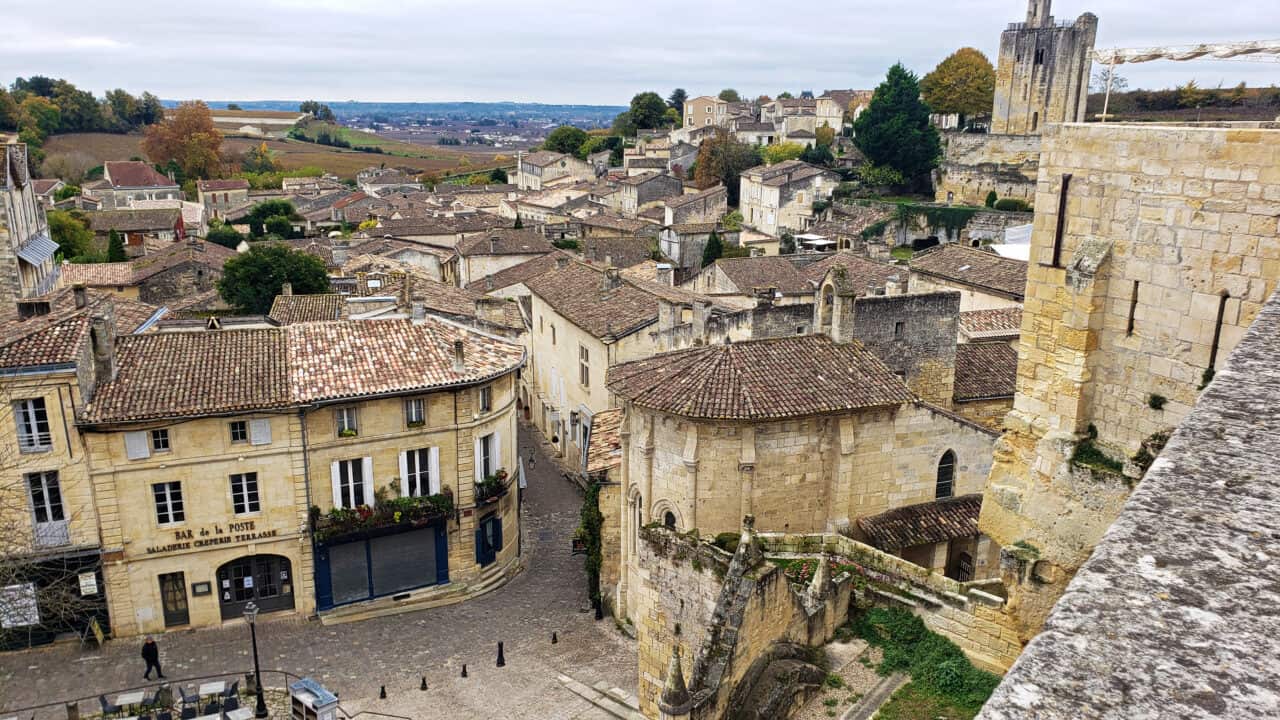 It has been cool but very nice to ride through the fall colours and leaves. One day the path was so covered in leaves that you couldn't see where the asphalt stopped and the grass started. This was a little scary because the worst fall that I have had was when I went off a path and skidded against the edge eventually falling off and sliding down the pavement and doing a fair bit of damage to both my bicycle and me. On one ride Mike was in front and he was riding through a shower of colourful maple leaves. I wish that I could have got my camera disconnected from my bike in time to take a picture. It was a lovely shot. I don't think that I have ever seen the leaves come down so fast and so steadily before.
We are always discovering interesting differences between the countries we are visiting and Canada. Some are just simple things. In Canada, when a speed limit changes you usually see the new speed limit and the word "Begins". After that you just see the speed limit sign. In France if you just see the speed limit sign it means that it is a new speed. If the speed hasn't changed the word "Rappeler" is added below the sign which means "remind". Canada saves on signage!
Something that I just learned and that surprised me very much was that Mike and I didn't know the meaning of the word entrée. Now we have been eating in restaurants for more years than I can count and we know that an entrée is the main course. Well apparently this is true in the US and in Canada but in most of the world, including France, the entrée is the starter or appetizer and NOT the main course. In France, the main course is called a plat. Why does North America have to be different and change things accepted elsewhere?
Camping-car Park is a company in France that runs about 300 areas for campers to stay. They are not campgrounds as there are no washrooms or pools or facilities for kids. They are essentially parking lots in good locations providing electricity (6 amps at 220 which is equivalent to 12 amps at 110 volts) and water and some security. This is all that Mike and I need, or quite honestly, want. They are often nicer than this sounds with trees and some ambiance. The two we stayed at where right near water, one next to a very large river and one next to a small lake which itself was surrounded by parkland. So far we have spent 20 nights in various Camping-car Parks and the average cost is less than $15 Cdn per night. I will say that in some of them the quality of the electricity leaves something to be desired. Multiple times Mike or I have had to run outside and flip a breaker because we have tried to use to much electricity at once, occasionally in pyjamas! There are two downsides to these locations, one is that the electricity is a lower power amount than we would ideally like. The other concern is our camper size. Off-season our size won't matter much at all. In season, I think that we would have a problem.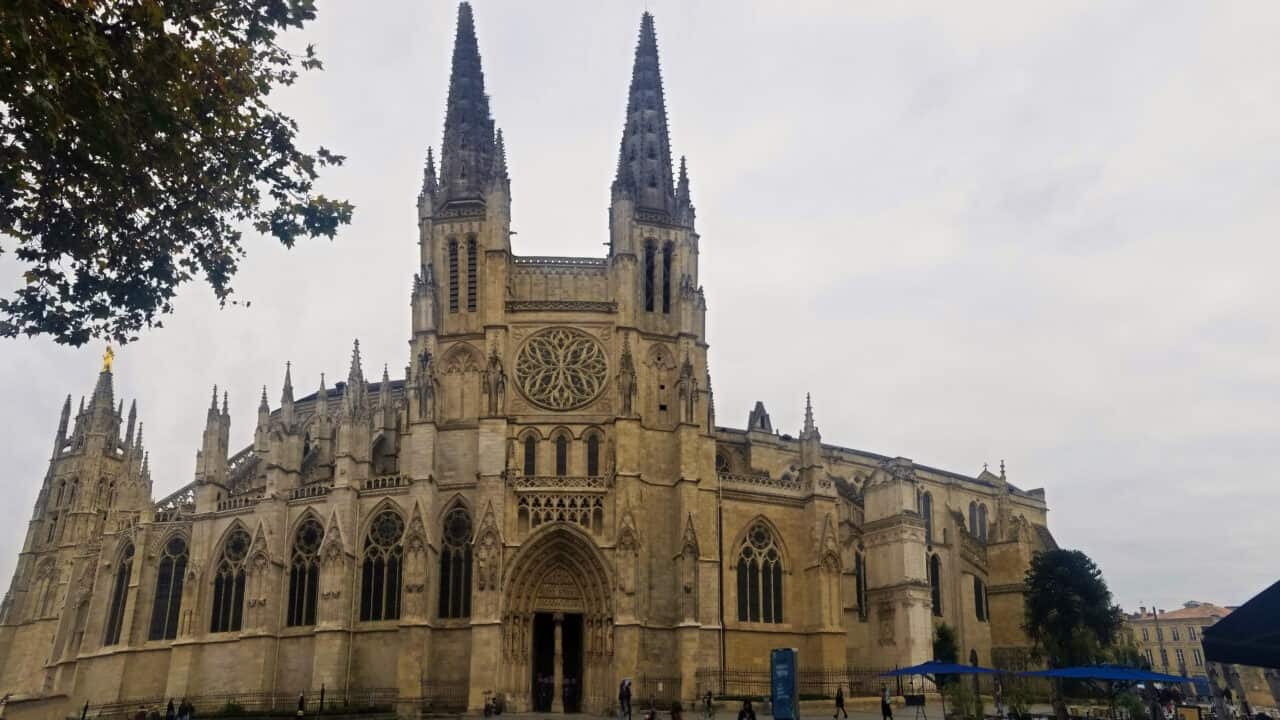 Mike and I are currently in the region of Nouvelle-Aquitaine. Bordeaux as its capital. We were really surprised to learn that this area belonged to England for three centuries. Charles VII, King of France won it back in 1453. It came to England through a woman called Eleanor of Aquitaine, who has quite an interesting life story even if you aren't a history buff. A lot of the information about Eleanor, who was one of the wealthiest and most powerful women in western Europe, is from Wikipedia.
Eleanor became Duchess of Aquitaine upon her father's death in 1137. Three months later, at 13 years old, she married Prince Louis VII in the Cathedral in Bordeaux. Days after the wedding, her husband became the French king and she became the Queen of France.
After about 10 years of marriage Eleanor asked for an annulment and was turned down. Eventually, King Louis agreed, as 15 years of marriage had not produced a son, only two daughters. In 1152, the marriage was annulled but her daughters were declared legitimate, custody was awarded to Louis, and Eleanor's lands were restored to her.
As soon as the annulment was granted, Eleanor became engaged and soon married her third cousin Henry, Duke of Normandy. Henry and Eleanor became king and queen of England in 1154. As part of the inheritance Eleanor's inheritance, Bordeaux, along with the rest of the duchy, became English when Henry became King. They had five sons and three daughters. However, Henry and Eleanor eventually became estranged. Henry imprisoned her in 1173 for supporting the revolt of their eldest son, Henry, against him. She was released when her husband died and their third son, Richard the Lionhearted (Richard I), ascended the throne. As queen dowager, Eleanor acted as regent while Richard went on the Crusades.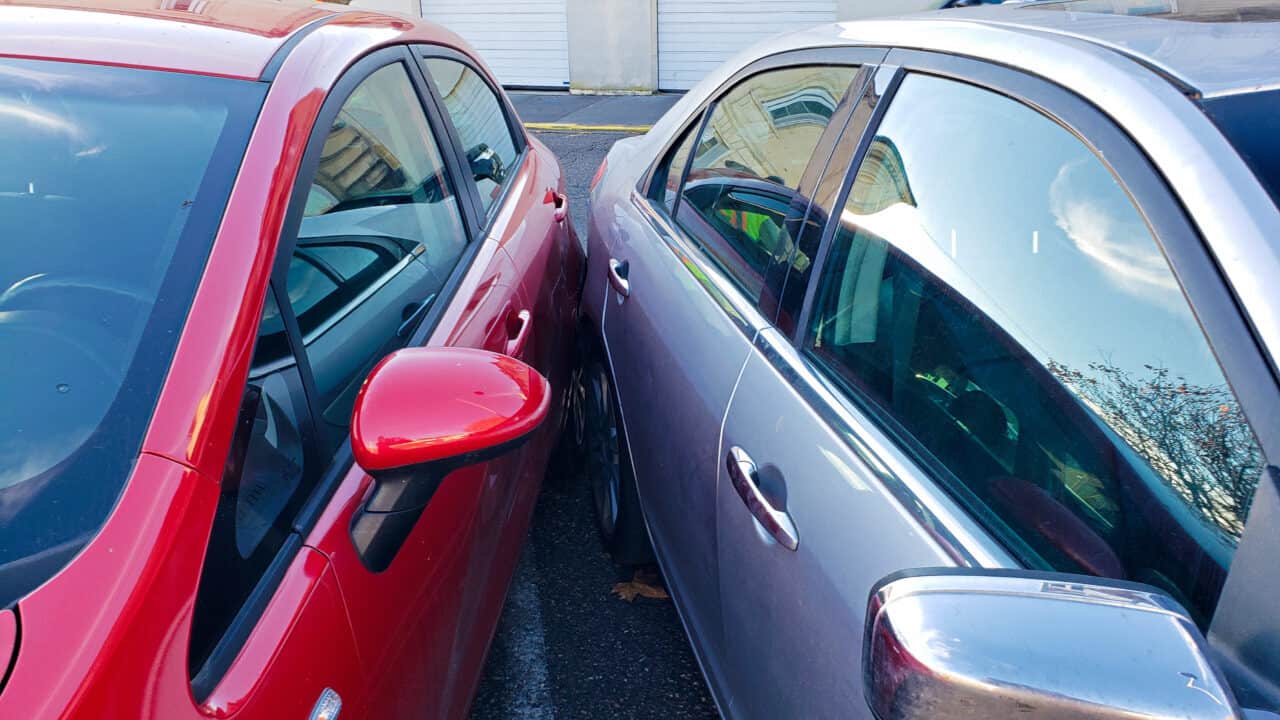 I know that this article is way too long but I have to tell you what happened yesterday. Our poor car was in an accident. We are fine as we weren't even there, it was parked. We had parked at a train station, taken the train and biked 40 km back to the car. The day had all sorts of problems starting with the fact that the elevators, both up and down, to the train platforms were not working (very awkward/difficult with heavy e-bikes and batteries). We then missed a train and almost missed the second one and that wasn't the worst. We returned on our bikes to find a red car smashed against the back corner of our car such that we couldn't leave without causing more damage to both cars. It looked like the red car had been in a real rush to make a train, had driven into us and up on the curb and then ran. We called the police who came quite quickly. They figured out that our diagnosis was wrong and that a third car had been involved. We were angle parked 45° to the road and the third car must have swerved down the road, hit the back of the red car and pushed it into us and up on the sidewalk and then scraped across our back bumper as it continued driving away. The police noticed a camera mounted on a pole not far from the site and thought it might show what happened. We asked them to let us know if they got the license number. We only have liability insurance here in Europe as our insurance company doesn't sell comprehensive insurance. Actually, we are not terribly upset because the damage to our car was slight. If we can clean off the red paint and the marks left from the other two cars, and keep our car covered with road dust most people won't notice the damage. Most important of all, the car can still be towed completely safely. It might not have been terrible but it wasn't a great ending to our day.
I am writing this as we travel to our final campground for this very short year. We will stay here for four nights and then leave our RV here for the winter. We left Canada 4 ½ months ago and will be returning home later this week. I will post of summary of our 2021 trip shortly after we return to Canada.