Heading to Western Europe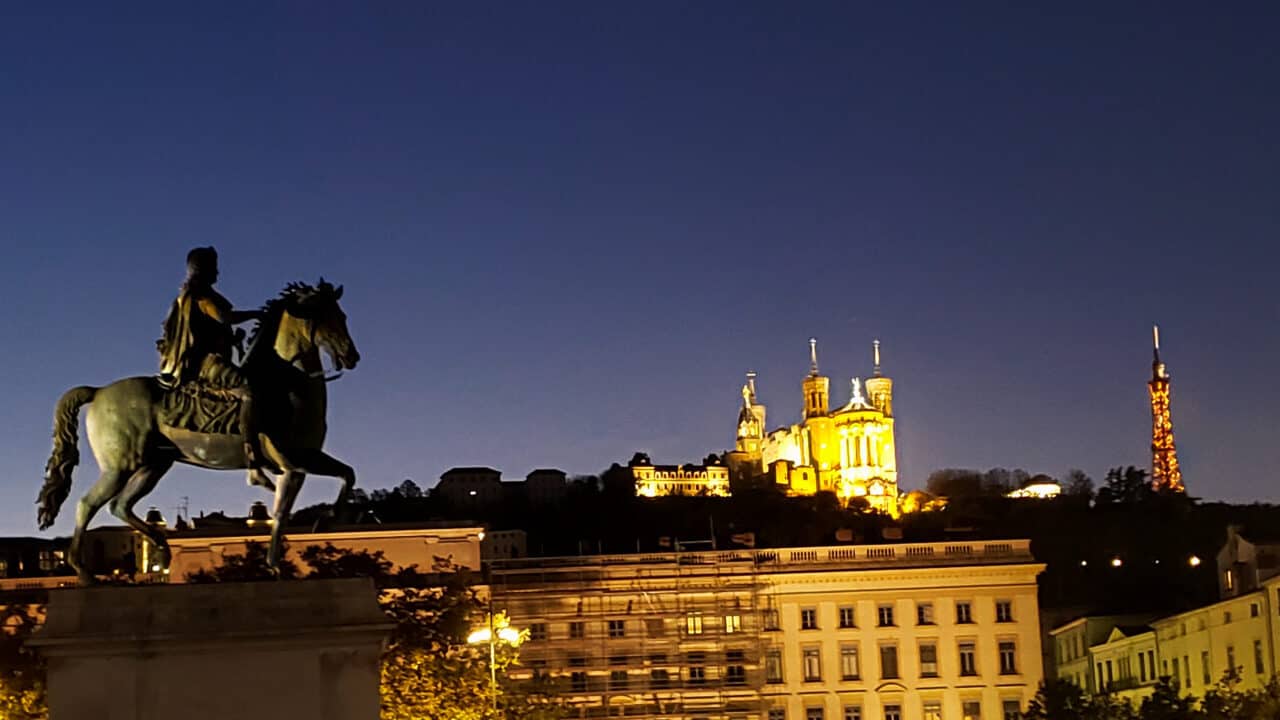 Big news first. After almost 5 years we have finally got to France which is where we were heading a very long time ago. We plan on spending a lot of time touring France next year. Years ago we rented an RV near Paris and spent a few weeks driving around France. On this trip we will be going much slower.
Our journey from Czechia to France was not very good. Just as we were leaving Czechia I got an extremely bad cold and cough, of course Mike was only 24 hours behind me. We initially drove to a campground we know in Salzburg, Austria. We spent four days there and I don't think that I left the RV. Mike got out on a long solo bike ride the first day before he gave up and vegetated along with me. He did get out and do a little grocery shopping but I was still coughing so bad that we didn't think that I could be near other people in these days of covid concerns. This meant no restaurants, grocery stores or anything. It has been almost three weeks now and while Mike and I still have our coughs we don't have any major coughing fits and our heads have cleared up.
After four days in Austria Mike figured that his head was clear enough to drive the RV and we headed to Germany. Germany was in the red with covid at that time so we decided to just stay one night in a truck stop and continue on our way the next day. As we neared the truck stop we were pulled over by the police. I was still coughing really badly so I hid in the RV while Mike dealt with the police. The first two officers, with minimal English, told us that we weren't allowed to tow our car behind the RV without a trailer. Mike told them all about the safety mechanisms and the fact that we had been stopped many times in Europe and never had a problem and that we were only in transit through Germany. They said that we had to wait while they called up a van of police who were the "experts" with their computers. We waited and eventually this next group of police showed up. Mike went through the safety features and all his discussions with the new arrivals all over again. Five police officers spent the better part of 45 minutes checking documents. Mike was pretty sure that to justify spending that many police hours they would have to issue some sort of fine. Luckily that didn't happen. The police said that we couldn't tow the car because it was licensed as a car and not licensed as a trailer. Unexpectedly they didn't bother writing us a ticket and said that we could continue to tow the car. They then warned us that the police in the next jurisdiction might stop us again, lovely.
The next day we were spending one night in Switzerland. Mike wanted a Swiss sticker for our RV and "our rules" are that the camper has to actually camp overnight to "earn" the sticker. Since we were still in transit we simply picked one of the large gas station/restaurants right on the highway. This one was a mistake. When we opened our bedroom slide out, our heads were actually only about 15 feet or 5 m from the trucks screaming down the highway. It certainly wasn't the best. We skipped visiting Zurich or Geneva, both enroute, because neither of us still felt up to sightseeing. Hopefully we will see some of Switzerland next year.
We arrived at our campground near Lyon, France where we planned on settling down for a little while. We want to be in the area where we will leave our RV for the winter by the middle of November at the latest, so we have a few weeks to get there. Lyon is France's 3rd largest city after Paris and Marseilles. The main square, Place Bellecour, is the largest pedestrian square in Europe. The square is very empty. Mike and I figure that the French can hold some very large demonstrations in this square. Lyon was nice but it wasn't a city that we would ooh and ahh about. It probably didn't help that we were still not feeling great. I wanted to get to their National Art Museum that they say is second in France to the Louvre. What with everything else happening we didn't make it to the art gallery which was too bad. We did go into town late one afternoon for a boat ride on the Rhône River that runs right through Lyon. It was nice to be out in the fresh air but the boat ride wasn't the best for tourists. From the boat you could see some nice apartment buildings along the shore but the sights weren't particularly touristy.
After Lyon we spent three nights, all alone in a campground near Clermont-Ferrand. We never made it to the town in the evening. It would have been nice to see if the lights across the street were early Christmas lights or if they were year round decorations.
We have been a little shocked by the prices we have seen recently. I guess we were lucky spending so much time in Central Europe. We walked past a Five Guys burger place so I looked at the menu for comparison to home. The burgers were more than twice as expensive as in Canada. As is true everywhere, when you get away from the large cities and the tourist areas the prices do drop quite a bit. France has a lot of toll roads. A 90 minute drive on the highway just cost us $100 Cdn and we have another toll highway to travel on before we get to our destination today. Canadians take note. Our fuel prices aren't that bad, even if the US is cheaper. We just paid $2.70 Cdn per LITRE for fuel. Now we were on the highway which is somewhat more expensive but we don't have much choice with the RV. We spent over $600 Cdn to fuel up the RV and it wasn't even empty! On the other hand, we found a smaller mobile phone company and we are paying $30 Cdn/month for 150 GB of data in France and we get to use 25 GB of that in Canada. This means that we will just keep our French sim card the entire time we are home. It is cheaper than buying a local one and all we need is the data although Canadian phone calls and text messages are included.
I found a list or designation of 164 French villages called Les Plus Beaux Villages de France or the Most Beautiful Villages in France. A lot of them are medieval and are places you wouldn't know to visit on your own. I keep a personal map of places I want to see. I put every one of these villages on the map and then I added all the towns that have English speaking IZI tours. If you remember, IZI tours are self guided audio tours of a town which Mike and I like doing. I looked on the map for groupings of the Beautiful Villages and IZI towns and that helped us to decide where we wanted to stop for the next few days.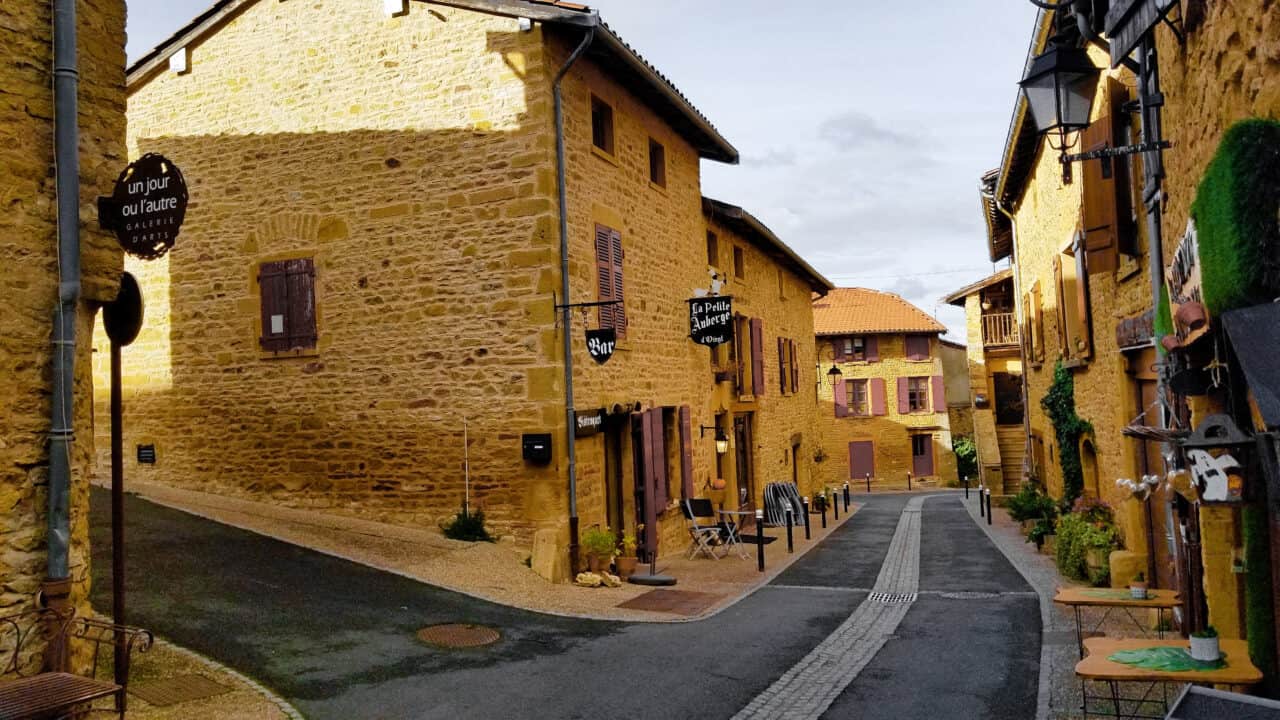 We drove to a couple of these "beautiful" villages while we were in Lyon. One was the beautiful, tiny, golden village of Oingt. Oingt is in the heart of the Beaujolais region. The area is known as the land of the Golden Stones. The buildings are all built from the local stones and are a lovely golden or honey colour. When the sun shines on them, they are quite spectacular. Even the walls are made from the golden stones. The village is at the top of a hill and from Roman times into the Middle Ages its role was to monitor ancient passageways between the two enemy territories of Beaujolais and Lyonnais. This golden stone was originally a "poor man's stone" used by the local villagers. During the Renaissance, wealthy families in Lyon made it their preferred material for their mansions.
Another one of the beautiful villages that we toured was Pérouges which is a medieval village with about 100 inhabitants and some restaurants, gift stores, artisan shops and wineries. From the Middle Ages, Pérouges was a prosperous city of weavers and enjoyed its strategic position on the trade fair route between Lyon and Geneva. By the end of the 18th century, there were nearly 1,500 residents. Unfortunately, the booming textile industry came to an abrupt halt by the early 19th century when railroads and roads bypassed the town, resulting in a devastating population drop to just 90 people. The town was great to see. You can only enter the village through one of two entrances that are called "Porte d'en Bas" (bottom door) and "Porte d'en Haut" (upper door). We wandered around, took some pictures and had a lovely lunch in a very old building. I read that Pérouges was one of the best preserved/restored medieval villages in France.
Pérouges has an interesting recent history. See how I have changed. I now think of 1909 as very recent especially when it concerns a town founded in the early 1100's. Pérouges was coming very close to disappearing at the beginning of the 1900s. In 1909 the town was on the verge on demolition with only six homes still occupied. The Committee of Vieux Pérouges was formed. The got the support of Édouard Herriot, then Minister of Fine Arts (and future Mayor of Lyon) who also became an owner in Pérouges. Thanks to a lot of hard work the village is now home to artists and craftsmen and is one of the "Most Beautiful Villages of France" on the tourist route.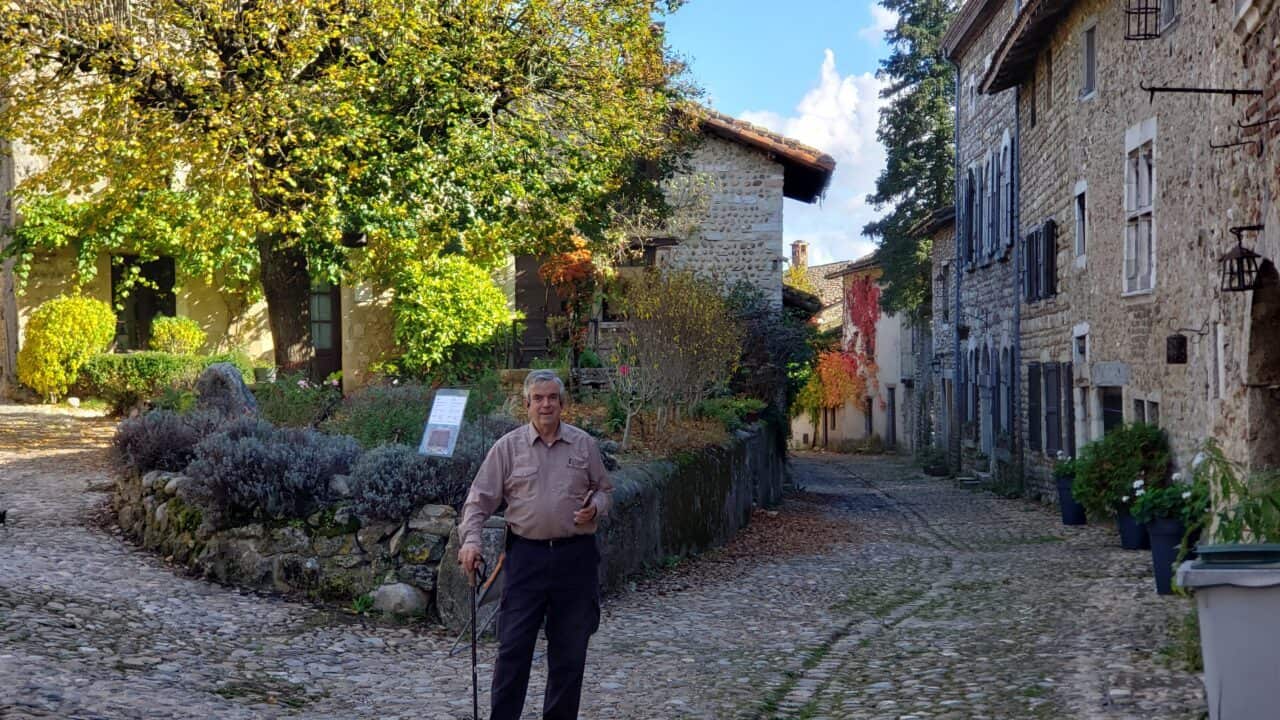 This year, we don't seem to know where we are heading to store the RV for the winter and fly home. When we came through Germany and Switzerland, we were heading for Spain, possibly the Barcelona area. A week ago we changed our minds and decided to head south from Lyon to southern France, possibly the Montpelier or Marseille areas. While we stayed in Lyon we cycled over 100 km south starting our Western European cycle route, planning to eventually cycle right down to the Mediterranean. A few days ago I received an email telling us about a campground 45 minutes from Bordeaux which is on the Atlantic in western France. This campground is open all year, we can camp there before our flight home and when we come back and they will store our camper, at a very good price, over the winter. Bordeaux isn't as cold as I expected in March with an average daily high of 15° C (high 50s F). The campground is run by a British couple. Mike really liked the look of it and the location is a good starting part for seeing France and the eastern corner of Spain. The only downside is that, for some reason, the flights out of Bordeaux are considerably more expensive than the flights from southern France and two to three times the price of flights from Paris.
As I write this we are in our camper heading towards Bordeaux. The picture here is of us leaving the campground through the only entrance/exit earlier today. There was a button to push to lift the gate arm so that you could drive through. We didn't trust it to stay open long enough so I used some duct tape on the switch so that I could help guide Mike through the narrowest opening we have ever had to drive through. We were lucky if we had ½ inch or 1 cm on each side of the mirrors.
I found a great area with lots of the "Beautiful Villages", two IZI touring towns and some nice bike rides and we are headed there for the next few days. The area is called the Périgord or the Dordogne. We will be staying, for the first time, at a French Aire. These appear to be very basic parking areas that sometimes have water and electricity and sometimes don't. They are all over France, intended for campers on the go. We assume that since it is out of season we can stay a little longer than normal if we want. How long we stay might depend on what services this Aire has and how long our water lasts. The area looks lovely and I am looking forward to seeing it. How could we not stay near a town called Sarlat-la-Canéda?