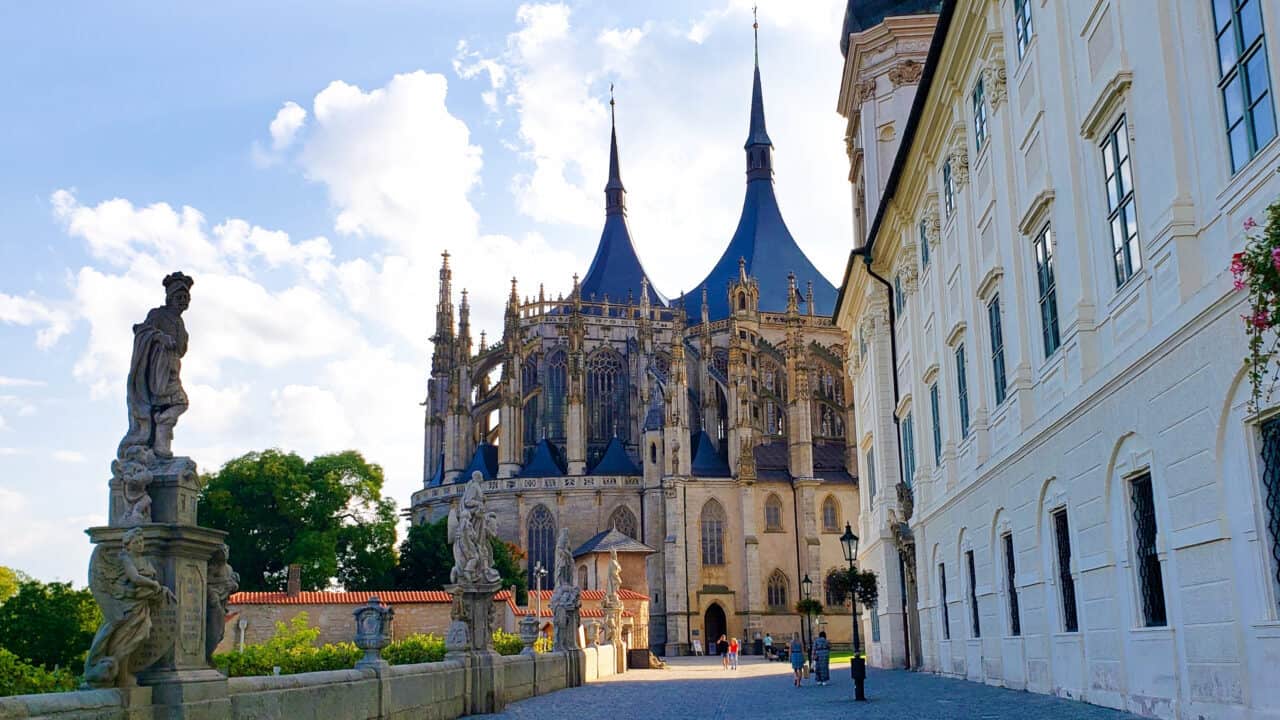 Mike and I have been camping in the superb city of Prague for almost two weeks and I won't be talking about it all in this post. Actually, the towns that we have visited while bike riding and driving around Prague deserve their own post and we haven't finished with Prague yet. It will be next.
Kutná Hora is a town about an hours drive east of Prague.  It is just lovely although I must say that I wasn't in great shape by the end of our visit.  Mike and I parked near the main town square and stopped there for lunch.  I had found an audio tour of Kutná Hora for $5 so we decided to listen to that and walk along with it.  This app wasn't as good as the one that we usually use in terms of mapping and showing where you were.  The starting point for the tour was 2.5 km from the town square.  Mike decided that he wanted to go to the starting point and follow the tour in sequence back to the center of town or Centrum which is the term used across Europe for the town centre.  You have to remember that Mike and I don't do much walking anymore.  We do a lot of cycling these days but not much walking.  Since our original plan had been to come and have lunch in Kutná Hora, wander around the centre of the town and then leave I had decided to forgo my extra comfortable walking shoes.  Big mistake.  We walked to the start of the tour, which turned out to be well outside the historical centre of town that we had come to see.  Actually, it turned out that the entire tour was well outside the town centre.  The main highlight of the tour was the church known as The Bone Church.
While we were in Brno, another town in Czechia, Mike and I toured an ossuary which is a place where human bones and skeletons are stored.  The things that you learn when you travel!  It isn't unusual in Europe for bodies that are buried to be exhumed to make space for more bodies.  The bones are then typically stored in an ossuary.  In the 14th century, during the great epidemics, they estimate that 30,000 bodies were buried near Kutná Hora.  Obviously they couldn't all be in the ground at once.  The ossuary in Kutná Hora is said to contain the skeletons of between 40,000 and 70,000 people.  What is unusual is that, during the 16th century, the bones were decoratively arranged in the chapel.  For example, there is a chandelier made of bones.  It contains at least one of every different bone in the human body.  In addition to this chandelier, the Bone Church contained many other decorations all made from parts of human skeletons.  Mike and I stood at the entrance and looked in.  We didn't pay and tour inside as we had been in the larger Ossuary in Brno recently and that was more than enough bones for me. It turns out that this ossuary, with its unique decorations, is a major tourist attraction in this part of the world.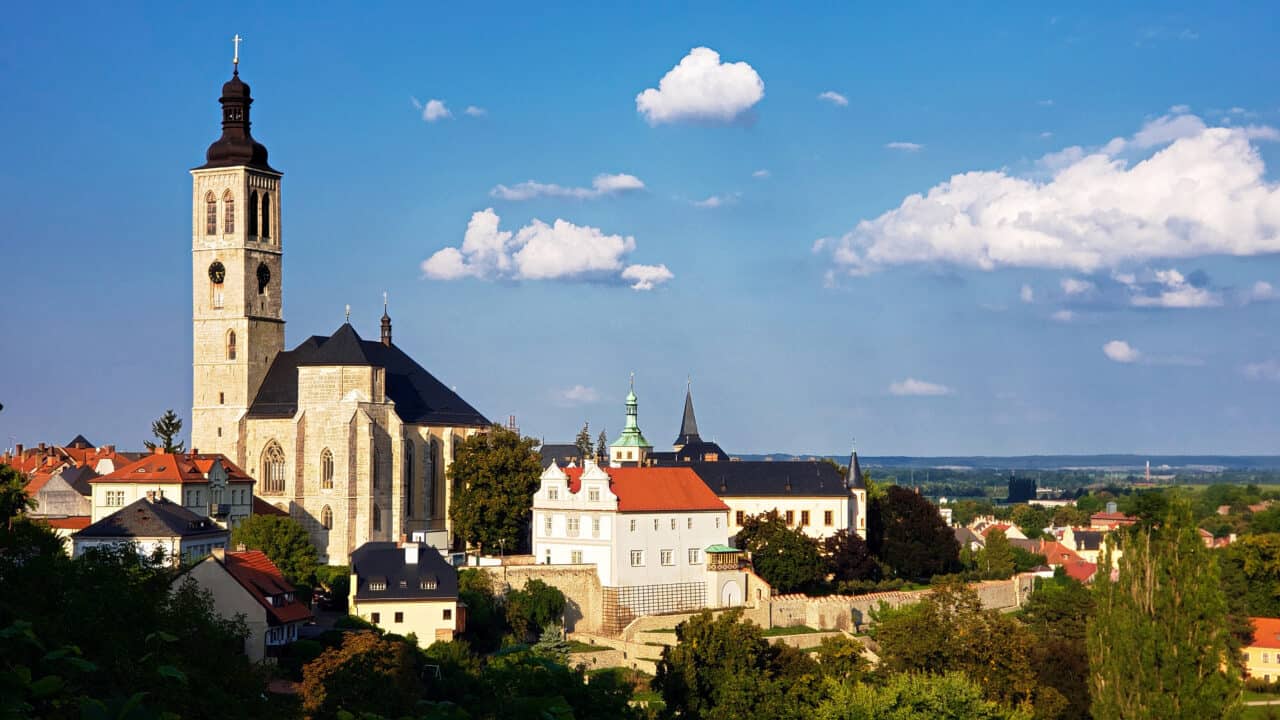 The other thing that I found interesting here was the cemetery.  Can you tell that Mike and I spend our time in lovely places?  The gravestones often said Family and then the family name.  Sometimes they indicated the members that had been buried there.  What most of them did not have were dates.  Even the more modern tombstones didn't show you the dates of the people buried, which really surprised me.  I like the tradition that we have seen in Europe where there is often a picture, either a photograph or an engraving, of the person on the tombstone.  I don't think that we do that much in Canada.
After walking about 8 km (5 miles) Mike and I eventually got back to the town square. By this point I was pretty dead but I refused to give up and skip the whole reason that we had driven to this town. I wanted to see why it was highly recommended as a town to visit. Well dead or not, Mike and I were both extremely impressed. Kutná Hora developed due to the discovery and exploitation of the rich veins of silver ore at the end of the 13th century. In the 14th century, it became a royal city endowed with buildings that symbolized its enormous prosperity. The centre of Kutná Hora was designated a UNESCO World Heritage Site because of its outstanding architecture and its influence on subsequent architectural developments in other Central European city centres. All of this is to say that the town, with its Baroque and Gothic buildings, is lovely.
The picture above was taken from one church in Kutná Hora.  You can see three more churches in this one view and you still can't see the All Saints Cemetery with the ossuary. 
The spectacular site to see in Kutná Hora is St. Barbara's Church.  As you can see from the picture at the top of this post, walking down St. Barbara's Street (gorgeous in its own right) alongside the Jesuit College your first view of the church is breathtaking.  St. Barbara's is considered to be a jewel of the late Gothic period.  Of particular note are the tremendous flying buttresses.  If you don't know what these are, ask Google.  Don't ask an engineer to explain it to you like I did.  In our photo gallery on this website are some additional pictures of St. Barabara's including close-up side views of the church. By the time we got back to our camper, Mike and I had walked about 20,000 steps (in the wrong shoes!).  I have done this in the past but it was a while ago.  This was one of the few times that I regretted not have a nice hot bathtub to relax in.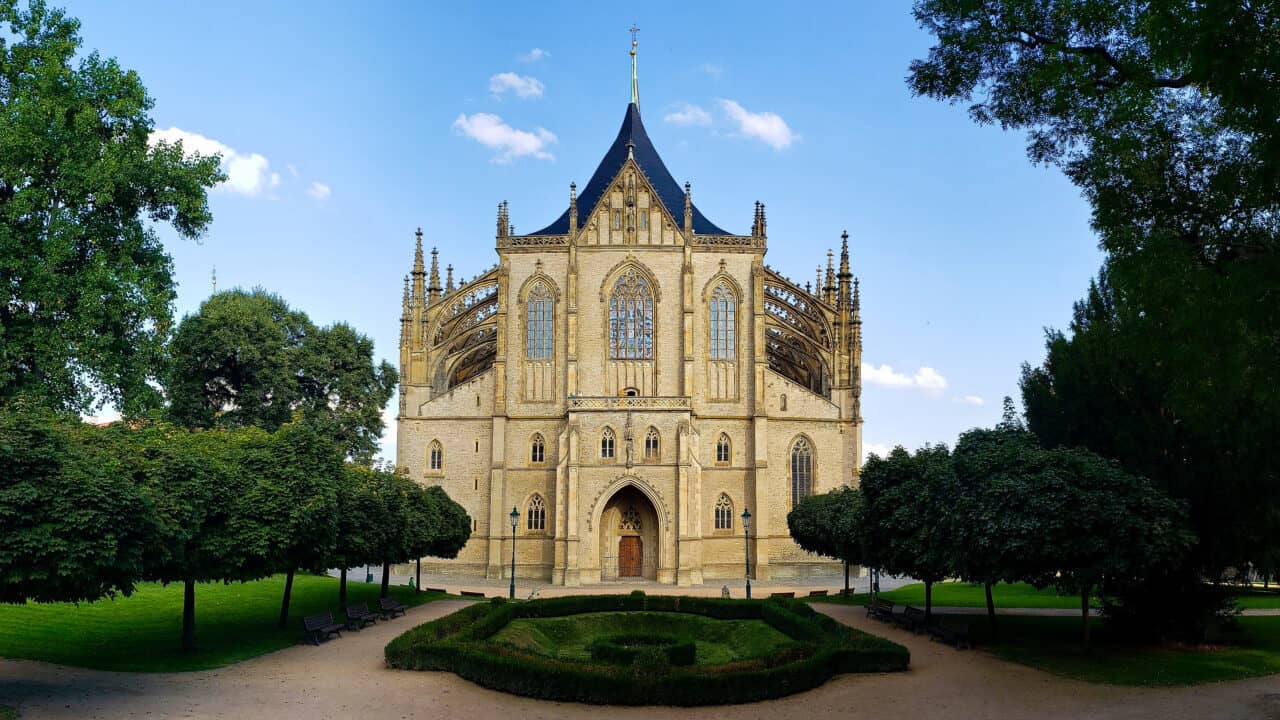 Before we got to Prague we spent a few days in the second largest city in Czechia, Brno.  We had intended to stay longer but we got off to a bad start.  We had sent the campground a picture of our camper and car before we arrived to make sure that there were no problems for a vehicle our size.  When we got there they wanted to charge us more than double the posted rates because we were big.  We were the ONLY camper in the entire campground!  We don't use their showers or washrooms or places that need cleaning so we refused to pay it and said we would leave.  After a major argument with the man onsite, who spoke almost no English, Mike got the woman on the phone that he had talked to earlier.  Things sounded so bad that I was already getting everything tied down to move again.  Eventually though, they agreed on a rate just slightly higher than the posted rate but it left a bad taste in our mouths and we decided that we wouldn't be staying very long. We then drove into town and waited forever in a restaurant first to have our order taken and next to actually get our meal. You can imagine that by this point in time we were not in very good moods.  Not our best day.  We stayed three nights before we left for Prague.  One of the places that we did tour in Brno was the Ossuary underneath the Church of St. James.  After Paris, Brno Czechia has the second-largest ossuary in Europe. 50,000 people are said to be buried here. Actual graves in the cemetery are opened after 10 -12 years and the bones are removed to make room for next body. I really don't need to see any more bones.

In Brno's main town square is an unusual black stone monument known as Brno's Astronomical Clock.  Mike and I decided that it was a strange clock as it didn't show the time.  According to the internet we have since discovered that "The device actually shows the time (albeit in a rather complicated manner)".  We will have to have a closer look if we ever get back to Brno. Below is the interesting history of this strange monument. You just have to love the internet and all the information available to us.
In 1645, near the last stage of the Thirty Years' War, the city of Brno became famous across Europe when it managed to thwart a siege by the previously undefeated Swedish army, thanks in part to a little bit of timekeeping trickery.
The Swedes laid siege to the city for nearly three months, but the citizens of Brno would not surrender. Facing a stalemate, the Swedish general said he would withdraw if the city did not fall by noon, so the local people of Brno decided to turn the clock to read noon an hour early, at 11 o'clock. The general kept his word, and the Swedes packed their weapons and turned home.
To commemorate this historic victory, the Brno Astronomical Clock monument was erected in the city center. At 11 o'clock every day, the shiny black marble obelisk (meant to resemble a bullet) releases a stream of glass marbles that spectators gather around to catch and keep as a souvenir. The noon bell at the local cathedral still rings an hour early every day.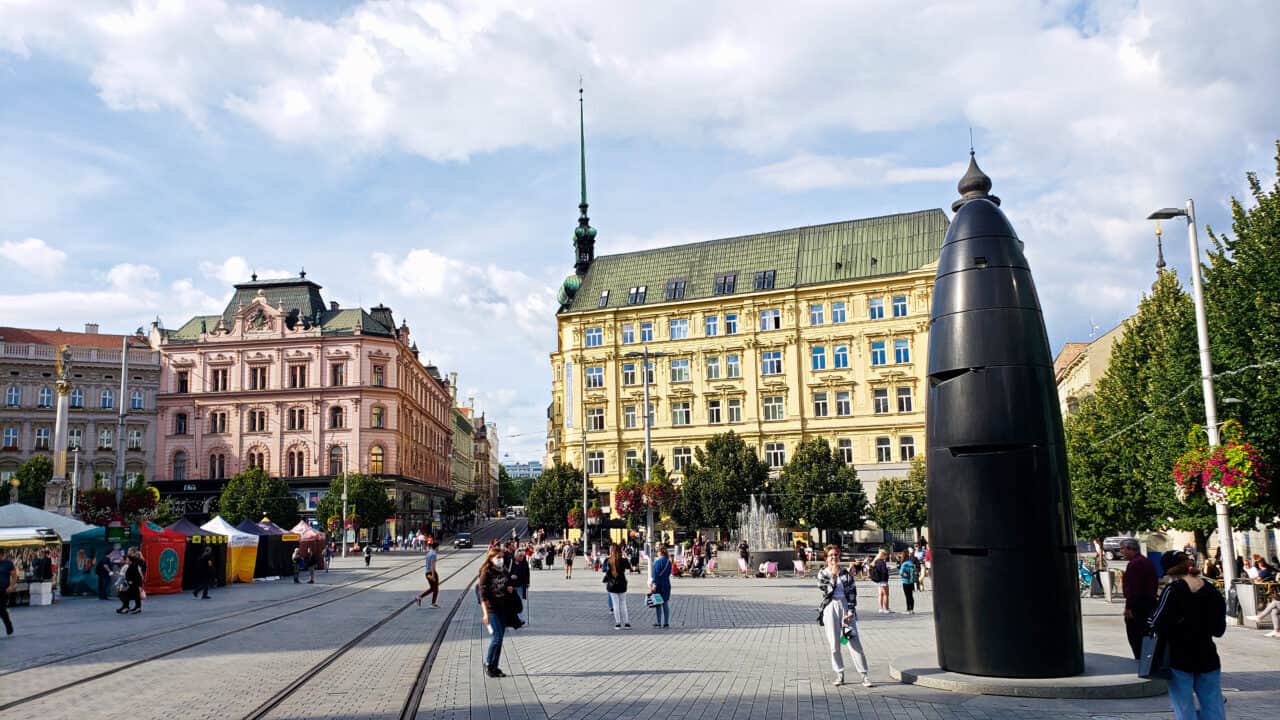 On one of our cycle rides we stopped for lunch in the town of Příbram. It is just one of many towns with a really nice town square. Why doesn't North America have the statues and fountains that we see all across Europe?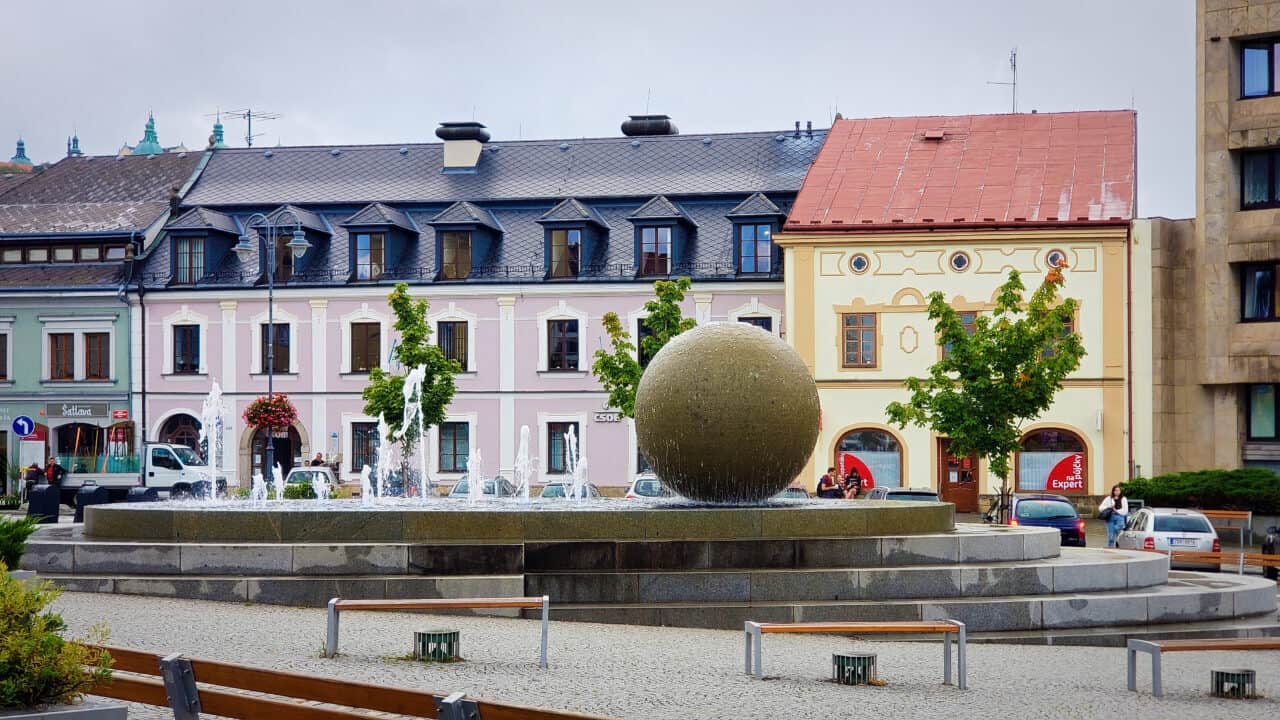 Just outside Příbram is Svatá Hora or the Holy Mountain.  It has been a pilgrimage site dedicated to the Virgin Mary for more than 300 years.  It was great to see and tour. 
Mike recently told me that for two people who were not religious, it was very surprising the amount of time that we spent in churches ?  You can see why we do.