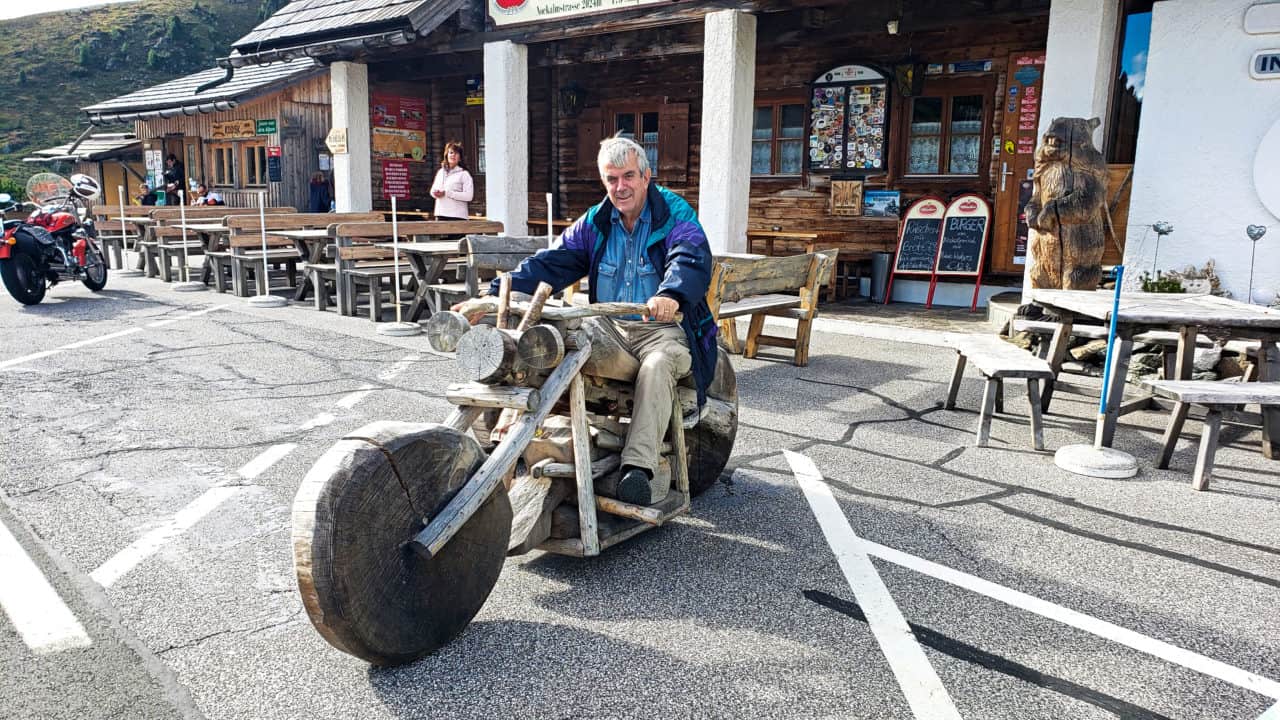 We are back near a good-sized city for a change.  When we first got to this campground we biked into Salzburg and wow, where there ever a lot of people there.  It was a Saturday, but we weren't expecting this in September.  It turns out that it was the weekend for the annual St. Rupert's Fair.  The city was very crowded and the squares near the Salzburg Cathedral where filled with antique fairground rides, market stalls serving regional specialties and beer tents.  I enjoyed seeing the excitement, but I am not really fond of that many people.  We will return on a weekday shortly.  While we were in Salzburg, we used our izi.TRAVEL app with the GPS based audio guides.  As we walked around the city we learned about the culture and the history of Salzburg.  Sometimes we do these tours over multiple days as we take-in the sights that we are passing.  This time we decided to just do the walk around the town and not pay to see anything.  We will probably buy Salzburg's City Card in a few days.  This card gives you access to many of the city's museums and tourist sites.  We always visit many more of these types of places when we have already paid for the card and want to get our money's worth.  The problem is that we like to do things slowly and you have to purchase a one-, two- or three-day card which turns things into a real rush.  At the moment, we often go into town one day and then spend the next day biking and maybe go for a drive on the third day before we head back into the city.  With the card we would then have to spend a few days in a row rushing around town.  How many museums do you really want to see in one day?
Overall, we haven't had anywhere near as many visitors in our RV in the last month as we have been used to.  A few reasons would be the cooler temperatures which means that we don't see people outside for as long.  Also, the vast majority of the campers we have seen are German.  Since there are so many Germans together, they have less need to try and speak English to us.  It was much more common for the locals in the Eastern European countries we have been visiting to want to engage with us. 
We did speak with a couple from Britain the other night. It was an interesting conversation as they were very pro-Brexit. Most of the travellers and campers that we see travelling around Europe are not in favour of Brexit. They tend to want to be part of Europe as a whole, without borders. This couple was adamant that they didn't want England being ruled by Germany and they asked, "Didn't we remember Adolph Hitler?". Actually, hearing the different viewpoints from people is quite interesting.
We have had fun in the campgrounds observing people who were standing and watching their caravans as they backed into camping spots on their own. These people were using remote controls but that wasn't always obvious. Seeing a camper move by itself is quite funny. Once we watched a man maneuver his caravan, just using a little joystick, and he lined it up perfectly over the hitch on his car as he was preparing to leave. It isn't that this type of remote control is uncommon at home, it is just that Mike and I haven't seen it much.
On one ride we biked past a group of about 20 people of varying ages. They were part of a tour group that had rented e-bikes with a guide and were enjoying the bike trail that Mike and I were on. As we ride around, we can see large plots of lands on the hills or mountains where the trees have been cut down for farms on a 20⁰ or even 25⁰ slope. Mike has a big problem every time he sees one of these farms where the people are trying to manually look after and harvest their hay crop on a steep mountainside. My Canadian farmer isn't at all convinced that the results are worth the effort. Because the slope is so steep, almost everything must be done by hand as a tractor would roll over sideways. Mike is also fascinated with the way the major highways are built in mountainous areas. The A10 highway, that we drove on or under quite often, is built on cement legs that are hundreds of feet tall and go straight down into the mountainside. Just looking at the highway from below is quite an unbelievable sight. I really hope that they don't have earth tremors here. Mountains certainly make difficulties for many things including farmers and road builders.
One day when it was raining, it has been doing this a lot recently, Mike and I visited a local Porsche museum. This was more for Mike than me. I did learn that there was a much closer relationship between the VW bug and Porsche than I would ever have thought. There is a much larger Porsche museum in Germany. This one was a small private museum where the first Porsche vehicles were built. What I did enjoy, was seeing the lovely small town of Gmünd, Austria where this museum is located. Gmünd is walled town with a 13th century castle on the hill overlooking the town. The buildings were all nicely painted but still in their historic style. We didn't spend a lot of time here, but it was lovely to see.
Mike and I are trying to "bike" around Austria on a continuous path, until the weather or the mountains stop us. Many of our bike rides are part of the is circular path we envision around the country. Often, we will pick a route where we can bike about 40 km in one direction and then take the train back to the car. On one particularly hilly leg a while ago, Mike's battery was dying, and we had to pick a closer train station than we had planned on to end our leg. This has happened before and is partly why we are getting new bikes. This week we drove back to that area and continued on the path that we previously had had to skip. This time I got a flat tire. This part of the country really didn't want us visiting ?. Luckily it was not a Sunday when everything is closed. I walked my bike to a bike store in the next town. Mike had ridden ahead and made found the store and made arrangements for them to fix my bike. In addition to the flat tire, they also replaced our brake shoes from all the downhill rides on mountains that we have been doing. To be nice, they also did a check-up on our gears and gear shifter. Well that sounds good except that I have never had problem shifting gears before and now I do. Sometimes, five minutes after I shift up, the new gear engages. I wanted to take the bikes back to the store, hopefully for no extra charge. Mike says that he will watch some You Tube videos on the problem and see what he can do first. If that doesn't work, then we will return to the store before we leave.
While they were working on our bikes we wandered around the store. For some reason I really got a kick out of seeing all the tiny bikes in this bike store. The littlest one in the picture doesn't have any wheels. I was told that it is sometimes called a "strider" in Canada. The bigger of the two tiny bikes has pedals. They have so many little bikes for little kids over here. I know that we have some, but nothing like this.
We see so many different things as we ride our bikes through mountains, along rivers, into villages and towns, and through the rural countryside. On one ride we were near the city of Werfen and saw a castle on a hill high up in the distance. Little did we know that we were going to bike right past the entrance to the castle, or at least to the funicular that took you up to the castle. I couldn't resist it. We spent an hour or more touring this castle that was almost one thousand years old. It was getting very late by the time we got back on our bikes, but it was another great day.
On another day we stopped and watched a group of senior citizens playing "Eisstockschiessen", a game that is apparently quite common in the Alps. Have a look at the picture here. As near as we could tell, the rules and strategies of the game had similarities with lawn bowling, shuffleboard, curling, bocce balls, and horseshores. The people at the back throw the "pins" which slide quite well. They can bounce them off the side wall, but they don't have to. The idea is to get close to the round target. You can hit the target and then it moves away from some of the pins. It seemed to me that you would really want to go last when no-one could move the target after you threw. It was amazing how well these people could throw the pins from such a distance and often end up really close to the target. When this game is played on ice in the winter it is known as "Bavarian Curling" and has been demonstrated twice at the Winter Olympics.
Yesterday we biked another 40 km on our route around Austria. We started 8 km from where our previous route ended due to train station locations. My battery lasts longer than Mike's does, and Mike is better at folding up the bikes and getting them in the car. Because of this, after the 40 km I left Mike putting his bike into the car and I continued on to do the last 8 km. Mike was going to drive and meet me at the end. This was all so that our track around the country wouldn't have any gaps. For the first time ever, my battery ran out of juice and it chose a very bad place to do it. Typically, we try and keep the grades we ride up to something less than 6% if possible. Anything much higher for too long and we are scared about overheating and burning out our controllers. We expect that are new bikes will do much better than this. There were no proper bike paths the way I wanted to go. I started up a steep hill that I later found out was greater than a 12% grade. This is more than my bike can do at full power. Just starting up this hill killed my battery. Walking the bike up a 12% grade hill isn't a lot of fun. If I had been near a road, I would have just called Mike to come and get me, but I was in the middle of some fields, with no proper road access. It actually wasn't too bad because I knew that I was close to where Mike was waiting.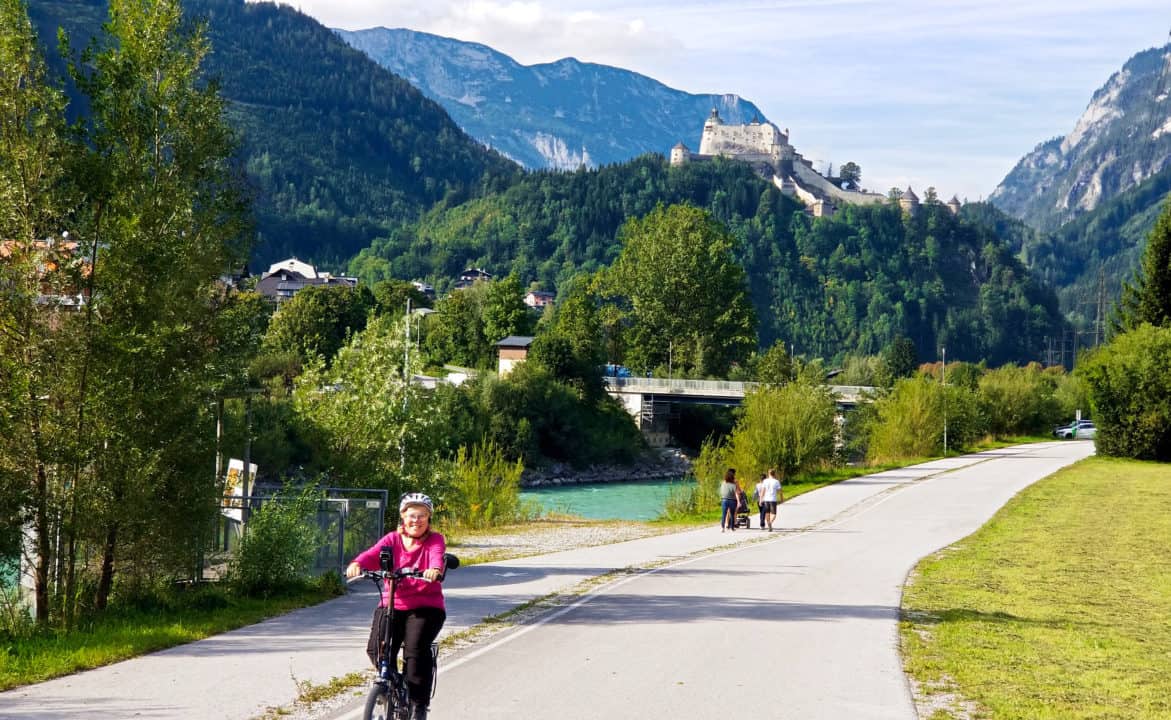 In a previous article I mentioned that our new e-bikes had departed Canada. Well I was wrong, the ship "Toronto Express" departed but our bikes weren't on it. Our bikes were eventually put on the "Montreal Express" and are currently still in the St. Lawrence. It will be a while before we see them. We can't legally drive in Austria after the end of October as our RV doesn't have winter tires and chains. This rule stays in effect until mid-April. This changes our plans. We are now looking for somewhere south of here to be able to drive to without too much difficulty and where we can store our RV for the winter. It will preferably be somewhere where February and March are above freezing. These arrangements are much harder to make from a distance, by email, than they are in person. Last year Mike and I just drove around the area we wanted to stay in until we saw a small campground that was closed for the winter but had some security. They agreed to keep our RV at a very good price. We will see what happens this year. We do want to be able to come back and continue our journey around Austria next year. And yes, that will be year 4 in our 3-year plan!