Leaving Gros Morne and the Northern Peninsula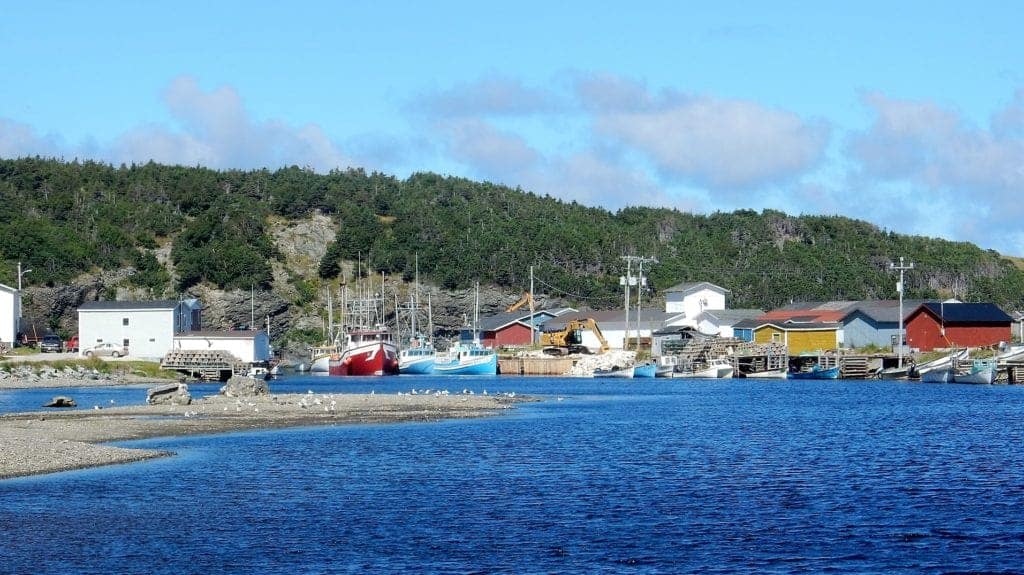 We have just spent almost one month on the Northern Peninsula of Newfoundland and had a great time.  Lots of well marked hiking trails, lots of trees, mountains and water and only 15,000 people living on the entire peninsula, what more could you ask for?  Actually the answer to that question might be more cell phone and internet coverage.  Sorry to everyone who thinks we have been ignoring them.
We have spent two weeks in and around Gros Morne.  Went on two boat tours, three music nights, two plays, two trips in our own boat, talked with lots of great people and went on more hikes than I can believe.  Yesterday we went on the 4km Tablelands walk.  This is the really significant geological area where you can see where the continents collided together and pushed the ancient ocean floor and rock from the earth's mantle up above the surface of the earth.  We didn't make the guided walk but I knew that there would be a lot of interpretative signs along the main trail.  They have these everywhere to tell you about the scenery, the plant life, animals and anything special along the various walks.  This hugely geologically significant area called Tablelands had not a single sign or description anywhere along the trail including at the lookout at the end.  They have done such a great job for visitors on most of the marked trails that to fall down on this walk was very disappointing.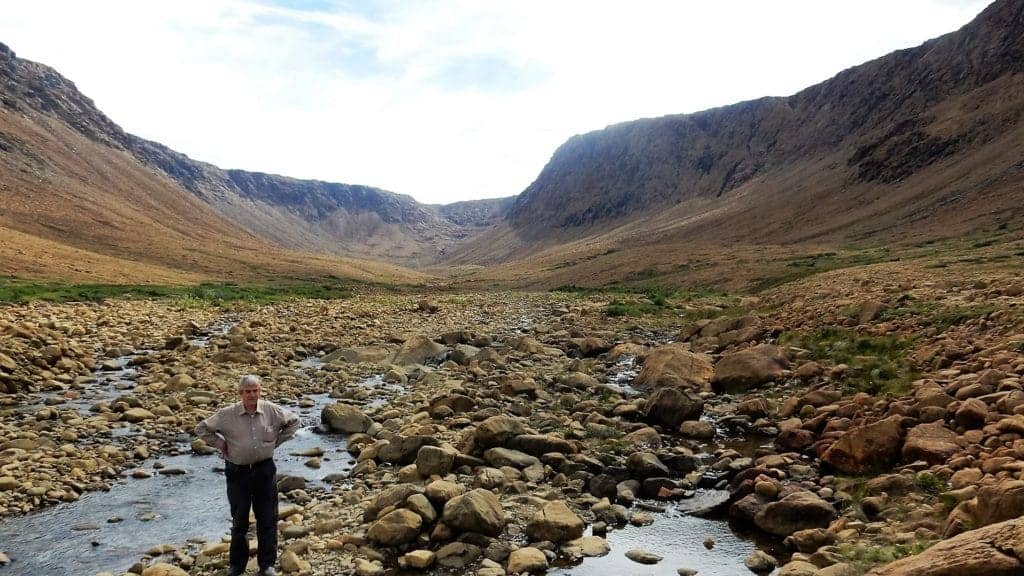 Our first boat trip in our small boat here wasn't the greatest.  Weatherwise it was like every other day; cool at about 65F or 18C and windy.  Out on the water, in a very little, low boat this translated into salty waves and soaking wet.  After this trip Mike wanted another trip in a fresh water river to wash the salt out of the engine.  It was much better and prettier in that you didn't have the waves and didn't get soaked but I didn't find that boating in cool temperatures was much fun.
Before Mike and I went to Ireland we had really been looking forward to hearing a lot of local music in pubs or in shows.  We were disappointed.  There wasn't much music played in the pubs and the few that had music were extremely overcrowded and not much fun if you could even get in.  So far in Newfoundland and Labrador there have been lots of opportunities to hear local music.  Once, in Labrador, we were grocery shopping in a small mall and they had a live group just playing outside the grocery store.  Today there were a few people playing instruments and singing as they were selling hot dogs and hamburgers for charity.  We have seen lots of small towns holding little festivals with great music.  Two nights ago we listened to three guys at a "concert" in a building that had once been a church on a hill overlooking the water.  It was a great evening.
We are just leaving Gros Morne and are going to make a quick side trip in the wrong direction to try and buy a bicycle for Mike in Corner Brook.  They have a Walmart and Canadian Tire store there.  There has been nothing like that anywhere on the Northern Peninsula.  After running in and out of Corner Brook we will be heading slowly towards St. John's.  I am hoping that we will make the time to get to some of the smaller islands by ferry and not just stay on the mainland, if you can call the island of Newfoundland the mainland J.  It turns out that there is no through road across the southern end of Newfoundland so from where we are now St. John's is in one direction and the ferry that we need to take eventually to leave Newfoundland is in the other direction.  This means that we will be travelling through this part of Newfoundland twice, once to St. John's and then back to get to the ferry.  Newfoundland has an awful lot of towns on the coast and a few in the centre that have a single road leading to them from the main highway.  As a tourist or traveler in a relatively slow vehicle, we have to decide which villages and areas are worth traveling hours on the same road back and forth to get to.  If you don't go to some of them then you just stay on the highway and miss seeing the heart of Newfoundland.  We know that we don't have time to get to all of them so we will compromise and see where it gets us.  We talked to one gentleman recently who has been coming to Newfoundland on vacation for ten years.  Each year he bases himself in a different small town and tries to visit every village in the area.  He says that he has nowhere near seen all of Newfoundland yet.  We won't either but we should get a really good feel for the province.