RVs and Water – A Great Mix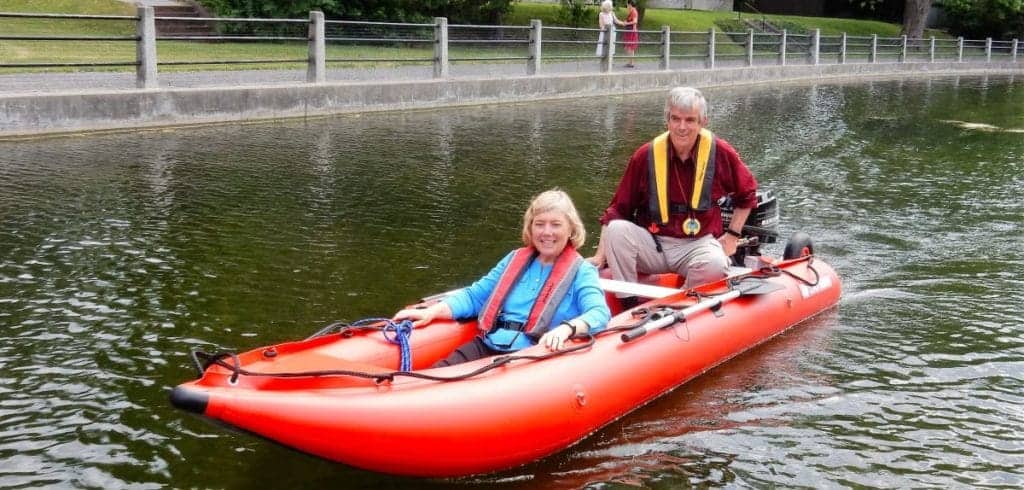 On our last big RV trip one thing we quickly learned was that we missed our boat. It seemed like every campground was on a lake or a river. We couldn't bring our 24 foot bowrider so we purchased a small inflatable boat. I was originally looking at the extra wide boats so that I could sit next to Mike.  He selected the extra skinny boat so that we could go faster.  Gotta love the differences between the sexes J. Our new boat has an interior width of 14″. Luckily for me the sides are very flexible and "mold" around one's body. We eventually found a two stroke 8 hp motor that we could carry with us. The boat itself fits easily into a bag. We bought another duffle bag that all the extras go in. Everything goes nicely into the car that we are towing.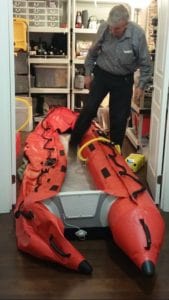 Mike installed wheels on the back of the boat that flip up above the pontoon in the water and go down under the boat for moving on land. It is very easy for us to pull the boat on land. It is a bit awkward for Mike to unpin the wheels and lift them up and down in the water. I am sure this technique will improve over time. Here is Mike checking out the new boat in our apartment.
The bad news is that we sold our bowrider just before we came on this trip. I listed it on the internet at 1:30 in the morning with Mike's phone number and I went to bed. The boat was basically sold before I got out of bed. SInce we were going to be away in Canada this summer and travelling through Europe the next three summers it was hard to justify keeping a boat. It is hard though. We loved the boat and one of the selling features of our new apartment was that we overlooked the marina and our docking spot. Oh well, I guess in 5 years we buy another one.
As we were leaving on our trip we decided instead of racing to Quebec City we would detour and head to Ottawa where we hadn't been in a few years. We figured we would easily make it for dinner. We stopped for a meal in Marmora, a small town northwest of Peterborough. You wouldn't believe the size of the ice creams. I ordered a single scoop and got an overflowing bowl. I was told the double scoop wasn't to be believed. Our waitress told us about the Crowe river and lake. She also said that there was an old car show in town and an Elvis impersonator. We decided to spend the night and try out our new boat. It worked great. Well, it went fast once we remembered to take the wheels out of the water! We stayed in town for two nights and headed for Ottawa again on Day 3.