I am writing this sitting on one very sore, probably black and blue bum. Mike and I drove to the Cuyahoga Valley National Park today. The park has a program called "Bike Aboard". There is a bike trail that goes through the park. At about 6 points along this trail you can stop at a mini train station, wave two arms (one arm means hello) and get the train to stop. For $3.00 they will take you and your bike back to your starting point. It is a great deal. It is a scenic train and the charge for normal passengers is higher than for a bike and rider. On the train ride back we saw deer a couple of times. Once it looked like the deer was trying to keep pace with the train.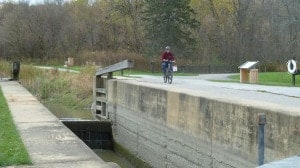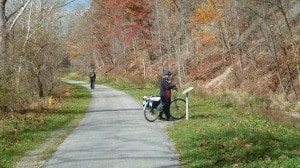 The trail is called the Ohio & Erie Canal Towway. The trail tries to follow the path where, from 1827 to 1913, mules walked pulling canal boats up and down the canal. The trail isn't completely finished yet but when it is it will be 101 miles long. Only about 20 miles of it are in the Cuyahoga National Park. Today was a beautiful crisp fall day. The leaves had largely fallen from the trees but they weren't all gone. Mike and I expected to bike a couple of stops and then take the scenic train back. I will say that there is only one train running and it takes almost four hours to do a round trip so you might have to wait a while if you don't time it right. Mike and I ended up riding to the far end of the park. We biked for 21 MILES (34 KM)!! This was without any stops other than a sip of water and it was not on pavement which would have been easier. The trail was nicely packed but it wasn't asphalt. I was fine until the last four miles. During that last leg not only did my legs start to give out but there was also a headwind. Just what we needed. At the end of those four miles was a train stop and a restaurant. Since it was about 3pm and Mike and I hadn't had lunch yet and would have to wait about 90 minutes for the train food sounded like a good idea. My legs weren't so sure, the extra half mile to the restaurant was almost too much.
I know that for some real bikers this would be a warm up exercise but for someone who considers a bike trip at home a one mile ride this was a big deal. Just to put this in perspective for my family, this is further than biking from home to the CN Tower. It is about the same distance as biking from Port Credit to Oakville AND BACK. Yes I have friends who do that but they are younger and in better shape than Mike and I. My legs are recovering, my bum isn't!