Missouri the "Show-Me" state


Missouri doesn't score really high marks for its uniqueness of town names. The other night we stayed in Lebanon. We have either passed through or seen the following towns on the map when we were looking at our route: Lebanon, Washington, Versailles, Mexico, Warsaw, Savannah, California, Buffalo and Charleston. Imagine what we might find if we actually went looking for city names that seemed out of place.
We spent a few days in a small German heritage town called Hermann. We arrived here due to an error. Mistakes are often good fun when you are travelling. We were aiming for another campground where we would get a 50% discount on the rate. It was off a narrow road, remember we are avoiding big highways, and Mike missed the turning. According to our GPS it would take half an hour to get somewhere where we could even turn around with our RV and attached vehicle. We decided that it wasn't worth saving the $14.00 which was probably less than the gas we would use in the extra hour of driving so we carried on. We came to the town of Hermann which has a somewhat unique campground in that it is in the middle of the city park in the middle of town. There are only about 10 or 15 sites for campers. It was a very nice setting. We wandered around town, again when the stores were closed, and Mike went looking for a Bratwurst meal. Mid October is getting out of tourist season and many of the little restaurants were closed. Thanks to Oktoberfest on the weekend the pub that we ate in did have Bratwurst even if it wasn't on the main menu. Mike was happy.
A very unusual state park runs just past Hermann. It is called the Katy Trail State Park. It is approximately 10 feet wide and 250 miles long. It is the result of a major "rails to trails" project where old railway lines are converted into biking and walking trails. In the morning Mike and I went to the trailhead to bike down it for a ways. It was really nice and quite level. At one point we were biking under an archway of trees. Later the bike trail came quite close to a solid wall of rock and at other times we rode through farmers' fields. After about three miles I started finding the going harder and harder. I decided that we must be going uphill even though it didn't look that bad. In fact, my rear tire had gone flat. Mike wouldn't let me ride back slowly and instead we walked the bikes back about a mile and a half. At that point we were quite close to a road and we decided that Mike would bike back to the RV and I would walk my bike to the road and wait for him. We took the RV back into town to get my bike fixed. Since it was now the middle of the day we ended up wandering around a bit and having some lunch. Eventually we went back to pick up the car that was still at the trailhead and decided to give our "trail" ride another try in the opposite direction. It was also very nice except for an infestation of lady bugs that we rode through a few times. We were literally covered in lady bugs. Well maybe not completely covered but Mike probably had about 50 on his back alone. You rode with your head down and tried not to breathe.
It was 3pm before we left Hermann for the day and we were still heading towards St. Louis while avoiding major highways. Hopefully we have the time to continue doing this most of the way home.
St. Louis
We have just spent three days in St. Louis and had a great time. It is a really nice city. We stayed in a campground right near the centre of town. It wasn't very attractive, really nothing but a large cement parking lot containing all the hookups we use such as electricity, water and sewer but it did have location. We were a few minutes from everything. On Wednesday night, which was our 39th wedding anniversary, we went to see Dirty Dancing at the Fox Theatre. What a gorgeous theatre. One aspect of the décor surprised me. The theatre has a definite Thai theme. It seems a little strange to me that a theatre in St. Louis, Missouri built almost 100 years ago would have such a strong Thai influence. Since Mike and I love Thailand this was just an added bonus.
In an earlier city Mike and I had tried to see the iMAX film D-Day. The timing hadn't worked out but we did manage to see it in St. Louis. I thought that it was a really good overview of that period in history. If anyone has any interest and little knowledge about that period I would recommend going to see it.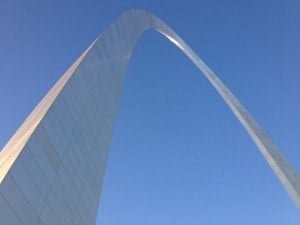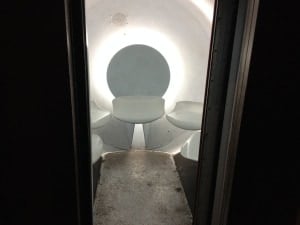 We took one of the standard city tours that we always like to do. This one was really well done and the tour guide was great. Our anniversary was mentioned. The two ladies sitting in front of us said that one of them had been married 56 years and the other lady had been married 62 years. That put our 39 in perspective. One of the highlights of St. Louis is the Arch that is often depicted in pictures of the city. The Arch is 630 feet high. To get to the top you take what is called by some an elevator or by others a tram. A nine year old girl described it to our tour guide as getting into a dryer with four friends and she was quite accurate. The tram is made up of a lot of little cars and goes up inside the leg of the arch. Five people are crammed into each car. You then get ratcheted up until you reach the top. Mike took the picture here just after five of us exited our little compartment or cage as he called it. My husband, who doesn't particularly like heights, wasn't at all sure why he had joined me on this ride to the top.
It was a great time to be in St. Louis. St. Louis has lots of maple trees in their parks and along their riverfront. They were at their peak in terms of colour. Not only did we have three lovely days but they are predicting strong winds right after we leave. The assumption is that this will basically end the fall colours here. Again our weather timing was just right.
We stopped in to see the main cathedral and was it ever worth it. The cathedral in St. Louis is just lovely. It might be one of the nicest I have seen. It isn't huge just a really nice size. It has a lot of mosaic work like St. Peter's does. We didn't get to spend as much time as I would have liked wandering around as a service was just starting. We saw a replica of Michelangelo's marvellous Pieta which we had also seen in Rome. Strangely enough there was no plaque near the statue that I could see showing any information about the statue at all.
St. Louis advertises a lot of "free" highlights and they sound great. The zoo has free entrance, the art museum has free entrance, and the science centre has free entrance. Because of this we decided to try and visit more attractions than usual on our last day and just spend a little time at each. The problem was the parking. The science centre was $10, the zoo was $15 and the art museum was $15. To be fair, if you get to some of them really early in the morning there is free street parking and during the summer there is a bus between some of the locations. These weren't options on a Thursday afternoon. What disappointed us the most about St. Louis was the train at the zoo. Neither of us particularly wanted to spend a day at the zoo. Since entrance was free we thought that we would take the $5.00 train ride that they have that goes around the entire zoo and basically have a quick peak at the animals. The trains in many zoos, including the Toronto zoo, usually provide a great overview of the animal enclosures. You can see nothing from the train at the St. Louis zoo. We were quite disappointed, especially after paying for the train and parking for our "free" hour at the zoo. The best things about the zoo were the bronze statues outside the entrance. They were outstanding. Many of them were carved by the artist Kent Ullett. I am not sure why I go to zoos because, as much as I like seeing the animals I still feel that the space they are in is way too small for them. It is much better than the cages used when I was a child but it still isn't very nice at all.
We only had an hour before the art museum closed for the day but I decided to run in anyway. After all I might never get another chance. I only got to the European section which was actually nicer than I expected. It would be worthwhile going back properly if we are ever in St. Louis again.