We have covered some ground since I last wrote.  We did visit Lubbock and Amarillo, Texas.  In Lubbock we went to tour their museum and when we got to the door the security guard somewhat snootily informed us that it was a Monday and museums were obviously closed on Mondays.  Onward to Amarillo.  Amaraillo advertised a historic Route 66 area tourist attraction.  That was probably the biggest disappointment of any "tourist attraction" that we had seen so far.  One of the things that we have noticed in this part of Texas and Oklahoma is that many of the small towns are in really bad shape.  Some have shut down completely while others have half the town boarded up or for sale.  It is really noticeable along the old Route 66 highway.  This used to be called the Main Street of America.  Once they built the super highways Route 66 became a secondary road with very little traffic and the towns along it were hurt really badly.
It was lunch time when I saw a sign for Red Rock Canyon State Park and decided that we should drive in and see what was there and see if there was a nice spot to eat.  There appear to be a lot of parks in the US called "Red Rock".  I was a bit concerned because to get to the bottom of the canyon we drove on a very narrow, twisty, steep road.  Going down was slightly concerning; the thought of coming back up still towing the car was even more concerning.  Again our Ford V10 did just fine.  It has actually done better than we expected with the load we have been pulling.  When he is behind the wheel Mike has a tendency to just keep going and he could easily drive past everything unless it was time for a meal and even that gets forgotten sometimes.  Because I sit at the front and read or work on my computer I don't notice all the information signs on the road.  I wonder how many of these lovely parks or tourist sites we have sailed right on by.  Anyway, we did see Red Rock.  We found a lovely spot in the trees next to a small stream for lunch.  It was a beautiful day and we took the bikes down and road along the bottom of the park until we saw one of those steep roads going up.  At that point in time we quickly turned around.
We then spent a few days in Oklahoma City, which is usually written as OKC.  We went to a small theatre and saw J. B. Priestley's "The Inspector Calls".  It had been years since we had seen that and we had forgotten most of the ending which was good.  We stopped in at the Science Museum to see an IMAX film shot in China about trying to reintroduce Pandas into the wild.
OKC is trying to build up tourism along their waterfront.  It was interesting that a fairly large river called the Canadian River runs just south of OKC.  A tributary that is over 700 km or 440 miles long, called the North Canadian River, runs right through the city.  When they decided to promote the riverfront someone must have thought that the river name lacked patriotism or something.  A few years ago the seven mile stretch of the North Canadian River that goes through the city was renamed to the Oklahoma River.  The rest of the 700 km retained the original name.  They have built a bike trail on both sides of the river.  The plan was to take our bikes on the ferry going upriver and then ride the bikes back.  There are two ferry stops, one is 3 miles upriver and the other is 7 miles upriver.  When we called to investigate it looked like we were going to have a problem with the ferry schedule so we decided that the next morning as we were leaving OKC we would take the RV to the ferry terminal and simply bike as far upriver as we wanted and then basically glide back downriver.  As it turned out I really didn't feel well the next morning.   On this entire trip the worst things so far were a few minor headaches or backaches, nothing that had interfered with any plans.  Not true on this day.  I told Mike that I would stay in the RV and he could go for a ride along the river.  It was a beautiful day.  If I started feeling better my plan was to bike out to meet him coming back.  Mike was gone for a long time.  He came back more tired than I have seen him on this trip.  He was too tired to even eat lunch.  He had gone to the end 7 miles away, which he knew would be a little uphill based on the river flow and then turned around.  He swears that it was uphill in both directions and in addition he had an unexpected head wind the whole way back.  He said that he was actually in a lower gear coming back to the RV instead of coasting most of the way as he had expected.  I was jealous originally missing such a beautiful looking day with a paved bike path next to a river.  It turned out that I wasn't really jealous after all.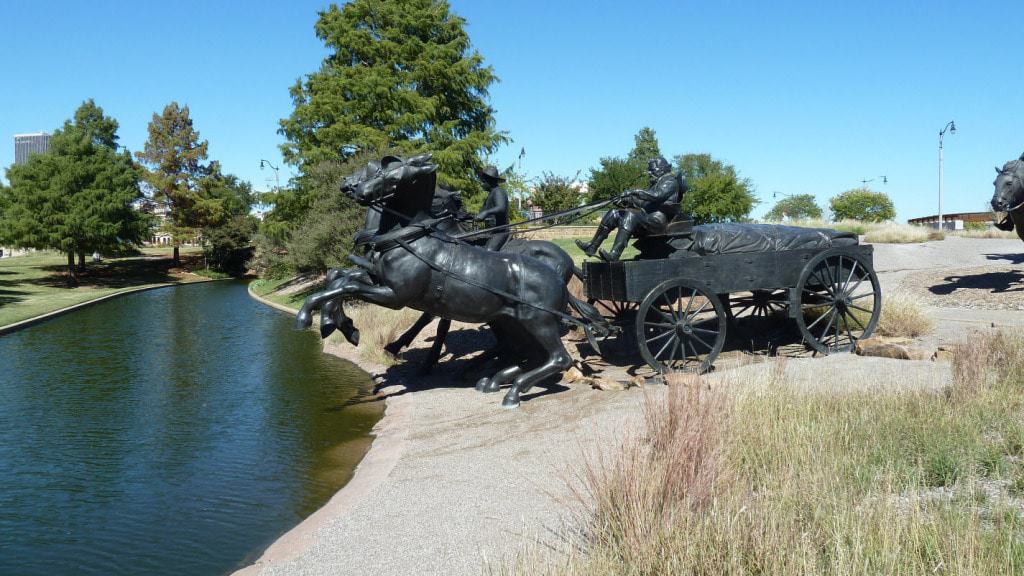 Oklahoma City does a great job of its monuments and memorials.  We went to see the Memorial they had built to the Oklahoma City Bombing.  We also went to see the monument to the Oklahoma Land Rush on 1889.  The story behind the land rush and new towns being created in a single day is just fascinating.  I really don't have the space to talk about it here.  I would strongly recommend that you go to http://en.wikipedia.org/wiki/Land_Rush_of_1889  and read the first few paragraphs about the land rush.  I may add a few more comments after we visit Guthrie the historical capital of Oklahoma and one of the two original land registration sites.  The pictures here show part of the Land Rush monument.  A large field full of bronze statues is my idea of a great monument.