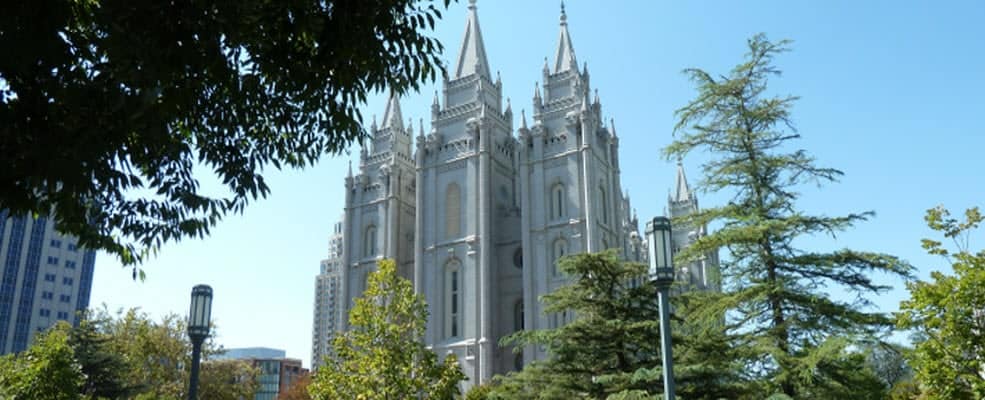 We booked into a campground in Salt Lake City for two nights, we then extended it to three nights and again extended our stay for a fourth night.  I guess you can tell that we are enjoying Salt Lake City.  Although I have been here a few times before I hadn't realized how well set up the town is for bicycles and how lovely and flat it is even though you can see mountains all around.  They have bike paths almost everywhere.  In a few places where there aren't separate bike lanes they have a sign that says bikes are to use a full lane, this is so that the cars won't try and go around you in your lane.  Our campground is two miles from the centre of downtown.  It is an easy ride.  On Friday we rode into town for the day.  The temperature was over 90 degrees which was a bit warm but we managed.  As most of you know I am not a shopper and Mike most definitely isn't.  We did go into a mall downtown for lunch that was really nice.  It looked to be quite high end.  It gave the appearance of being outside with all glass ceilings and no walls at the ends.  It turns out that there are hidden large doors that come down in the winter time.  On Saturday we took our bikes two or three miles in a different direction to go to a planetarium where we saw one IMAX 3D film on Lemurs in Madagascar.  We also saw a film in the 360° dome theatre.  Next to the planetarium was an outdoor mall that was two stories and covered two blocks.  It looked to be more aimed at the teenage crowd.  I had assumed that since SLC hosted the winter Olympics the temperatures here would be quite cold in the winter.  They aren't that bad.  Daytime highs average above freezing all winter.
We went to a play on both Friday and Saturday night.  We have missed the theatre while we have been travelling.  We have subscriptions with multiple theatres at home and I hope my family is enjoying them in our absence.  On Saturday night the play was at a theatre in the round.  They did a marvelous job of the show and the theatre itself was great.  We had a super time.  Today we did all sorts of odd jobs around the RV and then went for a bike ride on a paved bike path along the river.  It was my type of bike path with no traffic and really level.
Tomorrow we will start heading slowly toward the town of Moab which a friend of ours has insisted that we can't miss.