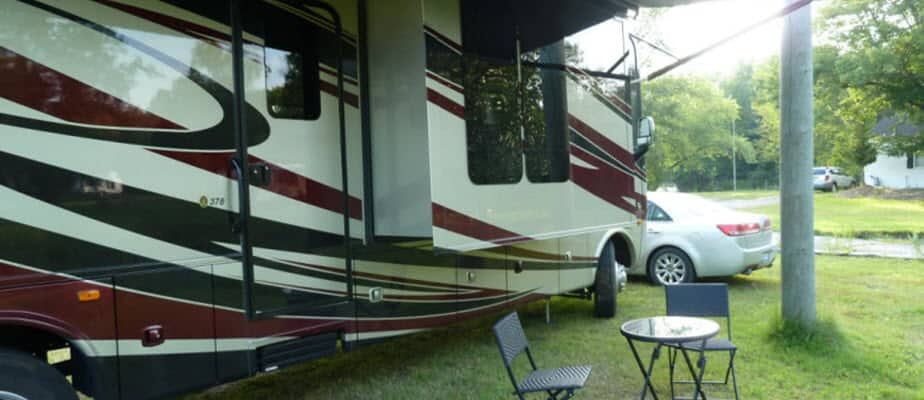 So it is day 2 and we have just left Walmart in Wasaga Beach on our way to Sudbury.  We just drove past a sign for "Old Fart Road".  How would you like that for your address?  In one small town we saw a grocery store with a large cement slab off to the side.  It had some horse poop on it.  We figured out that it must be the special parking area for the Mennonite horse and buggies.  To us that looks quite quaint and unusual.  It is amazing how many small towns there are in this area that we have never heard of.
We were just approaching Hwy 400 which is a major thoroughfare to the North when we decided that we didn't really want to travel on that highway.  Everyone has always talked about Yonge St or Hwy 11 being the longest road in the world so we thought that we would try and drive to the end of it.  Apparently the Guinness book of records has now removed this accolade from Yonge St. but hasn't replaced it with any other road.  It doesn't matter what Guinness says it still looks like a good road to take.
Shortly after getting onto Hwy 11 Mike noticed that there were a large number of people just off the side of the road.  I couldn't believe it.  It was Weber's hamburger joint that was famous when I was a teenager and still has a huge line-up down the highway.  I would never have expected it to still be there and still be booming.
We have a V10 Ford engine pulling a 38 foot motorhome and a Lincoln automobile (not including contents, bicycles etc.)  Not surprisingly it doesn't like hills very much.  On the climb our speed had fallen to below 35 mph (below 60 kph).  Half way up the hill we actually passed another vehicle.  It was a man on a bicycle towing a wagon filled with luggage.  Imagine our surprise when a few hours later we watched this same person bike into the campground we had just arrived at.  We stayed in a campground near North Bay for the night and I learned something.  It was given a very low rating by whoever rates campgrounds.  This was a bit concerning ahead of time.  It was actually quite lovely.  It probably didn't have all the amenities that families want when the campground is the major destination.  It was fairly small, on a very small river, with nice trees and very friendly people.  We parked the RV so that the living room window looked right out over the river beside us.  Overall it did us just fine.
In the evening when we were driving around North Bay and we passed another Walmart.  There had to be half a dozen or more motorhomes that had chosen to camp there for the night.  If you are just stopping on your way somewhere and you are completely self contained it isn't a bad option although I will admit it doesn't sound great.  When we were in Central Europe we once looked for a large retail parking lot and parked below a big light hoping to get additional security.  While we were touring North Bay we saw a very nice little fair.  Given that Mike doesn't like the midway, we hadn't eaten yet and I am trying to avoid the ice cream cones and everything else fairs are famous for, we chose to give it a pass.  Too bad as it looked quite nice with the tents and rides right along the edge of the lake.
Bye for now.