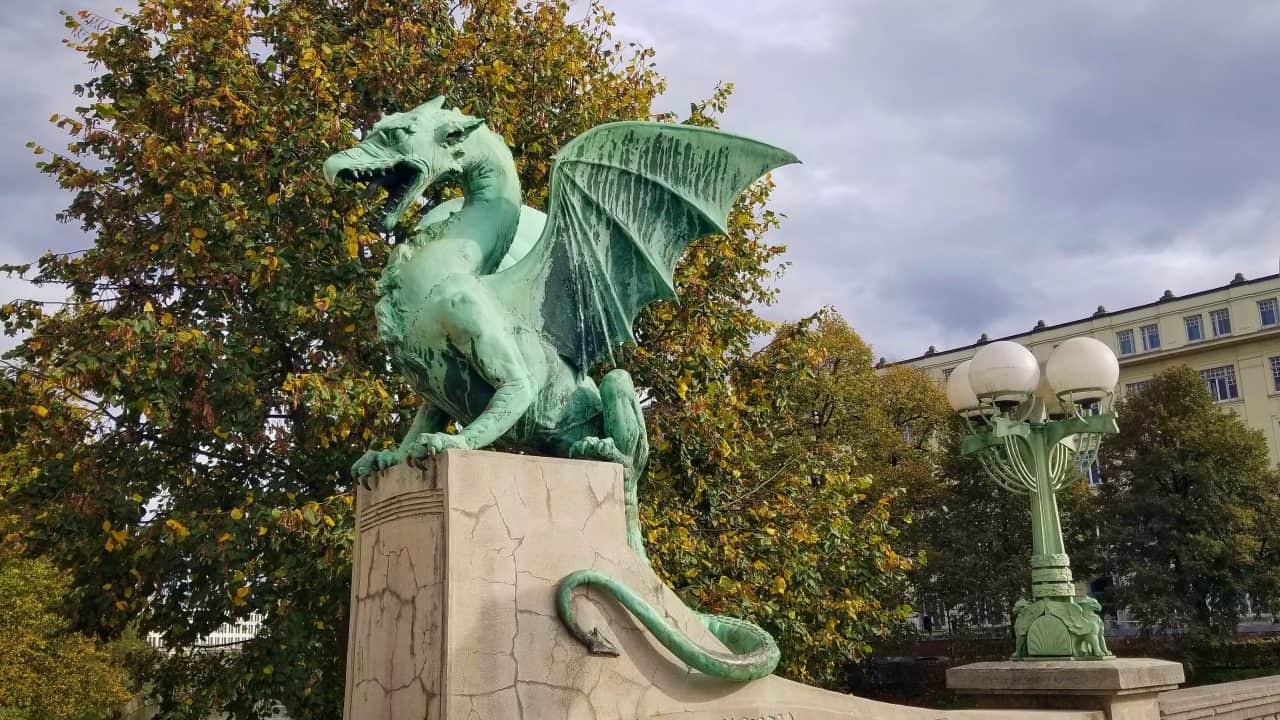 It has been a little while since I posted my last article. Things have been a little hectic both on the home front and with our travels. As you know, Mike and I have been heading south to find somewhere to store our camper for the winter. We like to camp where the weather in early March averages 10°C or more. During the covid lockdown we did bike in colder weather than that but then you had to really start dressing for the weather and it isn't quite as pleasant.
We left off our last post heading for Ljubljana where we wanted to spend a few days. We have been to Ljubljana multiple times before. It is the small but very lovely capital city of Slovenia. Ljubljana is known as the "City of the Dragons'. You will find statues of dragons throughout the city including dragons on each corner of the Dragon Bridge which you can see above. I find it quite interesting that while dragons are often looked on as cruel and scary mythical creatures in the west that is not true everywhere. In the past dragons were considered symbols of light and wisdom. This is still true in the Far East today. The Emperors chose the dragon as their symbol and added golden dragons to their clothing.
The Ljubljanica River runs right through Ljubljana. Rivers in a city always make for interesting places to have cafés and restaurants. In this picture you can see the permanent market halls in Ljubljana's Central Market. The market runs along the river and on the other side of these market halls is an open-air market. Mike and I enjoyed a quick and easy lunch here one day.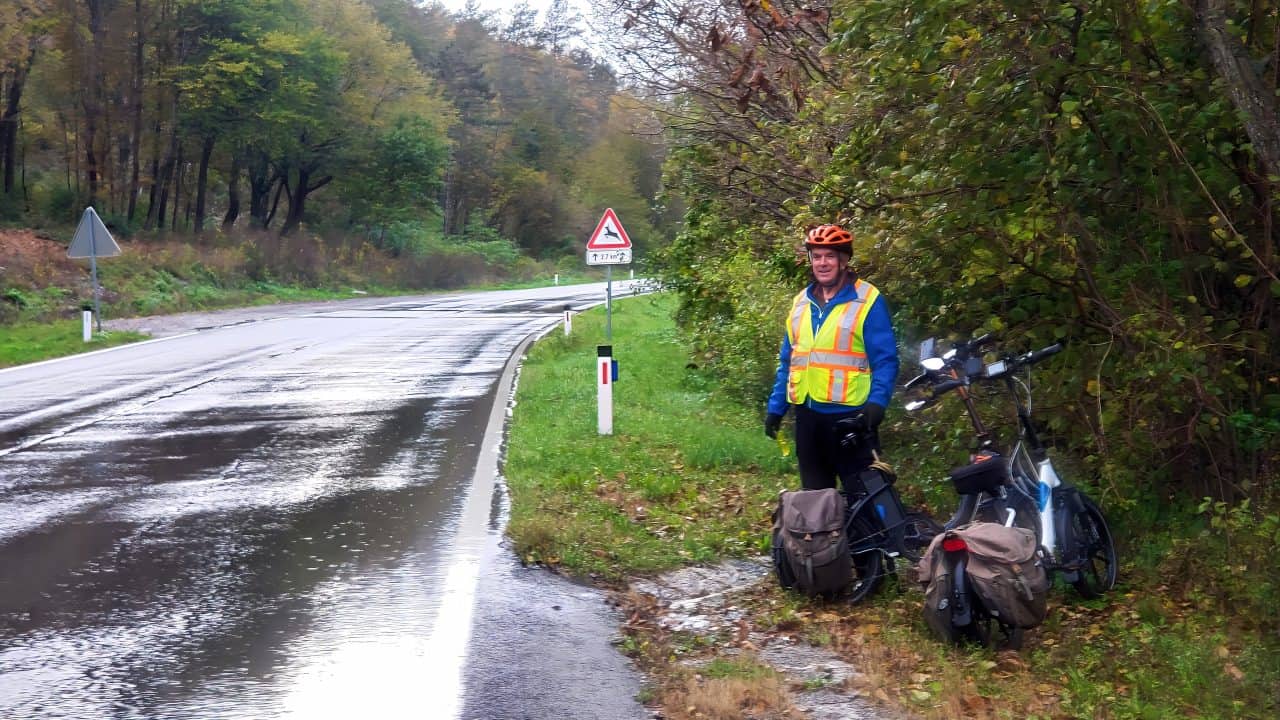 I will say that the weather hasn't been our friend for the last few weeks. It has been rain, rain, and more rain. Even when eating in the marketplace we had to choose a spot next to a building under an umbrella to ensure that we would stay dry. On days when it didn't rain the rain was predicted and therefore our cycling stayed on hold. We had two or three more legs that we needed to complete to finish our ride across Slovenia. One day we saw, what looked like a window or break in the weather for a few hours, and we decided to risk it. That didn't turn out very well. As you can see from the picture. Trying to take shelter from the rain under a tree that has lost half its leaves was rather ineffective. We should have known better.
During this time, I managed to contact a parking place right next door to the Trieste airport. It is basically a long-term parking lot for the airport with a few spots for campers with water and electricity but no washrooms or showers or anything. They told us that they would store our camper and car for the winter and drive us to the airport. The cost was higher than we have paid for storage in the past, but it allowed us to stay in our RV right up until our flight departure without having to stay in a hotel next to the airport. It must be quite new because it wasn't shown on Google Street View or Satellite View. We decided that we would go down and have a look. It was almost a three hour drive one-way from Ljubljana, but it was worth the six hours driving to make sure that the storage area looked suitable and that the price was firm. When we got there, they looked at pictures of our camper and started having second thoughts both about it fitting into their yard, and the price they would charge. Luckily, we got this resolved before we left. Knowing where we are going to leave the camper for the winter is always a concern and it was nice to have that resolved.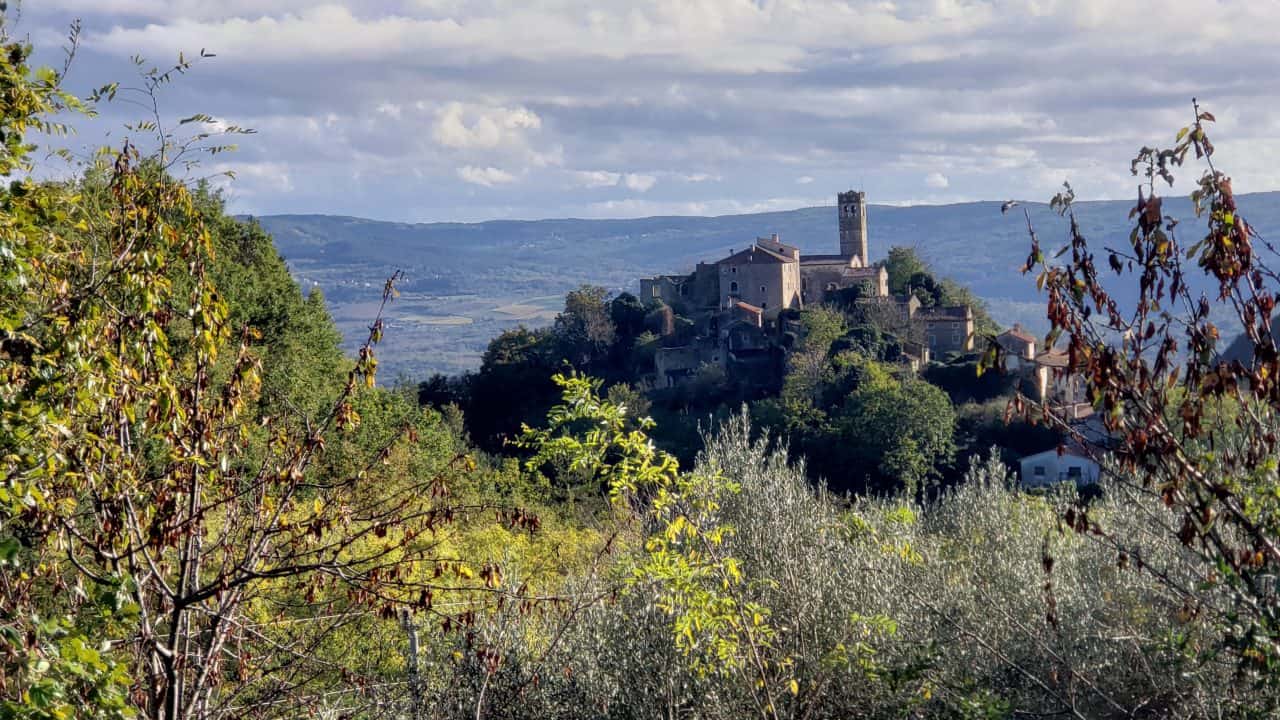 We spent the next 10 days in Koper, Slovenia. Koper is right on the Gulf of Trieste. Mike and I think it is a super area. Let me give you an example of four days last week. On Tuesday Mike and I drove into Italy from Slovenia and did some running around trying to pick up a parcel that I had delivered there. On Wednesday we drove into Croatia to visit some of the medieval hilltop villages that we so enjoy. We first went to see Grožnjan which is one of my favourites. Leaving there we tried to get to the more popular touristy village of Motovun but the roadworks prevented that. Trying to get around construction Mike and I ended up on back roads that became paths. Mike had to try and find some way to backup and turn around when we couldn't continue forward any further. The picture here is of the medieval village of Završje, Croatia which was possibly founded in the 9th century. You see these hilltop villages all over the Istrian peninsula. On Thursday we returned to Italy to visit Trieste and on Friday we spent the day touring our local area in Slovenia. Multiple trips to three countries in three days all from our base in Koper.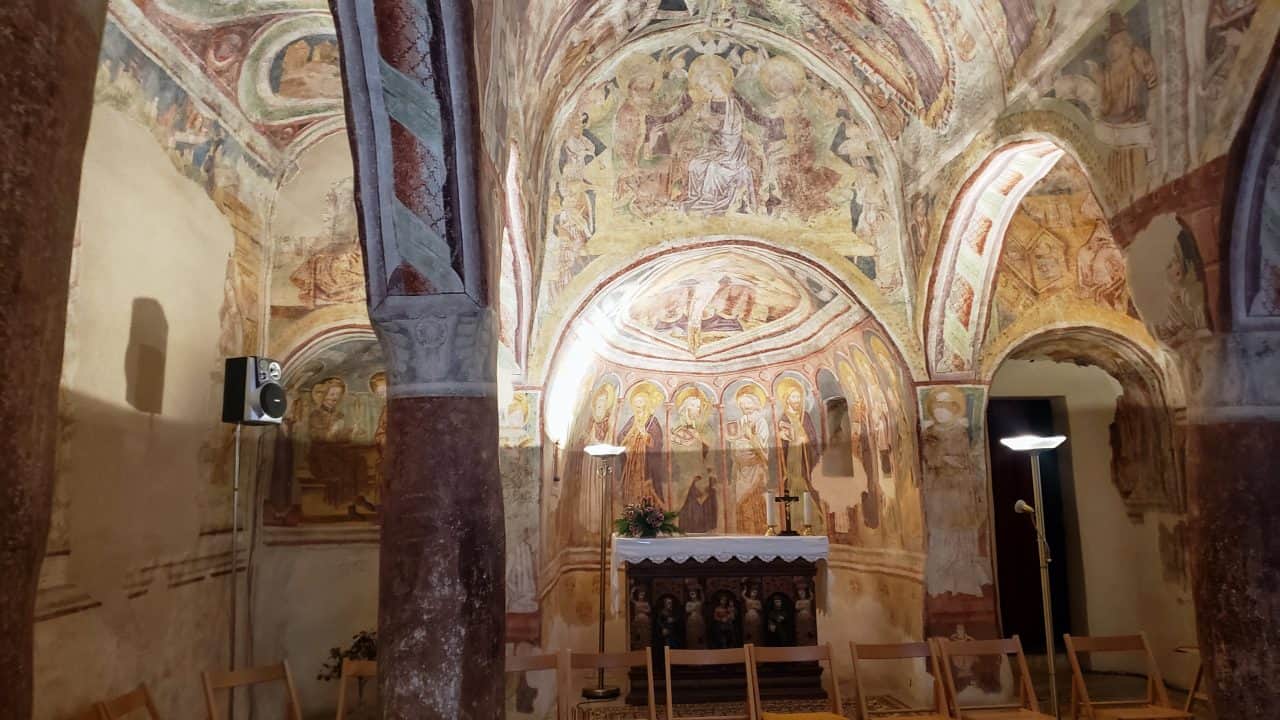 In the Slovenian section of the Istrian Peninsula, we came upon this interesting, fortified church on a hill above Hrastovlje. Inside the Holy Trinity church frescos covered everything, the walls, the ceiling, the columns, amazing. The frescoes were over 500 years old, dating back to 1490. They are extremely well preserved as they were covered in plaster until they were "discovered" in 1948. As we were walking in, we saw a group of people with audio projected from speakers on the walls. It wasn't English so we didn't know what was being said. There was a "guide" there who would point out various portions of the frescoes, presumably based on what the recording was saying. I took the picture that you see here. At that point Mike showed me a sign that said "No Photos" so I quickly stopped and didn't get anymore. That was too bad because the most famous fresco was the Danse Macabre or the Dance of Death and I couldn't take a picture of it. Mike and I were a bit rushed for time and we didn't know how long this tour group ahead of us were going to be, so we decided to leave without getting the tour. We can always go back when we return next spring.
Coming out of the church we met a couple who were visiting the area to take part in a marathon the next day. The man was quite small and very wiry. He managed to let us know that he was competing in the 65 km (40 mile) run. When he told us that there were going to be multiple marathons with one of them over 100 km (67 miles). We couldn't believe it. I thought that there might be some translation issues so I looked it up on the internet when we got back to the camper https://www.obalaultratrail.si/en/obala-ultra-trail-100/ . They were holding multiple races on the one day starting at 12 km and going up to 108 km. WOW. These races are designed to present the beauty of Slovenian Istria with runs through unforgettable areas. The 65 km race this gentleman was competing in was run the next day and took between 5 ½ hours and 14 hours with 128 competitors. I think they limit the number of competitors. I read that the 100 km run (actually 108 km) took the racers from the seaside, up to a height of over 1,000 m (3,300 ft) with a cumulative climb of almost 4,000 m (13,000 ft). In this one run there were 70 men and 10 women competing with finishing times between 10 ½ hours and 24 hours. I have no idea how they did this.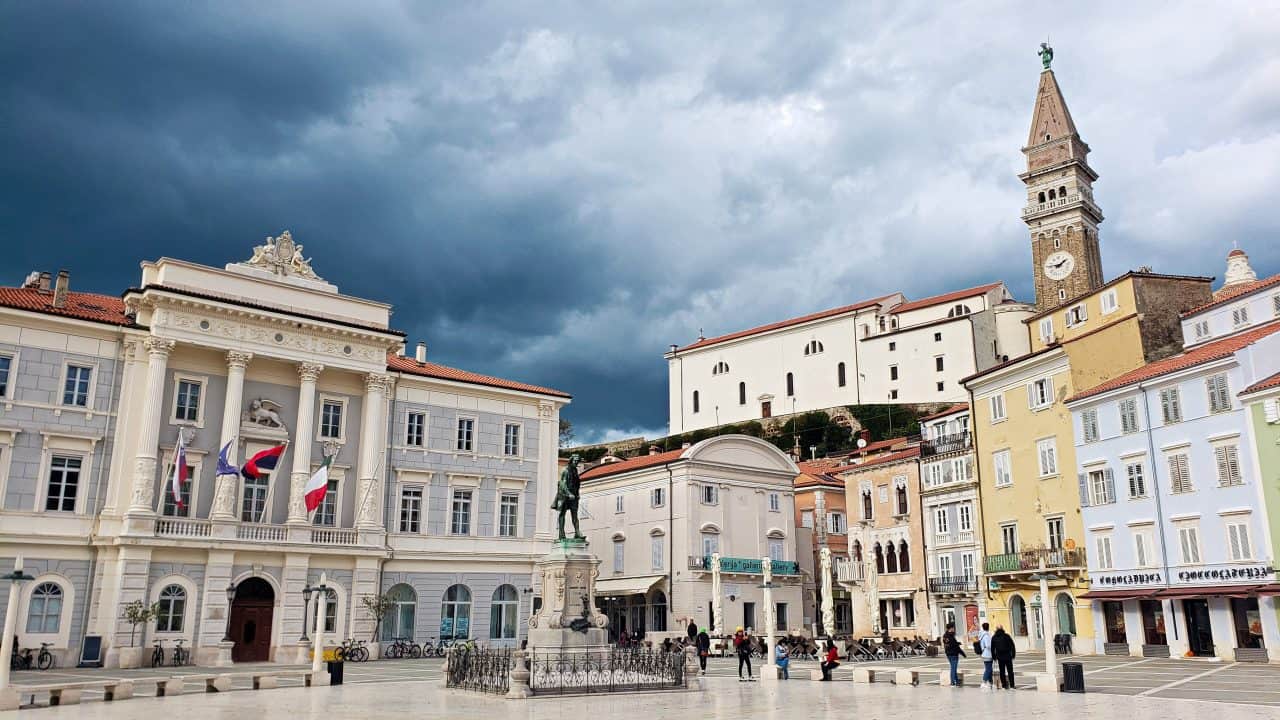 Mike and I really like Slovenia. The country is very small but includes mountains and gorges, a small Adriatic coastline, a lovely capital city and most of all – very friendly people with a fair bit of English, especially among the younger folks. The coastline is less than 50 km or about 30 miles along the Adriatic Sea. The picture above is Piran, a lovely old town on Slovenia's coast.
We stayed in Koper which is a great location near the north end of the coastline. From Koper it is seven minutes to the Italian border. We know this because just as we arrived at the border, we realized that we had left our headsets that we needed for the day back in our camper. We then turned around, left Italy, returned to the camper, got the headsets, and then drove back to the border, all within 15 minutes. They are spot checking vehicles entering Italy at the border, presumably for illegal immigrants. Mike and I always have to work to convince police and border officials that our apartment size camper by European standards, only ever has two people in it. From Koper it is less than 20 minutes to drive into Trieste or you can even cycle there for the day. It was an easy drive along the coast to Piran. The Croatian border is about 30 minutes from Koper and my medieval hilltop villages in Croatia are a further 10 minutes. The town is not as pretty as Piran, but it is big enough to have a mall and an OBI, which is equivalent to Home Depot in Canada. Koper also has a seaside beach, although I think it is probably gravel. All in all, Mike and I think the location is great.
Below is a restaurant that was closed when we visited. It was originally a medieval castle near the Italian/Slovenian border.