Central Slovenia and its mountains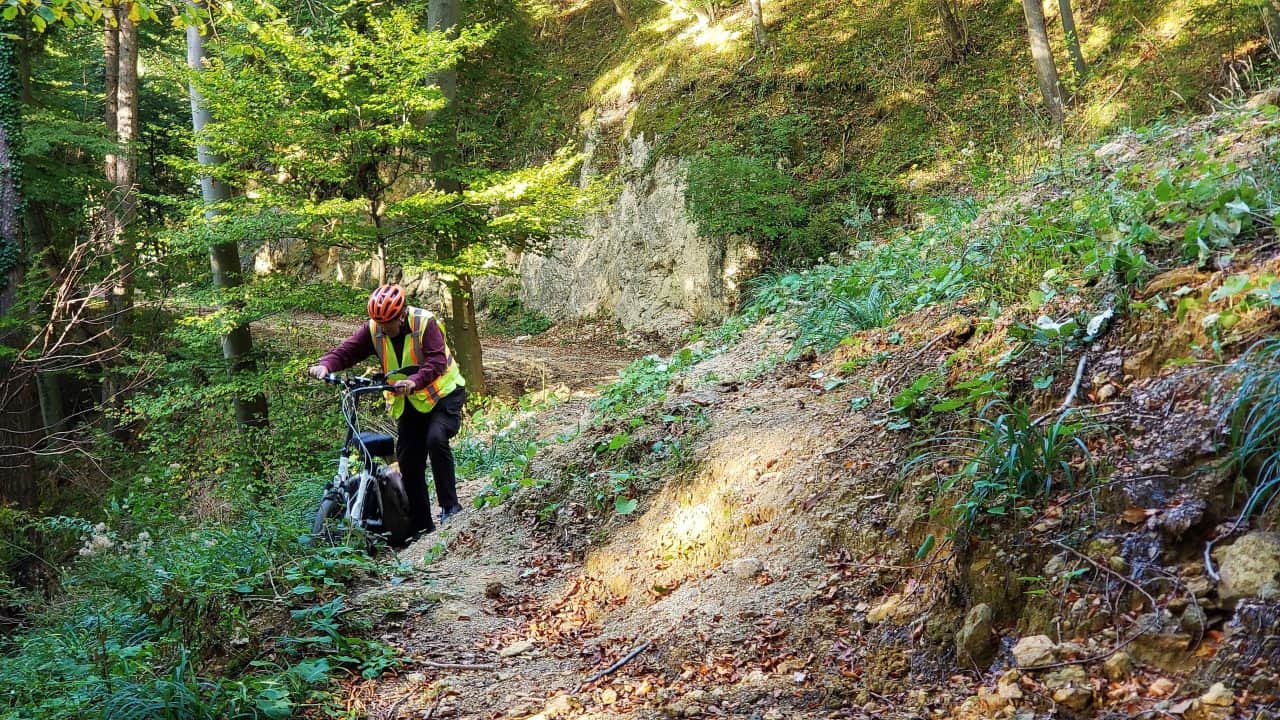 Mike and I have been staying in a city park next to a hockey arena. Everyone sees our Canadian license plates and assumes that we are hockey experts. We fake it a lot. The owner of the ice rink remembers us being here three years ago. Our camper is certainly noticeable in Europe. We have been surprised at how much English there is Slovenia. We could always make ourselves understood in tourist areas, but that has expanded greatly in the last few years. The people in Slovenia are very friendly. One gentleman, Marcus, took us into the hockey arena for hot chocolate while his son was having a lesson. We were welcomed by everyone there.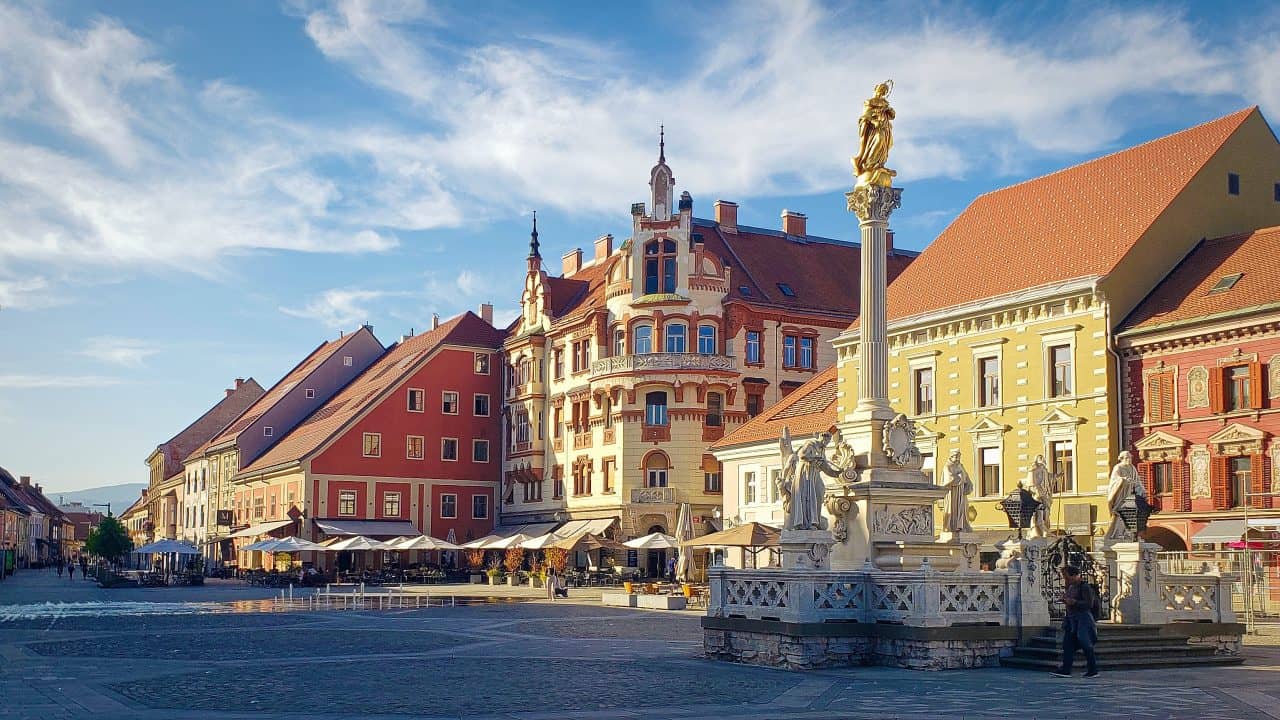 Mike and I drove back to Maribor for an afternoon. It is a lovely city. We have been there a couple of times before. The last time was just as they declared themselves in the Covid red zone. We didn't find this out until we were on the train with our bikes heading into Maribor. Our plan was to have lunch, explore the city and then cycle back to the car. Everything was closed and you could count the people we saw in the city on one hand. We skipped lunch and the exploration and biked right back out of town. We left the next day for the Adriatic coast which was still a green zone. This time Maribor had people and restaurants and cafés all open. It was nice to see.
The picture just above is of "The Old Vine". It is the oldest grape-producing vine in the world (or so says the Guinness Book of Records). It was planted 400 years ago, when the Turks invaded and wanted wine to drink. Today they get 100 bottles of wine from this vine each year. It is amazing what it has survived. Centuries ago, major fires took down many of the surrounding wooden structures and later there was a parasite that plagued nearly all the nearby vines. In the 19th century it even survived the Allied bombings of WWII. While we were in Maribor, Mike had to return to see the vine and make sure it was still there. I read that The Old Vine has its own anthem, which many locals will proudly sing, glass of vino in hand.
We will visit Ljubljana again in the next few days. It is a wonderful, small, capital city that Mike and I think is great.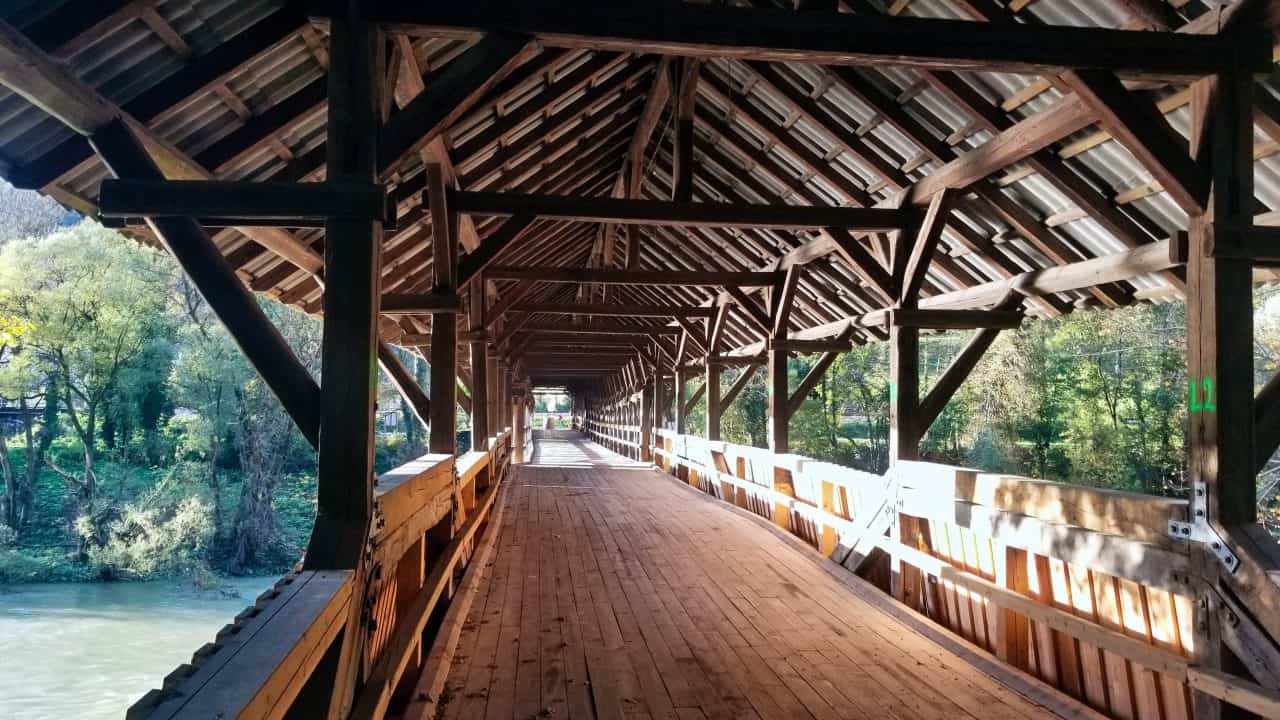 We have spent much of our time here cycling but we don't have a lot of pretty pictures. Much of our cycling ended up unexpectedly being in the mountains, which you will hear about very shortly. Although the views are often breathtaking, it is hard to show depth in our photos. You can't really tell if we are on a flat plane or going very steeply uphill. You also can't tell from our photos whether we are 3,000 feet in the air or 500 feet up. Views of rolling hills and small settlements below us just don't look the same in our pictures. Maybe we just don't know how to take landscape photos that show depth and incline really well.
The picture above was a covered bridge over the Sava River that we cycled past. Mike stopped his bike after we passed the bridge and decided that he wanted to go back to take a picture. He thought it was really interesting. The bridge was built in 1935 and is a covered, timber bridge. There aren't many of those left.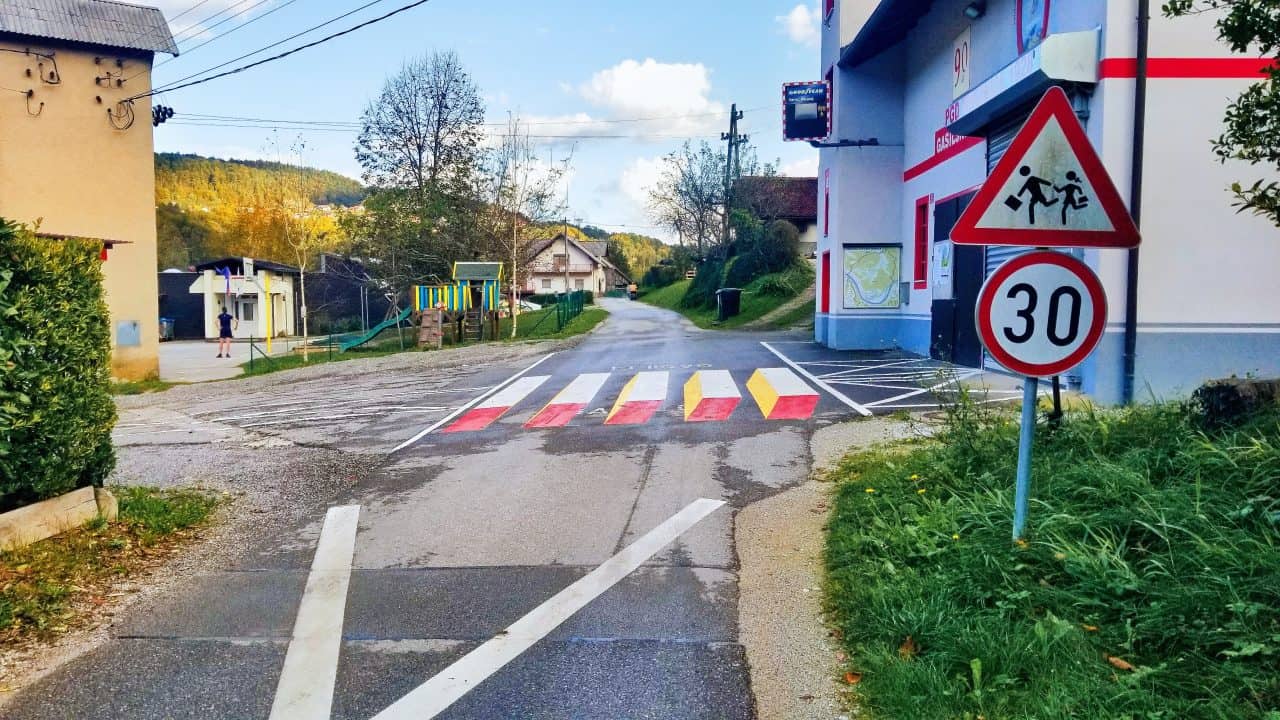 Another interesting thing we saw was these traffic calmers in the middle of the road. The town obviously wants you to drive slower. Let me tell you, when you are approaching these obstacles in front of your path, you slow down quickly. They only work for tourists and other strangers, as they are not obstacles rising from the road, but 3D paintings that are completely flat. You can drive right over them once you get over your initial concerns.
Now for what our REAL memories are of this week – mountains! The mountains in Central Slovenia might not compete with the Rockies, but it turns out that they are very steep, with very few options for different routes and quite unpleasant to ride if you are not into mountain biking. The ones we rode on were about 2,000 – 4,000 feet high.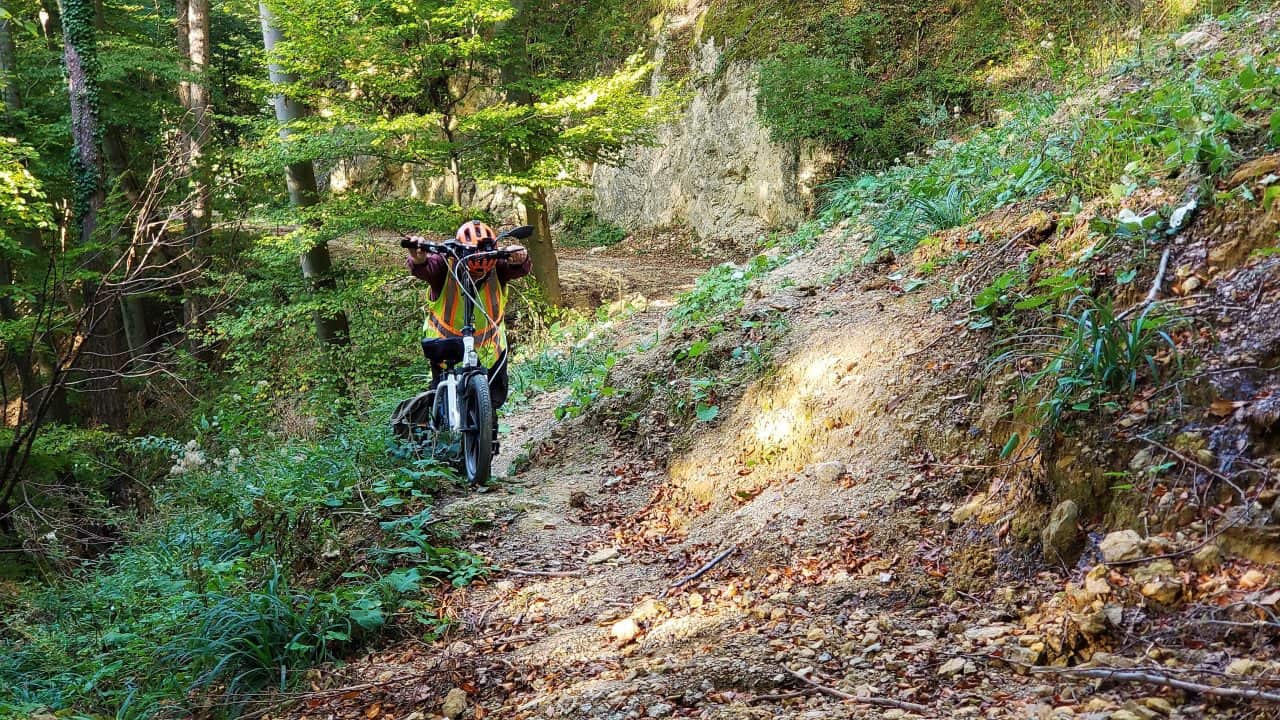 On Friday the 13th, Mike and I were cycling on a 35 km route that started going up into mountains that we didn't know existed. They may not have been really high, but they were not pleasant. We climbed 525m (>1,700 feet). Mike and I had to get off our bikes and push them up the gravel tracks numerous times. Even our e-bikes couldn't handle the steep slopes of loose gravel.
I fell off my bike at the beginning of this uphill climb. The scrapes and bruises didn't make it any easier for me to push my bike up parts of the mountain.
The picture at the top and the one just above this paragraph were taken of Mike with my bike when we came across a small landslide. Mike is definitely stronger and less clumsy than I am. Since my broken ankle, my balance is also not the greatest. When things look really tricky and I have to get off my bike, Mike will often help me. When we got to this landslide, Mike, very carefully and slowly walked his bike across the first half of the landslide and pushed it up the rest of the way. He then came back for my bike. There was no way he trusted his clumsy, unbalanced wife to get her bike across, which I very much appreciated.
We started to get quite worried about our batteries and whether or not they would last, especially Mike's, which always runs out first. I had no idea what we would do without our batteries. It was now late afternoon. As it turns out, lots of worries later, our batteries did make it. Mike was on his last bar.
A few days later this happened a second time. We can only blame ourselves as we plan these routes. We do try and look at google maps and street view but you don't really get a feeling for the altitude or where you just have a gravel road for a bit vs our mountainous tracks. We are somewhat limited in that we need routes that allow us to start and stop at train stations, with distances within our biking limits.
This time we were really stupid. The route planned was 45 km long and it reached a height of 860m (2822 ft). In actual fact Mike biked uphill for 1,005 m since you went up, then down and then up again. This might be the worst ride we have ever been on. We had been cycling for over 2 ½ hours when we reached the summit. We rode half-way down the mountain and past a village of three houses. Presumably there was a gravel road that went somewhere, but it didn't look any good on our map. The path then headed right back uphill to the next top.
We started up the second rise and realized that both of our bike were not only down to the last bar of remaining battery life, but that bar was flashing. I had never been this low on my battery before and we still had a summit to cross. Mike and I knew that we would never make it back to the car this way. We decided that Mike would take my battery and continue on his own, hoping that the two batteries would be enough to get up the mountain back to the car. I would then glide back down to the three houses that we had just seen and wait for Mike to return with the car. This could easily be a three-hour wait, some of it in the dark. It wasn't a very good plan, but we didn't have much choice. We also couldn't contact each other because the cell phone signals in the mountain were non-existent most of the time.
The three-house village turned out to be one house with two barns nicely painted. There was a large barking dog who never actually came close to me. I think that there might have been one of those wires under the ground that stopped him. There was nowhere or me to sit with support for my back. This wasn't looking good. I could tell that someone was home. After about 15 or 20 minutes of me standing at the edge of this property with the dog barking away, a man came out. He spoke a little English. We talked for a few minutes before I got up the nerve to ask if I could pay him to drive me to the train station where our car was. At first, he said no because it was an hour's drive away. The one-hour estimate really surprised me until I thought of the winding, gravel roads he probably had to travel. After a few minutes he changed his mind and said yes. We actually managed to get my bike folded and into his car, which I wasn't expecting to do. Between his English and Google Translate, we managed to converse a little on the ride. When we got to our car, he refused to accept any money. I felt really bad about that, especially knowing the drive he had back to his family and that he was missing supper with them.
I didn't have to wait as long as I expected for Mike at the car. He was surprised and pleased to see me. Mike said that once he got over the top of the mountain and finally onto a paved road, he went downhill very quickly. He did need to use both batteries.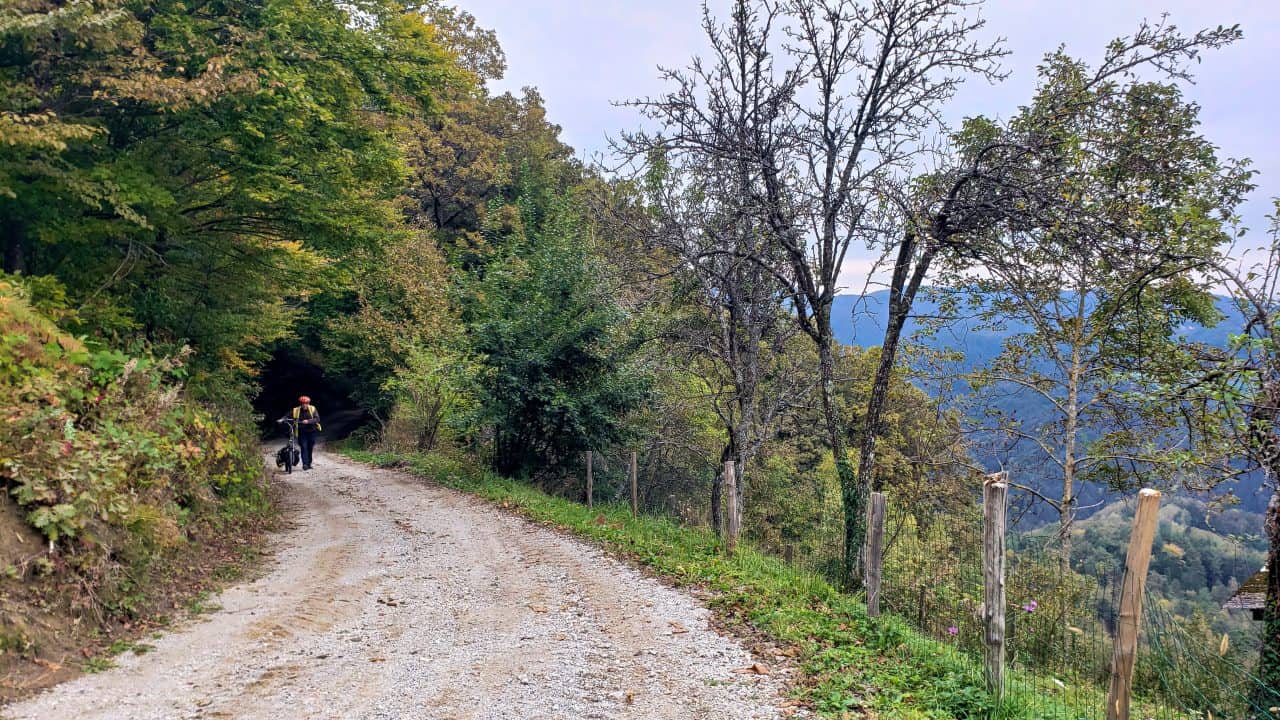 Four days later, on Sunday October 22 we went for another ride. This was our 47th wedding anniversary. I knew that the ride had a high hill in it but the little I could see on Google looked OK. We could have taken the train 15 km and bypassed this mountain. Mike and I looked at the route, talked about it, and decided it would be fine. WRONG. We were again into gravel tracks that required us to push our bikes uphill. For a second time this week I came off my bike. This time, instead of having my bike on top of me, I ended up in some very thorny vines that Mike and to try and remove. I was sitting (lying) in muck and I had to continue the ride with everything damp, right down to my underwear. I now have bruises on both sides of my body which makes turning over at night uncomfortable. I am too old for this.
I was getting really concerned that once we got to the top, we had to come down again. The thought of riding down a steep, rough track of loose gravel really scared me. At one point, I remember telling Mike that we weren't celebrating our 47th birthday but it was 47 anniversaries, and we shouldn't be doing this. I am in constant fear, when we are doing things like this, that my husband will have a heart attack even if he is in better shape than me.
Mike's bike's electric motor quit multiple times on really steep uphill sections. Presumably it overheated. This was yet another cause for concern, even though, so far, it has always restarted after a few minutes. This ride was 549m (1800 ft) uphill. We are not doing this anymore. The good news was that, after we reached the top, the downhill section was all paved.
The picture above shows Mike walking his bike up a hill too steep to ride. In the picture you have no concept of how steep that gravel road was. All in all, over just three rides, we had two falls and we rode/walked/pushed our bikes uphill, largely on steep gravel paths for about 7,000 ft or 2,100 m. Not fun.
We haven't had to worry about riding in conditions like this for years now. Sometimes the only alternatives when we really want to ride from point A to point B are the hills with their gravel paths or big roads with lots of traffic and nowhere to get out of the way. They don't believe in shoulders for the roads much in Europe. Nonetheless we plan on trying to make sure this doesn't happen again.