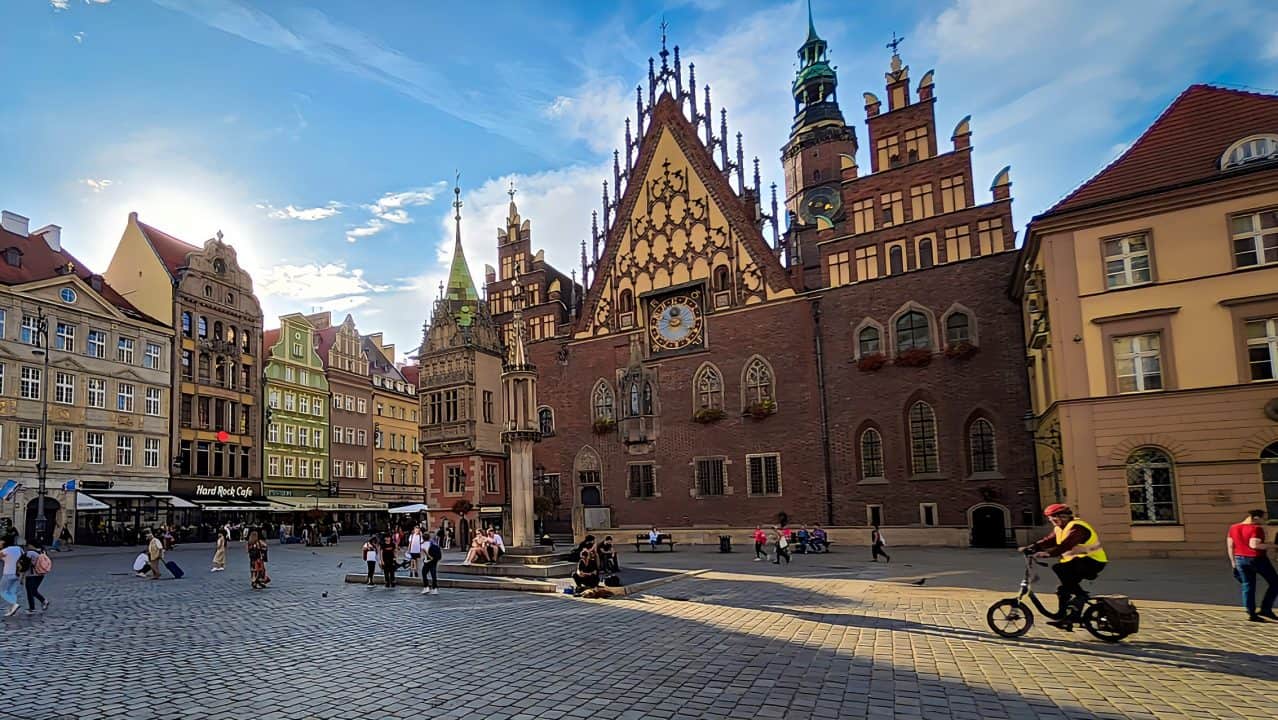 Mike and I spent 12 lovely days in western Poland. We could easily have slowed down and spent more time in the area. At the moment, we are rushing south a little so that we get to Slovenia in time to do some bike riding that we want to do as well as look for a place to store our RV for the winter. We anticipate that we will find somewhere very close to the Adriatic, either in Croatia or Slovenia.
The people we met during our time in Poland have been very friendly. They speak English better than we have heard in the last few years. This doesn't mean that everyone speaks English but quite a few do to one degree or another, which is nice for us. In the restaurants you often see menus with items in both Polish and English. Sometimes we are given a separate English menu. On our last night in our first campground at the marina, a gentleman and his family were barbequing near us. They were from one of the boats. Mike and I were sitting outside our camper trying to solve a problem with our drone when this man came over to us with paper plates, cutlery and a meal of thick Polish sausages, mashed potatoes, and coleslaw. He didn't try and visit or stay long. He spoke some English but not a lot, and his family didn't speak English. About 10 minutes later, after he presumably barbequed more for his family, he came back with second helpings. Normally when people do things like this for us it is because they want to see inside our camper. That wasn't the case this time. The family was just being friendly to strangers. How nice.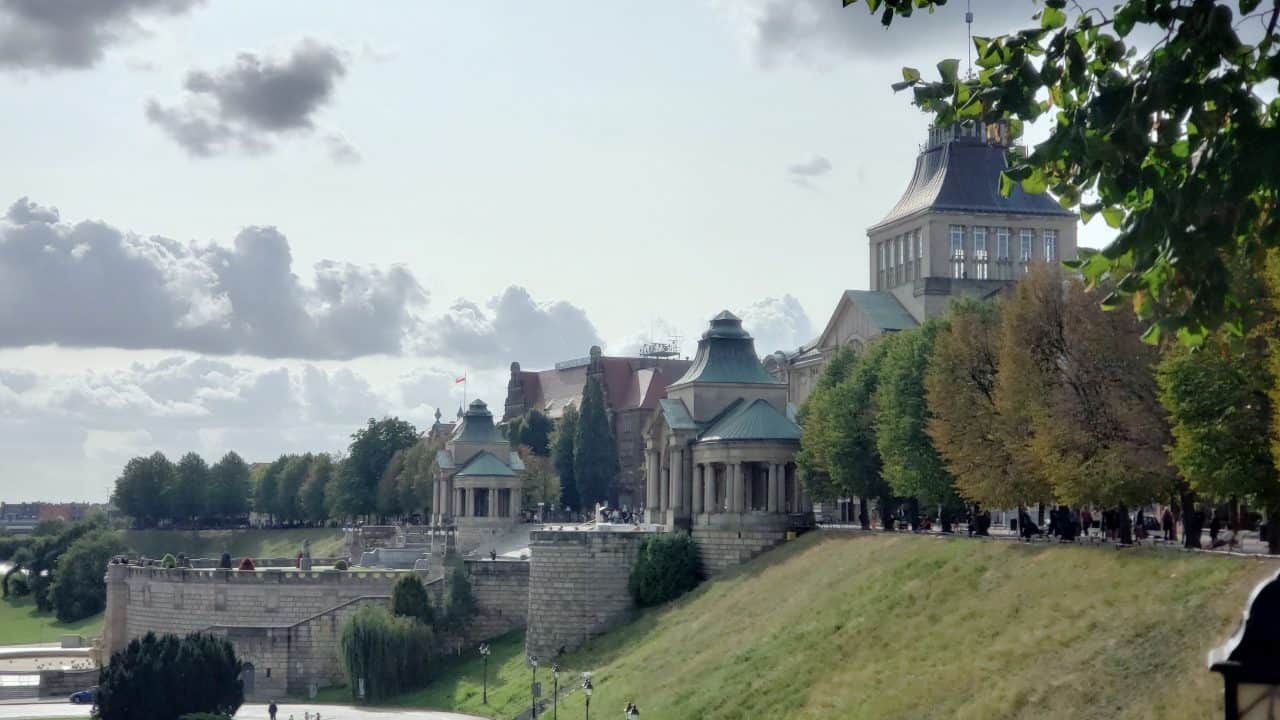 The marina we stayed at was near Szczecin, a lovely town that we managed to visit a few times. The tourist agency in Szczecin has marked a long route around the town using red painted stripes on the sidewalk. In about 40+ places along the route there are large red numbers in circles. This means that nearby will be a plaque talking about something of significance in that spot. The plaques are in both Polish and English. The first stop was the train station. Well, that didn't work well, the whole outside of the train station was under construction with no sidewalks. So no red painted lines. We were forced to skip the stops in that area and continue on. We then found out that Szczecin was undergoing quite the construction boom. The sidewalk was torn up in many, many places. I wanted to give up. We stopped for lunch at an Irish pub, and Mike looked at the map of the red route on the internet and tried to create a very similar route on our biking program. This gave us something to follow even when the sidewalk was torn up. It worked quite well.
One of the plaques that we stopped at talked about the death of the Polish president in 2013. Here is what I got from the internet. "On April 10, 2013, Polish President Lech Kaczyński and his wife Maria Kaczyńska were killed in a plane crash in Smolensk, Russia. The plane was carrying a delegation of Polish government officials and dignitaries to a memorial ceremony for the victims of the Katyn massacre, a mass execution of Polish officers by the Soviet NKVD in 1940. All 96 people on board were killed, including President Kaczyński, his wife, and other high-ranking Polish officials.". I cannot believe that neither Mike nor I remember hearing a thing about this when it was only 10 years ago.
Near the end of the tour, we ended up on the Waly Chrobrego promenade which looked lovely. By this point in time, I was pretty tired and not feeling great. We decided to cut the end of the tour short and just return to the camper. A few days later we returned, refreshed, to the promenade to walk along it, look at the great buildings from the outside and have lunch. The picture above was taken along the promenade. Twice over the last few years Mike and I have taken photos that somehow ended up looking like paintings instead of photographs. I have no idea what causes this. It happens so infrequently. One of the pictures I have enlarged and put on my wall in Canada. Although not quite as pronounced as the others, I think the promenade photo above has a bit of a look of a painting as well. That would make it number three in seven years.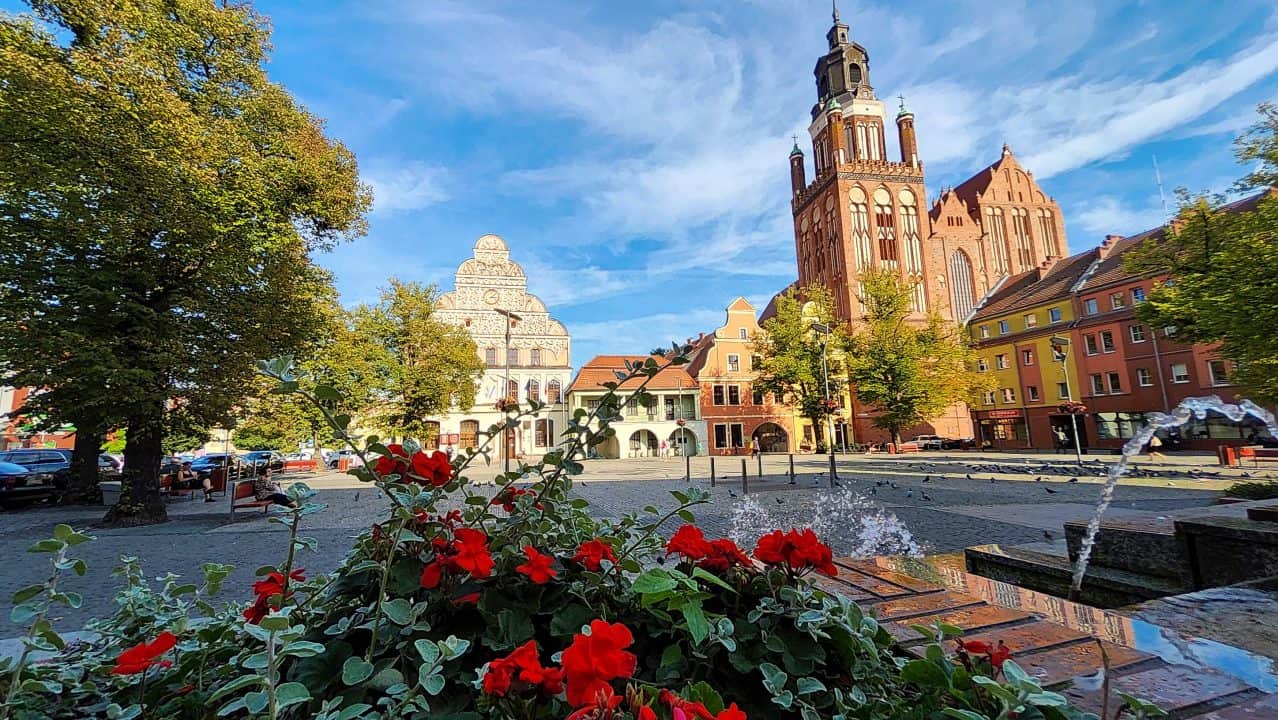 We visited a lot of smaller cities and towns around the area. Many of them were filled with apartment buildings about one block long and 5 stories high and not particularly attractive. They weren't bad looking, just not lovely old architecture for tourists to gawk at. Obviously, there are some exceptions like the picture of Stargard above. It was great to wander around in. In reality, when Mike and I visit these towns for lunch and a walk, we often don't see much more than their main town centre. This means that our definition of what makes a really lovely looking town may be rather narrow and not always true when you leave the main town square.
We toured the museum of an old car manufacturer called Stoewer. I learned a few interesting things there, given the state of the automotive industry today. In 1898 Stoewer had a 3 wheel bicycle with a motor. That is getting pretty close to the bikes that Mike and I ride around on. A year later, in 1899, they came out with their first ELECTRIC car. According to one poster in the museum: "The electric vehicle was a passenger car with a phaeton body (an open roof and two seats). In 1901 the company would already boast 32 types of vehicles in production, among them as many as 22 electric models. In addition to luxury electric passenger cars, the Stoewers sold lorries, buses, firefighting vehicles, ambulances and electric taxis. The maximum range of these vehicles was about 60 km, But, their speed exceeded the limits for horses and cars." That is a better range than our new plug-in hybrid Ford Escape which can only travel about ½ that distance before the gasoline engine kicks in. These early Polish vehicles were being produced before the Ford's Model A and Model T's came out. In 1906 it had become obvious that the future belonged to the internal combustion engine and now look where the industry is today.
When we were leaving Szczecin, I was trying to find out where we should head to. There are two major cities south of Szczecin; Poznań and Wrocław. I didn't know enough to pick only one and we didn't have enough time to camp at both. They are almost a three hour drive from one to the other. I found a write-up on a nice town called Leszno. It was almost exactly halfway between Poznań and Wrocław. Luckily my husband doesn't mind driving the car at all, so we stayed in Leszno and visited both cities from there.
Leszno was a very nice town. They had a modern mall which was nice on our rainy afternoon. Mike's bicycle seat broke and the replacement cost for a new seat was considerably less than we expected. They had a very cheap seat, and they also had a much better quality Italian made seat at double the price. The good quality seat was still very inexpensive at zl 95.00 ($30.00 CDN). We visited three different churches in this town. One was fairly plain, one was nice and the last one, the Basilica, was absolutely lovely inside.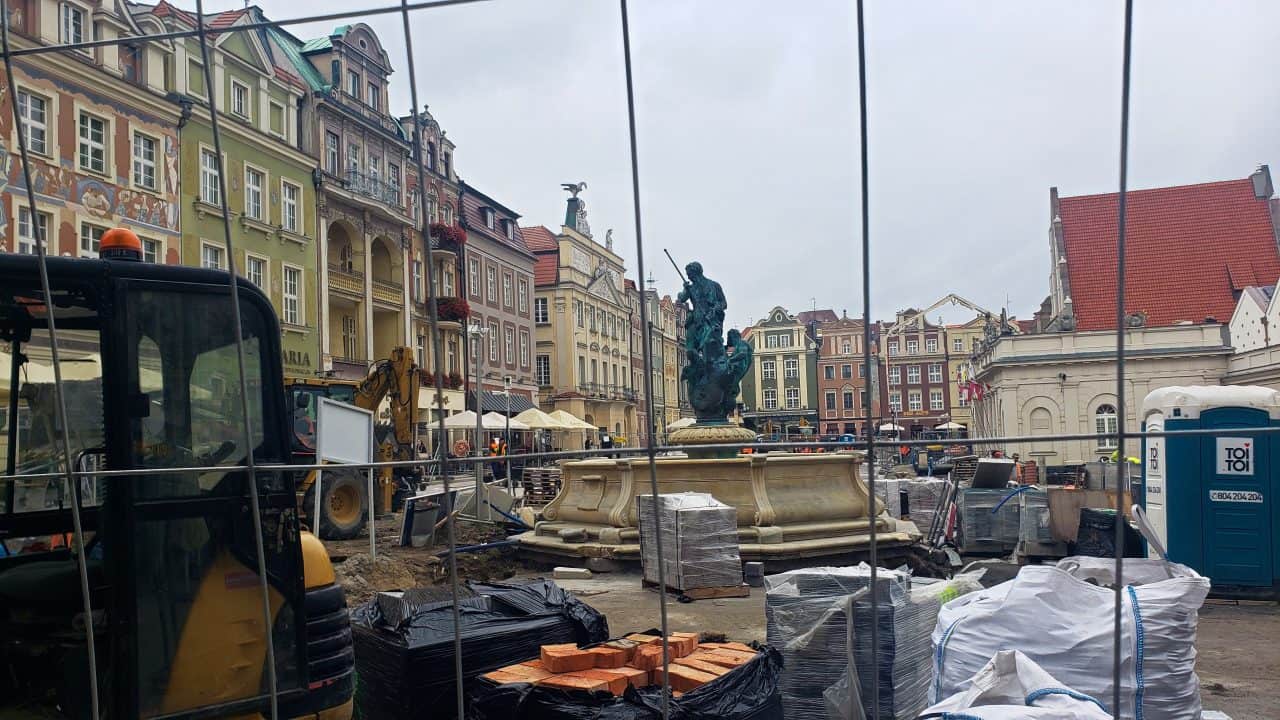 As many of you know, Mike and I often use an app called IZI Travel which has self-guided audio walking tours around many towns. They had an IZI tour for Poznań. It was the longest one we have ever seen. The route was many miles long and had 45 stops. On a damp day, Mike and I went to the centre of town and just listened to the recordings that applied to that area. Poznań is said to have a beautiful town square. Well, I believe them, but we didn't see it. The entire square was torn up and under construction. One of the IZI stops talked about the four fountains, one at each corner of the square. All four were behind the construction fence. I am really glad that we didn't choose this town as our main base. I will say that they did have a lovely cathedral in Poznań.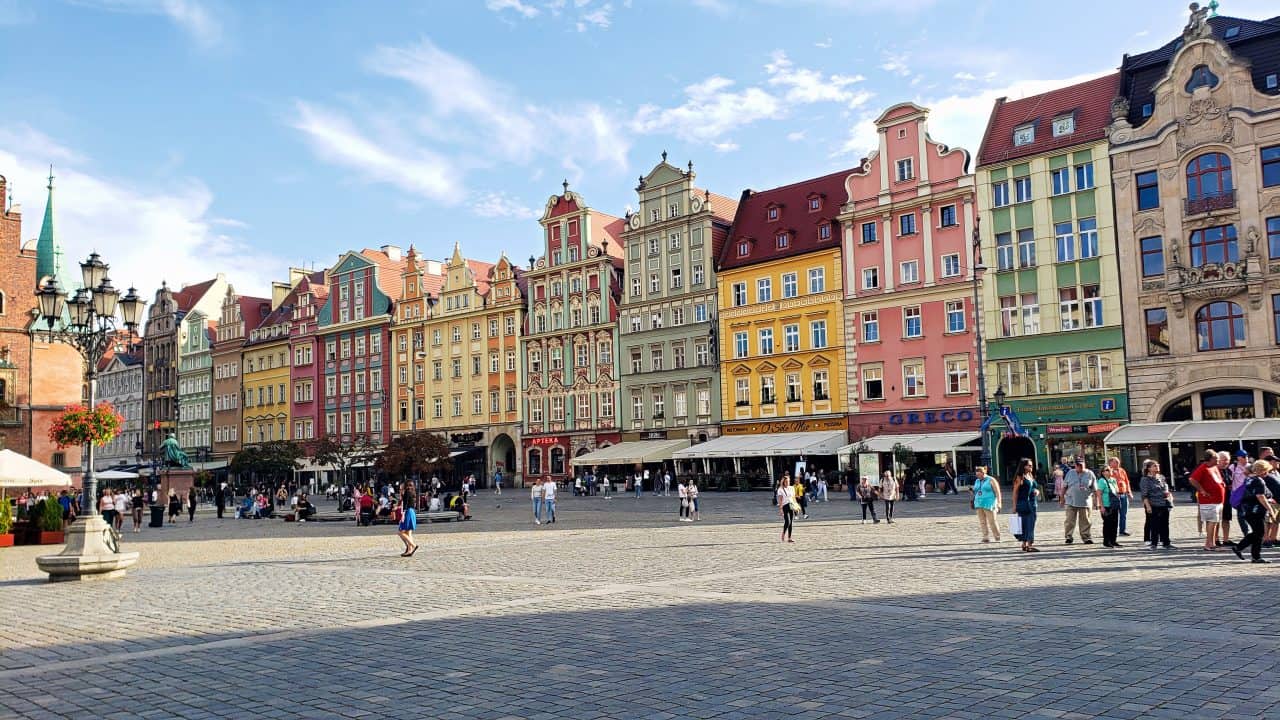 On the other hand, the main square in Wrocław was absolutely gorgeous. Even with it being more than an hour's drive from our campsite we had to go back a second time and see more of the city. The internet says "Wrocław  is a travel gem for wandering hearts. Steeped in over 1,000 years of history and a vibrant blend of Polish, German, and other cultural influences, it could easily compete for the title of the most beautiful city in Europe.". I agree.
At the heart of Wrocław is the absolutely gorgeous Market Square which is one of Europe's largest medieval squares. The centrepiece of the square is the 13th century, Gothic, Old Town Hall that you can see in the picture at the very top of this posting. Many large town squares have a church or town hall in the middle of the square. This square actually had a whole set of colourful, historic buildings with small streets/alleys running between them, all in the square itself. It was fascinating. In addition, there were two other open squares, one known as the "Chicken Market" on different sides of Market Square.
Mike and I used a different audio guide called GPSMyCity in Wrocław. It allows us to tailor the tours. One of the buildings recommended contained a large panoramic picture of a battle scene. The building was somewhat separate from the rest of the stops, and I came very close to eliminating it from our tour. That would have been a HUGE mistake.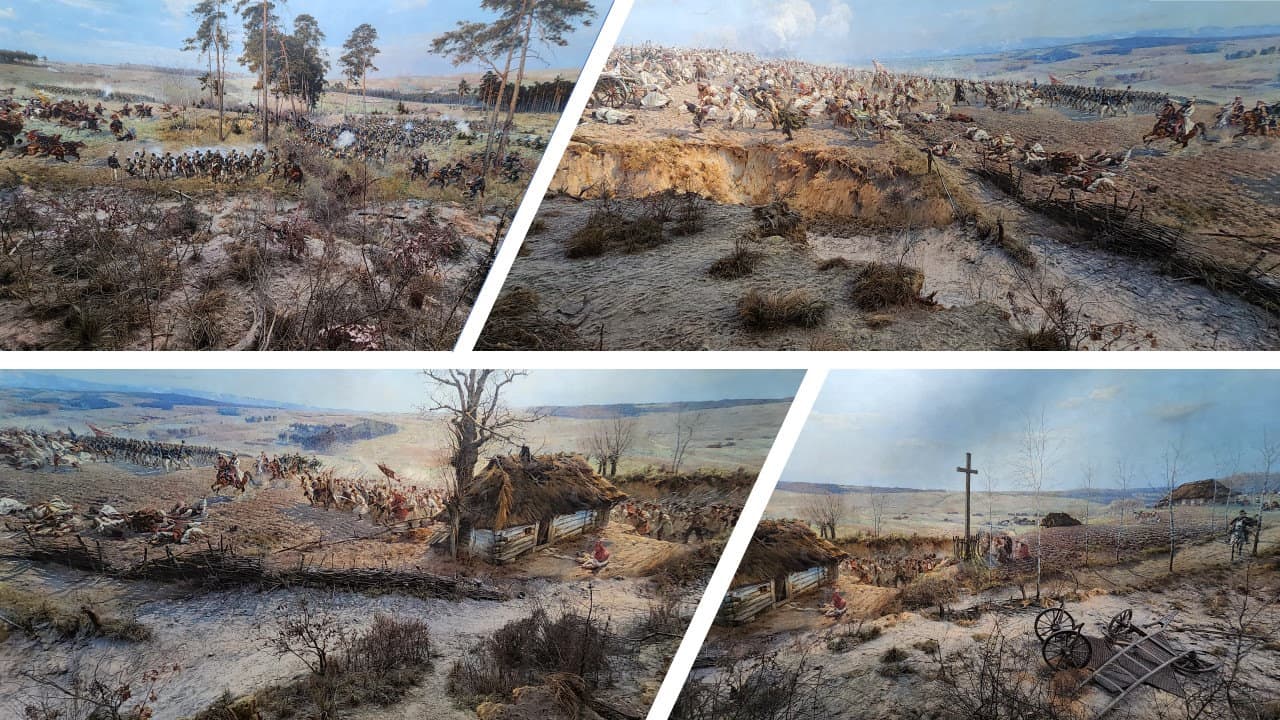 The Racławice Panorama is approximately 15 meters (49 feet) in height and has a circumference of around 120 meters (394 feet). It is displayed in a specially designed rotunda. The 360-degree painting is known for its incredible detail and realism, creating the illusion of being on the battlefield during the battle. It is just phenomenal. The Panorama portrays a battle that was a valiant yet ultimately unsuccessful endeavor to safeguard Polish independence. I think the painting probably averaged about 8m or 25ft from where we were standing in the centre. They have done a superb job with blending in the dirt and trees and stuff they put on the ground in front of the canvas such that, in many cases it is really, really hard to tell if you're looking at the painting or reality. Mike and I were both very impressed.
A group of people will go into the centre of the panorama together. After a few minutes, a Polish speaker starts talking through the loudspeakers. Mike and I were given English speaking headsets. The speaker would describe one section of the painting, mainly talking about the parts of the battle it depicted but giving you time to really appreciate it. You then moved about 8m or so (25 feet) to the left and heard about a different section or part of the battle. It was really quite incredible.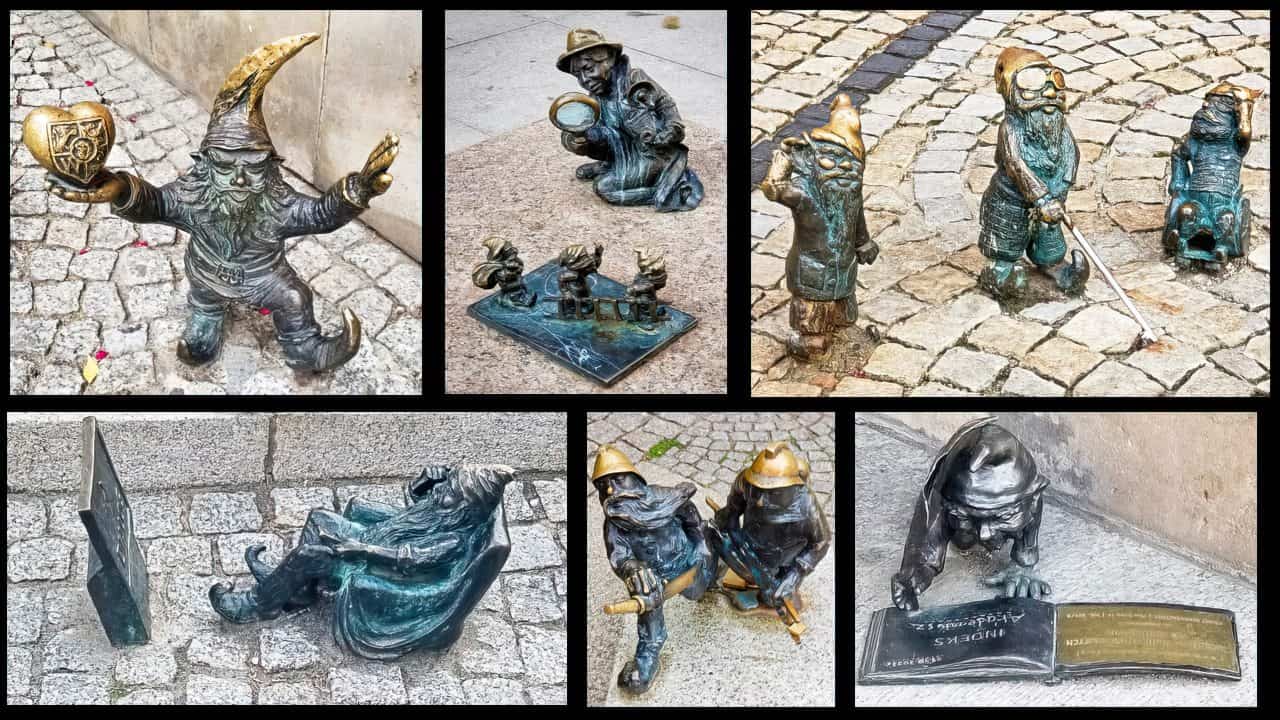 Wrocław has one other attraction that is both whimsical and quite lovely. Here and there, if you look down to the ground or on benches and seating areas, are bronze "tourist" dwarfs averaging 25 cm or 10 inches tall. These dwarfs were installed starting in 2005 and today there are 800 of them and that number is growing. Each dwarf is unique with its own story. There are dwarfs that are firemen, ones that are reading, some that are gardening, others that are musicians, sports dwarfs, gourmet eating ones and more. Some of them even represent historical people from the area. I believe that there are scavenger hunts to find specific dwarfs. I bet the kids love it. When Mike and I wanted to take pictures wherever we discovered them, there was often someone else looking and taking photographs. Everyone was smiling and it was good fun.
As I finish writing this, Mike and I have just arrived in Slovenia. We raced through Czechia and Austria, stopping in the same camp grounds we have used before, and then continuing on. Both towns we stayed near are towns that we really liked previously. I feel guilty rushing to get to Slovenia. We aren't yet where we want to store the vehicles for the winter, but we are going to take a little time and do some cycling across the centre of Slovenia and join up some paths we made in previous years.