Great first day in Poland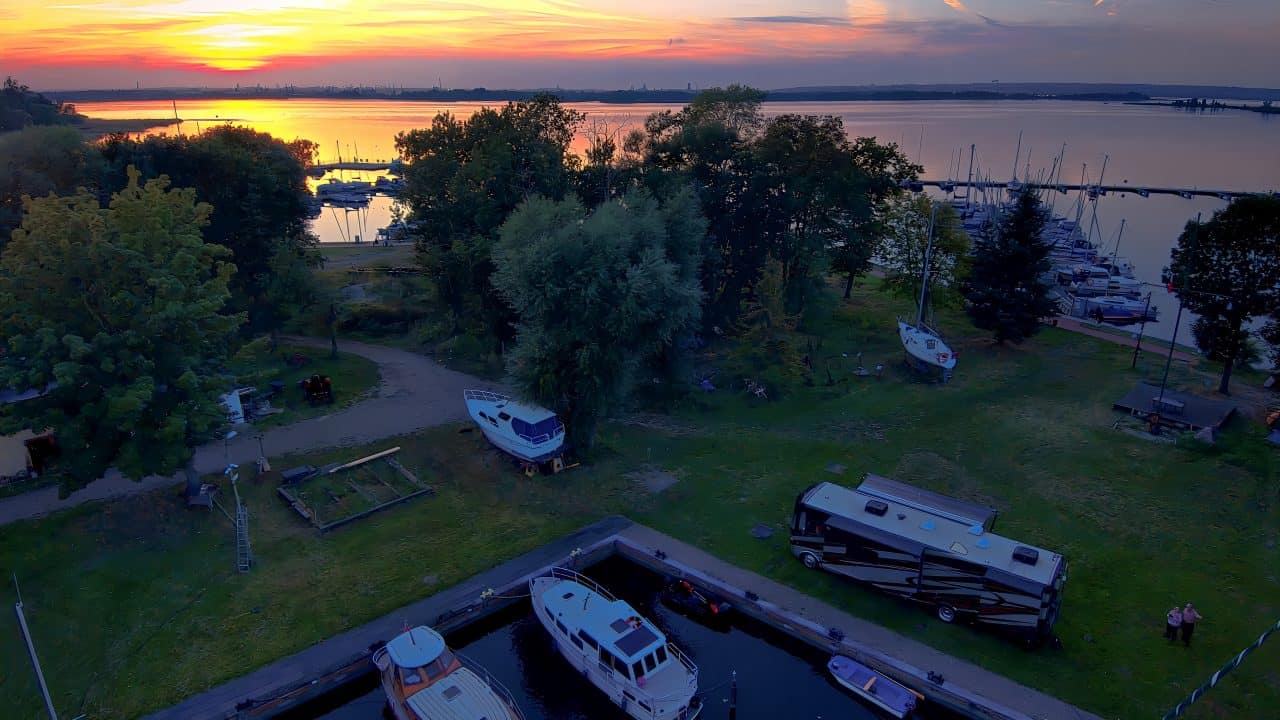 After just a few hours in Poland I wanted to let you know about our great first day here. Yes, we have been here before but today was interesting. I thought the day would get lost or deleted if I tried to include it in the article that I will write in a week or so about the rest of our time in Poland.
We crossed the border on a big highway into Poland and had to stop at the first gas station to buy a transponder for the RV. We know now, that we have to do this as we enter many countries in Europe. The first truck we saw in the gas station was a large Amazon Prime transport trailer. Good to know that works here as well. We went into the gas station to ask about the transponder. Mike was having a really hard time getting an internet signal which he needed for Google Translate since he hadn't yet downloaded the Polish language. While he was fussing around I walked up to the cashier and asked her if she spoke English. She said yes and told me where we had to go to get the transponder and I left. Mike was still trying to get Google Translate to work. It turned out that he was completely unaware that I had had an English conversation with the cashier. He said afterwards that he never even thought about asking if she spoke English. After seeing to the transponder, which was now an app instead of a real device, we had our first meal in Poland this trip. Of course, it was at a highway gas station, so you don't expect first class, but you do expect higher prices. Well, the restaurant turned out to be a KFC, not very Polish (or German). Prices were super inexpensive. Remember that the prices they advertise in all of Europe are your final price. There are no additional taxes, they are included, and in many countries, there is no tipping either. I love their system. A nice chicken wrap cost $3.50 Cdn with all taxes included, the quesadilla was less than $4 Cdn and the strawberry shake was $1.50 Cdn. Won't it be nice if it stays this way.
This cashier didn't speak English but a customer waiting for his order came forward and offered to help us with the Polish translations. After he helped and left, another customer came forward and showed us how to use the large displays where you could pick your language and order your meal without going through the cashier at all. He was very helpful. We told him that we were heading south where it would be a nicer temperature for when we return in March next year. He was there with his wife and children. He told us that he had a large place near Gdansk (which Mike had wanted to see) and a vacation home with property somewhere else in Poland. He offered to let us store our RV on his property for the winter. We told him that we really wanted to get much further south than Poland and thanked him very much. I couldn't believe the offer to strangers.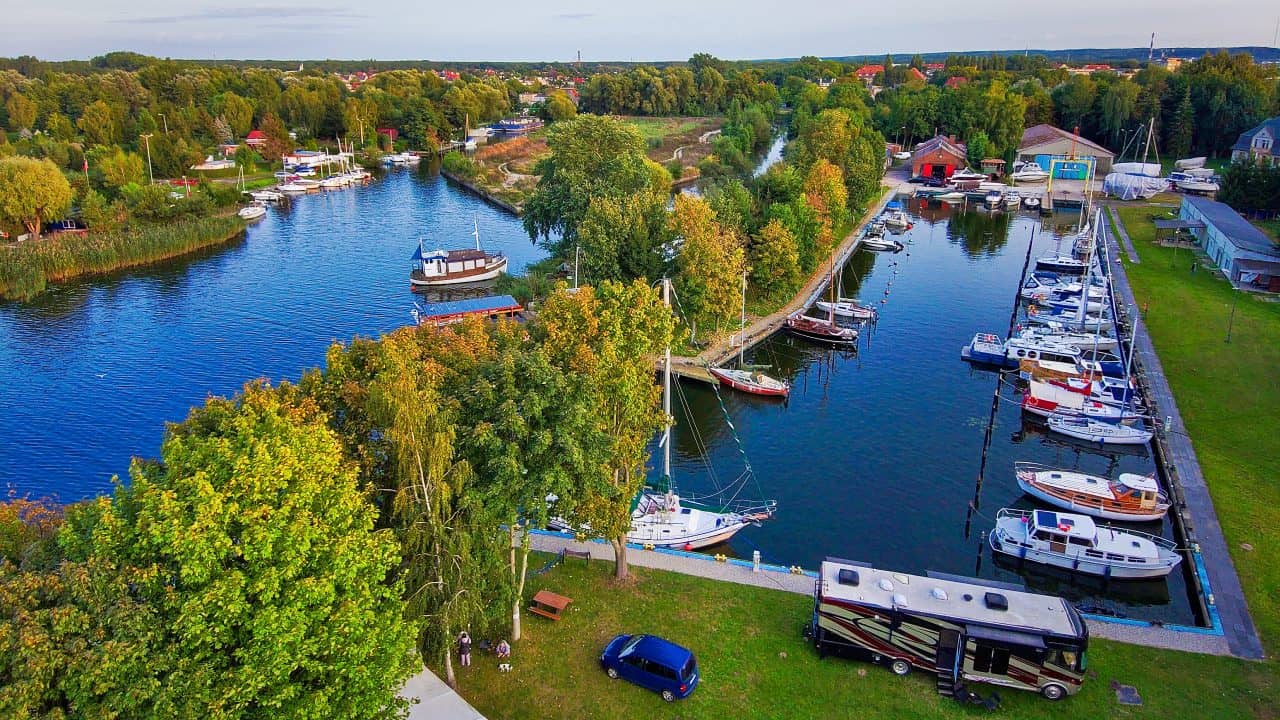 We arrived at the marina we were planning on camping in. We couldn't find the harbour master or any other campers. We wandered around, found electricity and water near where a few boat trailers were stored. It was not a very pleasant gravel field and even though it was surrounded by water and boats you couldn't see them for the buildings and trees. I was getting quite discouraged. After walking around for ages Mike managed to get the person we had been emailing with on the phone and he spoke English – YEAH. He sent someone over to meet us who took us to a gorgeous field closer to the entrance into the harbour area for the boats. The main marina was on one side of the field and another smaller area for boats on the opposite side. We could see boats and water from every window in our camper. The gentleman was very nice and asked if he could bring his son to see our camper tomorrow. Of course, we said yes. The setting is just gorgeous, and we can put the camper anywhere in this nice green field that we want. In reality, easy access to the water taps is probably a higher priority than the absolute best view.
Sitting in the RV a couple of hours later I saw this phenomenal huge orange ball descending in the sky over the water. It was a beautiful sunset. I went for a walk and met a photographer taking pictures of a bride and groom. He spoke to me in English and the bride and groom had a little English as well. At one point the photographer asked if I wanted to be in one of the wedding photos. I obviously declined. I assume they would just have thrown it out anyway.
I did think that our first day in this country was pretty great. We had more people speak to us in English and help us than expected. We had a stranger offer us storage for our RV. I was invited to be in a wedding photo, our location is outstanding, food prices on the highway were very low so all in all a tremendous day.
I am writing this at the end of the first day. Things might change but I wanted you to have my initial impressions exactly as they were. Since we have only been here for a few hours, the only pictures we have are of the marina where we are staying. As I write this, I have no idea what is going to happen in the rest of our time in Poland but I didn't want to let it influence my impressions of day 1.