Discovering Germany's Enchanting Romantic Road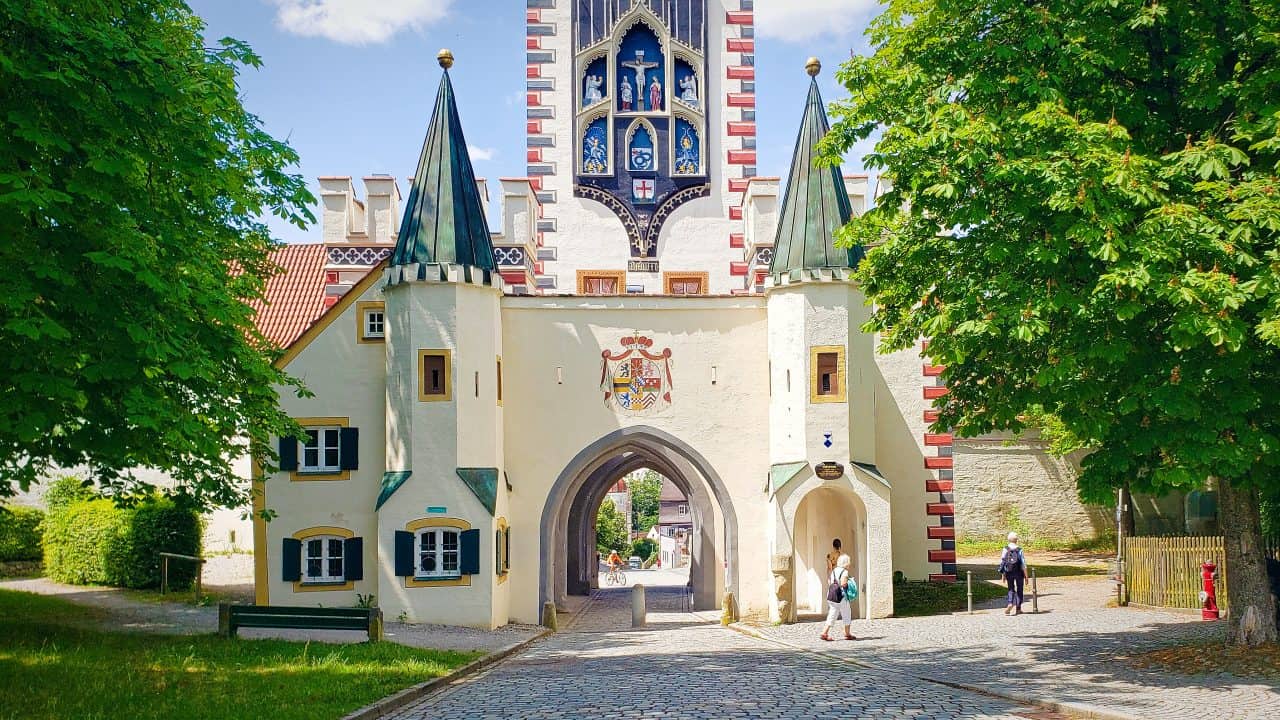 Germany's Romantic Road is a major tourist attraction in Bavaria. It is very loosely based on an old Roman route. In 1950 Germany was desperate to rebuild their tourism. They came up with the idea of the Romantic Road. This would loosely trace an ancient Roman route, combining historic cities, medieval walled towns, an abundance of castles, and ending in the majestic Alps. The first visitors along this new tourist attraction were friends and families of the American soldiers stationed in the large bases in Bavaria and Baden-Württemberg and it exploded after that. The idea reminds me of the transformation of Route 66 in the United States.
Mike and I, well honestly mainly me, are not particularly thrilled with major tourist attractions and large crowds. We had accidentally ended up on the Romantic Road years ago when we  rented a camper in Munich and drove to Central Europe for our vacation. We enjoyed seeing the towns and villages then and decided to spend a few weeks this year in two different campgrounds touring the area. Luckily for me it really wasn't as busy as the internet led us to believe. We didn't get to the very north section when we changed our minds again about what we wanted to see next. We were very lucky in the towns we chose to camp in.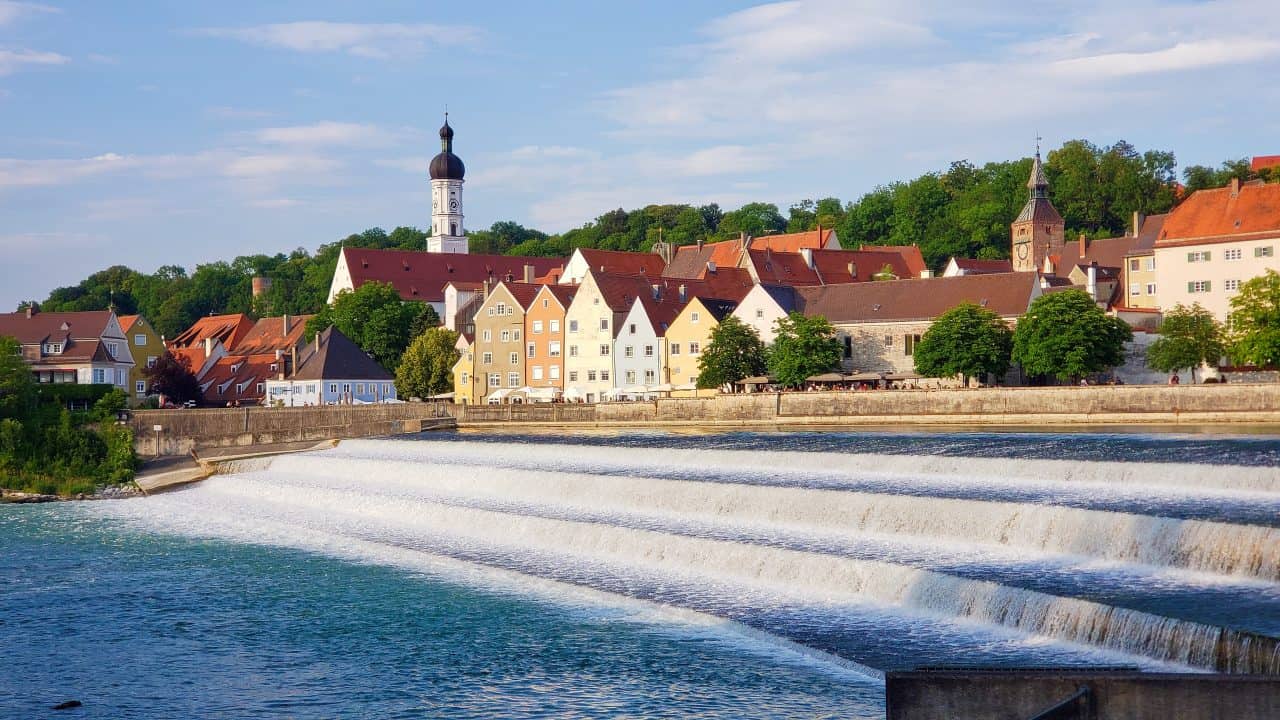 France has it Aires and Germany has its Stellplatz or Stellplätze. Both of the Stellplatz that we used on the Romantic Road were little more than parking lots which wouldn't suit many people until they realized that they were very inexpensive and right beside the historical centres we were visiting. The picture at the top was near our campsite in Landsberg am Lech. To get there we just walked or biked past this park with its pretty waterfalls. The towns and villages in Bavaria are just lovely, and the ones highlighted on the Romantic Road even more so. Since we normally stay in a campground for about two weeks, I try to pick one that is central to many places that we want to visit. Landsberg fit that criterion. It was from here that we made our four visits to Munich which we really enjoyed. My last post was all about Munich.
The Landsberg Stellplatz parking area was really set up for eight campers with electricity but many more campers parked in the same area. Luckily there was one electrical outlet available when we arrived. As we were packing up to leave I saw a camper arriving that appeared to be looking for electrical outlets of which there were none available. I went outside with my trusty Google Translate to tell them that we would be leaving in 10 or 15 minutes and if they just waited they could have our electrical outlet. Was I surprised when I heard a distinct English accent. After a few minutes of conversation, I was even more surprised to learn that they had lived for 30 years in the small town where I was born in England. Most people have never heard of Radcliffe. It was too bad that we crossed paths at the end of our stay.
Landsberg, which was considered very strategic, was burnt to the ground in the 13th century. In order to rebuild the town, it was given the right to levy taxes on salt and to mint its own money by the Holy Roman Empire. They held these rights for centuries. It seems to me that "who you knew" must have been even more important in those days than it is today.
One day we were cycling around, visiting small places around the Romantic Road and came upon a classic car show and rally. It tickled my sense of humour to see a Fiat 500 in line in between an Alfa Romeo and a Mercedes.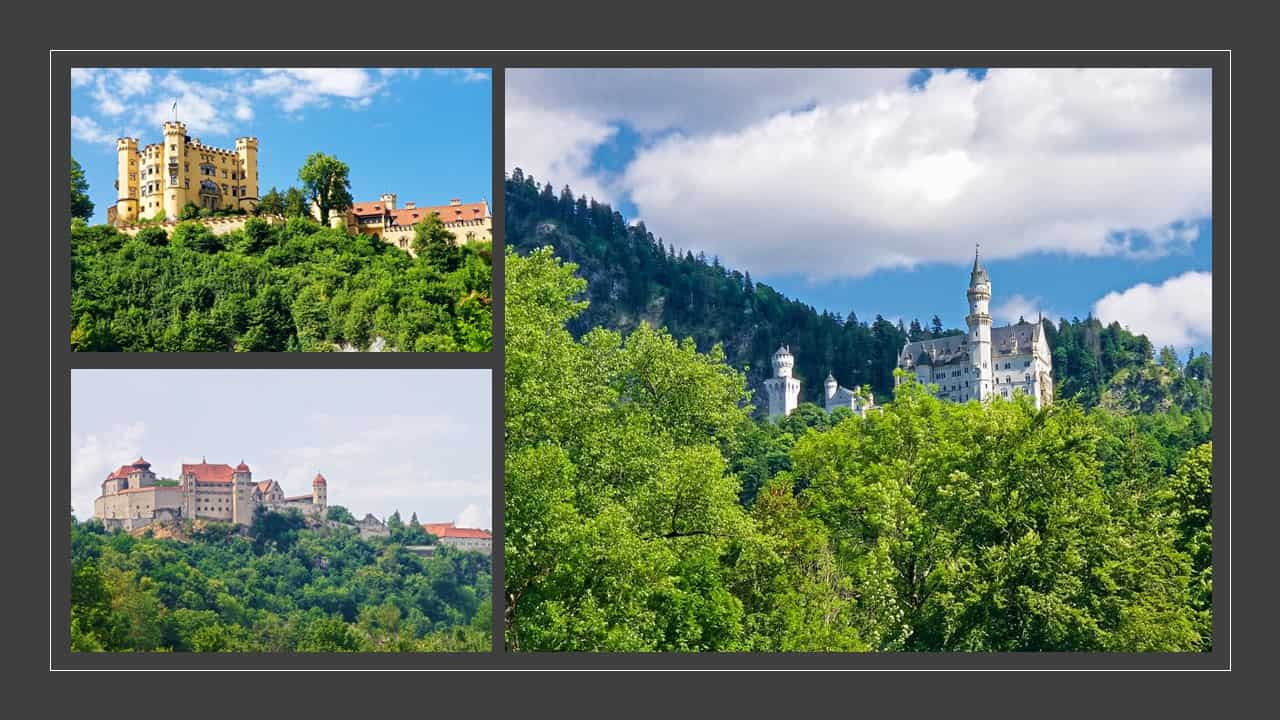 One of the things that the Romantic Road is known for is its castles. Here are three of the castles that we visited from the outside only. The largest picture is the most famous castle on the Romantic Road, the Neuschwanstein Castle. Walt Disney is said to have based his Sleeping Beauty castle on the Neuschwanstein Castle. I am pretty sure that I have heard that same comment about Walt Disney at other castles in other countries, but who knows.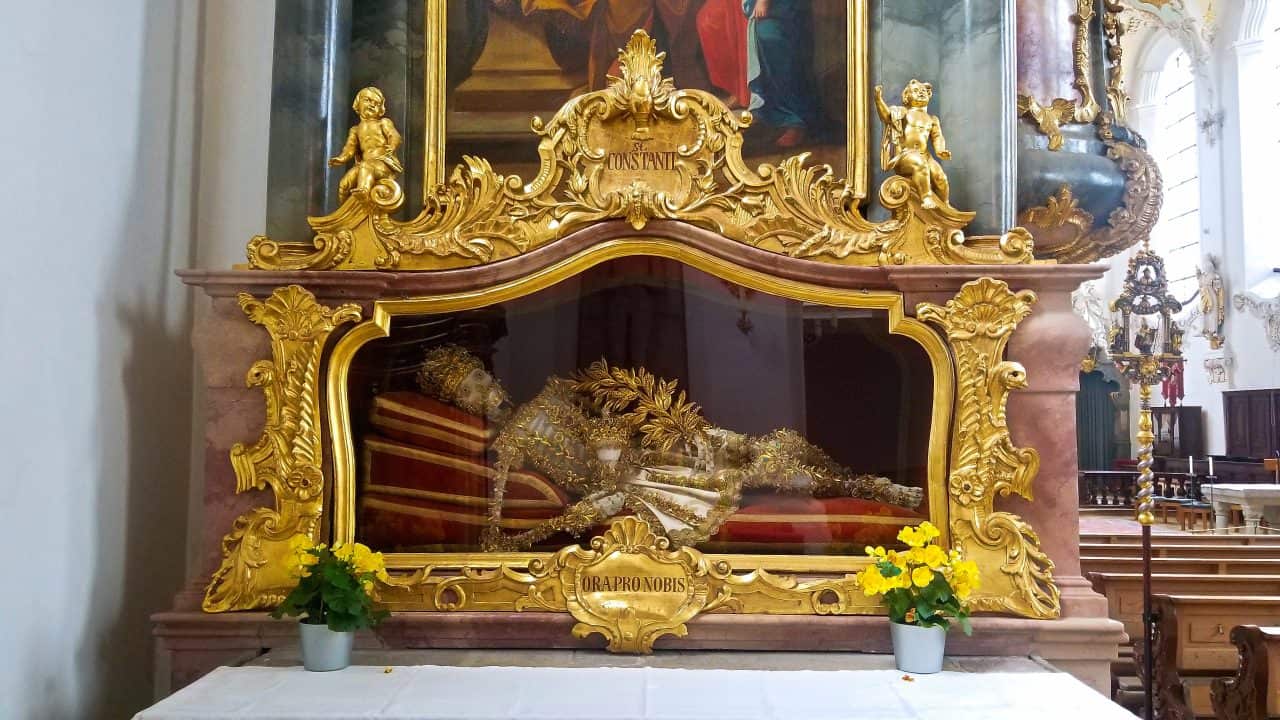 Along the way we have not only seen lovely sites but some weird ones as well. Here is a well-dressed skeleton on display inside a church in Schongau.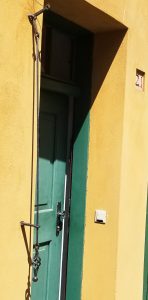 Augsburg is considered a historic centre. I am not sure what that means given that all the places we visited seemed quite historic to me. Remember that Mike and I are Canadians from a country just over 150 years old. Augsburg is the oldest city in Bavaria and one of the oldest in Germany. Augsburg has possibly the oldest, continuously-operated, social housing complex in the world. It was founded by Jakob Fugger in 1516 and amazingly, it is still a social housing complex five centuries later. The Fuggerei's primary purpose was to provide affordable housing for the poor and needy residents of Augsburg. The criteria for eligibility and the rent were very unusual and almost hasn't changed in 500 years. Today the three main admission criteria are; that you have to be from Augsburg, you have to be needy, and you have to be Catholic. The rent hasn't increased and today someone living in Fuggerei would pay: 88 cents per year plus additional costs like utilities. They would also have to donate an additional 88 cents to the Fuggerei priest. As part of the rent, they are required to say three prayers per day: one Our Father, one Hail Mary, and One confession of Faith.
The Fuggerei has about 150 residents from babies to seniors. This is a change from the past when most residents were predominantly seniors. The picture above shows a doorway in the Fuggerei with one of the historic door knockers, these door knokers were standard in most of their doorways. Apparently, in the past when it was dark, you could walk down the street feeling all the door knockers until you felt the shape that was uniquely yours. I found that idea quite interesting.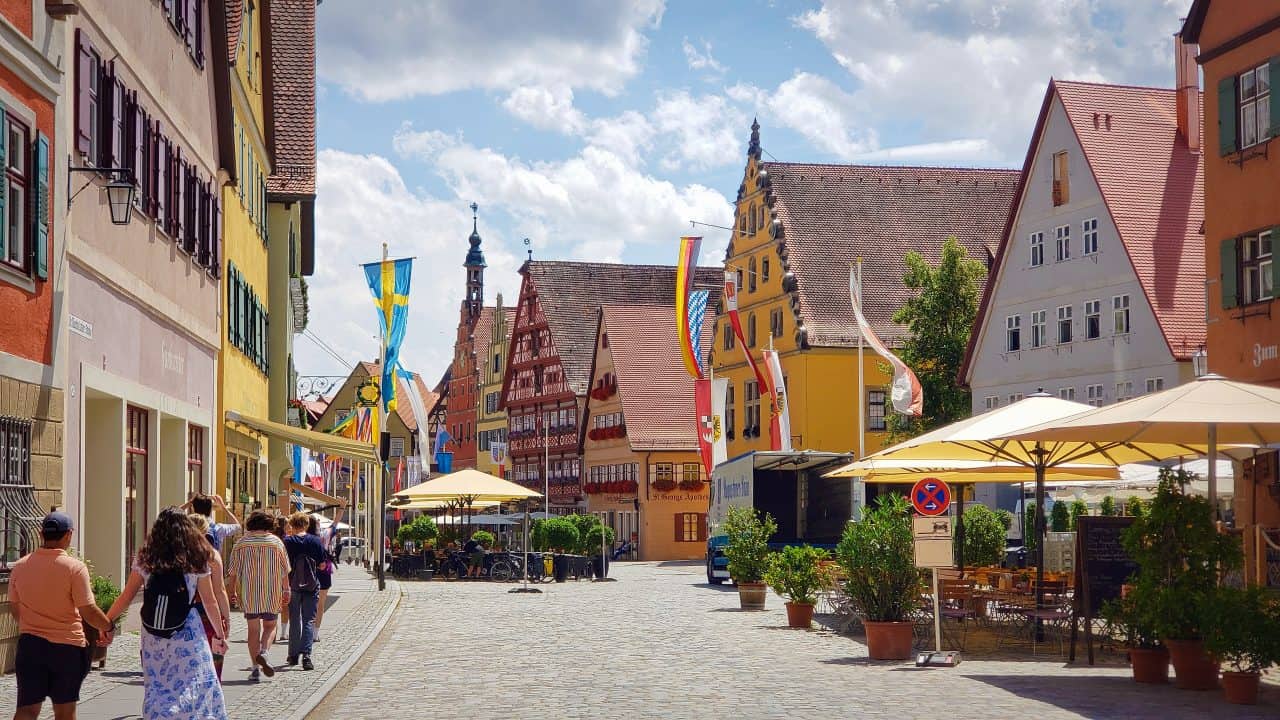 The second Stellplatz we stayed in was right next to the walled town of Dinkelsbühl. After we had moved there, we found out that it is considered by many to be the most attractive town on the Romantic Road. Camping so close to the centre of town encouraged us to cycle into town in the evenings for dinner when we would normally not leave our camper once we were back for the day. The bad news about Dinkelsbühl was that we were there during yet another heat wave. As in much of Germany, you pay for your electricity separate from your camping fee. Even with two air conditioners running, we could just keep the temperature inside below 90°F or 32°C. Our electricity and a small water consumption charge (about $18 CAD per day) ended up costing more than our camping bill ($12 CAD per day). Nevertheless, for high season, the total cost was still a very good deal.
A few odd bits of information. Giant maypoles with lots of decorations could be found in many of the villages throughout Bavaria. Onion dome towers were very common on churches. Many of the highways we drove on had no speed limit posted that we could see. Mike was averaging 112 km/h and some of the cars were just whipping past us. When we first arrived in Germany, we had to try pork knuckle which was on all the menus. It reminded me of my childhood when we weren't all concerned with healthy foods and would fight over the crackling on the pork.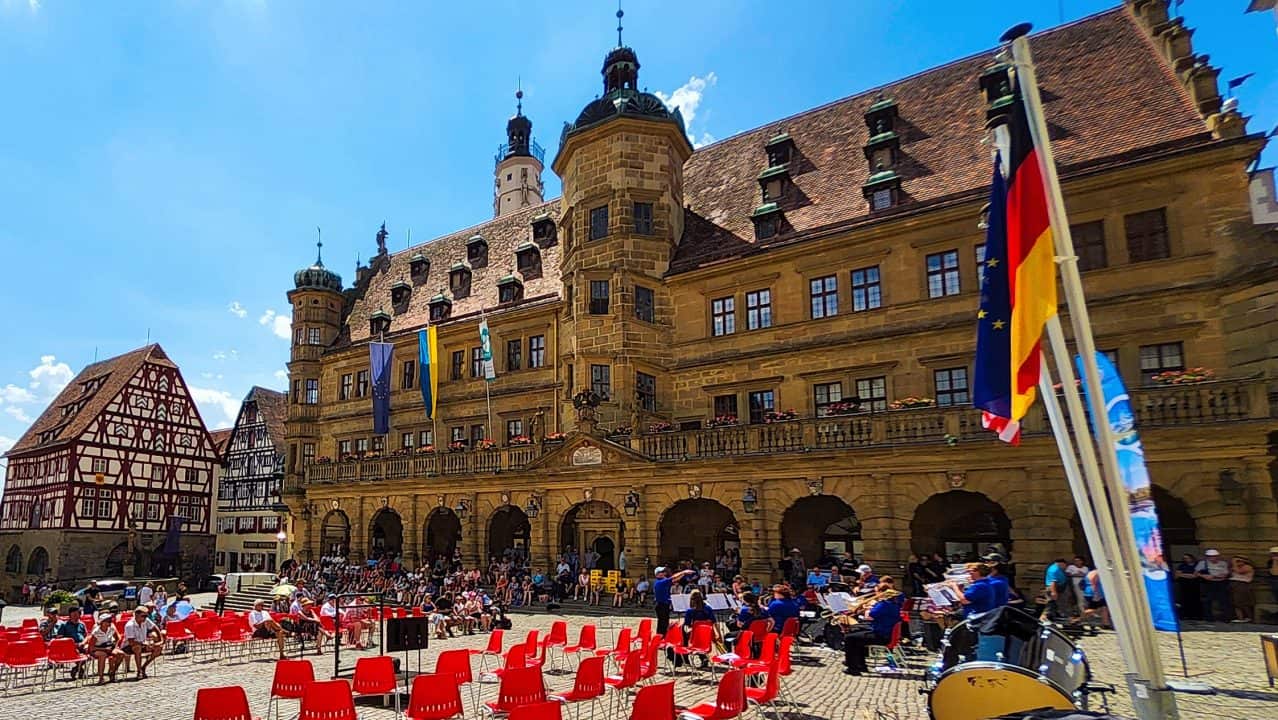 Mike and I visited all three of the walled cities on the Romantic Road: Rothenburg ob der Tauber, Dinkelsbühl, and Nördlingen. Rothenburg ob der Tauber is the most popular of the three, and it is easy to see why. The city is beautifully preserved, and it is full of charming shops, restaurants, and cafes. OK, now I have to admit the truth. I asked Google's AI tool Bard to check my grammar on my sentence about Rothenburg. It said that my grammar was correct but that my sentence could be improved and made more interesting. The last couple of sentences were Bard's "improved" wording, not mine.
Mike and I were wandering around Rothenburg's main town square near the Rathous (City Hall) listening to the traditional Bavarian sound of an oom-pah-pah band. We were very surprised to see the stars and stripes flying and realized that it was an American band playing in the town square. There were a few different bands playing that day. Great music.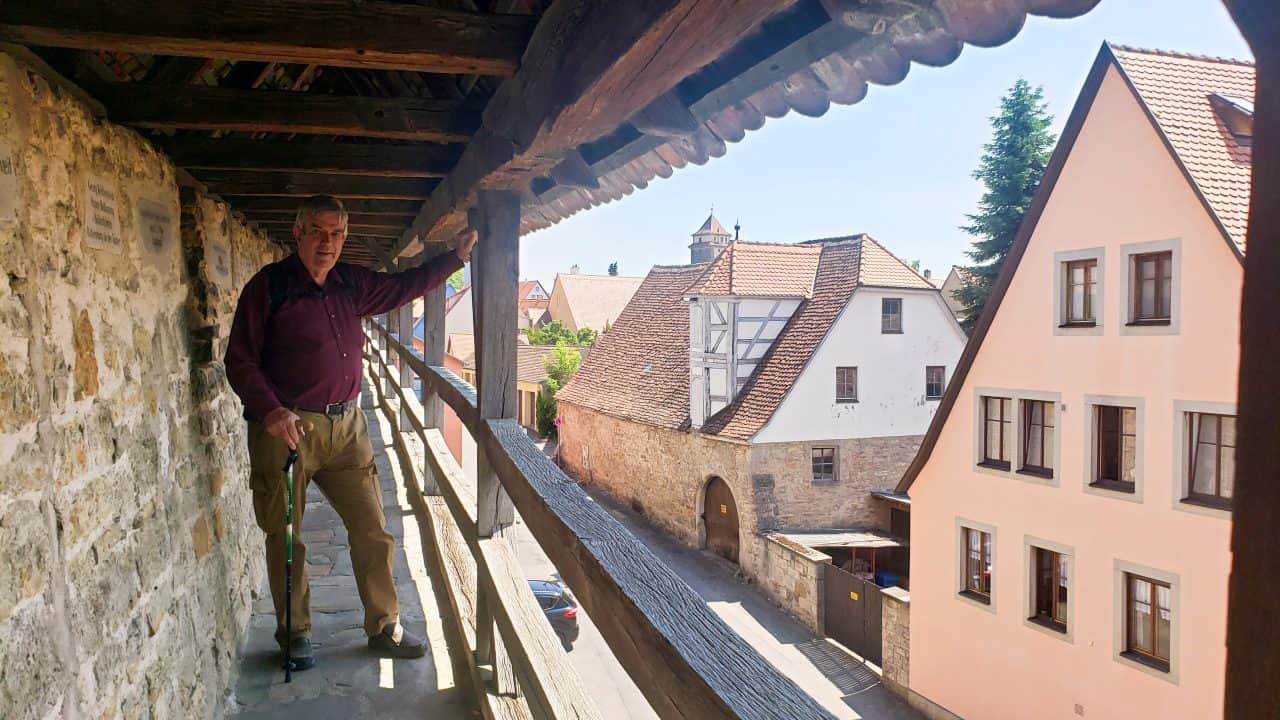 Mike and I did walk on top of the town walls. The old, non-standard steps were a little awkward for me as my ankle still hasn't recovered properly yet, but we managed it.
The picture below was taken in Nördlingen, the last of the three walled towns we visited. At one point we were going to try and cycle up the Romantic Road, but I didn't want to take the time required to do lots of really small loops and their train stations weren't conducive to the distances I was willing to travel in the heat. We cycled a fair bit, but we didn't link the segments to create a continuous path which we like to do.
We decided that instead of heading to the Rhine Valley as we had intended that we would head over to Eastern Germany where we have never been. On the way there, we are going to stop in Czechia (Czech Republic) for 10 days for some cycling. A few years ago, Mike and I had cycled from the Adriatic Sea through parts of Italy and Slovenia, linking segments of our bike rides to form a continuous path through Austria from south to north and ended up in Prague, Czechia. We decided that I could easily handle the nice cycle paths along the Elbe River to extend our route from Prague into Germany. I would really like to make it all the way to the Baltic Sea, but it is more likely that we will only have time to reach Berlin. Time will tell how far we get.
The last time we were in Prague our friends from Norway flew in and we all stayed in a hotel downtown for four days which was great. The good news is that they are bringing their camper to Europe this year and will meet up with us in Dresden, Germany. Mike and I are looking forward to that.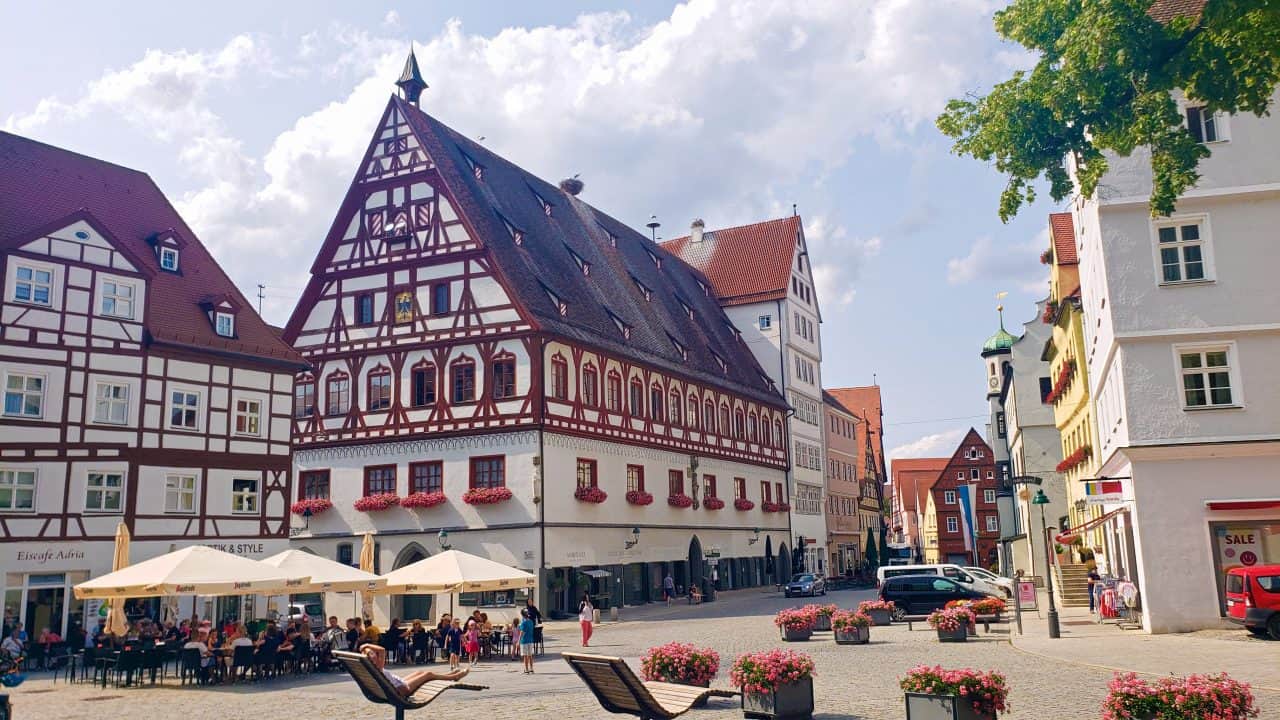 PS After having Bard "improve" one of my sentences without me asking, I decided to give it my entire article and see what it did. I made a mistake and posted my article into ChatGPT but that was OK. The result was a much better written article and shorter article that talked about the Romantic Road being nestled in the picturesque region of Bavaria etc.. It sounds nicer but it doesn't sound like me at all, and this is being written for Mike's and my family and friends, not for publication. I will admit to stealing a few of the words from the AI suggestions, including the title, but not very many.
I just decided that those of you who are interested in some of the things that the new, free, AI tools can do might be interested to see the revised article that I didn't use. Here is a link to ChatGPTs version of this article without my pictures.