Summary of our year in France
I am having an unusually difficult time writing this summary of our time in France. Unbelievably, we have spent almost a full year, 347 nights, camping in France. In all that time we really didn't work on our French language skills which is terrible to say. If I had been moving to France for a year I would have tried harder but the 347 nights took place over 3 years and we just didn't get around to studying the language properly. We did get much better at ordering food in restaurants and basic tourist type phrases but certainly not where we should be after a full year.
When we first arrived in France, Mike and I had planned on riding and creating a single bike path across and around the country, much like we did in Central and Eastern Europe. We hadn't realized that France was bigger than all the areas where we had previously cycled. See the black outline of France superimposed over our cycling map from previous years. In France we created multiple bike paths each over 1,000 km but we didn't come anywhere near to cycling around or across the country. I am writing this in June 2023 and, due to my broken ankle, I haven't been on a bike this year. Our plans for biking from Lyon to Switzerland and across Switzerland to Munich came to nothing. Oh well, it was fun thinking about it.
I am having a hard time writing this because there is much to love about France but overall, it has been our least favourite country on this trip. That doesn't mean that we disliked it, just that we liked all the other countries more. I will try and explain why France wasn't our favourite country but also what we really liked about it below.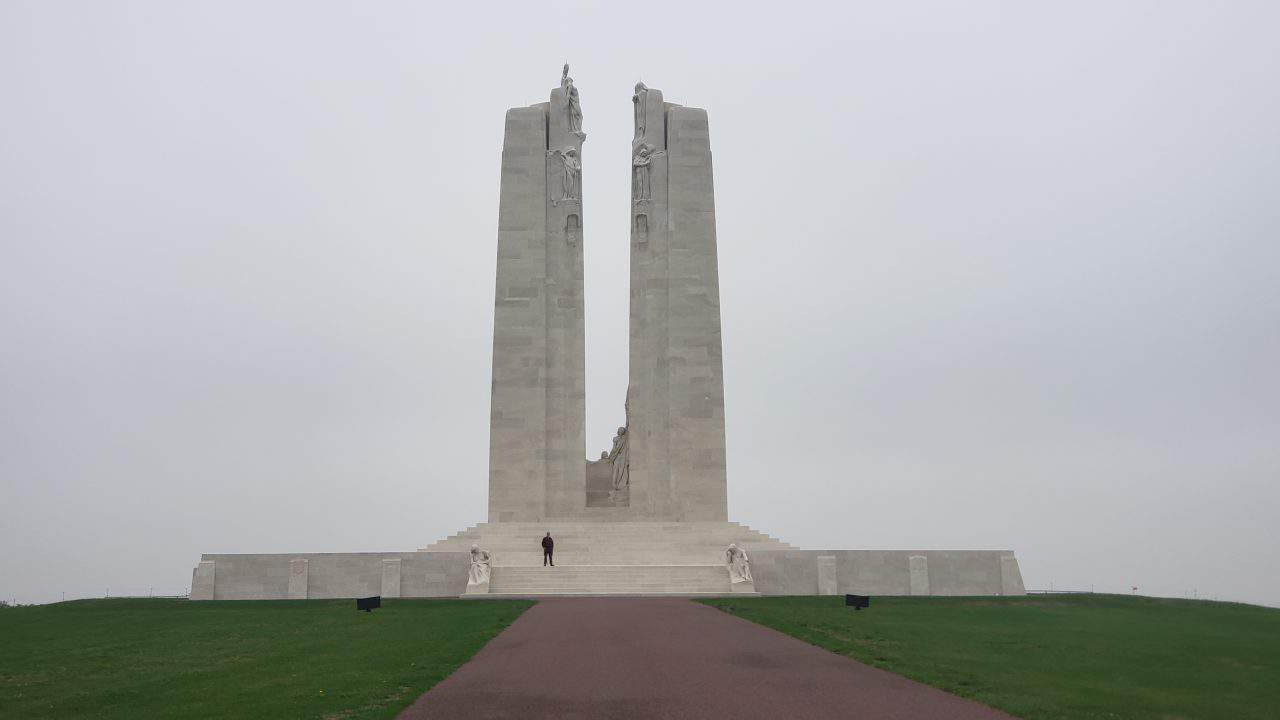 We visited Brittany and Normandy for the first time on this trip. The history in these places was really fascinating and you were left with very mixed feelings: awe for the courage and sacrifice for those who fought in both world wars and a sadness due to the huge loss of life. I am very glad that we finally got to tour these regions. The history here impacted us more than we expected it to.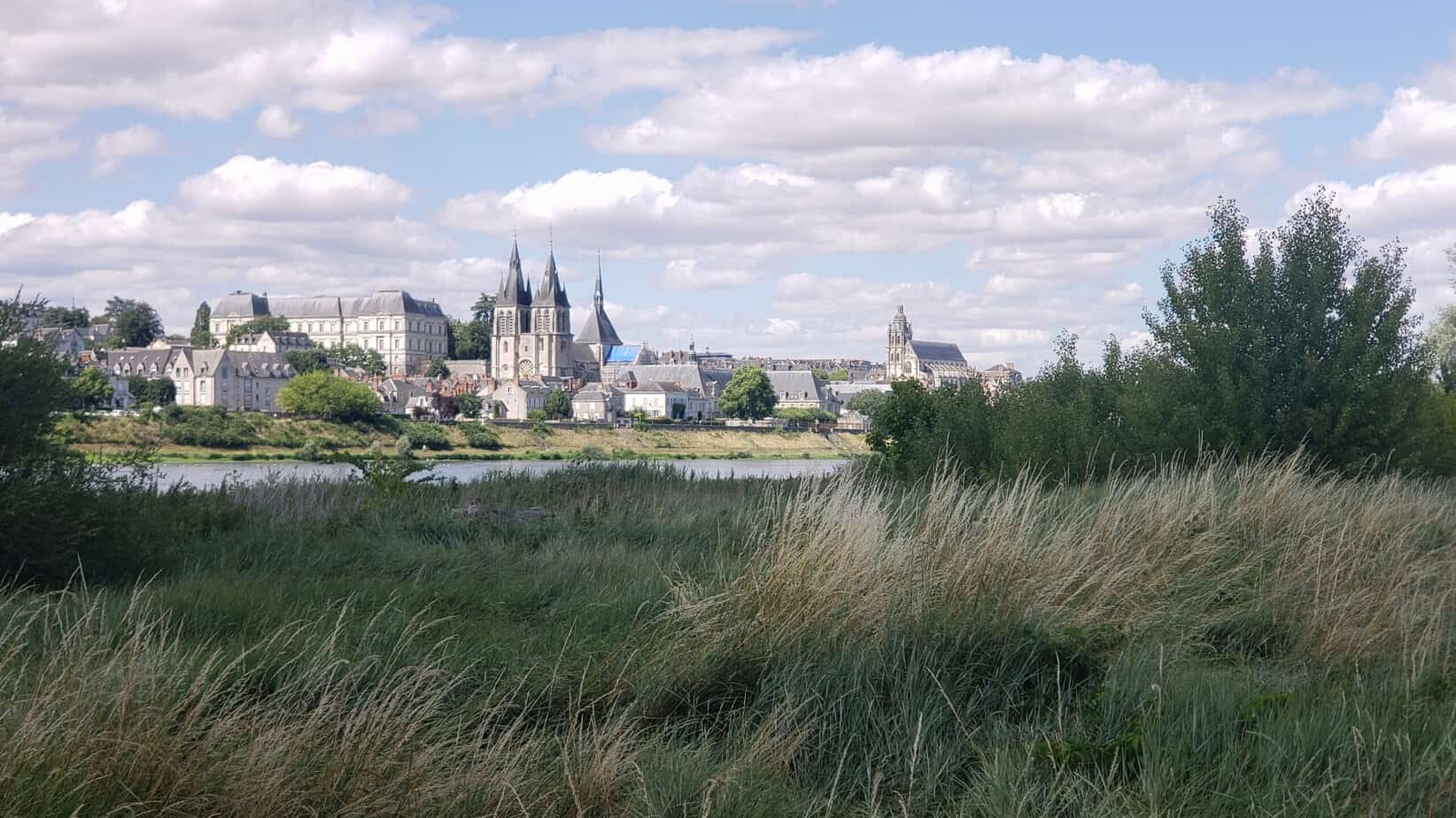 30 years ago, Mike and I rented a camper and travelled down the Loire Valley visiting the chateaux along the river and we loved it. This time we travelled much slower thanks to the joys of retirement. We got to explore more and loved slowly travelling down the Loire River.
One of my favourite cities on this trip has to be Avignon, the Papal City. You can see a picture of it at the top of this article, and yes, that is the bridge from the song "Sur le pont d'Avignon" that many of us learned as kids. Luckily, we really enjoyed visiting and touring the city because we spent more time there than we planned both last year and this year getting our car fixed multiple times. We were in Avignon out of season, and it was somewhat busy but not packed. It was a place that you could visit, not just for touring but to stop in for a cup of coffee. Too many of the major sites like Carcassonne are way too touristy. Carcassonne is phenomenal to see once but it had too many people for my liking. I felt like I had entered Disneyland. Carcassonne was a place that you would visit for the sightseeing but not one that felt lived in and where you could just drop in for a half hour coffee break.
The picture at the top was taken from the campground we stayed in this year on the island right across from Avignon. It was a great location for us. There were lots of nice campgrounds for us to choose from throughout France. France has a lot of Aires, many of which are just free resting spots but a lot of them charge a minimal fee, maybe 10€ or less than $15 Cdn per night. The fee is for the sites that typically have electricity, fresh water and somewhere to dump your black and grey water. Mike and I loved these places. They aren't at all fancy. Most don't even have washrooms or showers or anywhere to wash dishes and they certainly don't have play areas for kids, but they do have everything we need. They are often in great locations right next to interesting towns. In 2022 we spent a full month in one Aire beside the town of Aramon. It was near the river about 12 km south of Avignon. We biked back and forth to Avignon often, which wasn't an option this year. It was a great and inexpensive place for us to stay.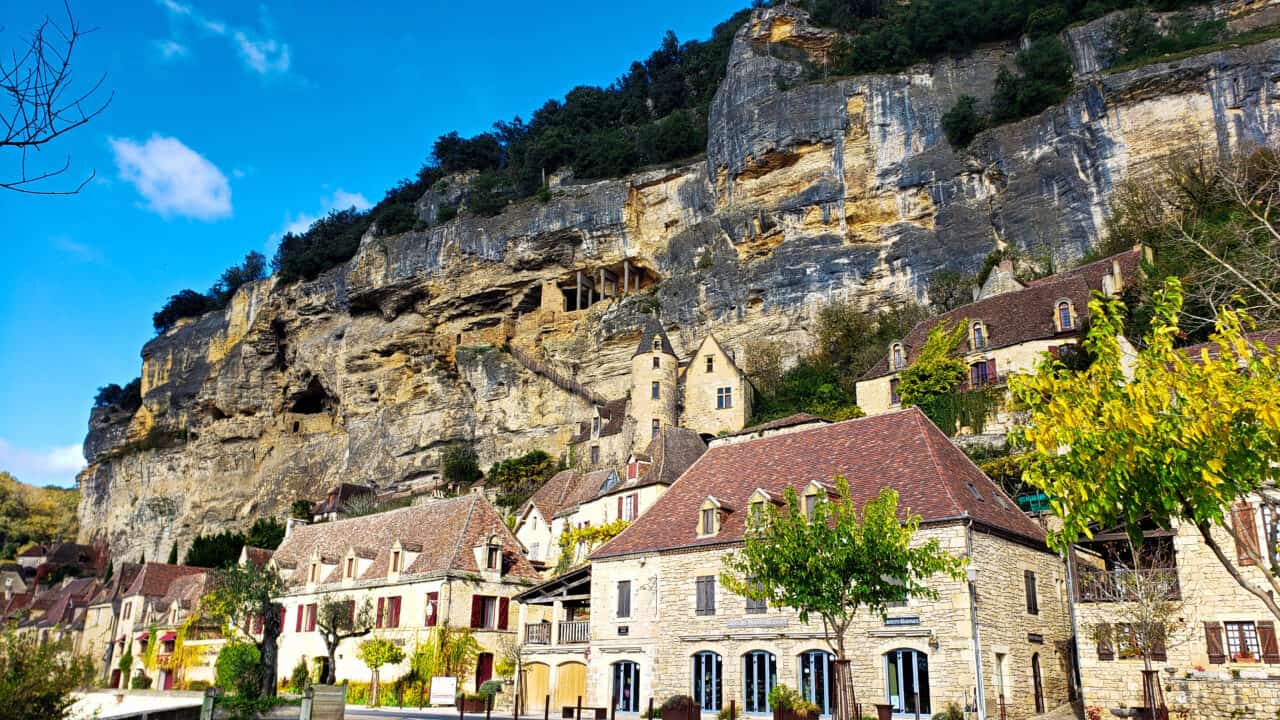 The first area we spent time in when we arrived in France was Périgord. They say that there are 1,000 castles and châteaux in Périgord. It was a wonderful area to visit. The picture here is of the Fort de la Roque-Gageac which is known as a troglodyte (cave dweller) feudal castle and is built into the cliff. After the fort collapsed in 2010 they installed 18 columns holding up the roof which you can see in the middle of the picture. Look at the picture carefully and you will see openings in the cliff that are part of the "fort". We saw multiple other troglodyte villages. It was really interesting to see a cliff wall with proper doors and windows built into the rock.
Mike's favourite memories are of us cycling over 1,000 km along two main canals that stretch from Bordeaux on the Atlantic Ocean, down to the Mediterranean Sea. We then added on another 1,500 km to that route cycling along the Mediterranean east to Marseille and north to Lyons. We cycled over 1,000 km in the north of France including the Loire Valley. France has lots of great bike paths along canals and in towns separated from the traffic. We even explored Paris by bike, which we wouldn't have dared to do 20 years ago.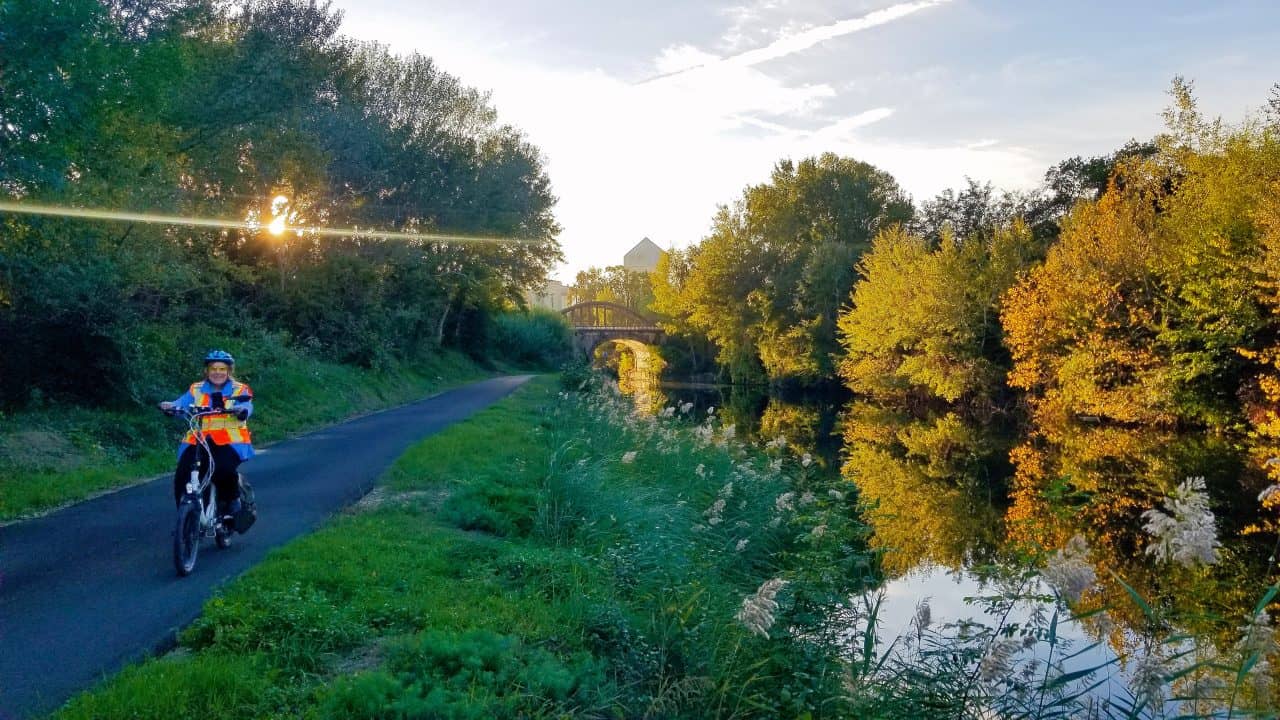 Our biggest negatives had to be the French people and their lack of smiles and friendliness and their AWFUL driving. These are things that you wouldn't notice when you are on vacation for a couple of weeks but when you are driving around the country for a year it becomes quite noticeable. It isn't that people were unfriendly because they weren't. It is just that we have got used to people wanting to talk to us and having waiters and waitresses smile when they serve us. You really notice when all that goes away. In all our time in Europe we had never had a single accident until France. In our one year here we have had three accidents that had absolutely nothing to do with us. I know that sounds hard to believe but it is true. The first time our car was parked at a train station. When we returned to our car following a bike ride we discovered that somebody had sideswiped the car next to us, sending it into our car. The hit and run driver had then also bounced off the back of our car before departing the scene. The second accident was when we were stopped at a pedestrian crosswalk waiting for a gentleman to walk in front of our car. While doing that we were hit from behind. A week after we had some temporary repairs made to our car we were hit from behind yet again. This time by a man on one of those electric stand-up scooters while we were stopped at a red light. Half of our new repairs were broken open, unbelievable! The picture here was taken in the same town where we got hit while stopped at a red light. Is it telling you to expect that?? We saw another sign on a highway showing a stream of motorcycles riding on the white line in between two lanes of traffic on a major highway. French motorists drive way too close to each other. Mike was often annoyed because someone was sitting on his tail and he would pull over whenever he could to let other cars go by. This is a common complaint that we hear from visitors in the campgrounds all the time in France.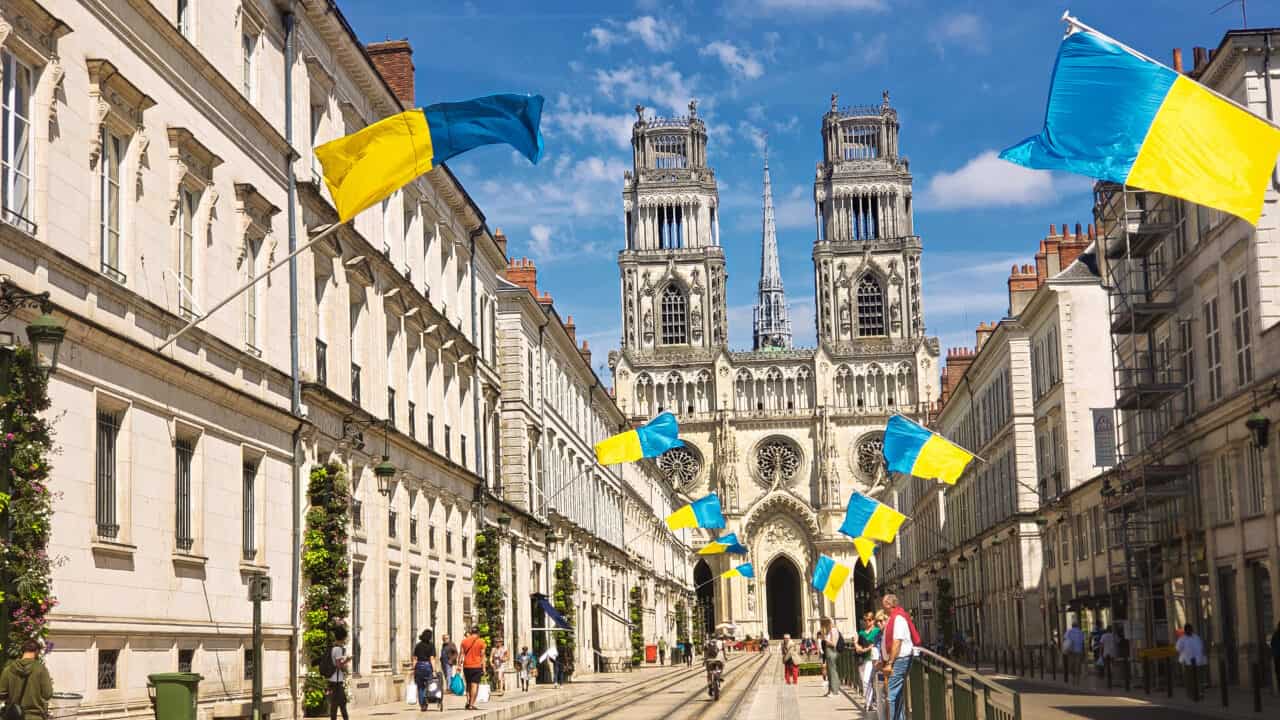 Here is a quick summary of some of our Good and Not so Good thoughts about France:
Good:
France has beautiful scenery with a huge variety. If you like water you have the ocean, the seas, and lots of rivers and canals across the country. If your taste is for mountains you have gentle ones and you have the snow-covered Alpine mountains such as Mont Blanc.
France is well-known for its phenomenal museums and art galleries. It also has outstanding churches and cathedrals which, with their great architecture and artwork, are museums unto themselves.
Les Plus Beaux Villages de France is a designation for some of the most beautiful villages in France. If there were any in the vicinity Mike and I would make sure to try and visit. Many of them are medieval villages, some are troglodyte villages and others are just lovely.
France is very well set up for campers across the country.
We loved the Aires with electricity and water intended for camping. Mike says that we don't need the bouncy castles and swimming pools that we never use anyway. These Aires had everything we needed, were inexpensive and in great locations.
It was really nice seeing the carousels in almost every small town.
Wine is extremely inexpensive and plentiful.
The bike paths in France are excellent especially their long distance bike paths.
Bikes travel for free on most of the trains.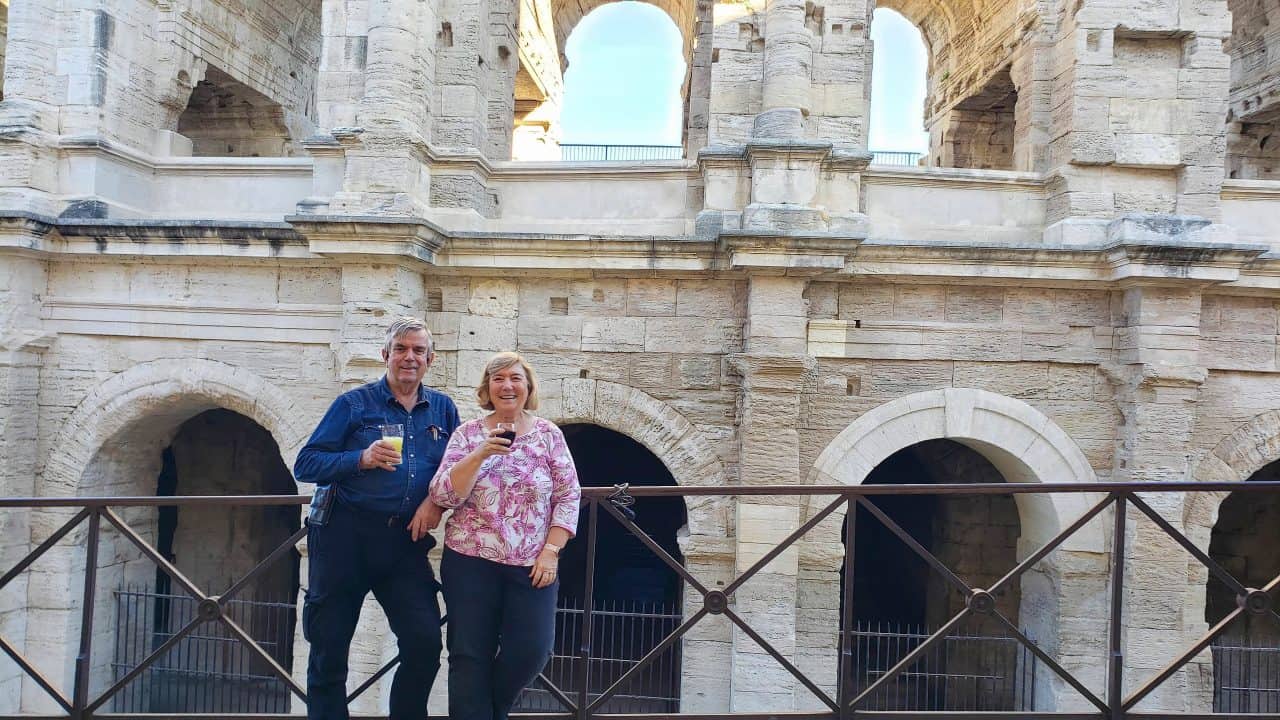 Not so Good:
French people not overtly friendly to visitors.
There are lots and lots of speed bumps called Sleeping Policeman. Some were larger than expected and occasionally you could miss the warning lines on the speed bump. Hitting one too fast caused us to break a suspension spring on the front of our car.
I really disliked the rigid lunch hours when we couldn't stop and get a drink or a small meal in the middle of the afternoon. This was a big problem when we were cycling 40 km at a time, and I needed somewhere to stop in the middle.
We weren't happy about the number of times a tourist attraction would advertise in English and try and encourage English visitors and then everything, all the small film clips, the informational write-ups etc. would be in French. In France they are obviously entitled to do everything in French if they want, but then they shouldn't advertise and ask for English tourists' money without providing the appropriate service.
I really, really didn't like the cappuccinos in nearly all of France and since this was my go-to drink that was a bit of a problem. The French could learn a lot from the Swiss about how to make a nice, regular cappuccino. On the other hand, this did encourage me to switch my drink of choice to wine for the first time in my life.
We disliked the crowds of people we encountered even in the off season. This year we spent much of March to May in France and places where often too overcrowded for our enjoyment and many of the parking lots were already full. With a broken ankle I couldn't walk into town from a parking lot too far away so occasionally we just gave up and skipped exploring the town completely. I can't imagine what these places will be like in high season.
Most of all we hated the drivers. They will sometimes parallel park so close together that the only way they get out is by bumping first the car behind them and then the car in front of them until they can make themselves a space big enough to exit from. They travel way too close to the car in front, and don't pay enough attention. Who knows what they were thinking when they hit us at a crosswalk and again at a red light.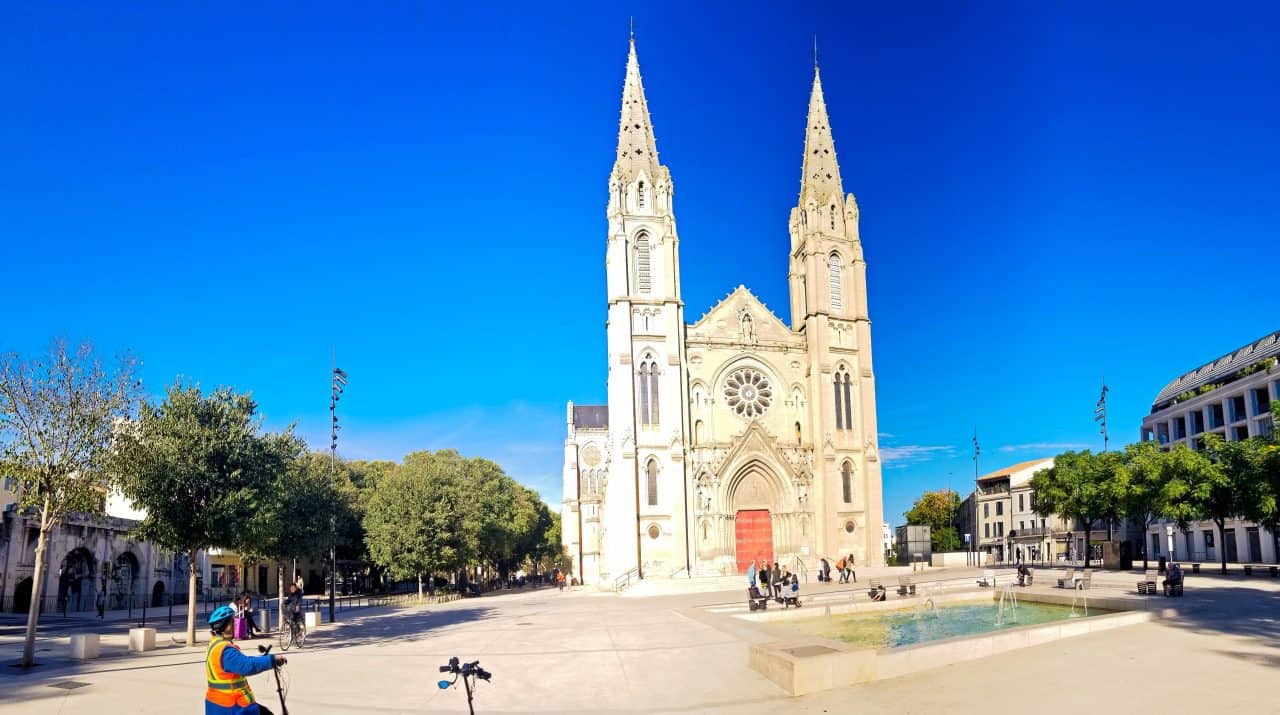 So enough of the negatives. If you look closely, you will see that for visiting tourists the good certainly outweighs the bad. Mike and I have visited France multiple times over the years ,and it is a great country for a tourist. For someone doing lots of driving every day, looking for somewhere to stop in the afternoon when walking or biking and looking for a smile and a friendly face, it hasn't been the best. We are very glad that we did make it back to Western Europe and got to spend a year in France, but my heart is back in Central/Eastern Europe I am afraid.