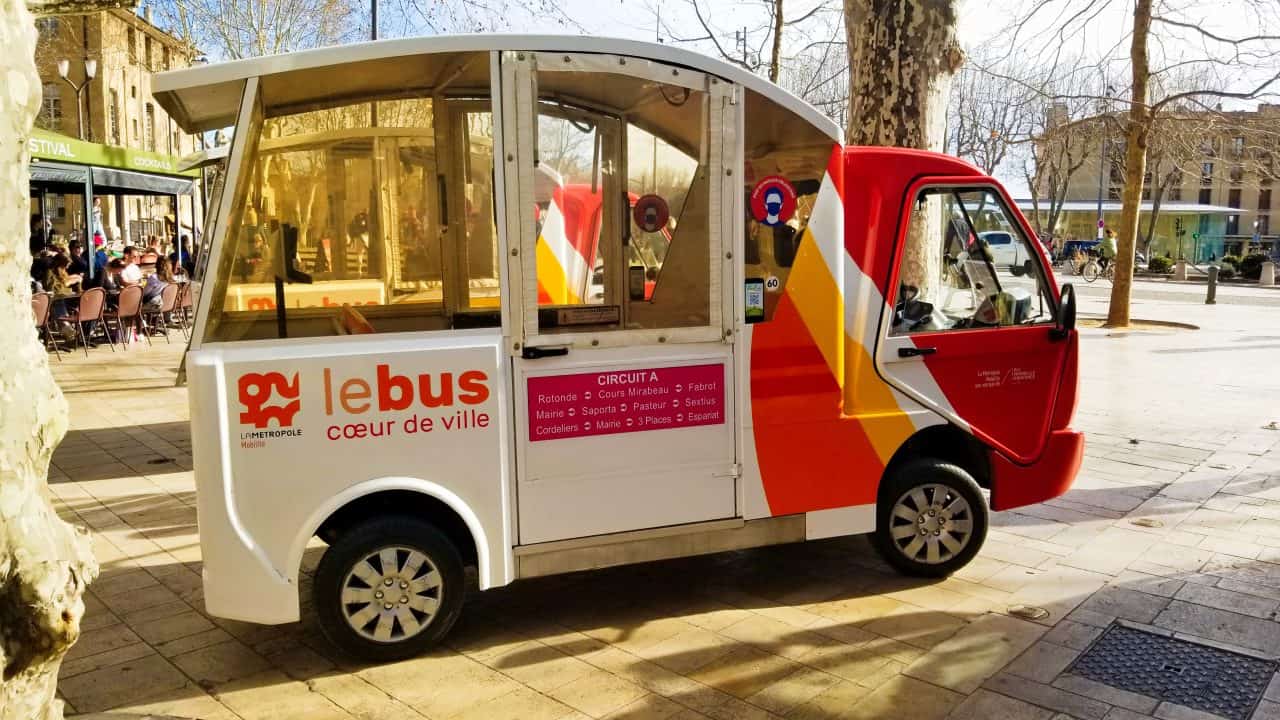 Mike and I are currently exploring the Provence-Alpes-Côte d'Azur region better known as Provence which includes the French Riviera. Here are cities and towns such as Marseille, Saint-Tropez, Cannes and Nice and lots of beautiful small seaside towns and rough mountainous terrain. We will probably spend about two months in this lovely area.
We have just spent 8 days near Aix-en-Provence. We are currently about 30 minutes north of where we started our trip this March. As we had been told by many people, this is a very picturesque area. We actually visited Aix-en-Provence briefly when we were near here last month. I definitely appreciated it a little more this time as my leg is improving. I still can't do slopes, or rough ground, very well and I don't walk very far but it is definitely better than it was. It is just a slow process.
When we originally visited Aix-en-Provence we walked to Fountain de la Rotonde square for lunch and that was far enough for me. I definitely wasn't up to walking around doing one of the audio tours that we enjoy. During lunch we saw these very small, six passenger electric buses coming into the square, sitting for a few minutes and then leaving. We talked to one of the drivers and he said that for less than $2 Canadian (1.30€) we could ride on these buses. At the time we thought they were small tour buses. It turned out that they weren't tour buses, they were actually designed to get people around the small inner core of Aix-en-Provence and to link up with the city buses and trams. 1.30€ would buy you a ticket good for starting any number of rides within a one hour period. You could get on and off anywhere on the route assuming that there was room on the little bus. The driver recommended that we take the route A bus around the historical centre and on returning to the square we get on the route B bus, all on the one ticket. This is what we did. We concluded that these buses were really for handicapped people based on the few passengers that joined us. Later on, we discovered that the buses were really for anyone, but if you didn't have walking problems you could probably cover the distances in the historic centre quite easily on your own two feet. It was a great solution for Mike and I to see an area where cars weren't allowed and my feet wouldn't take us.
Our campground was 3 km from the centre of Aix. In the past, this would have meant that Mike and I could bike in just for lunch or an evening drink but of course I can't ride a bike at all at the moment. I really did miss that in this location. Driving in was certainly much more of a major task. Driving through the city centre in our Lincoln was very disconcerting. I have never thought of myself as claustrophobic but seeing our car mirrors inches away from walls and parked cars is very uncomfortable for me. It is even worse for me these days when Mike drives the RV on narrow roads with concrete barriers literally inches from our sides.
Again, the parking lots were tight and when you emerged from the underground parking lot you then had to walk a distance to get into the middle of the historic pedestrian areas. By the time I got to our first point of interest in town I was already very tired of walking. Mike and I did manage to get into town twice and walked a different part of our audio tour each time. I wasn't up to do the entire walk at once but I was definitely getting better.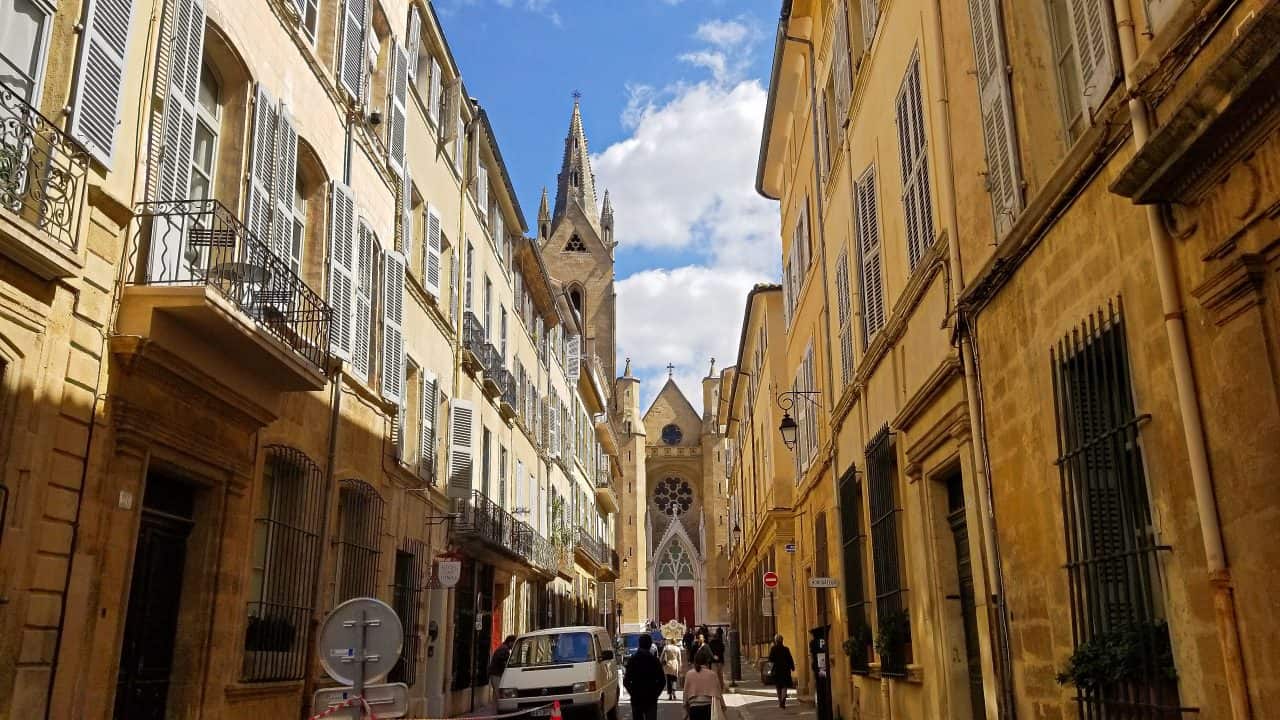 Mike continued doing his bike riding, both shorter and longer trips. There were a few days when he was gone on his bike and I didn't leave the camper, other than to walk outside for just a couple of minutes. We tell people that we don't have a large camper we have a "petite maison" or "small house". Given the time I have spent in it this year, I have very much appreciated its size.
Mike took this picture when we had lunch and he wandered around Salon-de-Provence. The building, with its painted "fake" windows looks really interesting, wish I had seen it.
One day we drove and visited two Beaux Villages. These are villages to which France has given an official designation of; "the most beautiful villages in France". Many of these villages are very old with cobblestones and small winding streets. We visited Lourmarin, had lunch and wandered for a bit. The most significant landmark in Lourmarin is the Château de Lourmarin, a beautiful castle that dates back to the Renaissance period. Mike decided to go and visit the chateau so I sat and enjoyed a glass of wine in a café. That worked out well because the chateau was closed.
The second Beaux Village, Ansouis, was also built on the side of a hill. It is known for its stunning views. I walked with Mike for a little and then enjoyed a cappuccino in a café. I miss seeing the towns, but I do enjoy sitting around with the locals, having a nice drink, people watching and reading my book, all in lovely weather.
On our second last day in Aix-en-Provence, Mike drove to Marseille to catch a train, ride on it for 40 km and then get off the train and bike back to the car in Marseille. This would link to the cycling track across France that we started last year. Well, Mike accidentally got on a train that left 4 minutes earlier and went to the same final destination (Toulon) but it was an express train and didn't stop at the town at which he wanted to get off. If I had been there, we would have taken a second train back to the correct station and continued on our planned cycle route with a slight delay. Instead, Mike chose to bike the 70 km from Toulon back to our car at the train station in Marseille. Finding the right train and the right track is normally my responsibility at train stations while Mike assembles our bikes. I think this error made me feel needed 🙂
Mike used his phone to get a new route from Toulon back to the car and he missed many of the nice scenic views and seaside towns that I had planned for him. So we decided to do the same drive in our car the next day.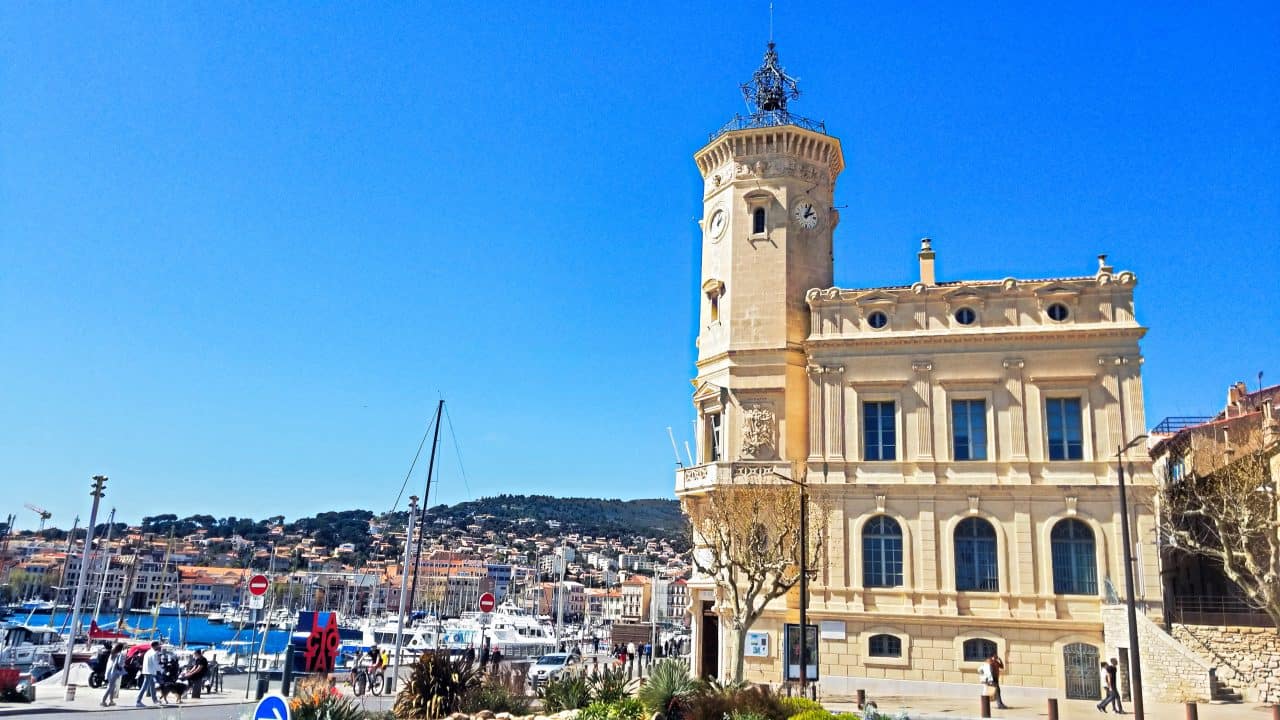 It was a lovely day. We stopped for some picturesque views on the way. We visited one small waterfront town on the French Riviera for lunch, another for a coffee and one that we just drove around. The weather was great, and it was a beautiful day.
I am writing this as we are driving to our next campground about 90 minutes southeast of Aix-en-Provence. We are following a car that has a mattress tied to its roof, but it isn't tied very well. It looks like it could fall off at any moment. We can't go fast enough to pass the car, and no-one seems to want to get between us even though Mike is leaving more and more room. Years ago, a friend of my mother's was visiting and told my mother that she had seen a car that was on fire and had a mattress stuck under it. It turned out that the car was my sister's. She was driving on the highway when a mattress landed in front of her. Without any other choice she had driven over the mattress and unknowingly dragged it along and eventually a fire started. That is all I can think about as I watch the mattress in front of me sway back and forth.
Here is another view over the French Riviera.