Marseille and Montpellier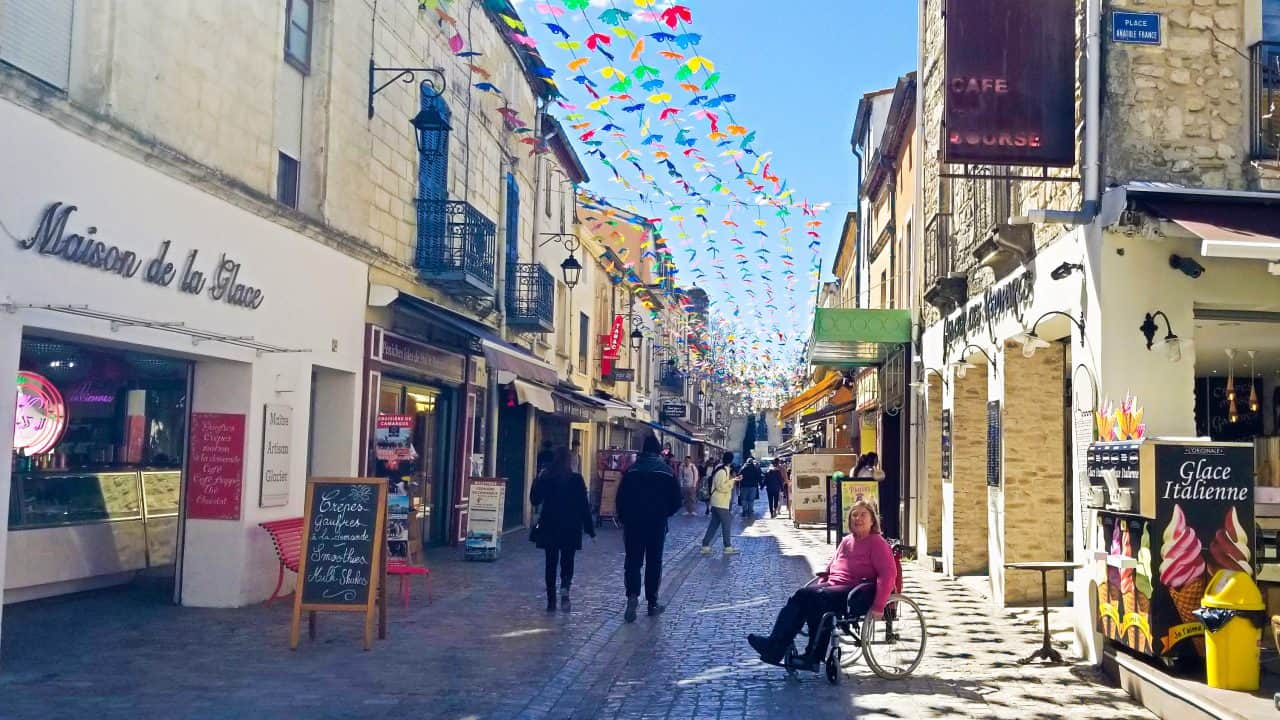 My apologies for the delay in writing. Our lives seem to be somewhat consumed with my broken leg. Mike says that it would be broken no matter where we were and it is better to be enjoying early spring in the south of France instead of winter in Canada. Spring seems to have started almost overnight here. We went from no leaves to lots of trees with buds and small leaves and some flowers all in a few days. It did help that the temperature got up to 21° C (70°F) for a day or two.
This article is a little long because it covers three weeks in the South of France. Since my last posting Mike and I have spent one week in the Marseille area and two weeks camped near Montpellier. We haven't been using our audio guides in the various cities because I haven't been able to walk far enough to do the tours. Mike has been doing some long distance bike riding on his own. While I write this Mike is driving to a train station, taking the train and then biking back 60 km. Did you notice 60 km!! We are going to have some discussions about how far we ride when I eventually get back on my bike. Mike thinks that it will be another couple of months which doesn't thrill me.
I did see the orthopedic surgeon while we were in Montpellier.  He basically said that it was healing but slowly.  Every week or two I need to start putting more pressure on my foot and slowly going without the canes and then without the boot. Once the walking boot comes off, I need to start using the  canes again.  For now the doctor doesn't want to see much pressure on the foot at all.  It sounds like a very slow process.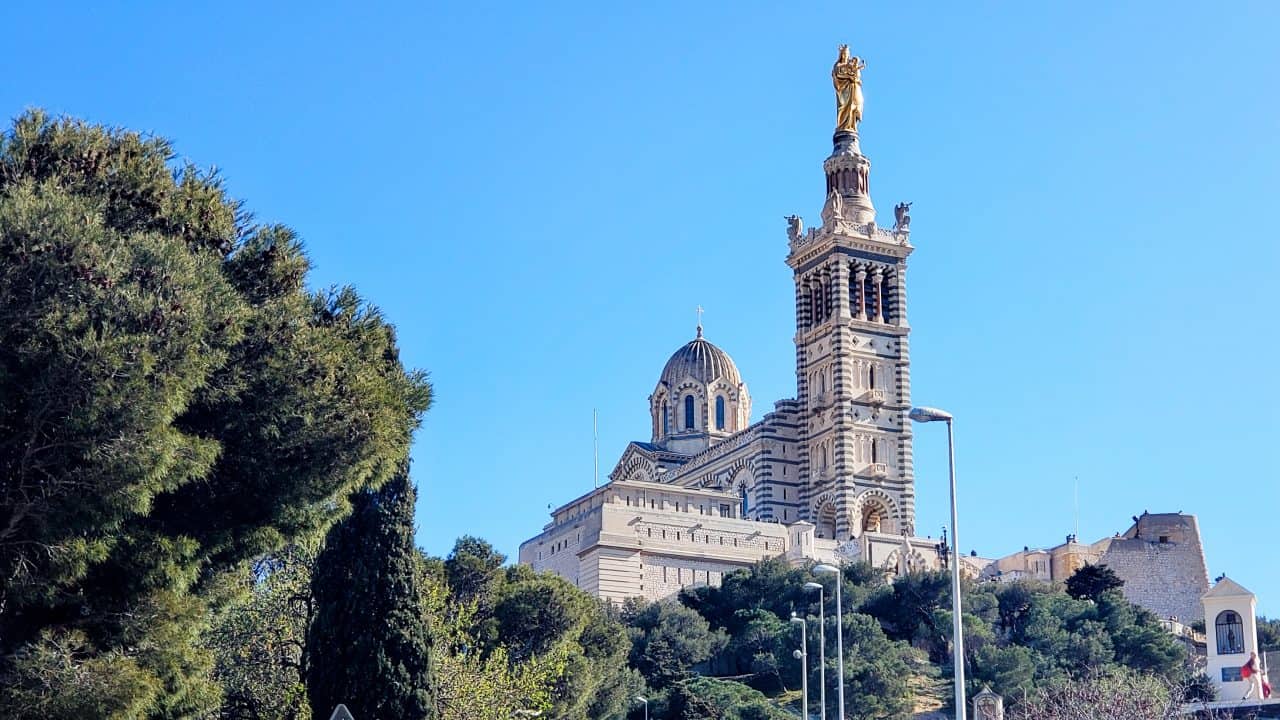 Mike and I took advantage of the handicap parking at Marseille's most well-known landmark.  It is the Basilica of Notre-Dame de la Garde which stands on the top of the Garde hill 154 metres (505 ft) high.  You can see the basilica from all four sides of the city and from the Mediterranean Sea which it faces.  The terraces around the church give you a magnificent 360-degree view of the entire city.  You can get to it by foot or by a little tourist train.  Even taking the tourist train I would have had a hard time walking the final leg up to the church.  I saw some handicap parking on Google Street View right at the entrance to the church.  We drove around for ages before we figured out how to get up the hill to this parking area in our car but it was worth it.  Not only did we get to the bottom level of the church, there was an elevator to take you up higher!  Elevators excite me these days. 
When I was looking through my photos on my computer, I came upon this picture of Mike sitting on one of the terraces overlooking the city. It was taken in 1992, over 30 years ago. Having all our photos digitized during Covid and now using an app called Mylio to organize and retrieve them has been tremendous. I do wonder how we got up the hill 30 years ago.
I read that the golden statue of the Virgin Mary is 11.2 meters or almost 37 feet tall. Apparently the statue is hollow and there is a staircase that leads to the eye of the statue but this staircase is closed to the public.
As we were getting out of our car in the church parking lot a man came by to talk to us. He and his family are Canadians in Marseille for a two week vacation. Out of all of Canada it turns out that they live about a mile from where Mike and I live. When they first saw our car with the Canadian license plates they assumed that our car had been stolen in Canada and shipped to France. Car theft has been in the news in our area a lot recently. When they saw my Canadian backpack they decided that we must be honest and came over to talk to us.
Marseille was a little hilly with uneven roads which made it hard for me to do to much exploring. We did go into the main tourist area a couple of times. You have probably read or seen on TV the demonstrations that are occurring across France at the moment. One day in Marseille there were a lot of roads closed because of the demonstrations. When Mike and I finally made our way out of the area, we had to stop near another group of demonstrators. The man closest to us saw our Canadian license plate and called to all the other demonstrators and yelled that we were from Canada. We got cheers from the whole group, waving their placards and yelling "Canada, Canada". It was quite nice although I am not sure if they assumed that we were supporting the demonstration or what. They are striking across France because the government is increasing the age for retirement from 62 to 64.
When Mike and I flew to Marseille from Toronto, Mike had two brand new tubes of his "magic" glue in his carry-on. I love this stuff. Mike can mold it into almost any shape and when it hardens he can drill holes in it or shave it or whatever we want. It is great. The problem was that apparently this epoxy looks like explosive plastique on the x-ray machine. This set up alarms in the security screening area and Mike lost his epoxy I am sad to say. He is hoping to find something equivalent in Marseille.
We went to a Japanese restaurant for dinner one night.  Nothing seemed extremely Japanese about it other than their two lovely dogs.  The dogs were both Shiba Inu Japanese dogs.  They would sit on their hind legs and look adoringly at you presumably wanting to be fed.  They were extremely well-behaved and never barked but you still would never see this inside a restaurant in Canada.
All along the coast here you see lots and lots of flamingos which is nice. You see the flamingos just off the side of the road, both in the Mediterranean coastal waters and along the inland waterways. There are a huge number of canals criss-crossing many of the waterfront towns.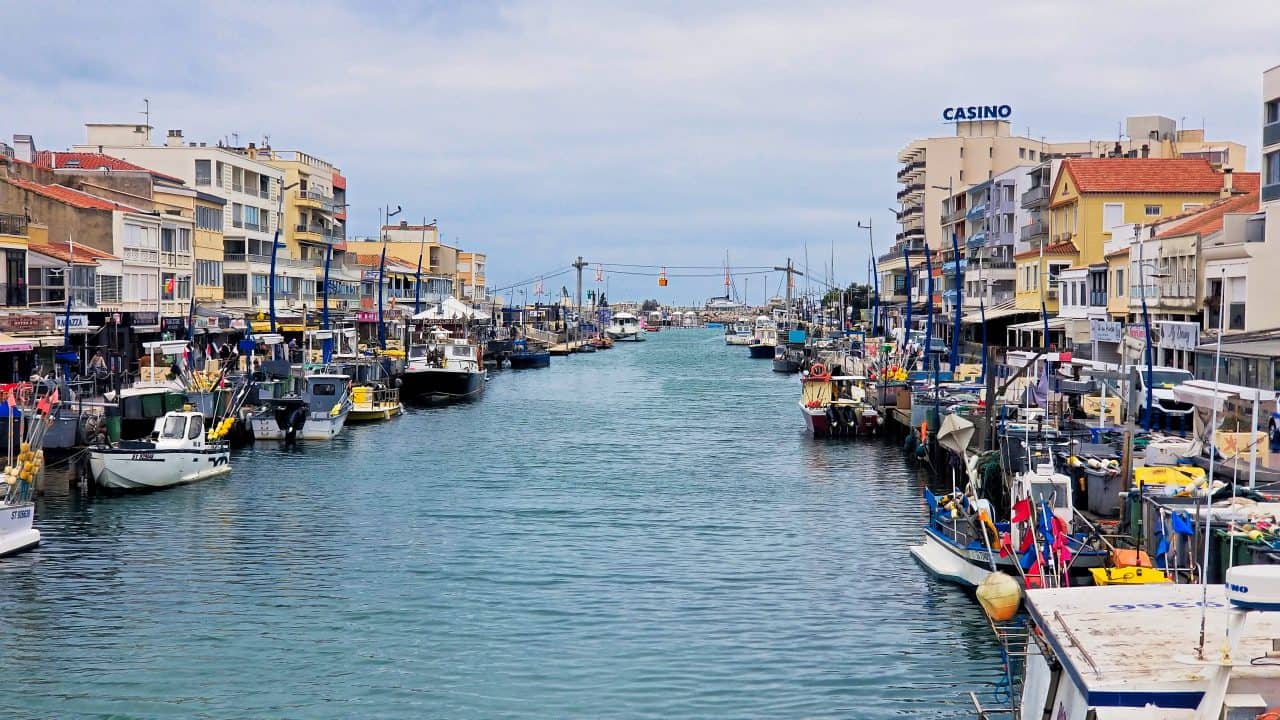 A small town that Mike and I visited a few times close to our next campground near Montpellier was Palavas-les-Flots.  If you look at the picture closely you can see a chair lift taking pedestrians across the canal.  This statue was at the entrance of the canal to the Mediterranean.
At the end of the road from our campground in Montpellier was a pedestrian bridge to a small island.  On the island stood the 12th century Cathedral of Maguelone.  This historic site receives a quarter of a million visitors every year.  We drove to the parking lot and discovered that the bridge and then the island covered too much ground for me to walk with my broken leg.  Eventually Mike and I did manage to get to the island from a long causeway on the opposite side.  We managed to drive closer than most to the church, and parked in the handicap spot.  We actually aren't allowed to do this since we don't have a handicap placard.  It takes a few months and a lot of paper work and bureaucracy to get official approval to allow you to park in these areas.  Most of the time we don't use the handicap parking spots as we don't want to take a chance on getting a ticket.

In the 11th century, a bishop built a small episcopal city and a cathedral on the remains of the old church on the island. The town and church was a favorite of Pope Urban II and became a religious high place.  In the 12th century a new cathedral was erected.  The walls of the cathedral are over 2 metres thick. Apparently concerts are held at the cathedral every year as part of the Festival of Ancient Music.  Here is a link to a video taken by someone much better with a drone than Mike and I.  It shows the Cathedral from above and then shows some of the causeways in the area.  I think Mike biked down all of them.  If you look at the bridge/causeway at the beginning of the video, our campground is just near the end of it.
Another town that Mike cycled past and then took me to see in the car because he thought it looked so interesting was La Grande Motte. Most of the buildings were terraced with curved balconies and curved outside walls. 90% of them were all white. The buildings didn't appear to be oriented to the roads or even to the shore line. They looked like they were just dropped out of the sky.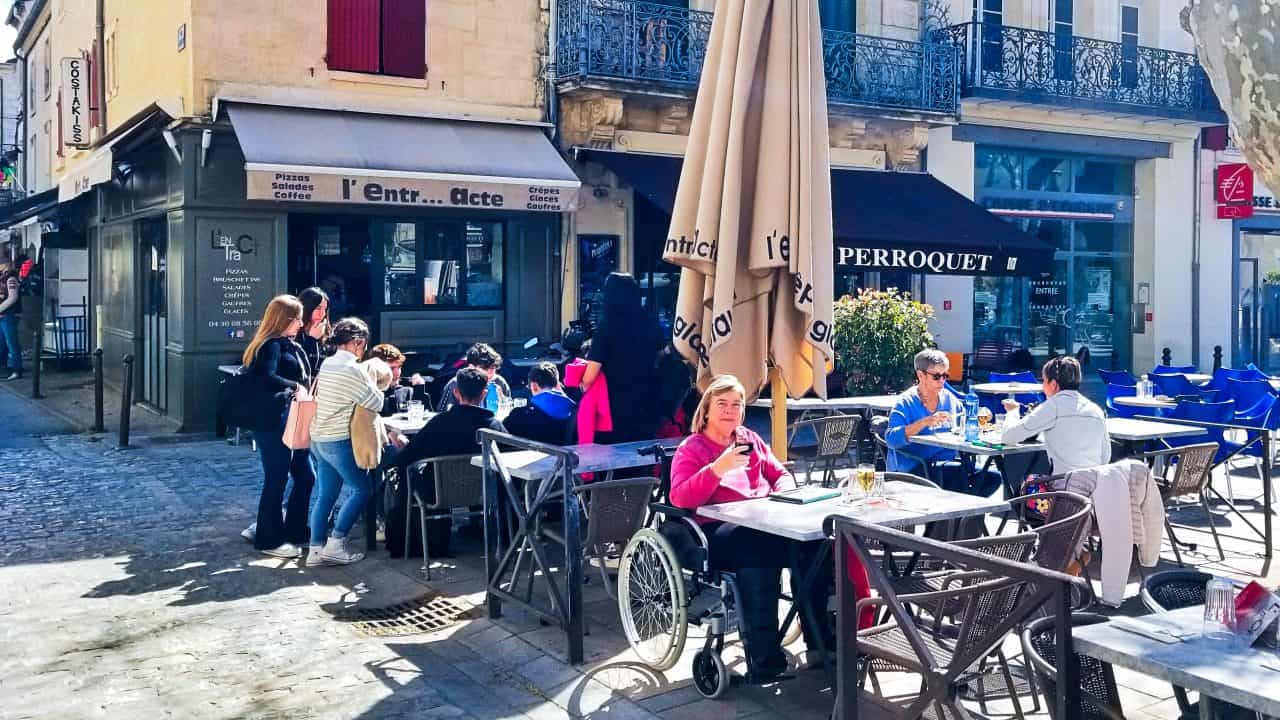 This picture is taken in the same town as the one at the top of the article.  We are visiting Aigues-Mortes.  Mike and I had rented a wheelchair for a week while we were in Montpellier.  I wanted an electric one but you had to purchase those, you couldn't rent them.  Mike wasn't keen on the wheelchair.  It turned out that even though it folded up it was very hard to maneuver into the back seat of the car and he had to take both bikes out first.  It also didn't work very well on these small towns with rough roads and inclines that Mike needed to try and push me up.  As you can tell, I am not exactly a lightweight.  In the town of Aigues-Mortes Mike pushed me around for a bit and then we found a restaurant and had lunch.  I don't have the arm strength to maneuver myself in towns like this.  Mike then left to do more walking and I sat outside watching the people, reading my book and enjoying a glass of wine.  It wasn't exactly hard to take.  Mike would bring me back pictures and tell me about the sites he had seen.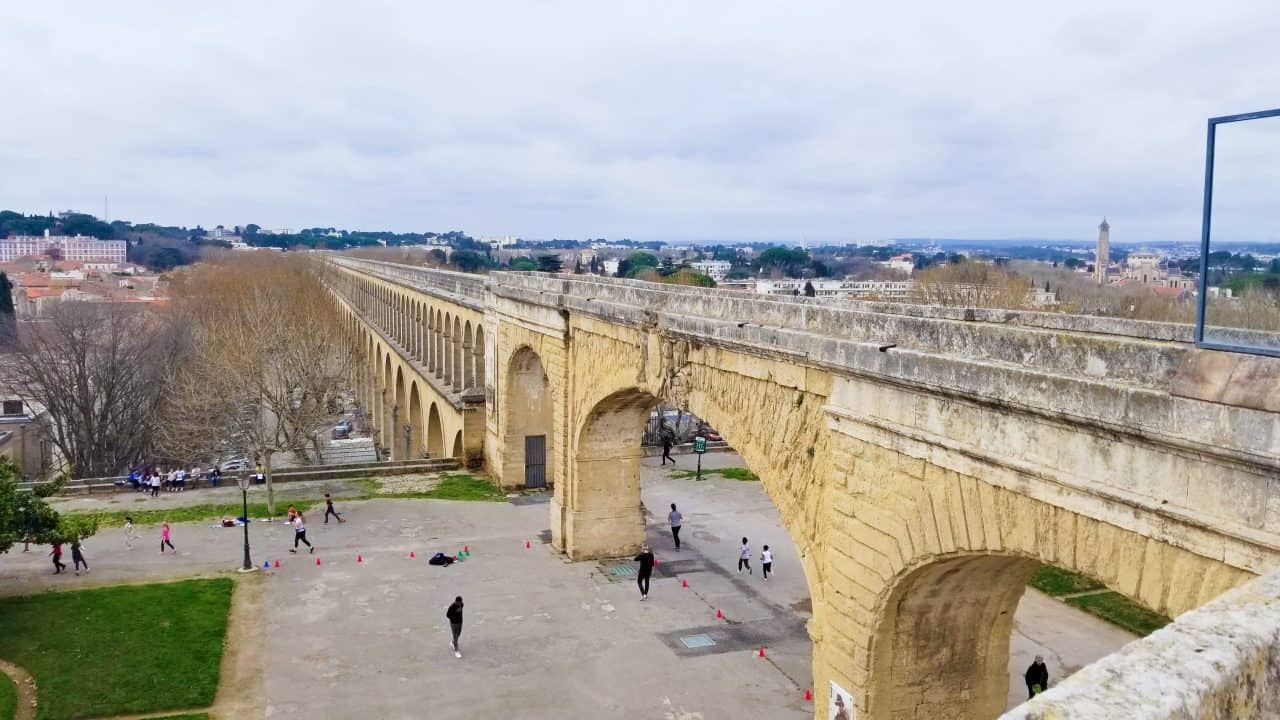 Mike and I visited Montpellier a few times. The city was very nice, the parking lots were HORRENDOUS. Besides being jam packed and underground, the parking spaces were built for very small cars. Even local cars had problems with the width. Mike would get us into a parking spot and then realize that neither of us could open our doors. When Mike was parking, I watched another car back in to a spot near us. I heard a bad noise and looked up to see that he had hit a support pillar with his mirror. One time we just got so fed up, we gave up and left.
As in other towns, Mike and I did a little exploring together then I sat, drank red wine, and read, while he walked further afield. For those of you paying attention to the news these days, you know that Artificial Intelligence or AI is a very hot topic. One software app getting a lot of publicity is ChatGPT. It can hold "conversations" with you, do research for you and more. There are big concerns about students using ChatGPT to write their essays for them. Since I didn't see either of the two pictures close up, I decided to use them to test ChatGPT. Here is what I got.
My input to ChatGPT: "Montpellier's Arc de triumph" (spelling error was on purpose)
ChatGPT: "The Arc de Triomphe de Montpellier is a triumphal arch located in the city of Montpellier, in the south of France. It was built between 1691 and 1693, during the reign of Louis XIV, to commemorate the victories of the French armies during the Nine Years' War.
The Montpellier Arc de Triomphe is a relatively small structure compared to the more famous Arc de Triomphe in Paris, but it is nonetheless an impressive monument. It is made of white limestone and stands 15 meters high. The arch is decorated with sculptural reliefs depicting various scenes from the war, including military campaigns and battles…….."
My input to ChatGPT: "Describe the aqueduct in Montpellier"
ChatGPT: "… The aqueduct was built in the 17th century and spans over 14 kilometers in length, stretching from the springs at Saint-Clément to the city of Montpellier….
The aqueduct is an impressive feat of engineering, with the highest point reaching a height of 54 meters above the ground. The structure is supported by 17 arches, the largest of which spans over 21 meters in length. The aqueduct also includes a series of tunnels and channels that were used to regulate the flow of water.
Today, the Aqueduct of Montpellier is a popular tourist attraction and is considered a significant historical landmark in the region. Visitors can explore the aqueduct and learn about its history through guided tours and exhibits."
The responses are known to be a little verbose but overall I thought it was great. Don't worry. In future I will return to doing the writing myself, but I might use ChatGPT as a research tool.
Next Mike and I will be going back east to Aix-en-Provence, just north of Marseille.