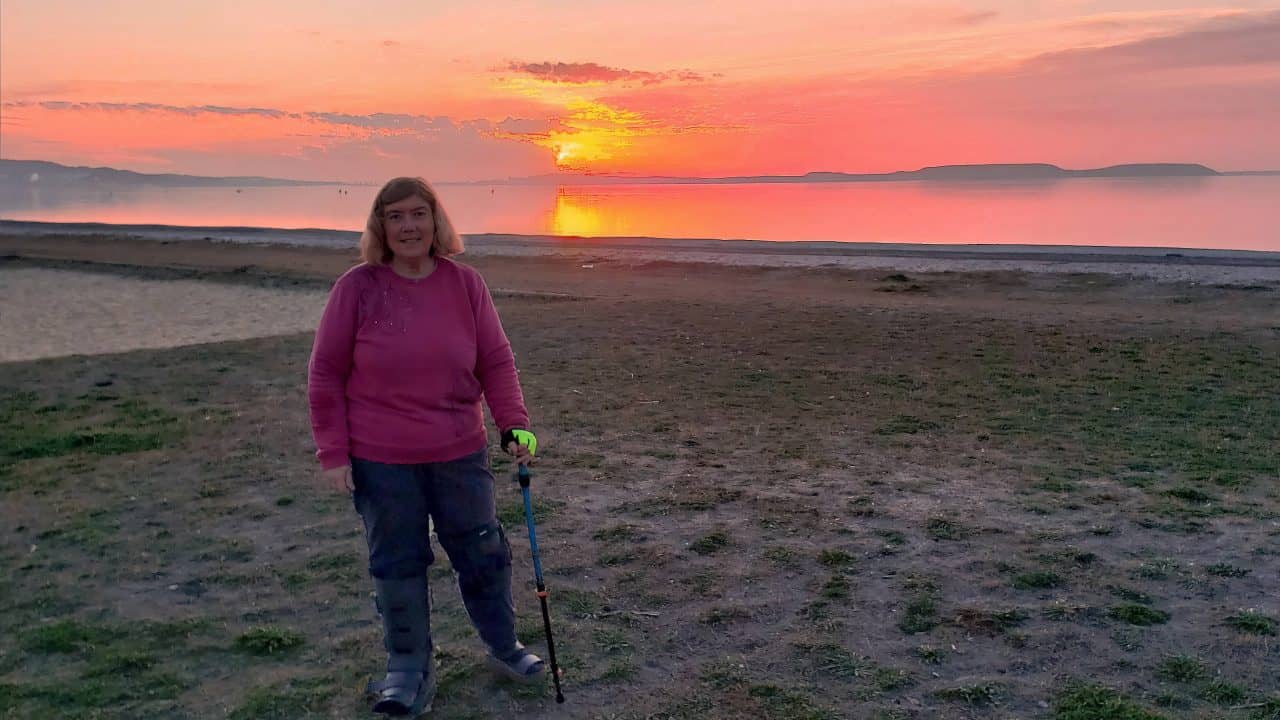 It's March and Mike and I are back at our campground near Marseille France. We are back but not exactly in one piece. I broke my leg three weeks before our return flight. Not the best timing. I have a large walking boot on one leg and a knee brace on the other. Our plans for our e-bike rides are not happening for a while. Our exploring of hilltop villages with cobblestone roads will probably take even longer. Mike will be doing some cycling on his own. We need to arrange x-rays for my leg and then have an orthopedic surgeon review the x-rays and tell us when I can remove the boot and what physio I need to continue with, hopefully in English 😊. Given that we don't stay in one city very long, this could be a little difficult.
I can't tell you about all the interesting places that Mike and I have been touring so far because we have hardly left the camper. Instead I thought that I would tell you a little bit about Air France and travelling with a broken leg. As some of you know, I was an Air Canada elite and super elite member for decades. Mike and I decided to give Air France a try about two years ago. We quite liked the airline and the staff and have recommended it to many of our friends. That might not happen again.
About two weeks before our flight, I called Air France, I told them that I had broken my leg and was in a walking cast almost up to my knee. I didn't think that I would be able to bend my knee enough to get into a regular seat. The agent was very helpful and booked me into a seat with nothing in front of it flying from Toronto to Paris and then booked me into another extra legroom seat (centre) from Paris to Marseille with Mike staying in the back. Of course, we had to pay for this change in seats. I also arranged for a wheelchair for the flights. Although I expected to be able to walk a little, I didn't see myself running around Charles de Gaulle airport, going through customs and immigration and getting to our next flight on time.
I called Air France a day and a half before our flight to confirm the wheelchair and the new seats we had purchased. Everything was fine. About 10 hours later when check-in opened, I went online and found out that my seats to Marseille had been changed since that morning and now I was in a centre seat, next to Mike near the back of the plane. On top of that, someone from Air France had already checked us in and confirmed the new seats. When I called back they said that the only money they could see that I had been charged was for the extra legroom to Paris. Like I was going to have my leg fixed at the airport in Paris! They basically told me that it was too bad that the seat I had confirmed that morning was not available now and if the charge for it went through I could try and get a refund. All together very unsatisfactory.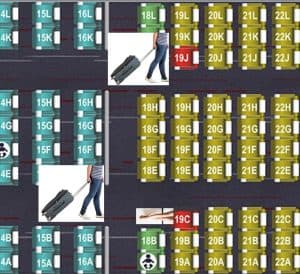 At least I can now bend my leg and stand on it with the walking boot on. What I really wanted to tell you about was the seat that I paid for from Toronto to Paris. It was the WORST seat possible for someone with a broken leg. Hopefully you can see what I mean with this picture. Seat 19C is where I had paid extra to sit with a broken leg. Notice that the aisle narrows right at my seat from an aisle wide enough to drag your luggage, to the narrow economy section. Everyone walked through the doorway with all their luggage and walked right into my leg. It was awful. I tried putting a red blanket on my leg so that they would see it, that didn't help and of course, Mike and I had boarded first. Eventually I held the red blanket like a matador waving it in front of me and constantly calling out "broken leg, broken leg". It was just awful. All through the flight this remained a problem. Anyone walking to the back from the front walked right into my leg. You didn't dare close your eyes in case someone else walked by. When I tried to put my backpack under my leg so that I could elevate it a little and make it more obvious, I was told that I wasn't allowed to do that and that there were no exceptions (at least not in the economy section).
In addition to this spot being just terrible for a broken leg, the seat was substandard. It was like they almost had room where the aisle narrowed to squeeze in another seat so they put in 19C. I believe that it was narrower than the other seats and it definitely had less padding and was more uncomfortable. Half way through the flight I ended up switching seats with Mike and moved out of the seat that we had paid extra for. It was that bad. It was an extremely uncomfortable and scary flight.
The wheelchair in the airport worked well, especially as the plane was 30 minutes late arriving in Paris. Since we couldn't exit the plane until it was completely empty, it was getting quite late to make our connecting flight to Marseille. Having someone help us get quickly around the customs and security lines and on and off the shuttle bus was very handy. Most of the time we had an airport agent pushing the wheelchair, but when they got busy or delayed Mike took over and I carried our carry-on on my lap.
One of the items that Mike and I had brought with us was a toaster oven/air fryer. We had to bring ours from Canada because our RV is 110 volts and Europe only sells 220 volt appliances. It was well packed in a shipping box inside the suitcase. When we opened it up I couldn't believe the damage. This was my Christmas present and the whole side with the control unit was badly bashed in. We also packed some coffee pods that you can't purchase in Europe. They were in the cardboard containers that they came in and had never been opened. Even these small containers were damaged. The pods inside the cardboard containers were bent out of shape. I can't imagine what sort of force the suitcase had to go through for this to happen. We didn't discover this until we had finished unpacking and opened all the boxes the following day. Instead of calling Air France, I intend on sending them this blog. I will let you know what response I get. I am just horrified at the damage to our luggage in addition to the substandard seat 19C which cost us well over $100. It should NEVER have been recommended to someone with leg injuries.
On a slightly more humorous note, before we left Canada I purchased my first ever pair of platform shoes. I have been wearing the left one so that my foot was closer to the height of my right foot in the walking boot. I packed the right shoe even though I don't really ever see myself wearing platform shoes. What I forgot to pack were my really good walking shoes since I hadn't worn them in a few weeks. Mike forgot to pack his computer power but Amazon got us one the next day.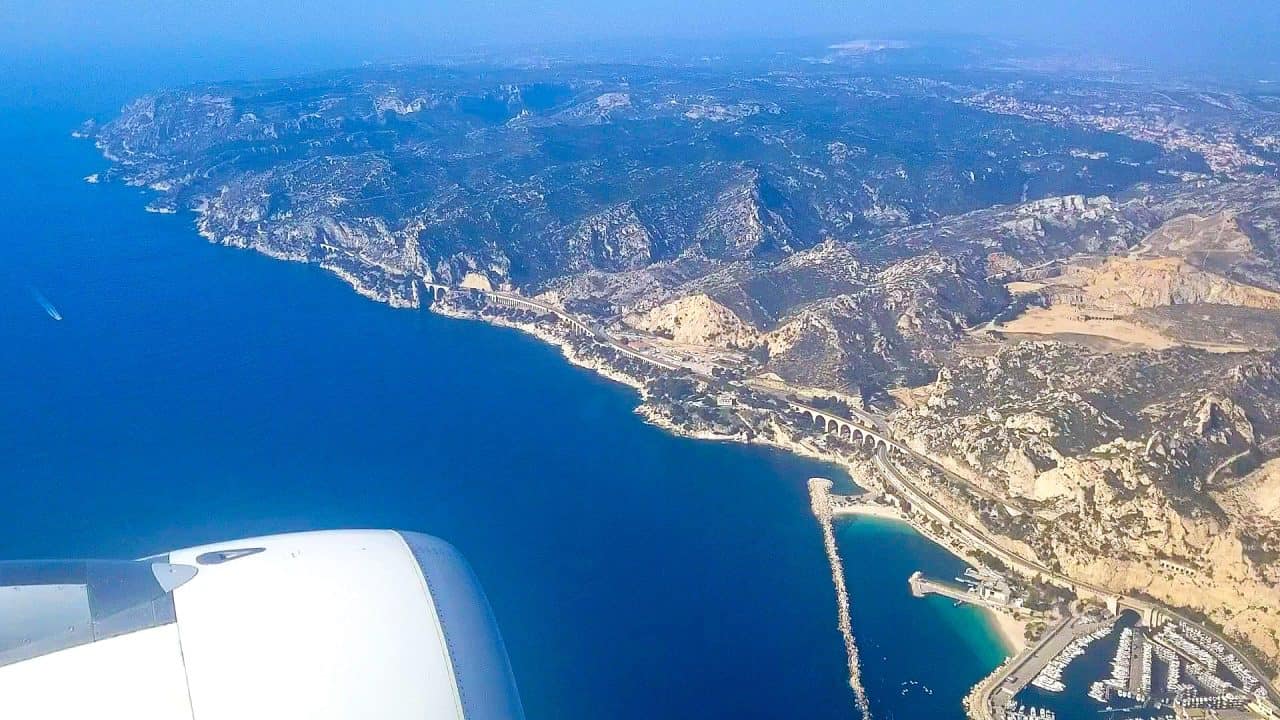 It was a little disconcerting when we left last year to see this flood notification on a doorway in the campground. Luckily our camper was in fine shape when we returned. My long walk most days has been to the Mediterranean and back. Honestly, this is probably only a few hundred steps. I get tired very quickly at the moment. My poor husband, he doesn't really like touring museums and art galleries with me because we walk too slowly through them. He likes to walk quickly all the time. Now my pace is slower than when I am admiring paintings in the Louvre. I think he is suffering almost as much as me.
As you can see from the photo Mike took from the window of the plane, Marseille isn't exactly flat. My leg doesn't like uneven or hilly terrain. Other than driving in once for a quick lunch, Mike and I haven't even seen Marseille yet. The self-guided audio tours take you up and down some hills which I am not ready to do. I think we will shortly head west to Montpellier. This is where we were heading for last year when we diverted north to the Loire Valley. Looking at Google Street View, Montpellier appears to be a little flatter than Marseille. After Montpellier we will head back towards Marseille and Nice and Monaco. Hopefully I will be walking a little better by then. Mike thinks that I am being a little too optimistic.
These articles might be a little slower in coming this year. Mike and I probably won't be doing the same level of exploring really interesting sights for a while. I will say that we are quite happy to be here. Today it was 18°C and tomorrow is supposed to be 20°C. Toronto just got dumped on with snow so, broken leg or not, this is great. Talk to everyone soon.