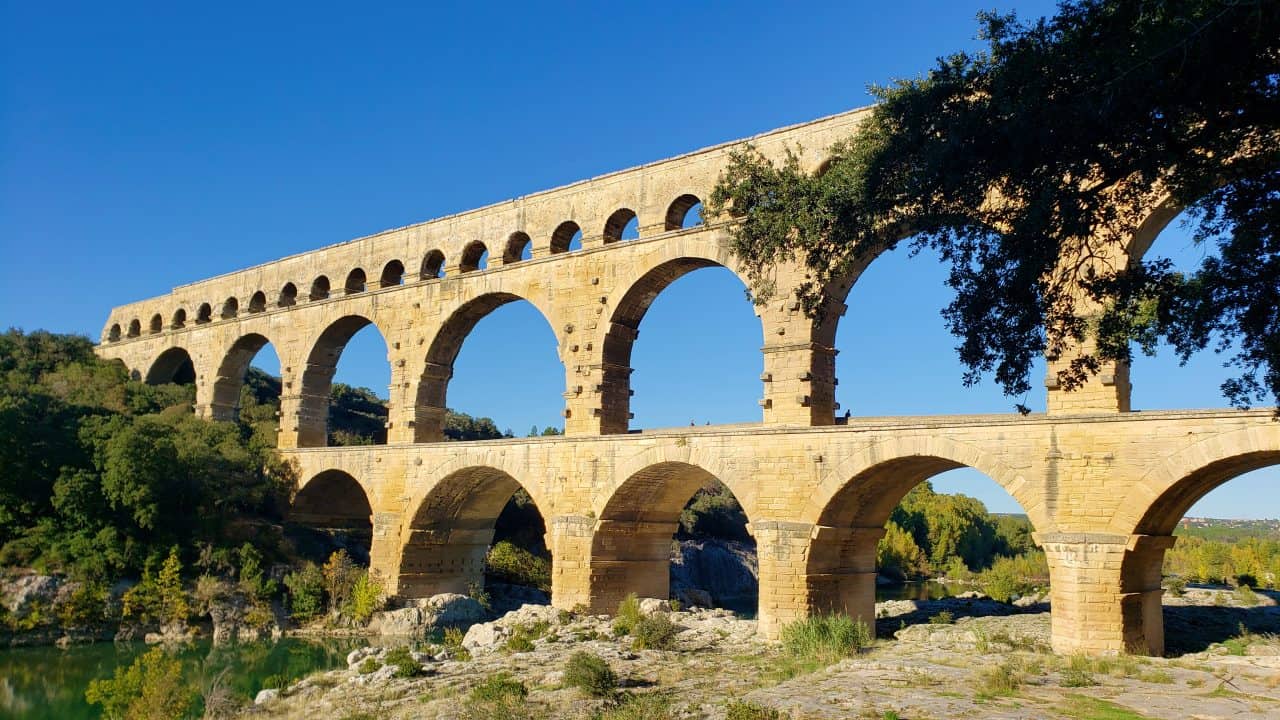 The Romans are one of just many different reasons that we have spent a lot of time near Avignon in Provence. This aqueduct, which was within cycling distance of our camper, is the highest known aqueduct bridge in the Roman world. Apparently nearly all the Roman aqueducts were built in the first century AD. The Romans were famous for them and installed them in many of the towns they conquered. This aqueduct started near the very nice town of Uzès and took water to Nîmes. I found this interesting because Nîmes didn't need the water. Nîmes had a number of wells as well as a nearby spring. Rather than being a necessity, the aqueduct was to demonstrate prestige. When the water level was high the aqueduct supplied an estimated 40,000 m3 or over 10 million US gallons of water a day to the homes of the wealthy, to the Roman baths, the gardens, and decorative fountains around the city. When the water level was low the piping system would only send water to the essential neighborhood wells. This is all 2,000 years ago!
The aqueduct itself is over 52 km in length with a very small slope. The bridge above is called the Pont du Gard and had to be built to withstand the formidable floods of the Gardon River. The bridge is quite fascinating. It is built with three floors. On the top floor where the water was running some mortar was used. The rest of this huge bridge was built "in the dry" or without mortar. You see that technique used a lot in this area. The aqueduct was abandoned in the 5th century and the bridge (lower level arches) was used as a toll bridge as recently as the 17th century
Near the bridge is a museum about the Romans and their use of water. It was interesting to see the large lead pipes with smaller ones leading off to the fountains etc. It looked very much like piping systems we still see around today which I found somewhat amazing.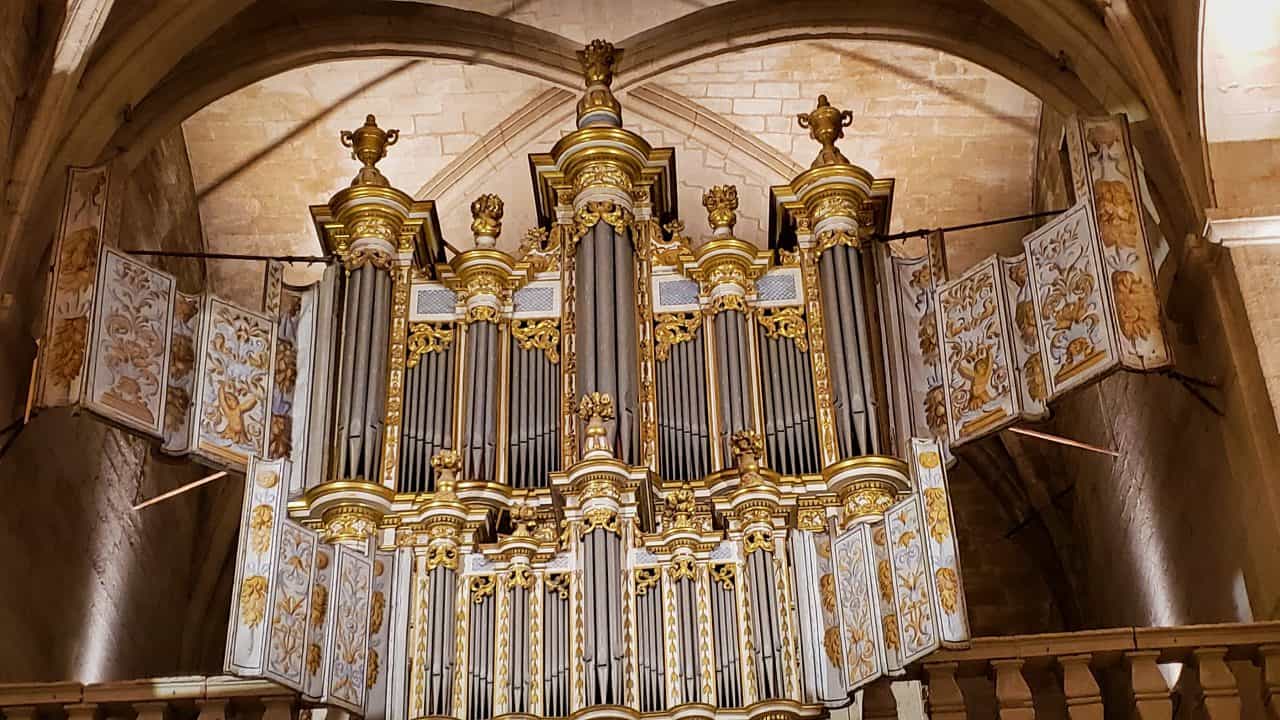 We visited the very lovely town of Uzès near where the aqueduct started. We visited this medieval city with its Renaissance architecture thanks to finding a self-guided audio tour of the town. Something that I thought was really pretty and unique was the organ above in the Cathédrale Saint-Théodorit d'Uzès. What I hadn't seen before were the shutters on the side. They are painted canvases, stretched onto frames that were kept closed to protect the organ when not in use and when open were designed to help direct sound to the congregation. It turns out that this is the only organ remaining in France with these shutters in place.
Other towns in the vicinity that we visited a few times were Tarascon and its neighbour Beaucaire. We toured the Tarascon castle which had been decorated for Halloween. It was really well done and didn't take away from the historic castle feel at all. In one room, Mike looked at an awful painting on the wall and said "that's for Halloween, right?". Sadly, I could only hope that he was correct.
Nîmes, the city at the end of the long aqueduct, was fascinating. The smaller picture here is Mike in a café just outside France's best-preserved Roman amphitheatre. Nearly all Roman amphitheatres were built in the 1st century AD. Nîmes' Arena is still in use today with pageants, concerts and bullfights. A bullfight à la Provençale is more sporting than the bloody Spanish bullfights. A tiny ribbon, laced between the horns, sits on the bull's forehead. The daredevil bullfighters try to snare the ribbon with special hooks. When the bull gets one up on the bullfighter, the band plays a tune from Carmen. I heard somewhere that some of these bulls have names, Instagram pages, fan clubs and lots of followers. I think they might be more the heroes than the men. Rick Steves has an interesting 5 minute video that covers the aqueduct and Nîmes' amphitheatre and the bullfighting  https://youtu.be/32Bm9c552Uc .
Mike and I biked past the Maison Carrée in Nîmes which rivals Rome's Pantheon as the most complete building surviving from the Roman Empire. The temple survived in part because it's been in constant use for the last thousand years.
On a lighter note, denim fabric gets its name from the city de Nîmes. In the 16th century denim was made from wool and silk with an indigo blue warp thread (or so I am told). Families in Nîmes made their fortunes on the silk trade and the marketing of the famous "De Nîmes" denim. The modern strong cotton denim came from the United States at the beginning of the 19th century.
The larger amphitheatre above is in the city of Arles, a provincial capital of ancient Rome. Arles is known for many remains from that era, including the Arles Amphitheatre (les Arènes d'Arles) which now hosts plays, concerts and bullfights. Just down the street from the Arles Amphitheatre are the ruins of what looked like a smaller amphitheatre. It was actually a classical theatre (Théatre Antique d'Arles) built at the end of the 1st century BC.
Arles most famous inhabitant had to be Van Gogh who settled in Arles in 1888. Van Gogh's residence in Arles was his most productive period during which he painted over 200 canvases including his famous Sunflowers and Starry Night. Arles is where Van Gogh famously cut off his ear after a fight with Paul Gaughin. After Arles, Van Gogh moved to a clinic in the nearby town of Saint-Rémy-de-Provence for treatment. Mike and I very much enjoyed our afternoon spent in Saint-Rémy-de-Provence where we saw Van Gogh highlighted in lots of places. Provence is well-known for artists coming here to paint because the light and the scenery are so special. Picasso painted here and you can take the 'Cézanne trail' to visit Paul Cézanne's workshops and paintings.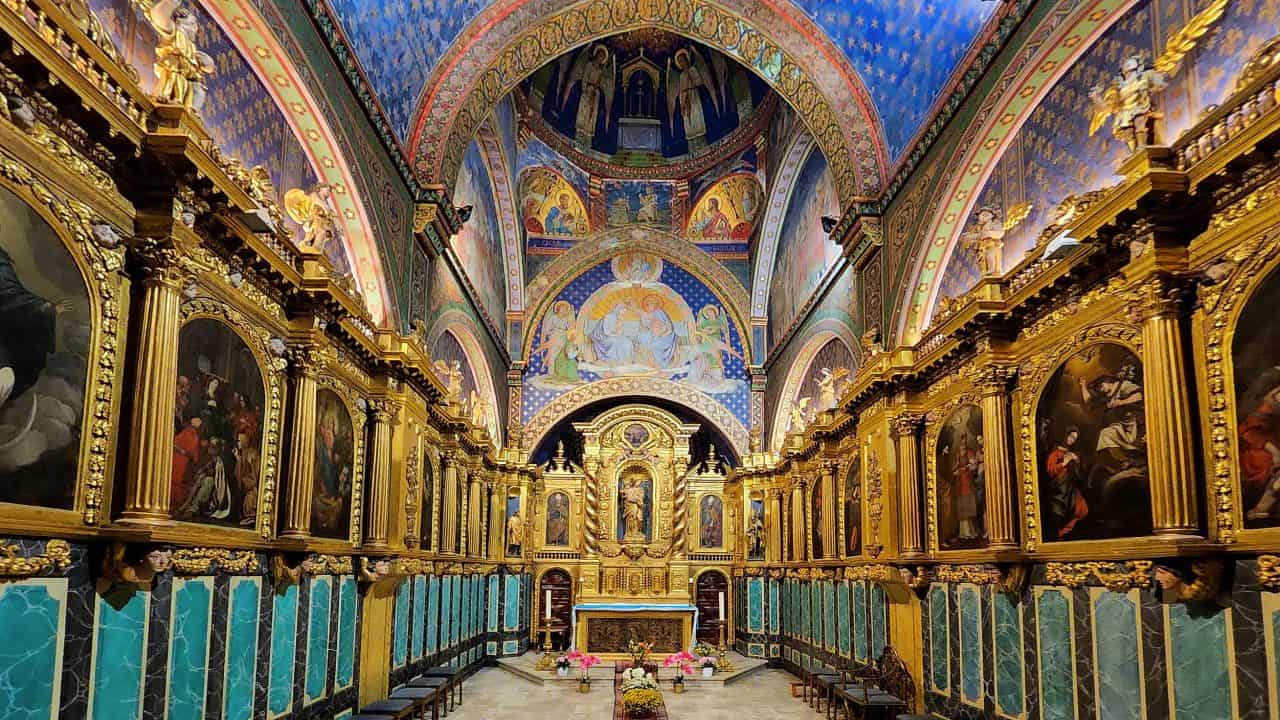 Returning to our camper after visiting Saint-Rémy-de-Provence we unexpectedly came upon the Abbaye Saint-Michel de Frigolet. Mike and I pulled into a parking lot and went in to see the Abbey. At first, I was quite disappointed that we had missed the last official tour of the day by 15 minutes. We came upon the tour as we were wandering around and it appeared to be all in French, so we probably didn't miss anything.
Mike and I are running into a problem getting fuel in southern France for the RV. On the way to our campsite in Aramon we pulled into a large gas station on the highway. There was a sign for trucks one way and cars the other. The problem is that the truck area often only has diesel fuel, and we use gasoline (E95 in Europe). We needed fuel so we headed to the car side. There were overhangs with bars on chains to let you know if you should continue. Well, didn't we hit the bars with our first air conditioning unit on the roof. It sounded awful as it bounced and dragged over the unit. Mike quickly stopped, blocking the entrance to any other car, and got on the roof to see what damage had been done. At that point nothing was yet broken. Eventually I drove the motorhome forward and Mike sat on the roof carrying the bar backwards and lifting it over the TV antenna, various vents, and the second air conditioning unit which are all mounted up there. One problem was that we were beside the highway and even with the driver's window open I couldn't hear Mike. He would pound on the roof for me to inch forward and then pound again for me to stop. When I missed a sound, a lot of pounding from above would occur.
As I write this, we are just leaving Aramon for Marseille. We would like to fill up with gasoline and propane. Based on Google Streetview, the highway petrol stations I looked at only have diesel fuel on the truck side and the car sides have a maximum height of 3.3 metres to enter. Our RV is 3.9 meters high! We would really like to fill up with fuel and propane before we leave for Canada. This isn't a problem that we ever ran into in other parts of Europe. For all the problems at gas stations I will say that we get lots of smiles and comments of approval as we fuel up. Even when we can't understand what they are saying to us their thumbs up and big smiles tell the story.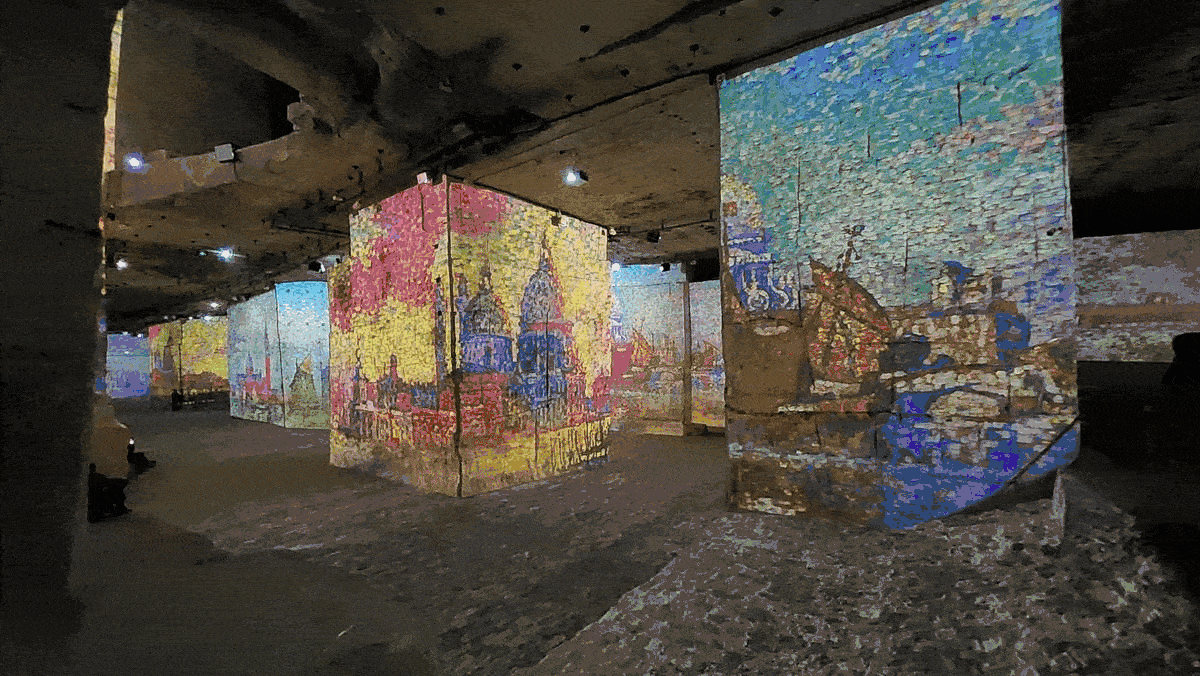 Mike and I visited a very interesting quarry called Les Carrières des Lumières. Almost 10 years ago, this quarry was opened up as an innovative digital art center showcasing various famous artists on the really high walls and columns in the quarry. This year's main show was an exhibition of the artistic and architectural treasures of the city of Venice. For about forty minutes Mike and I watched as huge copies of paintings related to Venice were projected all around us. The quarry itself is very dark, the light comes from the projections of the paintings of the impressive golden mosaics of Saint Mark's Basilica, the masterpieces of Tintoretto, Bellini, Canaletto, and Monet and more. The moving picture above shows some of the tall walls and columns with various pictures projected onto them. This made for a great change from the Romans and the medieval villages we had been spending time at. Here is a 30 second video that gives you an idea of what we saw in the quarry. https://www.carrieres-lumieres.com/en/venice-canaletto-monet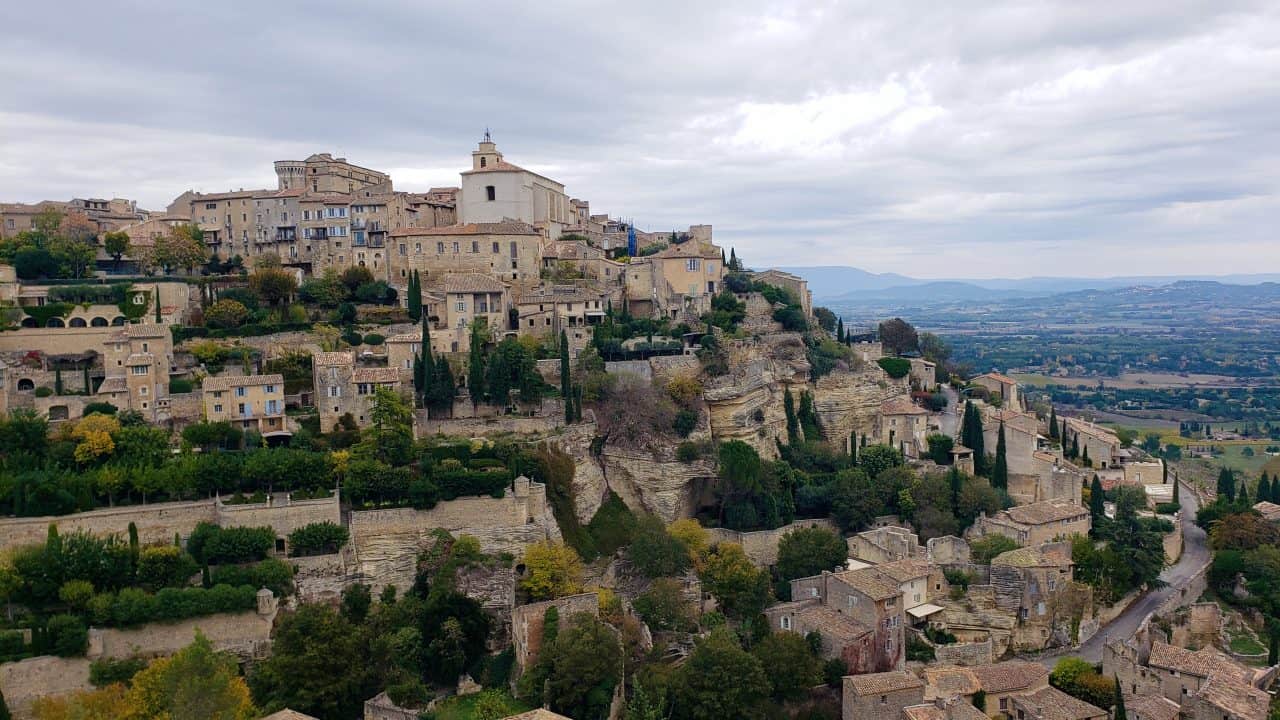 In addition to the Romans and the artists you will find many interesting medieval villages and towns in Provence. One that I hadn't heard about ahead of time, but was really glad we stopped to visit was Gordes. It reminded us of the medieval hilltop villages that we loved to visit in Istria except that Gordes is larger. The village developed from the 11th century onwards around its castle to become a proper fortress protected by ramparts during the turbulent periods of the Middle Ages. The internet calls Gordes a little Provençal jewel and says, "Gordes rises up like a citadel, a majestic protective castle, a massive church with its defensive appearance, surrounded by tall buildings that overlook the precipice and the narrow streets that make it possible to escape the assaults of the Mistral wind.". Surprises like this town as we drive around are great.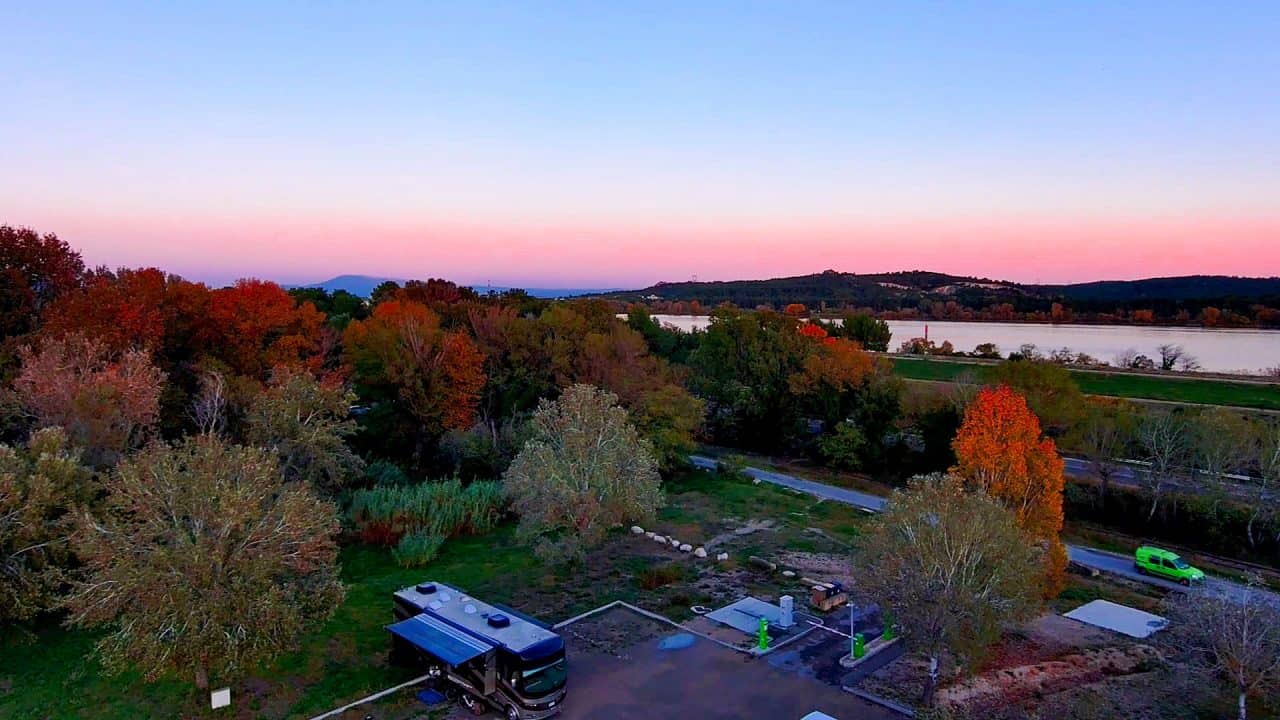 Here is a photo we took from our drone hovering above our camper. On one side close by was the Rhône River and on the other side was the walled town of Aramon. Mike and I spent an enjoyable month camping here. We probably lost a full week trying to get my bicycle fixed, water pumps fixed and most recently, sitting in the RV waiting for a call that our car was fixed. The replacement parts for the car arrived from the USA late Tuesday, and we had the car in the shop first thing Wednesday morning. It was due to be ready on Thursday. Thursday we sat around waiting for the phone call so that we could then cycle to the car repair shop 25 km away and pick up the car. After many calls back and forth we were told that they couldn't fix it in their shop and that it wouldn't be ready for quite a while. Mike told them that we were leaving the country in a couple of days and that we would need the car putting back together for us. We would return with it in the spring since we had already paid a lot of money for parts. This caused them to think a little harder. They were having problems separating some of the parts due to age and rust etc. They ended up sending their mechanic and our car to another garage that specialized in agricultural tractors which had much more powerful hydraulic presses. They sent Mike a note and said that that worked using a press with more than 20 tons of force worked. They then needed to send the car to yet another location to have the alignment done. All-in-all they did manage to miraculously get our car fixed by late Friday which was good because we were leaving town before they opened again on Monday.
In France they have what are called "sleeping policemen". These are very wide speed bumps used to slow cars down. Mike is pretty sure that he didn't notice one of these in time as the warning signs were all faded and went over one at about 40 km per hour. At the time he heard a crunch and thought that we had bottomed out. 5,000 km later, hearing a clunk every time he went over a "sleeping policeman" very slowly was getting very concerning. It turned out that we had a broken spring in the left front suspension. Luckily that is now all fixed, although it would have been nice to have found a more "normal" garage to work on it, but Lincoln's are considered foreign cars here in Europe and only specialty shops are willing to work on them. While we were picking up the car, I saw them working on a Mustang and a Corvette Stingray. Mike was impressed with a Cord automobile from the 1930s that they had in the shop. This all sounds expensive to me.
Mike and I have just arrived in Marseille and will spend the next two days getting organized before we come back to Canada. I don't expect to actually see Marseille at all this year. Sorry, this was so long again but I wanted to get everything down before we left Europe which means that it is too late to split into two articles. I will pull together a summary of this year as soon as I can. Looking forward to getting back to Canada and seeing friends and family that we haven't seen in a long time.