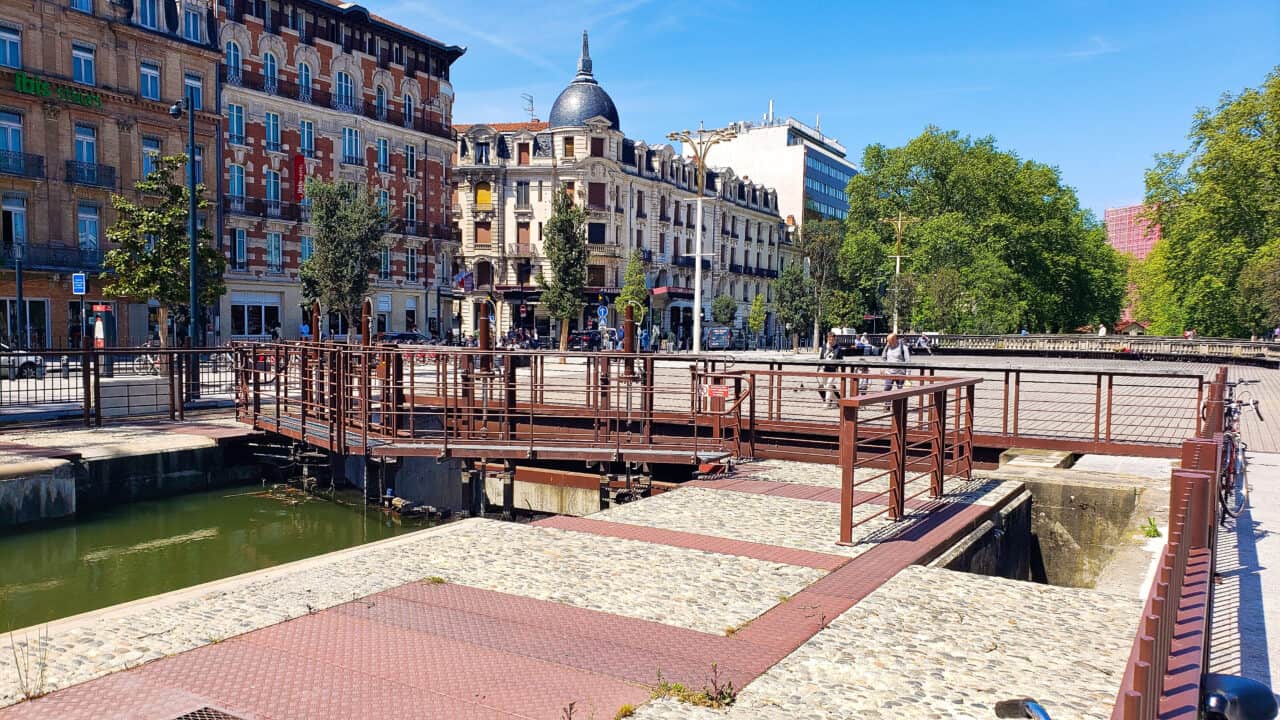 When I hear the term "pink city" I think of Jaipur in India. That is a city well deserving of the name. Toulouse is also called the "pink city" or "Ville Rose" due to its use of brick. It is a great city but, if you have seen Jaipur, Toulouse doesn't qualify as the "pink city".  Toulouse is France's fourth largest city and has some interesting features.  The most interesting for us was PEOPLE.  Possibly for the first time in two years, we saw cafés and restaurants filled with people sitting, eating and drinking outdoors.  It just happened that the weather was lovely and it was the second week of the two week spring break in the Toulouse area.  I am not sure that we would have seen quite as many people a week later.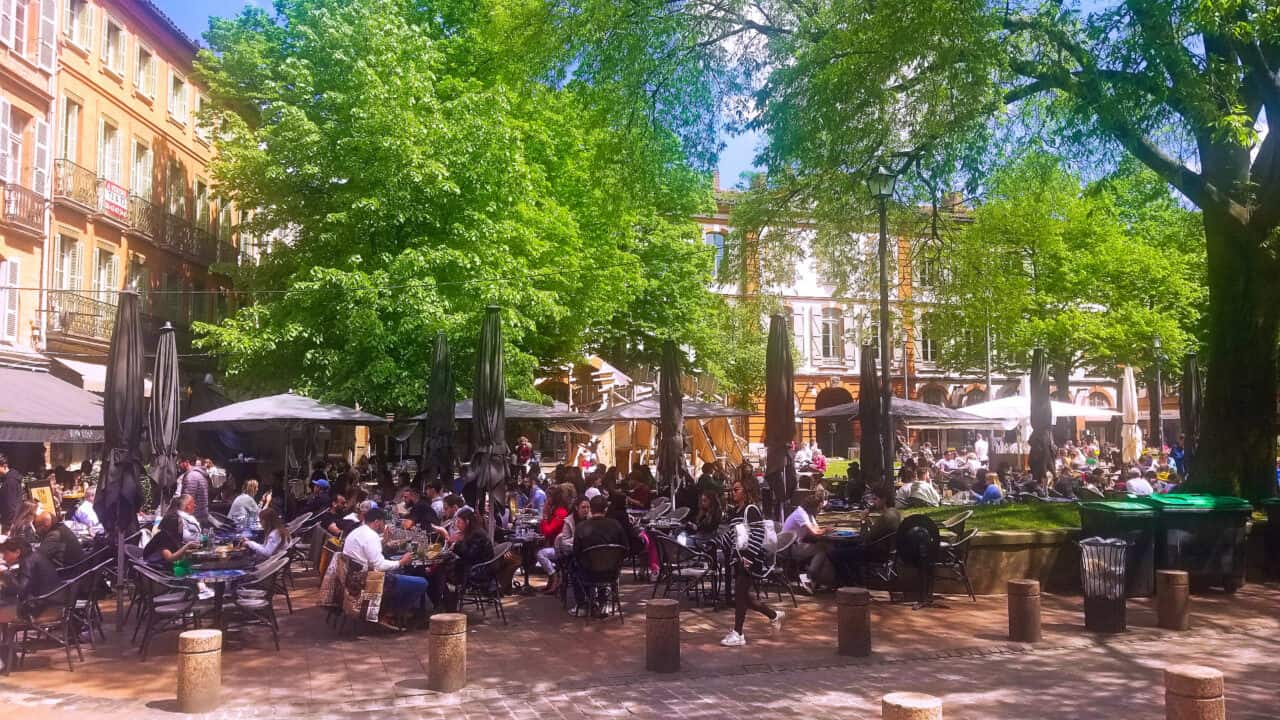 I mentioned in a previous article that Mike and I were cycling the length of the Canal des Deux Mers or Canal of Two Seas.  The Canal des Deux Mers is more than 800 km long, connecting the Atlantic Ocean to the Mediterranean Sea along the Garonne Canal and the Canal du Midi.  These two canals come together in Toulouse.  In actual fact, three canals all come together in Toulouse.  The third canal connects the Garonne River with the two main canals.  It is quite fascinating.  This third canal is less than 1 km in length and it goes right through the centre of Toulouse.  In the middle of town is a canal with an active lock!  I found that so surprising.  Just after the lock, the canal actually runs below the pedestrian square for awhile.  If you look closely at the picture at the top you might be able to see this.  You can see the canal coming into the lock and then the square just beyond the lock with the canal disappearing from view. 
One of the cathedrals in Toulouse was interesting due to its lack of symmetry.  Cathédrale Saint-Étienne or St. Stephen's Cathedral was very unusual looking.  It is a medieval cathedral made by combining two churches each in a distinct architectural styles, one Roman and one Gothic.
Toulouse considers itself the European Centre for Aviation. It has many aviation and space museums. Toulouse has one of Airbus' major assembly plants.  Mike and I signed up for a tour of Airbus.  The downside was that there was only one English tour per week.  For this tour you had to be at Airbus by 9 AM which is about the time I am normally getting out of bed these days.  We weren't allowed to take any pictures on the tour.  Basically a bus and tour guide took us around the facility which is huge.  We stopped at an assembly building where they were currently working on three different large airplanes including an A350.  We basically stood in a mezzanine and looked over the plant.  The plane we could see already had the fuselage put together and they were working on the wings.  The fuselage for an A350 comes in three pieces.  To join the two seams together takes 11,000 rivets which I thought was a huge number.  We finished with a tour of a large cargo plane with much of the 500 km of the wiring exposed  for viewing behind plexiglass panels which was quite interesting.  
Airbus designed a plane called the Beluga because it looks like a whale.  The entire purpose of this brand new cargo plane was to get Airbus components from the different plants across Europe to Toulouse for final assembly.  I think they built about four Belugas and then they modified the design and created the Beluga XL which would carry even more cargo.  Our tour guide was almost ecstatic over the fact that the Airbus Beluga can now move two complete wing assemblies at once instead of only one wing at a time which was the limit on the original Beluga.  The five XLs are for Airbus use only, but they will now lease the original Belugas as cargo planes and for the military.  There was a museum on the premises with lots of aircraft on display including the Concorde which Mike really likes.  We had friends who had a vacation where they sailed on the Queen Mary to get to Europe and returned home on the Concorde.  Both gave them a lot of stories to tell. We had toured one of the prototype Concorde airplanes many years ago while it was on static display at Charles de Gaulle airport.  Mike says that that aircraft was actually quite cramped inside. The cabin was filled with workstations from which technicians could monitor the aircraft systems while it completed its test flights.  Our tour guide explained that nowadays technicians can monitor flight tests from within a building that receives real time data transmitted from the aircraft while it is being tested.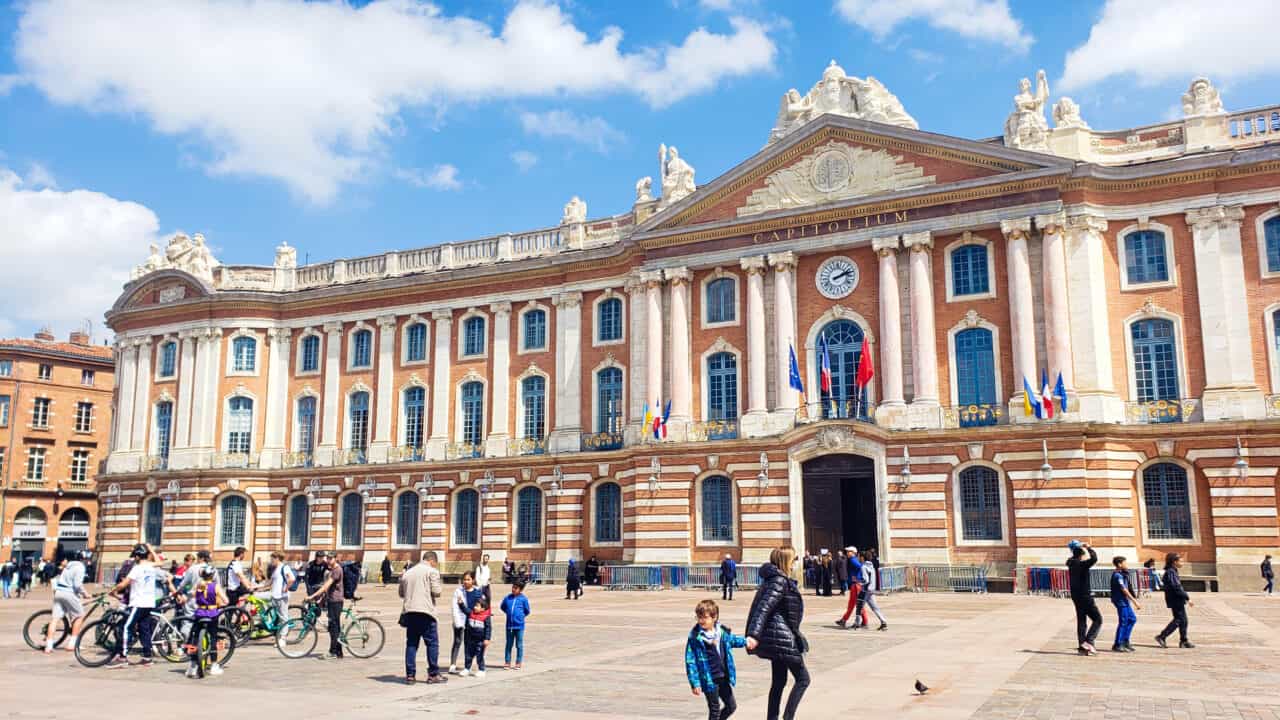 Mike and I walked around Toulouse with our audio guides on our telephones.  One of the lovely buildings on the Place du Capitole is France's Mairie or city hall.  In addition to the city hall it houses the theatre, opera, ballet and symphony orchestra.  Our audio guide told us that we should really tour this complex.  I went inside and had a look around some open rooms including one that contained multiple oil paintings each about 30 feet in width.  That was impressive to see.  Mike didn't see inside because he wouldn't part with his pocket knife which was flagged during security screening. We went online to see if we could get tickets to the opera, ballet or symphony (not the theatre) where language wouldn't matter.  That didn't work and we ended up buying tickets to see the Harlem Globetrotters at a Sports Complex across town.  We thought that language wouldn't matter there either.  Our next camping stop is less than an hour south of town so we will drive back for the game.
Besides visiting Toulouse, Mike and I drove around the area visiting more of France's Beaux Villages and anything else that caught our eyes.  When driving (or cycling) you often see a walled or fortified village up on the top of a hill.   One such village was Montricoux which looked so interesting from a distance that Mike and I turned around and went out of our way to try and get to the village and explore it.  It was quite interesting.  One row of the attached buildings (think townhouses) seemed to flow in a circular shape.  They looked like they might have been built into or were part of the original walls and fortifications.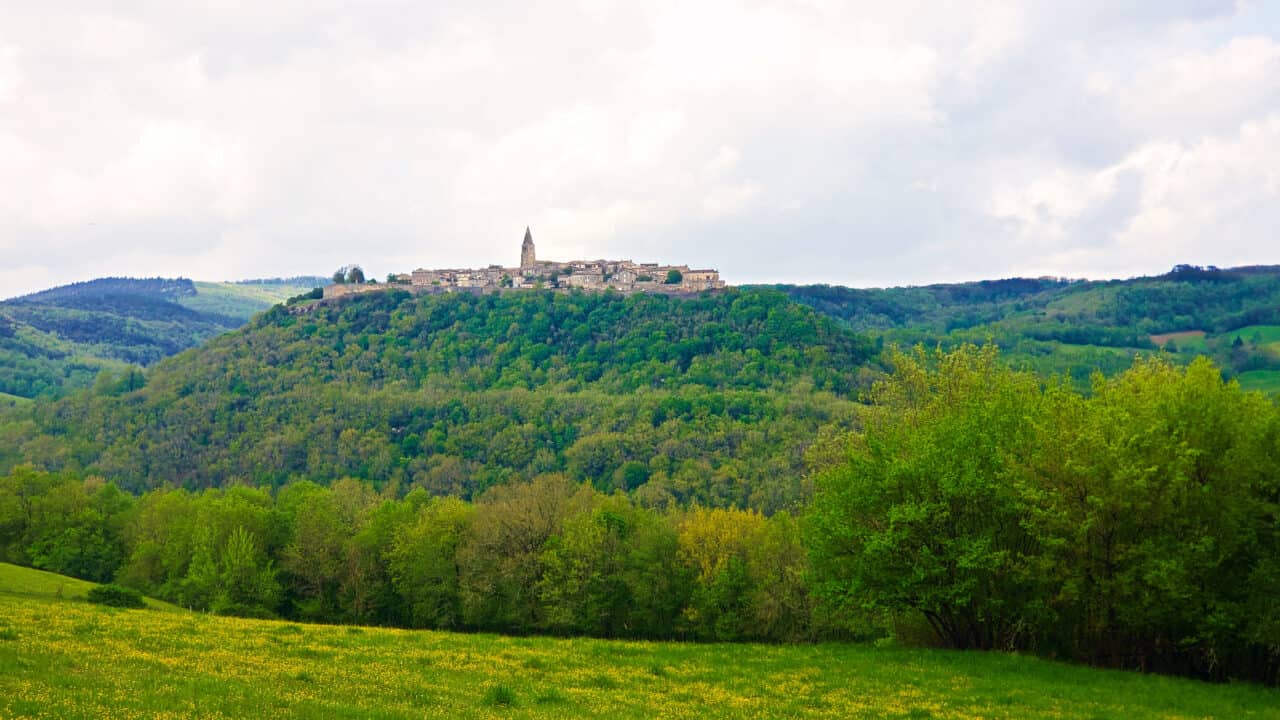 After that we continued on to Bruniquel. Just walking on the very narrow, cobbled streets of these old villages and wondering what you will see when you get around the next corner is great. Mike and I toured a castle in Bruniquel which is currently a museum. Around the year 600, Queen Brunehaut or Brunehilde is credited with founding the village and a castle on a site that had been occupied by the Romans. Mike thinks that she must have been quite fit, or she would have chosen a hill top with level ground on top to locate her castle. In the 13th century another castle was built on the ruins of this first one. It is called the "old castle". A few hundred years later, a family dispute caused the Viscount to sell some of his land right next to the "old castle". A cousin was later able to buy this land and build the "young castle".
At the end of the 18th century, the viscount of the "old castle" decided to also buy the "young castle". At that time a tax levied on the openings in buildings encouraged the viscount to wall up all the doors and windows of his new acquisition. We have seen window sizes change considerably due to this tax in other towns.
The "young castle" was abandoned over two hundred years ago whereas the last Viscountess of Bruniquel lived in the "old castle" until her death in 1980.  This is really only interesting when you tour it because it is hard to tell which is the "old" and which is the "young" castle since the "young" one was by far the most damaged of the two.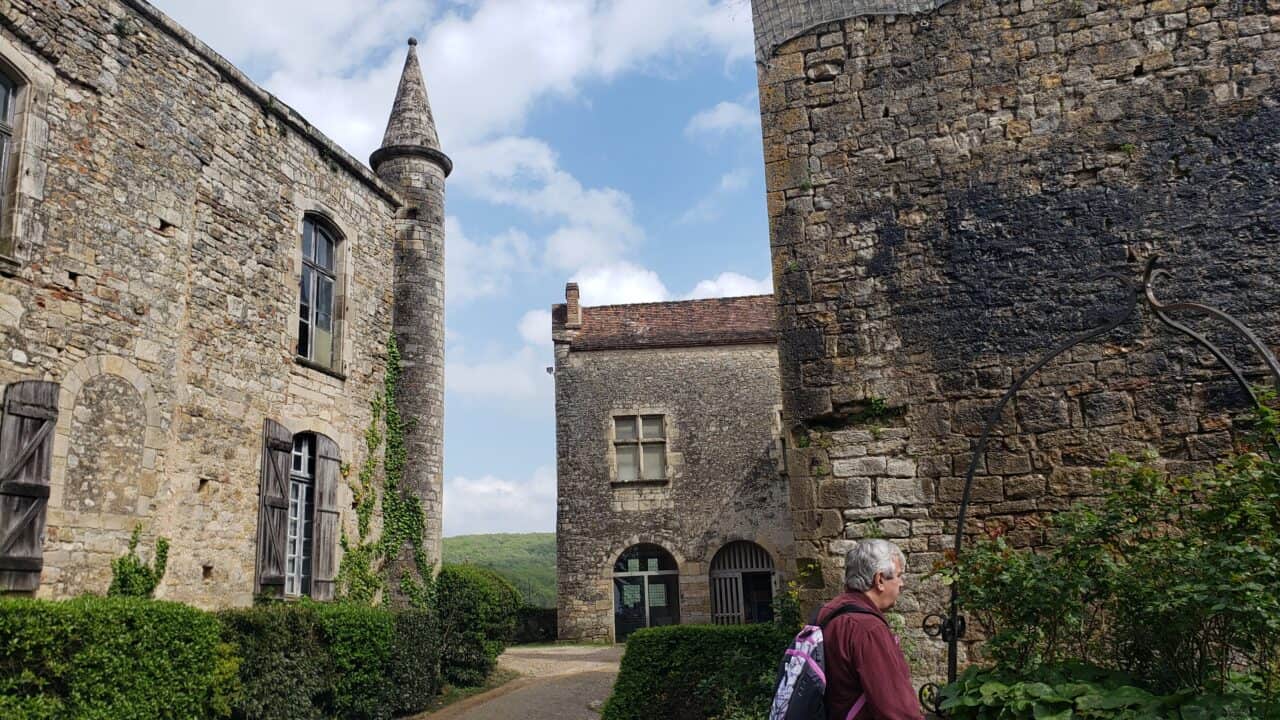 The museum had a fascinating exhibit on the Bruniquel cave. In 1990 a 15 year old boy discovered this cave after spending three years digging out a tight, 30-meter long passage that only the thinnest members of the local caving club could squeeze through. We saw a video of a female archeologist trying to pull herself along using her elbows and wiggle through a tunnel that didn't look big enough for her helmet. If you weren't claustrophobic before watching this video, you would be after. They found absolute proof that these underground caves had structures in them that had been constructed by the early Neanderthals. They have been able to get a reliable and replicated age of 176,500 years ago. Oh yes, they say their estimate is within ±2.1 thousand years. Other than Bruniquel Cave, the earliest, unambiguous human constructions are just 20,000 years old. What a difference and what a find. The constructs in the cave at 336 metres from the entrance indicate that the early Neanderthals had already mastered the underground environment, which is considered a major step in human innovation.
Before leaving Toulouse Mike and I enjoyed a pizza with duck meat. In Canada this would have been a pizza with chicken. There really is a lot more variety in France.