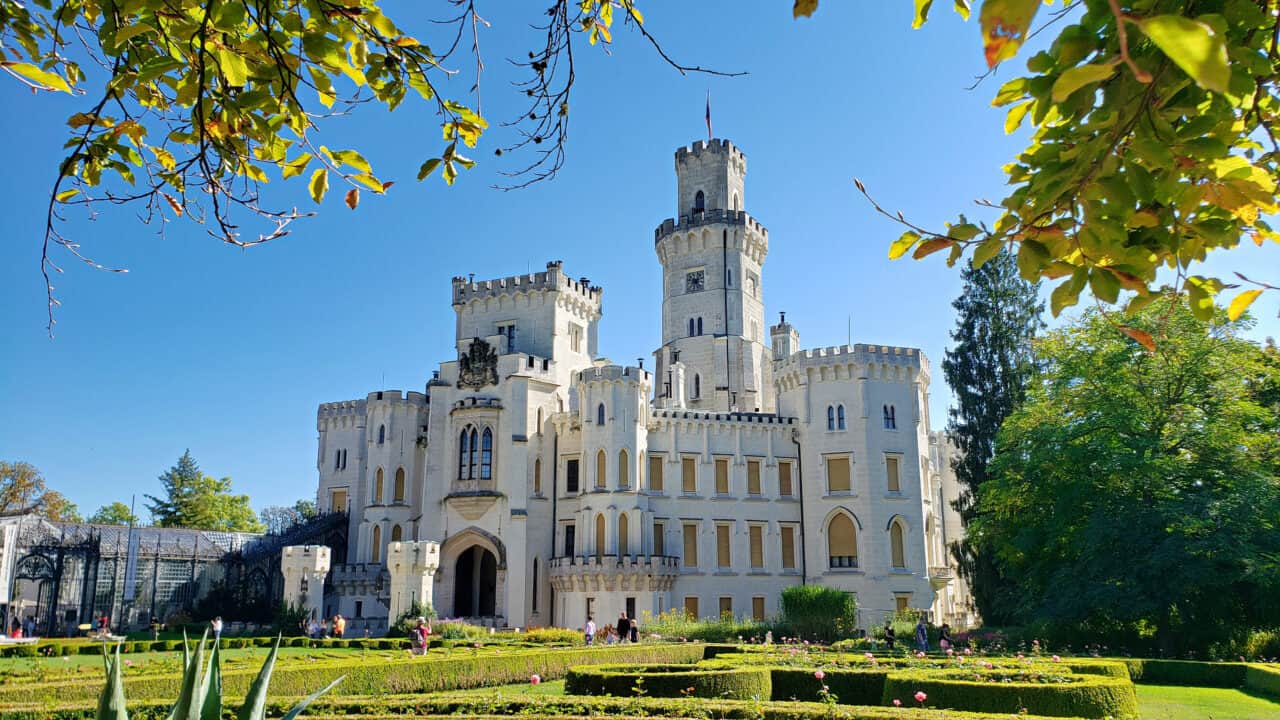 20 years ago Mike and I visited Prague and thought the city was just great. Other than Prague, we knew very little about Czechia, or the Czech Republic as we knew it. When we arrived we thought that we had got lucky staying in the lovely town of Znojmo. Our next stop was Valtice. While we were there we had a couple of our best bicycle riding days ever. Previously I posted this video A Day Cycling in Czechia of one day when we saw the magnificent chateaux in Lednice and Valtice. We also saw various follies, temples and more in the woods while cycling between the chateaux. The following day we biked to the Chateau Mikulov. All this area was owned by the House of Liechtenstein at one time or another. What a beautiful area and what a couple of phenomenal days. We then stayed in Ostrava and Olomouc. By the time we saw the gorgeous Wenceslas Cathedral in Olomouc we finally figured out that we weren't just being lucky in the towns that we stopped at but that Czechia had lots and lots of lovely towns.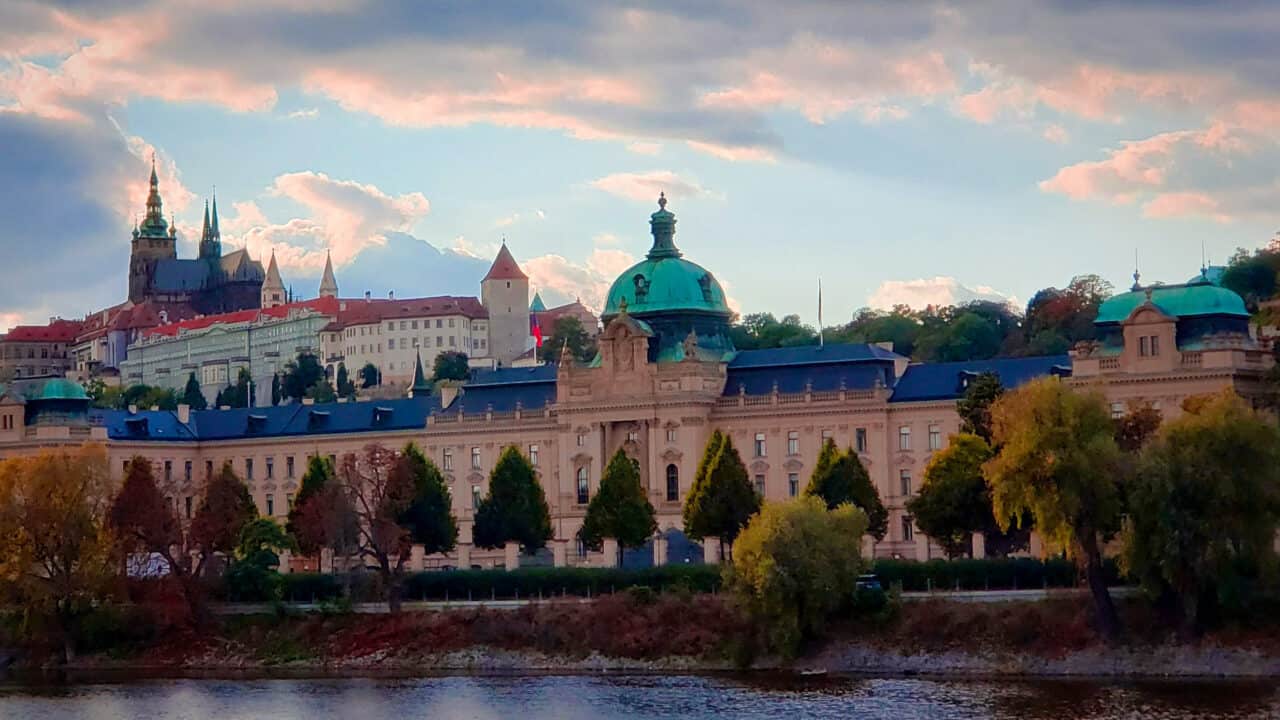 Prague, "The golden city of one hundred spires", was as great as I remembered.  We stayed there for two weeks and spent much of that time cycling.  Prague is split into multiple distinct tourist areas which makes it very nice for visiting.  You can spend a day or two in the historic centre.  Next you can visit the castle complex along with Lesser Prague on the opposite side of the river.  The castle complex is the largest ancient castle complex in the world, built from the 9th century.  You can return across the river and tour the New Town and Wenceslas Square with the grand Czech National Museum at one end. In case you are interested, the "New" Town of Prague was laid out by the Bohemian King Charles IV in 1348.  After Prague we spent one month in Southern Bohemia, which is Czechia's major tourist area next to Prague.  We actually cycled south through Czechia and into Austria.  We cycled from Prague down to the Danube in Austria to connect with our cycle route from two years ago.  Our major cycle track used to be one nice line around Central Europe.  It is turning into a tree with branches into Slovakia, eastern Czechia and now Prague.  I think we will probably start a whole new track when we get to western Europe.  At this point in time, we are not sure if we are heading towards southern France or southern Spain where we will leave the RV for the winter and finally start exploring western Europe in 2022.
While in Southern Bohemia we visited many lovely towns and monuments and a few castle ruins as well. The town of Český Krumlov is an extremely very well-known tourist attraction. We visited it accidentally 20 years ago and enjoyed seeing it again on this trip.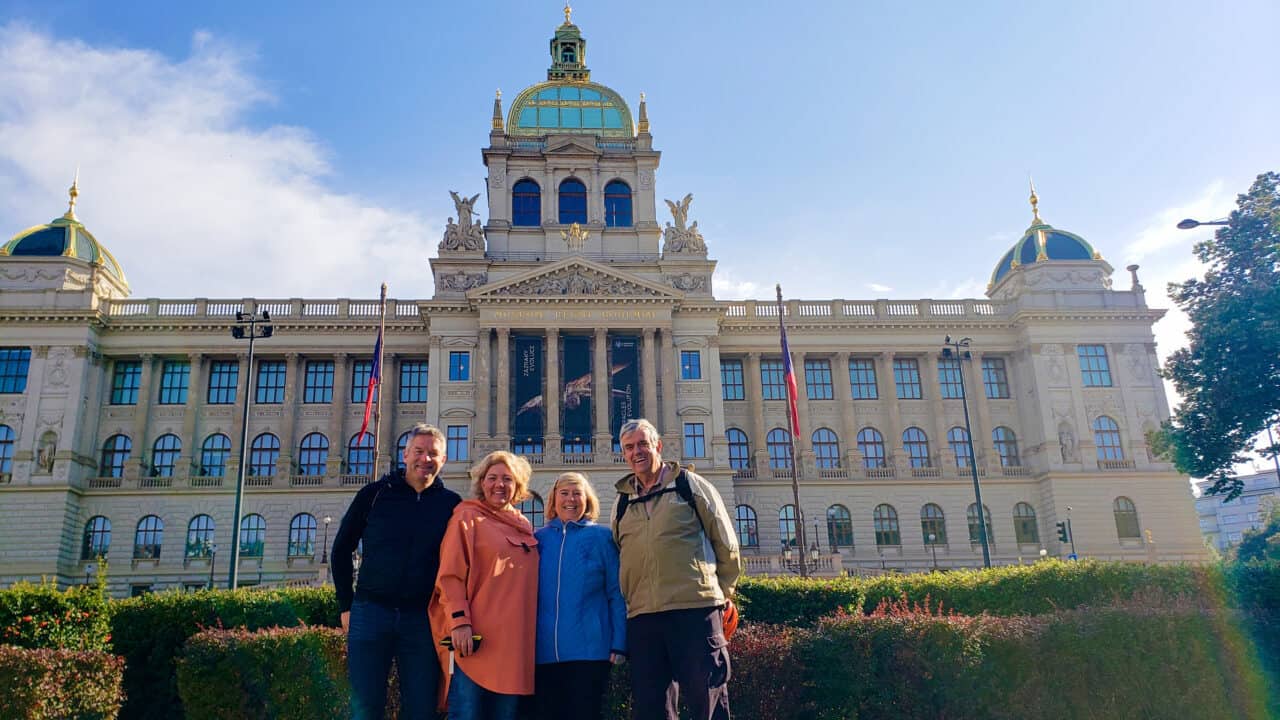 Friends of ours from Norway flew into Prague for four days to meet us there.  We all stayed in a hotel in the city centre.  The location was fantastic.  Living in the RV, Mike and I don't often see the various cities at night unless we are going in for something specific.  When we have been out all day and finally get home, the chances of us going back out in the evening are fairly slim nowadays.  Having friends to talk to for a few days was lovely.  Thanks to covid, that has been sadly lacking these last two years.  The four of us visited an Illusions Museum in Prague.  This one was more art oriented than some of the others we have seen.  Mike and I really enjoy these Illusion Museums.  I have just found out that there is one in Toronto that we have never seen.  We will certainly visit it this winter when we are home.
The four of us took a boat tour in Prague along the Vltava River. We were told that in 2002 Prague was hit with a thousand year flood. Much of Europe actually had floods at this time. Given that Czechia is a land locked country, it was very surprising to hear that 6% of the entire country was flooded due to rivers overflowing their banks. Prague received significant damage with some parts of the Vltava River rising 7m (23 ft). Prague's art work was saved due to advance warning but the collections of books in the National Library and the Prague Municipal Library were inundated. The Czech librarians were able to send a significant portion of their flooded collections to be frozen, thus staving off immediate destruction by water or mold. Does this mean that they can just unfreeze them safely at a later date?
We cycled over 1,300 km (800 miles) while we were in Czechia. Here are some of the pictures we took while cycling. The sights ranged from unexpected follies in the woods to gorgeous chateaux, castles, cathedrals and monasteries.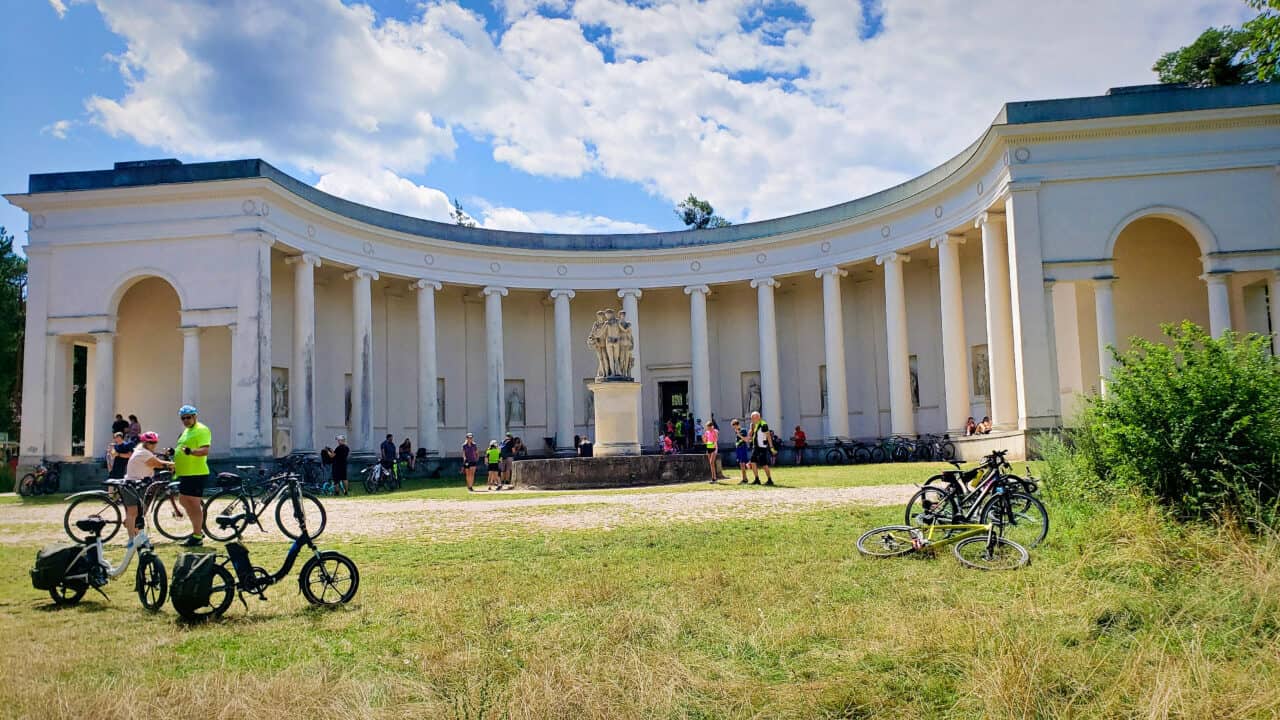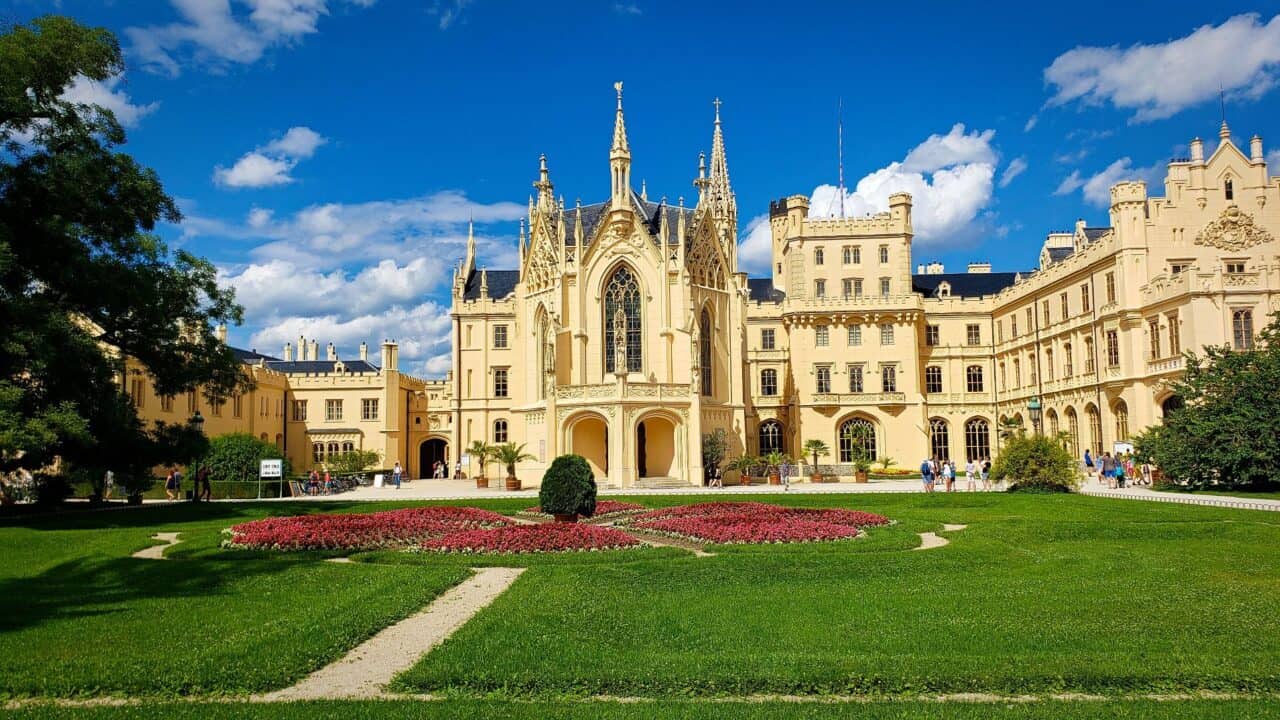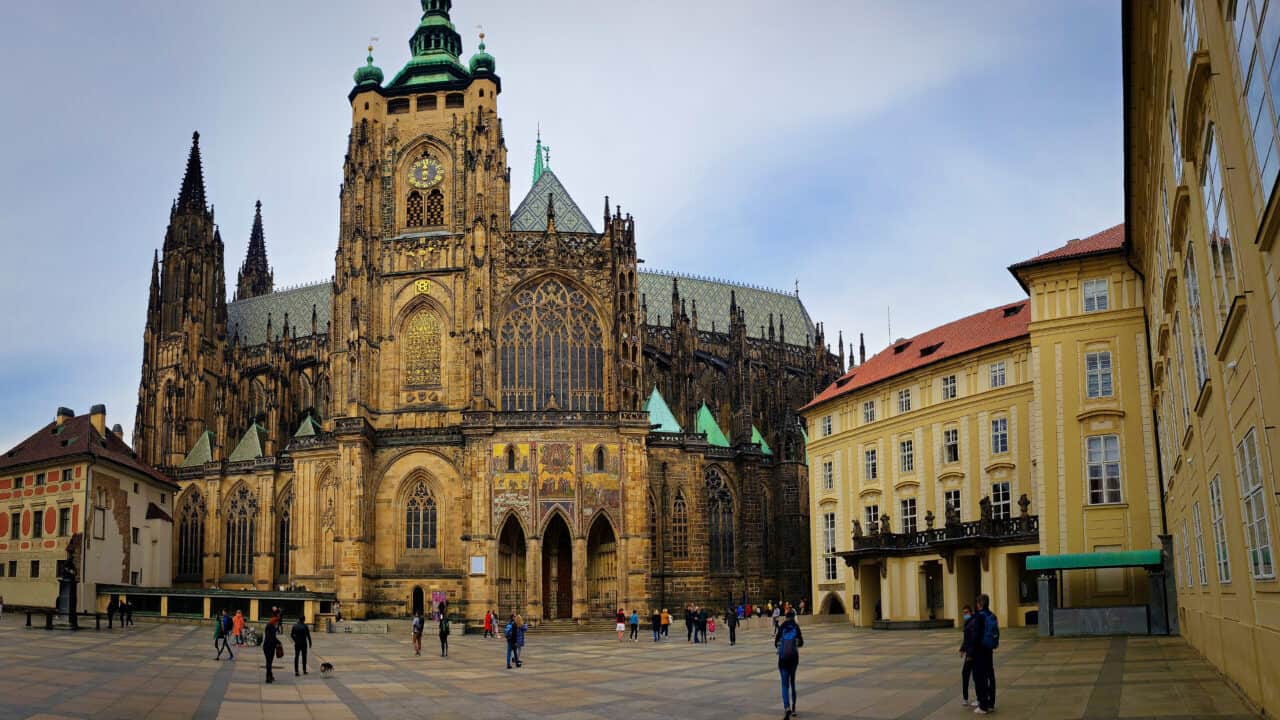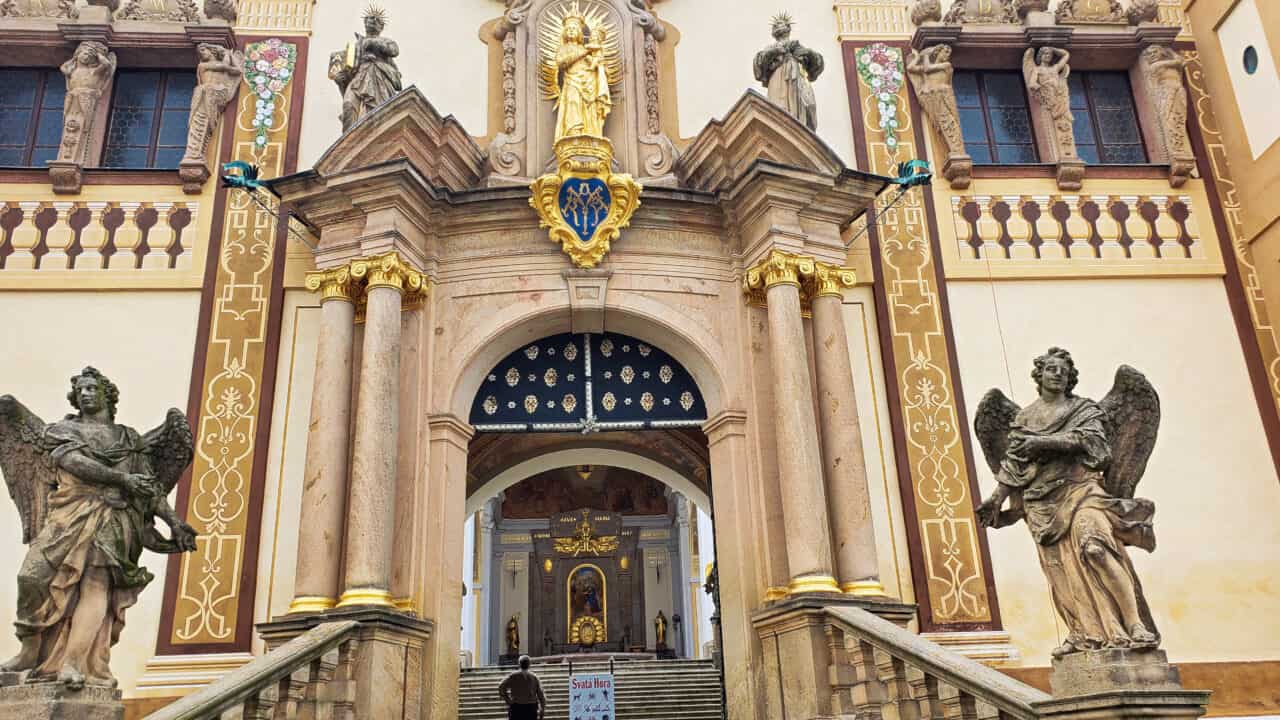 While we were in Prague we had dinner with a girl just out of university. She told us that her starting vacation was five weeks and that four or five weeks was absolutely the norm. When will North America catch up with Europe?
Just before our time in Prague ended we spent a very long day, driving around parts of Southern Bohemia that we hadn't yet seen. We visited 3 or 4 towns, some of which we had audio tours for. We visited a couple of castle ruins. We tried to see what we could before we left this country.
We didn't use the drone as much as I would have liked in Czechia but below are two interesting perspectives that we managed to get.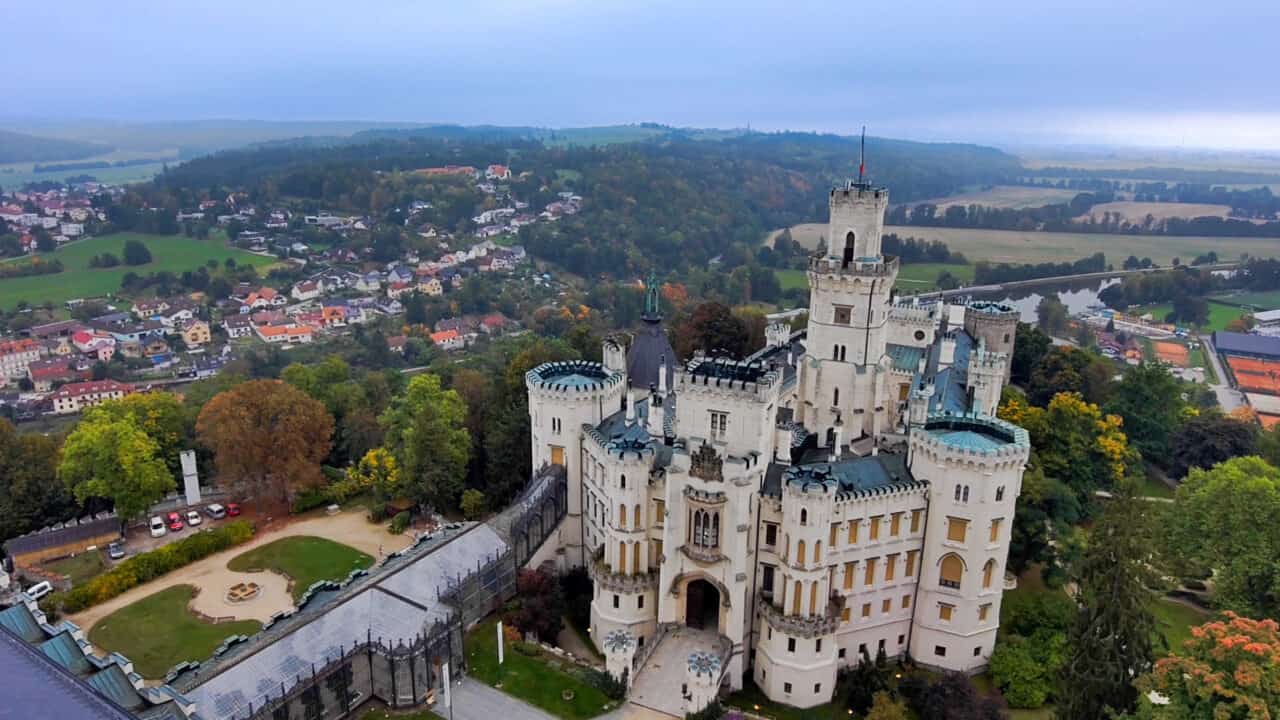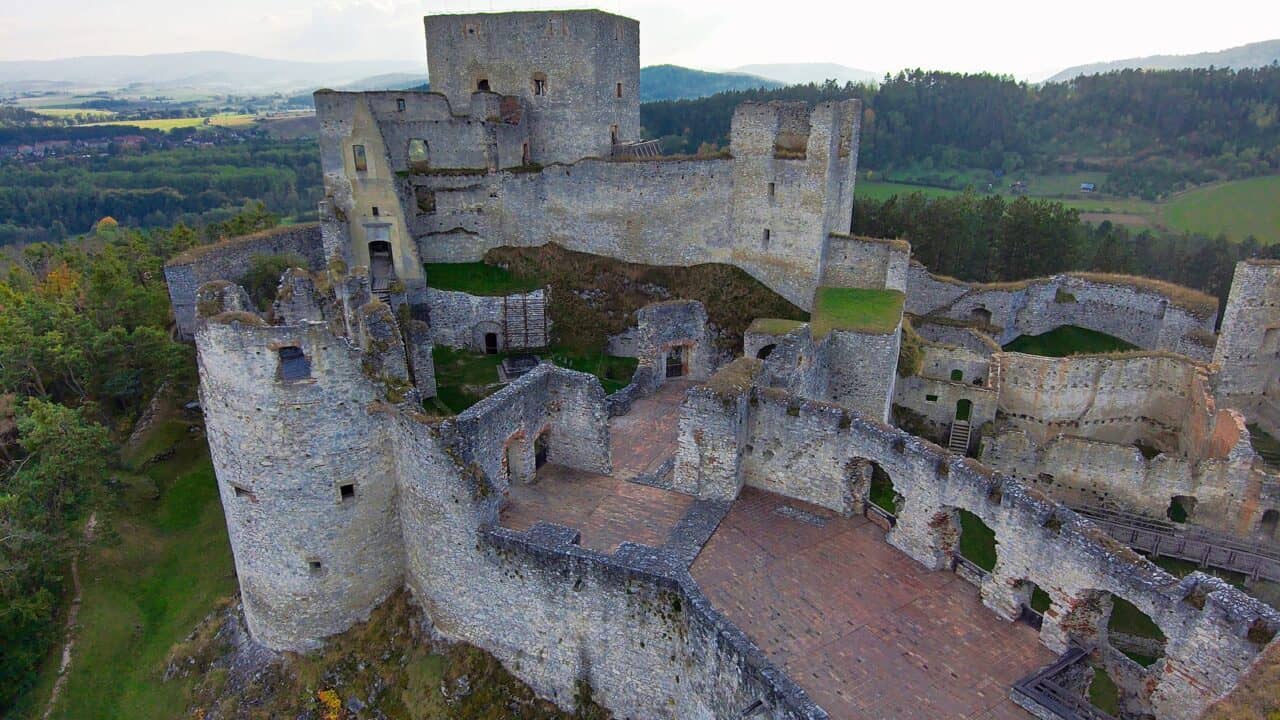 We have really enjoyed our three months slowly touring Czechia. Not everything had to be spectacular. Below you can see some of the lovely artwork that we saw on many buildings in different towns, followed by a photo of a nice town centre next to our last campground. The scenery, the towns and the cities in Czechia are all very attractive.
Our plan now is to cross Europe very quickly, without possibly any sightseeing.  We want to make sure that we get to where we want to be for the winter (wherever that is).  We can't afford the time to only travel 150 km every two weeks or so, which is what we have been doing or we will never get to warmer weather.  Good-bye to Czechia, thanks for a lovely visit.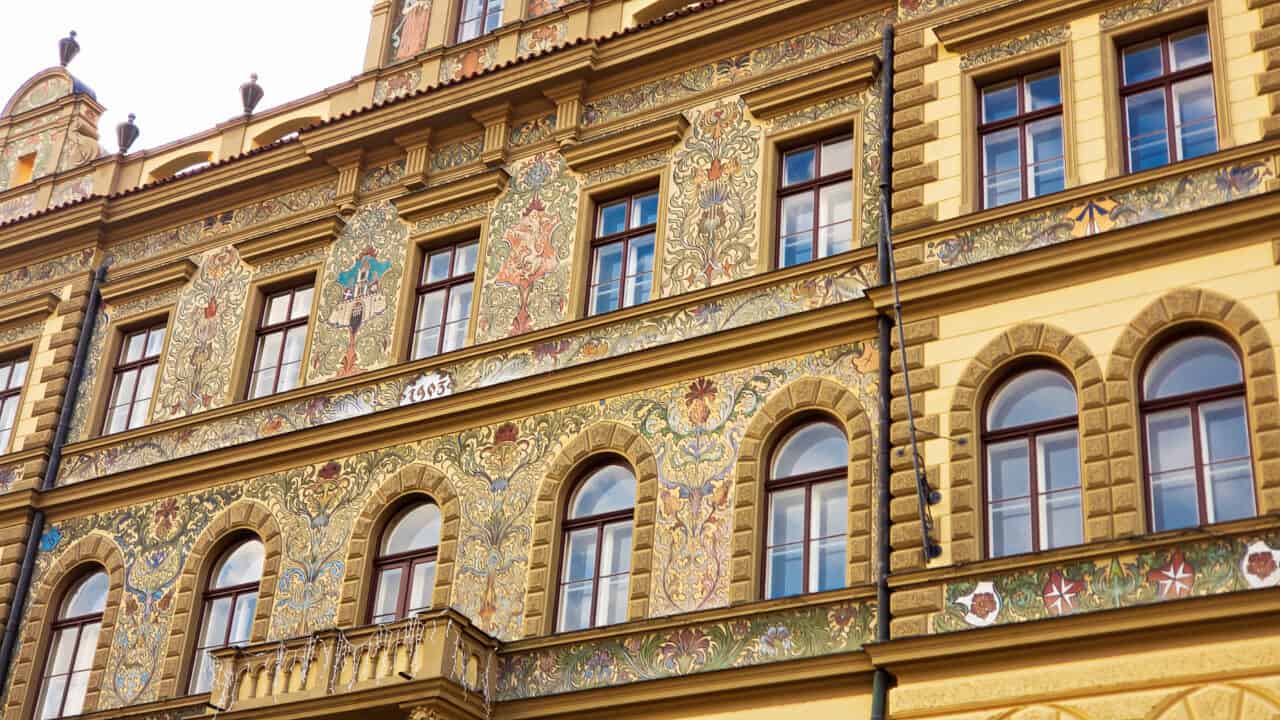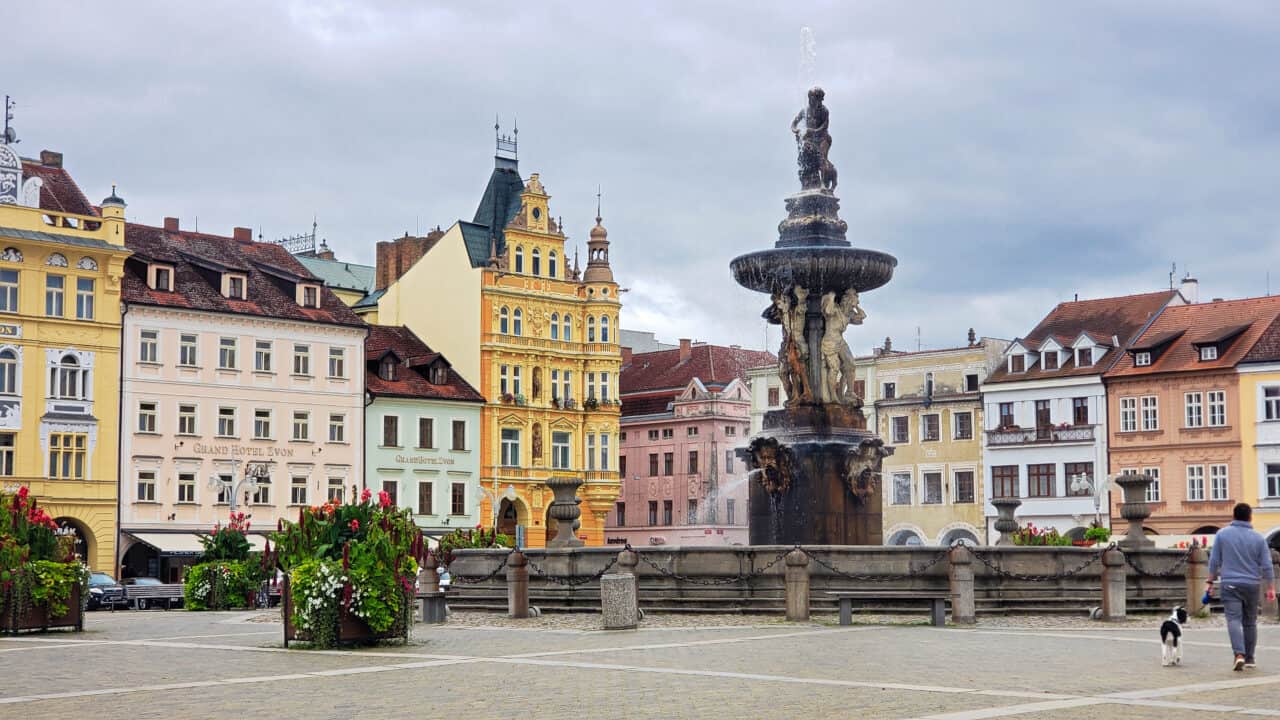 České Budějovice town square