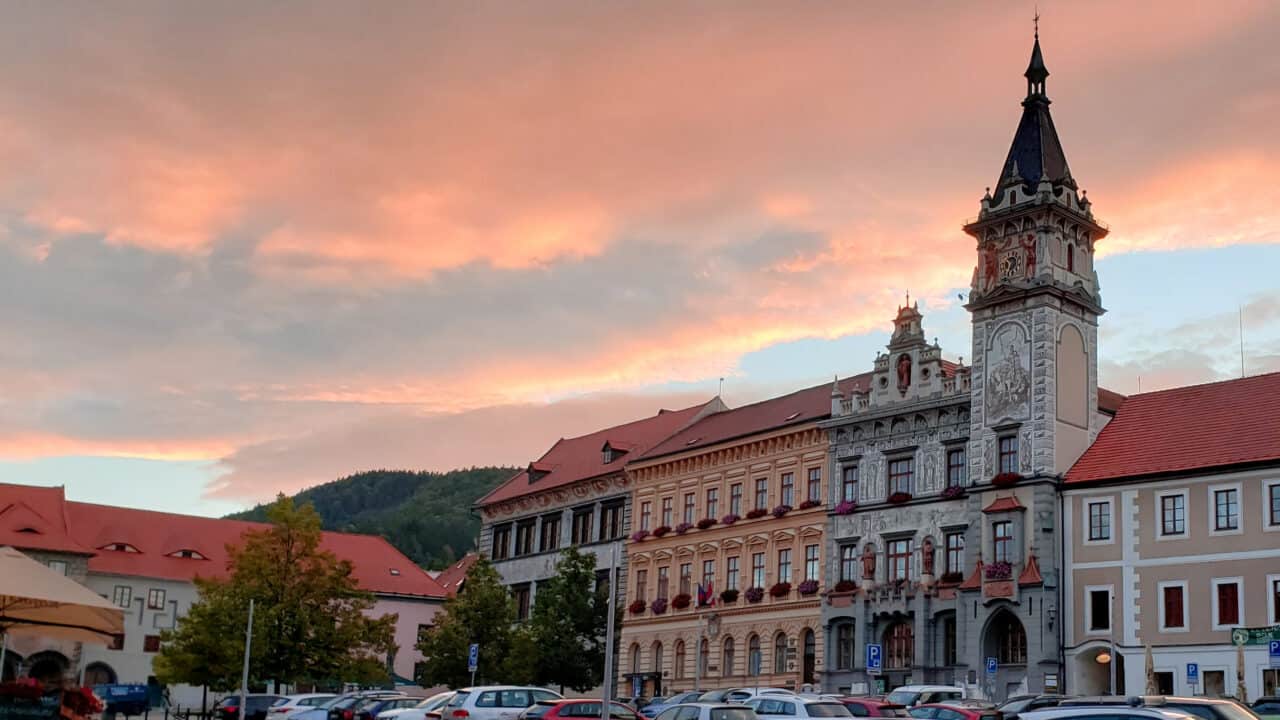 Next to Prague, Southern Bohemia is the major tourist area in Czechia. We will have spent three weeks camping near the capital city of České Budějovice when we leave again for Prague at the end of this week (more on that later). This part of the country is full of lovely towns and villages, great cycling trails, rivers and more.
The western half of Czechia is officially made up of North, Central and South Bohemia. In 2016 the Czech Republic decided that it wanted a short form name. This is quite common, for example "France" is the short form of "The French Republic" and the United Kingdom or UK is short for "The United Kingdom of Great Britain and Northern Ireland". The UN keeps track of both a countries long form and short form names. The Czech Republic thought that being known as "Czechia" would make it easier for companies and sports teams to use it on products and clothing. Bohemia, my preference, was considered but was rejected because it excluded the regions in the east of the country. It took a while to catch on, but many people in Europe only use the term Czechia and don't even recognize Czech Republic when we use it. Of course, that could be our accents.
The campground we are staying in, is on a little island formed by a river on one side and a man-made slalom track on the other. The slalom track is used mainly for white water kayaking but we also see canoes, rafts, paddleboards, and a few surfboards. The flow of water away from the river and hydroelectric dam, to form the white water, is scheduled for a set number of hours each day. When the water isn't flowing, you can see the man-made obstructions that create the turbulence and the white water effect. We have seen lifeguards practicing here quite often and occasionally the police use the wild water (as they call it) to practice in.
Both of the pictures of our camper and the slalom track were taken with our drone. We have used the drone very rarely. Mike seems to have lost interest and many areas where we would like to use the drone you can't. The rules are very similar in North America. You can't use the drone over roads or groups of people. You can't use it near an airport. Most large tourist areas and major monuments also restrict drone use. I believe that Toronto doesn't allow drones in any of its parks. We have got our old Go Pro camera out again and mounted it on our helmets. The drone is fantastic at following me through the woods and beside rivers and avoiding all stationary obstacles but it is illegal if there are many people around or if the path is actually a road that cars can drive on. Still we do get to use it occasionally.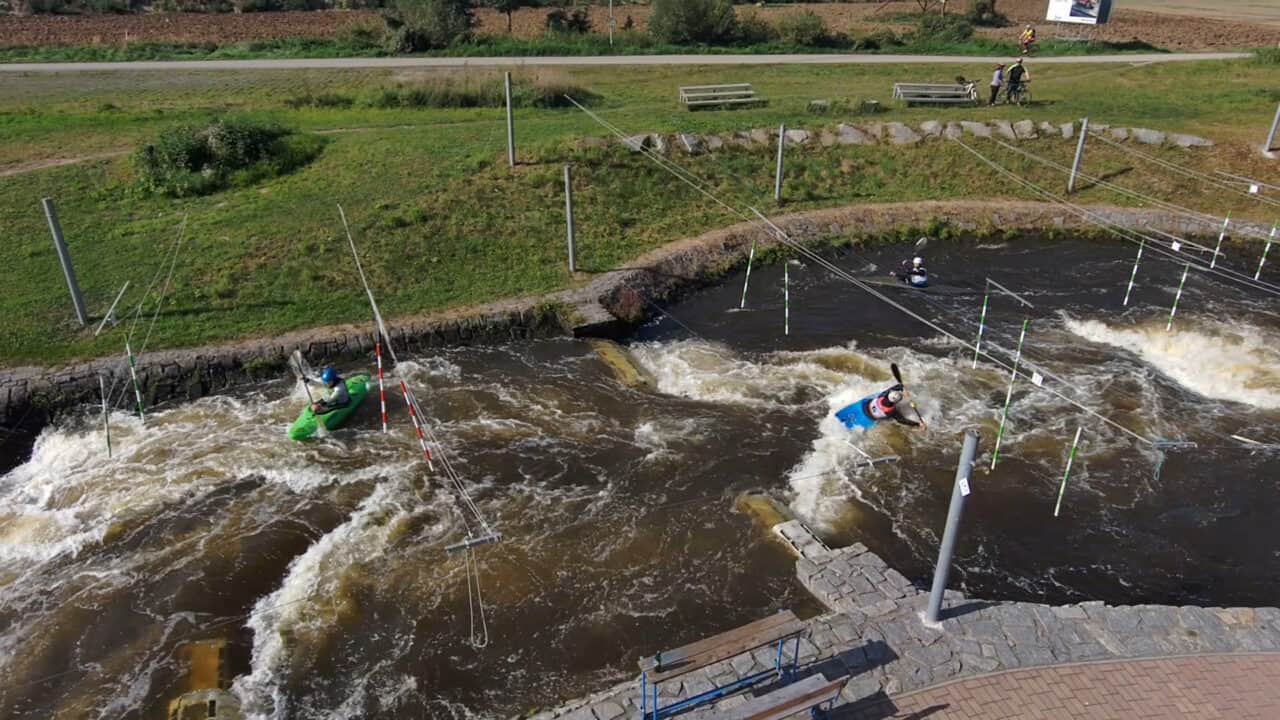 The main square in the capitol city of South Bohemia, České Budějovice, is a 6 km bike ride from our campground. We haven't spent a lot of time in the city but it is nice to visit and it is nice to have some retail box stores around. Mike was in Bauhaus (similar to Home Depot) this morning. One of the problems with visiting historic towns on bicycles is that all the streets are cobblestones. Czechia doesn't seem to believe in using much (any?) grout between the cobblestones. Mike and I swear our eyeballs are going to come loose one of these days. It isn't just the historic towns, cobblestones are used in many other areas as well. Outside of town concrete or cement roads and paths are fairly common. They are made up of poured concrete slabs. Again, riding over these is extremely bumpy and uncomfortable. I need to give you the other side of the story as well. Czechia probably has more great paved bicycle trails than we have seen anywhere else.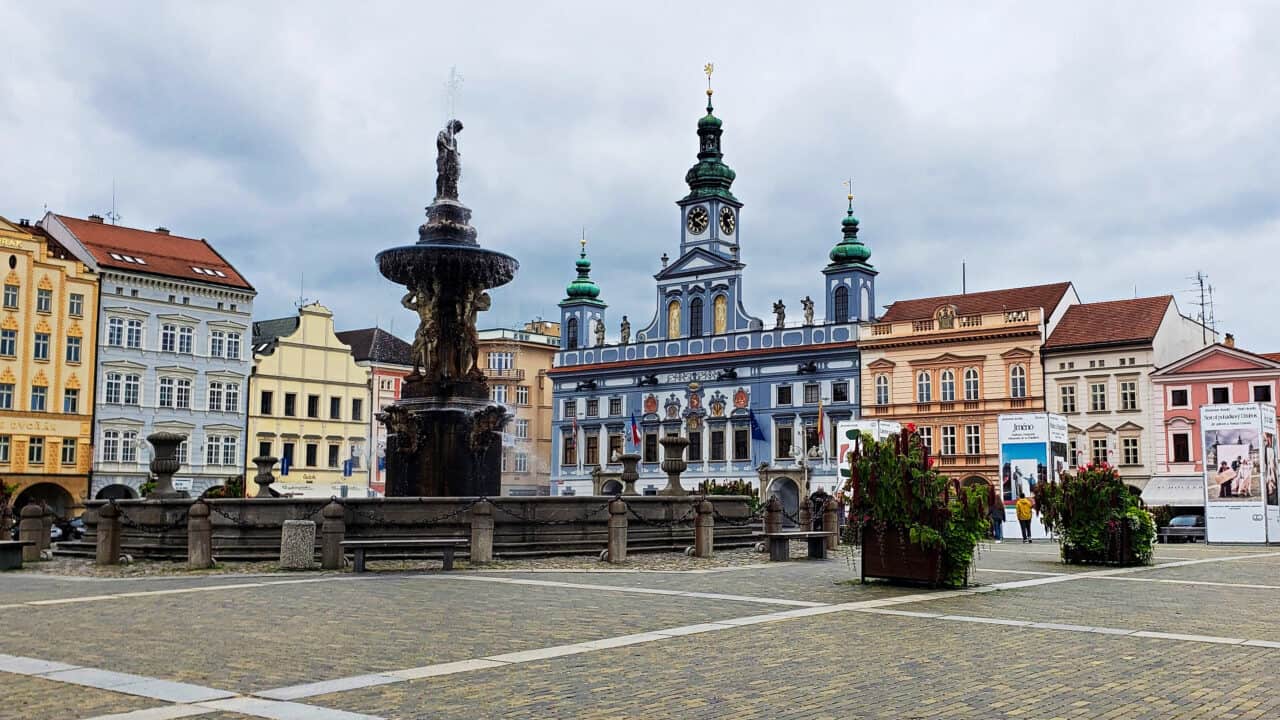 While České Budějovice may be the capital of this region, the major tourist town is Český Krumlov. It is lovely but it is usually overcrowded with tourists. Given that it is the end of September and a year with coronavirus, that wasn't a problem for us. I had to include the picture at the start of this paragraph. It turns out that it is identical to a picture that I took when we were here 18 years ago. The only difference is that cameras nowadays make the colours pop more than they used to.
We have found audio tours to play on our phones for many of the towns in Southern Bohemia.  In one town the most important monument was the Stone Bridge.  It was built a the end of the 13th century and is the second oldest bridge in Central Europe.  The Písek bridge has been exposed to major floods multiple times over the centuries.  In 2002 Písek experienced the "thousand year flood" with a fifty-fold increase in the force of the current and waters high enough to tear off a stone wall.  This medieval bridge withstood the flood.  You discover all sorts of bits of trivia from these audio tours.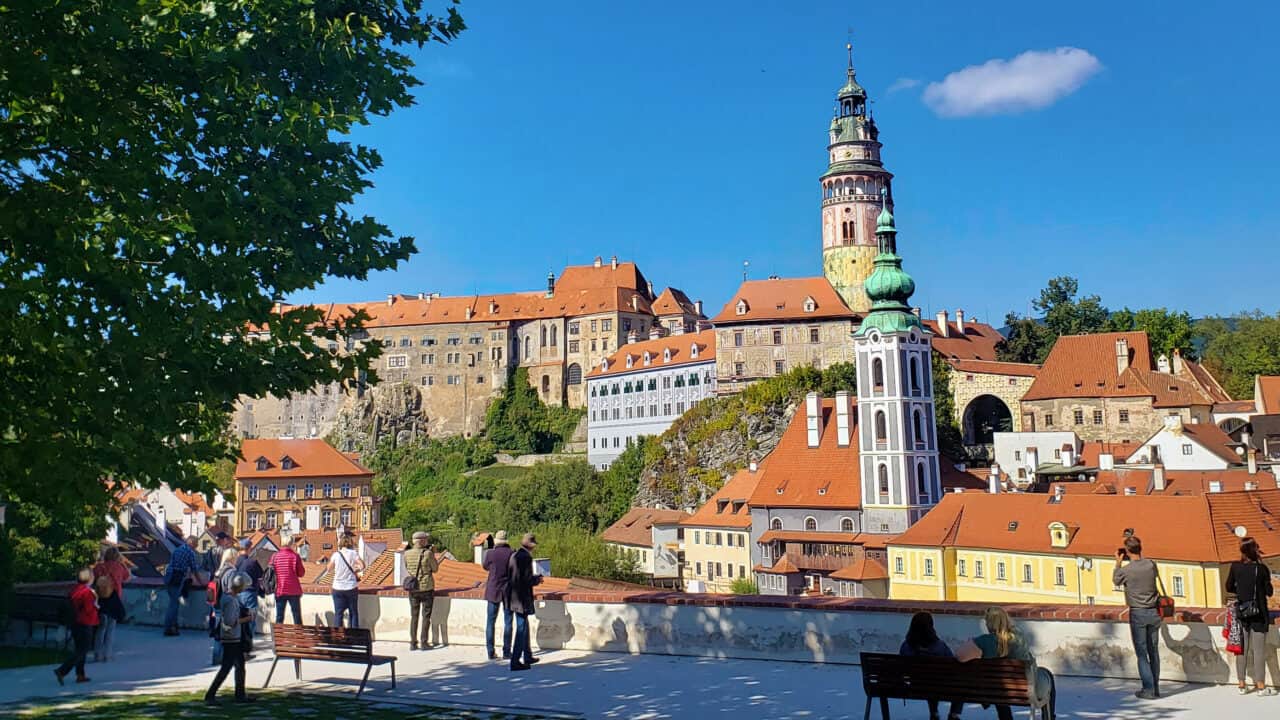 Other interesting facts learned included that, after the Great Turkish War, the House of Schwarzenberg was awarded a badge for their coat of arms of a crow pecking the eyes from a beheaded Turk's head. How lucky can you be? A week after we "learned" this we saw this fountain statue in the town of Třeboň. Without the previous tour, we wouldn't have understood what we were seeing.
Mike and I recently cycled 80 km in Austria to reach the Danube.  We did that so that our cycling from Prague would join with our main "European Cycle Route" that we have been making over the last two years.  The cost of lunch in Austria was a bit of a shock.  We have gotten very used to the lower prices in Czechia.  When Mike had his hair cut recently the Italian barber told him that he moved to Czechia specifically because of the lower cost of living.  He said that he doesn't think that it will last much longer and that the prices will be like the rest of Europe in a few years.  Even today, fuel costs aren't very different but with our electric bikes and hybrid car, we don't use much fuel.  The RV will stay in this campsite for almost one month without moving.  Mike says that he has seen a noticeable difference in our monthly charge card bills this year.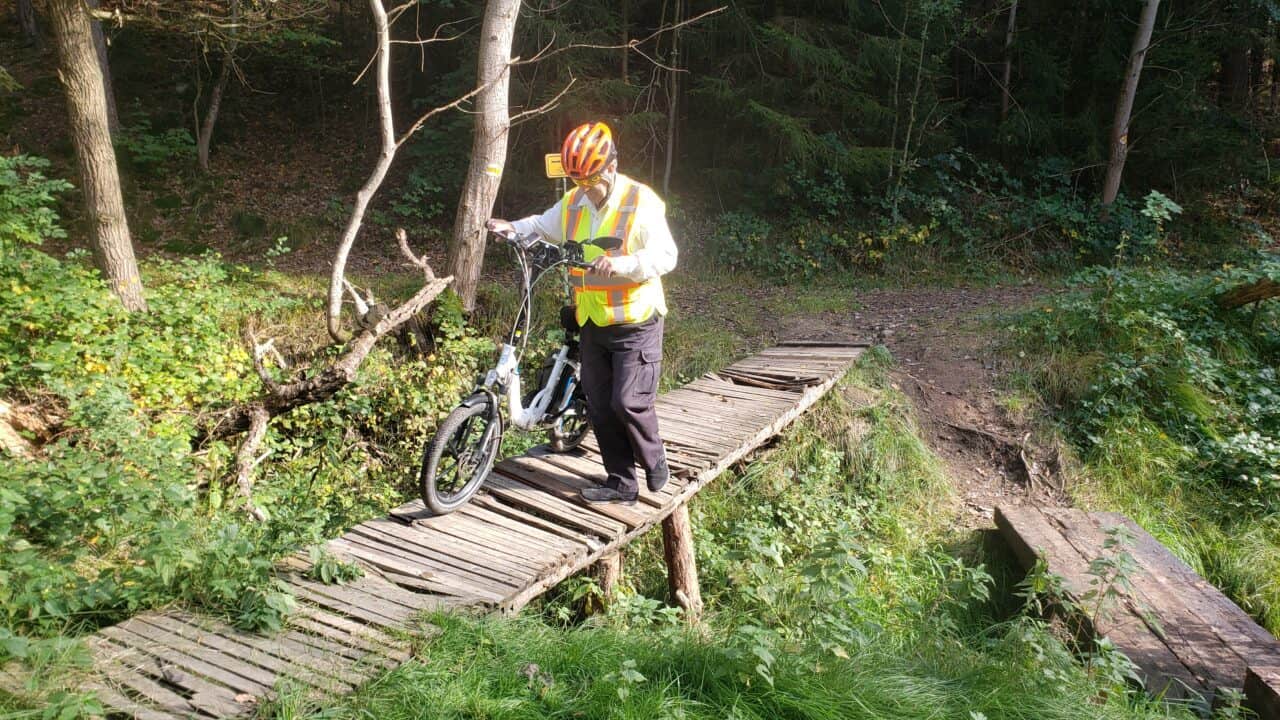 Wenceslas, of Good King Wenceslas fame, was actually only a Duke in life. He was made a king by the Holy Roman Emperor posthumously, how does that work? He suffered a martyr's death (murdered by his younger brother who then became the Duke) and was immediately considered a saint. St. Wenceslas day was last week and is a national holiday here.
Some more interesting trivia for you. The Global Peace Index uses 23 qualitative and quantitative metrics to measure a countries peacefulness and safety. Czechia rates as the 9th most peaceful and safe country in the world and Canada is the 10th. The US is down at 122 out of 163 countries. https://www.visionofhumanity.org/maps/#/
On Sunday this week, Mike and I will drive our car to Prague to meet friends from Norway who are flying in to join us for four days. We will be staying at a hotel right in Old Town Historic Prague. We got an outstanding deal at the hotel. In fact it was so good that Mike became quite concerned about the pictures having been touched up or even fake. I decided to try and get our hotel room a night early to save rushing around on Sunday. It is about a 2 ½ hour drive from the RV to the hotel. We need to go to the hotel first and drop off our electric bikes so our friends will fit in the car when we pick them up at the airport. It turns out that all the deluxe suites where sold out for Saturday night. There were two, very basic, rooms available. The hotel wanted double the price for one night in the basic room as compared with what we were paying per night for our two room, two floor, two bathroom suite. Apparently their rates are completely based on occupancy or room availability. Since the hotel is now almost full they are much more expensive. We declined but Mike was actually quite pleased. This made the room prices seem much more reasonable and more likely to be up to the standard that we are hoping for.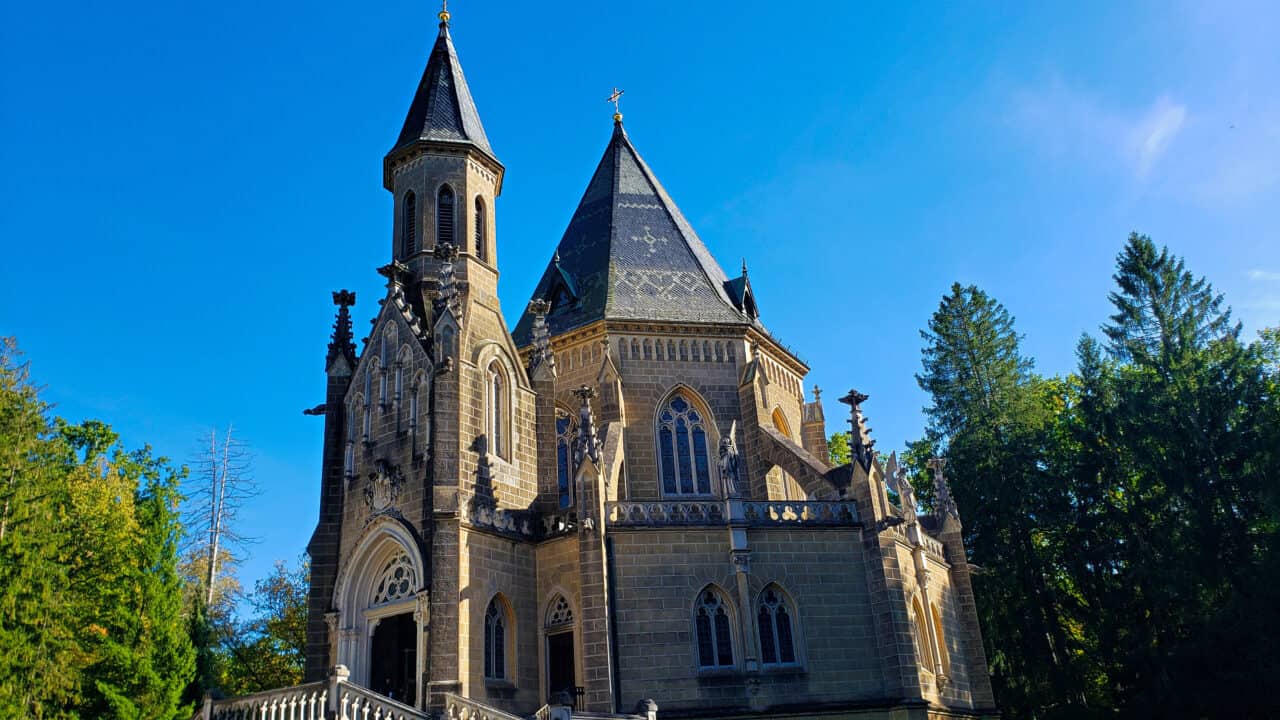 Just 5 km from our campground was the most gorgeous castle. Balmoral has always been my idea of a fairy tale Disney type castle. Hluboká Castle or Chateau is could also be from a fairy tale. It is beautiful. Confusingly for North Americans, the terms castle, palace, manor and chateau all seem to be used interchangeably. Mike and I initially biked to Hluboká Castle on a holiday weekend. We knew that drones were not allowed near the castle. We toured some of the interior rooms. Again, there were not enough English speaking visitors to hold the English tours so they gave us written English descriptions of the rooms to read while the tour guide spoke in Czech. The castle, like most museums, was closed on Mondays so we decided to return with our drone on a Monday. That actually didn't work very well because, just as we were leaving the campground the following Monday, it started to rain. Luckily we were still here the Monday after that. The weather was overcast but dry. We have used the drone so little that we are really still practicing and seeing what it can do and how we control it to get the shots we want. We were hoping that the castle area would be deserted since it was closed. It turned out that closed meant the interior was closed and there were no tours. The castle grounds and courtyards were still open to the public. We started off and had the drone follow me on its own, up the path, through the trees and gateways into the main castle grounds. We spent a while playing with the drone and then decided to go and have lunch in the village. We returned to the castle to try a few more things with the drone and after about 15 minutes someone came out to ask us to stop. He was very nice about it. We stopped straight away. We had already had more time with it than we had expected. I may try and create a short video some time in the future. For now, here is a picture of the castle that I loved.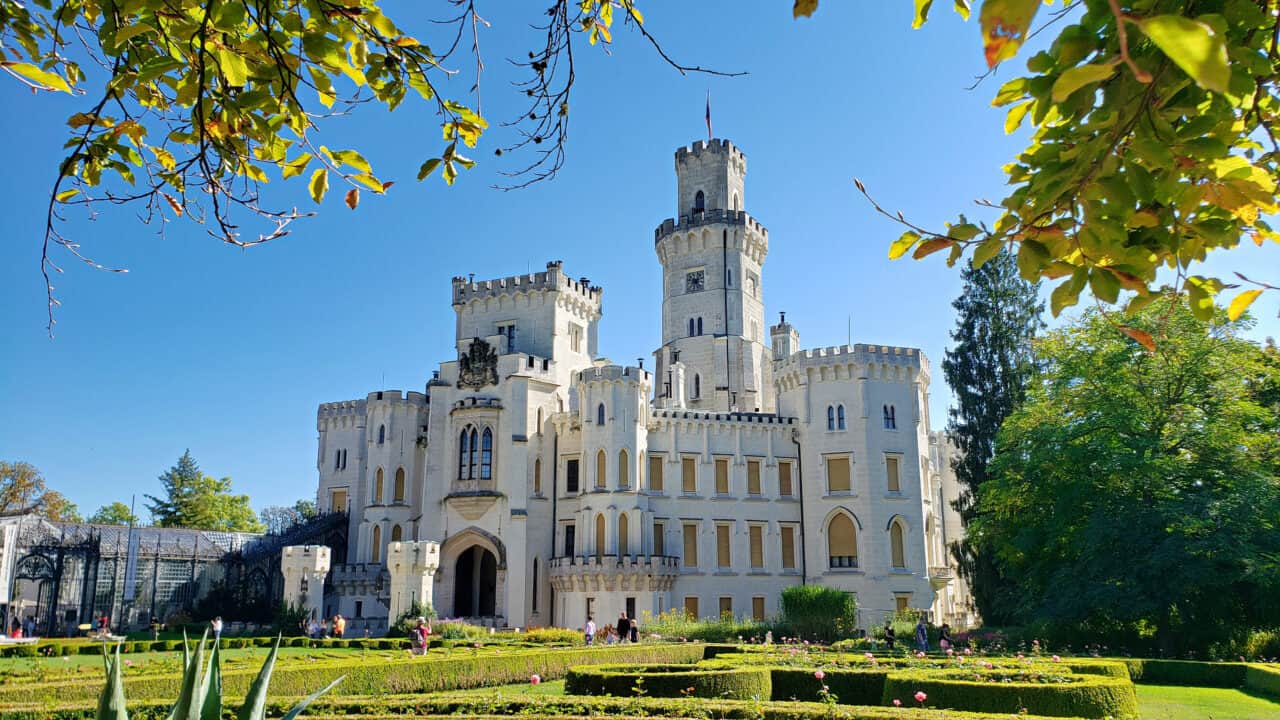 This trip to Europe was originally planned for three years and this is our fifth year and we have never yet toured Western Europe. Our thoughts are that we will leave Czechia very soon after we return to the RV from Prague. We might head towards southern France or Spain next, somewhere that we can leave the RV for the winter and return in March to reasonable weather. This will mean not getting to Bavaria this year like we had hoped to do but it has recently turned red on the covid map anyway. Bavaria can be quite chilly in March. Although travelling right across Europe can be done, it will mean moving much faster than we typically do. Others campers would laugh at us thinking that it will be a real rush to have only one month to get to Spain, but remember, we have spent almost one month just in Southern Bavaria and three months in Czechia, a fairly small country. Aside from covid, the big problem we have is finding somewhere to leave our RV that is comfortable in early March to return to. Germany doesn't qualify and we don't like the Italian roads for our RV when you get off the main highways. We will let everyone know where we will be, once we know.
Here are a few more pictures from towns we visited in Southern Bohemia.