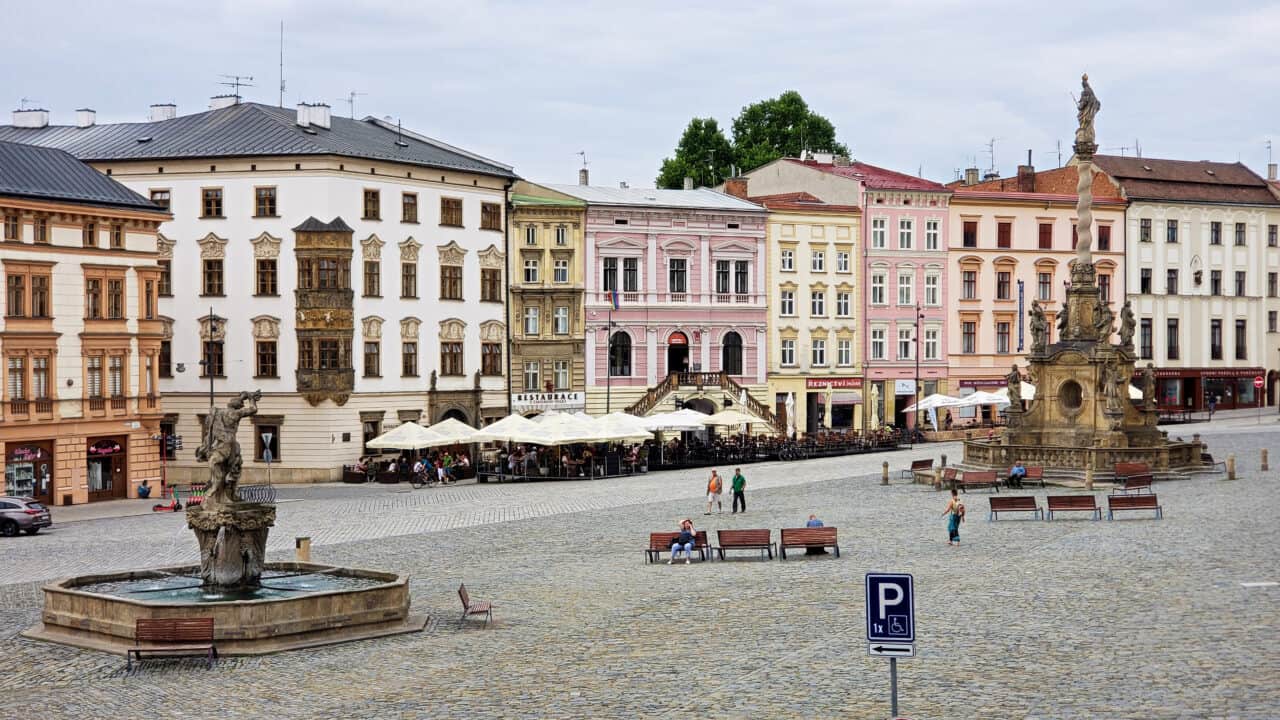 Maybe we weren't just "lucky" with the first few towns we camped in, here in Czechia, because this one is great also. It turns out that there a lot of lovely towns in this part of Czechia. We have spent the last two weeks in the town of Olomouc which we had never heard of. Apparently, after Prague, Olomouc has the second largest and the second oldest historic preservation zone in the Czechia and it is lovely.
Our welcome was pretty great. We had emailed the campground before we arrived and sent them photos of our RV. As we were driving this man came running down the driveway towards us. He then directed us to a large area that had been cordoned off with a sign saying that it was reserved for "Mike Jansen". Tom, the manager, had big smiles and was very happy to welcome us. You can see some other campers in the background of the photo. They are nearly all from an Italian camping club. This same club were also in the first campground that we visited. After this group there have been very few other campers. At the moment we are the only campers in this campground. Last night there was one tent here. It was gone before we got up in the morning, probably due to last night's rain. Tomorrow is September 1. I wonder what will happen when we aren't in the busy camping season.
Luckily, we did quite a bit of bike riding in our first week here because this last week it has rained every day. The rain isn't constant, but it always looks like rain is imminent and you don't want to start a long bike ride. Also, the temperature has plummeted which is the good news. Toronto is in the midst of a major heat wave and we have days where the high is 18°C (64°F). Quite honestly I love this. I do not like the heat. I can easily dress for the cool.
As most of you know, we often take a train to a station about 40 km down the line and ride our bikes back to our starting point. A lot of the train stations here have very small elevators that will only take one bicycle at a time. At one station, Mike was ahead of me and took the elevator up to the track. The train had already arrived and Mike starting putting his bike on, which is quite awkward with trains that have two or three steps up into the car. I had just come up onto the platform and didn't know which car Mike was in, when all the doors closed. I am waving my arms to the conductor to let me on all the while I am wondering exactly what we are going to do. I knew that this was the only train for the entire day going our way. As I ran along the platform, I saw Mike's face inside one of the doors. Thankfully, after it seemed that he wasn't going to do anything, the conductor did open the doors and I managed to join Mike. It was just a bit of added excitement to the start of the ride. The remainder of the ride was lovely, with much of it along paths beside rivers and canals.
As you ride through small towns and villages it is interesting to see that many of the houses are painted in colours like green and yellow and pink and mauve. Although many of the buildings are somewhat weathered and the colours are not really bright, in long row houses, it is nice to see the different colours. At home our subdivisions are often different shades of brown. In town, many of the apartment buildings here are painted similar colours but usually in dual tones. Other than our modern glass apartments, nearly all the apartment buildings at home are just grey. Seeing the different colours is nice. Another nice thing that we occasionally see on our rides are wine bars along bike paths. We haven't seen this anywhere else. Previously if you wanted something to drink you had to get off the bicycle paths through the country and ride on the main roads and hope you got lucky.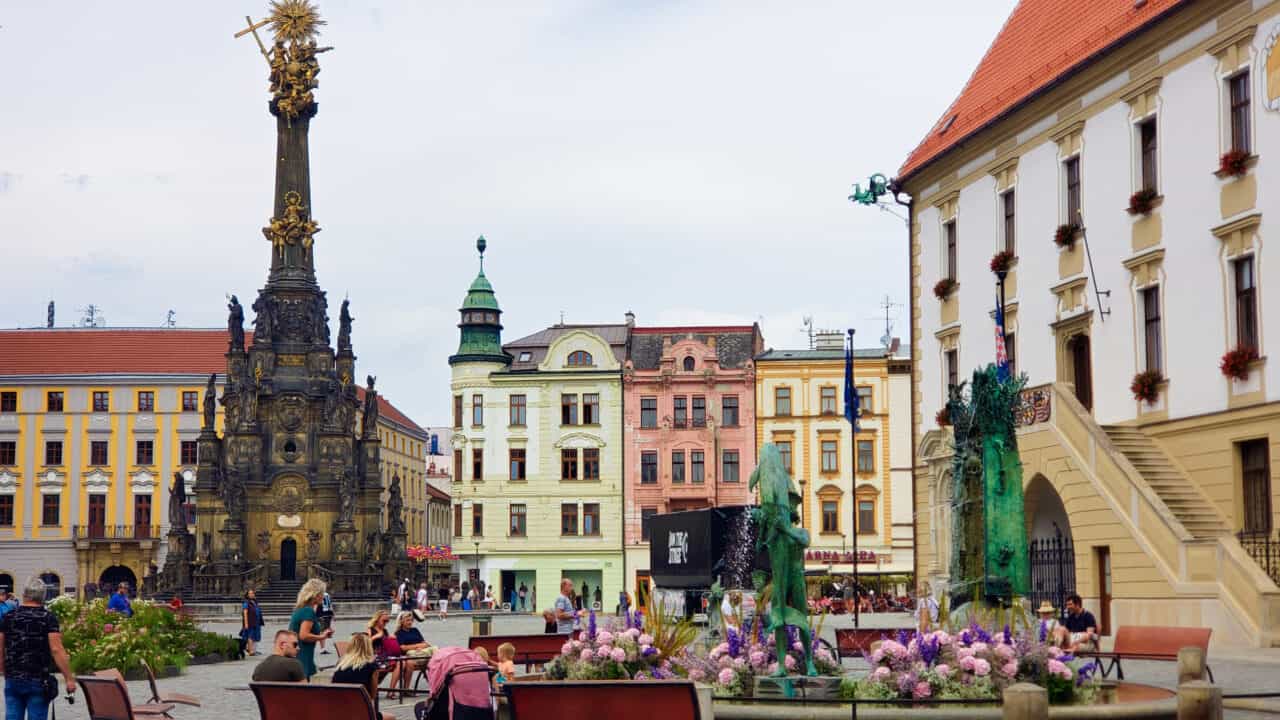 We were camped about 1 ½ km (1 mile) from Olomouc's historical city centre. We found an audio guide online for this city. We biked around the city, stopping and listening to the audio guide before we continued. It was a lot of fun. We didn't tour many of the buildings as we planned to buy the city card that would cover many of the palaces and museums later in the week. In the 1600s much of Europe was involved in the Thirty Years War. This religious war and the following eight-year Swedish occupation bought severe damage to Olomouc. The baroque reconstruction that followed gave the city is grandiose appearance. In the Upper and Lower Squares in Olomouc there are six large baroque fountains and an outstanding 18th-century Holy Trinity Column. This column is a monument adorned with religious sculptures and actually has a small chapel within the bottom half.
The town hall, with its astronomical clock, used to be a merchant's house which surprised me. As we rode or drove around the city, from almost everywhere you could see the spires of St. Wenceslas' Gothic Cathedral which was built in 1831. The cathdral is beautiful with lovely carved Stations of the Cross hanging on the walls. Near the church was the Archbishop's Palace which we toured (in the rain). Some of the interior walls were over 2 metres thick. While they were doing some reconstruction on the palace they discovered a small chapel built inside one wall. How surprising.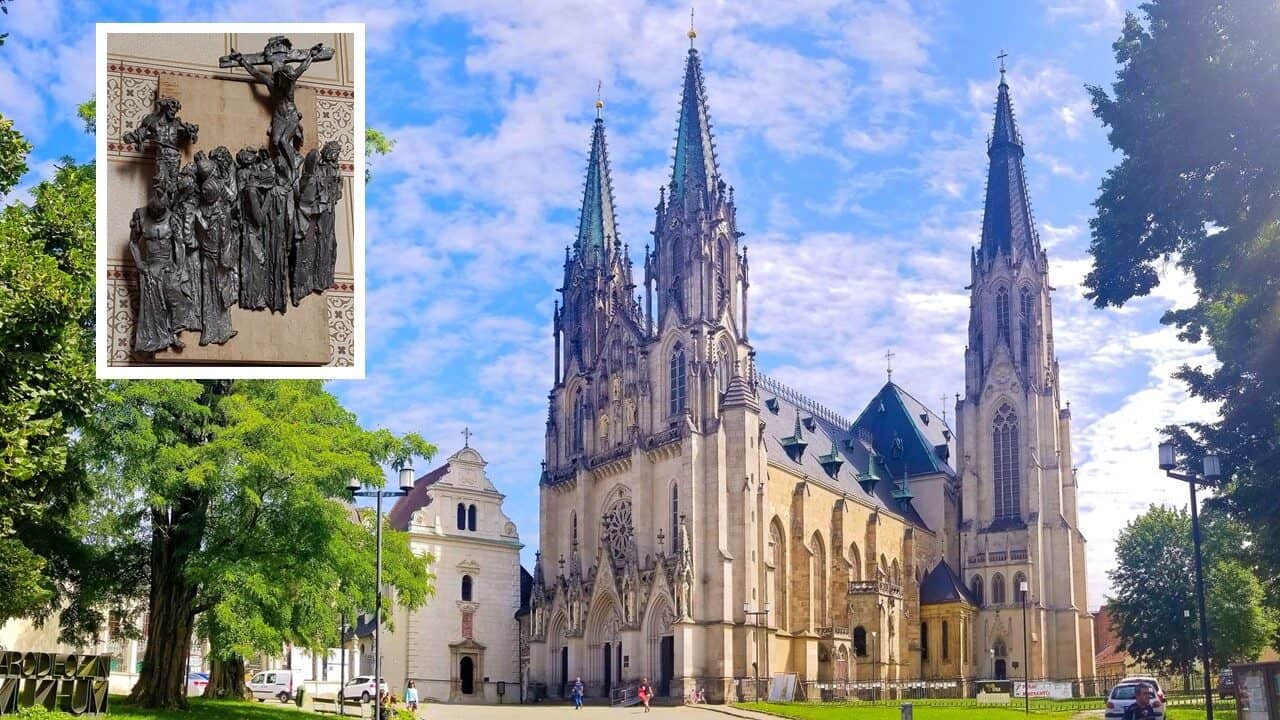 We visited a science centre for children where all the signs were in Czech. Luckily I had my mechanical engineering husband to explain to me what you were supposed to do at all the interactive demonstrations. They were quite good. All across Europe we often see signs where the large type at the top (i.e. the heading or the name) is in English and then there isn't another word of English on the sign.
One day we drove to a castle that was having a blacksmith competition and exhibition. It was the first time that we had see anything resembling a crowd of people this year. It actually felt strange to me. Another surprise has been grocery shopping as we change countries. Items that you would think could be found across borders will be in one country and not another. Mini ice cream bars that we discovered about two countries ago have just reappeared. I have started enjoying the occasional B-52 drink. This involves ½ ounce each of Kahlua, Baileys and Grand Marnier. Grand Marnier was almost impossible to find in Croatia but is in all the supermarkets in Czechia. Kahlua, or similar liqueur, is the opposite and we haven't found it anywhere in Czechia so far. Baileys seems to be everywhere.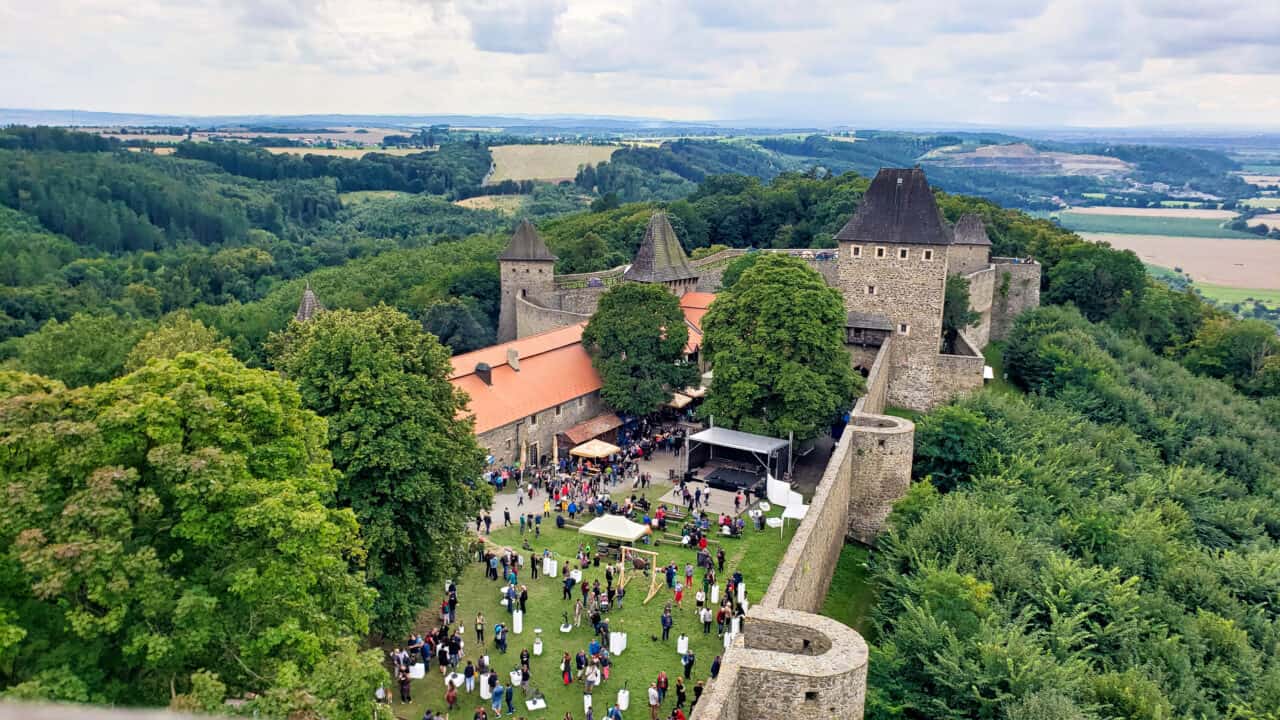 On one damp day we went exploring in the car. We told the GPS to avoid highways and came upon this very unexpected, very interesting and very large basilica. On another damp day we went BOBSLED riding. It was included on our city card or we would never have seen this ski area. I really wanted to try this. The downhill portion of the track was over one kilometre long. Mike wasn't planning on taking a ride as he doesn't like it when he doesn't have control. He changed his mind once he found out that the sled had brakes that he could control. Leaning into the curves also affected the speed and ride quite a bit. We had a great time. It started to rain just as Mike's ride ended. The track is closed down during rain, until everything dries out.
One day there were a couple of campers in the campground. They shot off fireworks in the late afternoon for their kids. They weren't normal fireworks that lit up the sky, they were streamers. I am sure that we have them at home but I have never seen them before. The three kids had a great time, standing under the streamers as they were coming down from the sky and playing in them afterwards.
The bad news is the spread of covid and the Delta variant in Europe.  Whereas in our last article I showed you that we were in the centre of an entire green area that is no longer true.  We had hoped to leave Czechia and visit Munich and much of Bavaria.  That area has turned red.  East of Czechia is still green but there is basically no green areas west of here.  Like last year, covid will dictate our route.  At the moment, Poland is one of the few places open for us to tour.  If we can get there, Romania is also still green.  We did want to eventually get to western Europe but that won't be happening anytime soon.  We also have to think about where we can leave our RV over the winter and pick it back up in the spring.  My immediate concern is seeing the major tourist areas in Czechia, namely Prague and Southern Bohemia.  It is the large cities that turn red first.  We are heading tomorrow to Czechia's second largest city Brno where we will probably spend at least one week.  Normally, we would then make a stop somewhere on the way to Prague.  If Prague is still green I am guessing that we may head straight there after Brno.  After spending a few weeks in the Prague area we thought that we might slowly drive south through that portion of Bohemia.  I am getting concerned that this whole area will change colour before we get there.  Here is a link to the map we use.  Czechia is outlined. Although we are double vaccinated, we don't plan on going into areas where covid is bad.  We will continue to take each week as it comes.