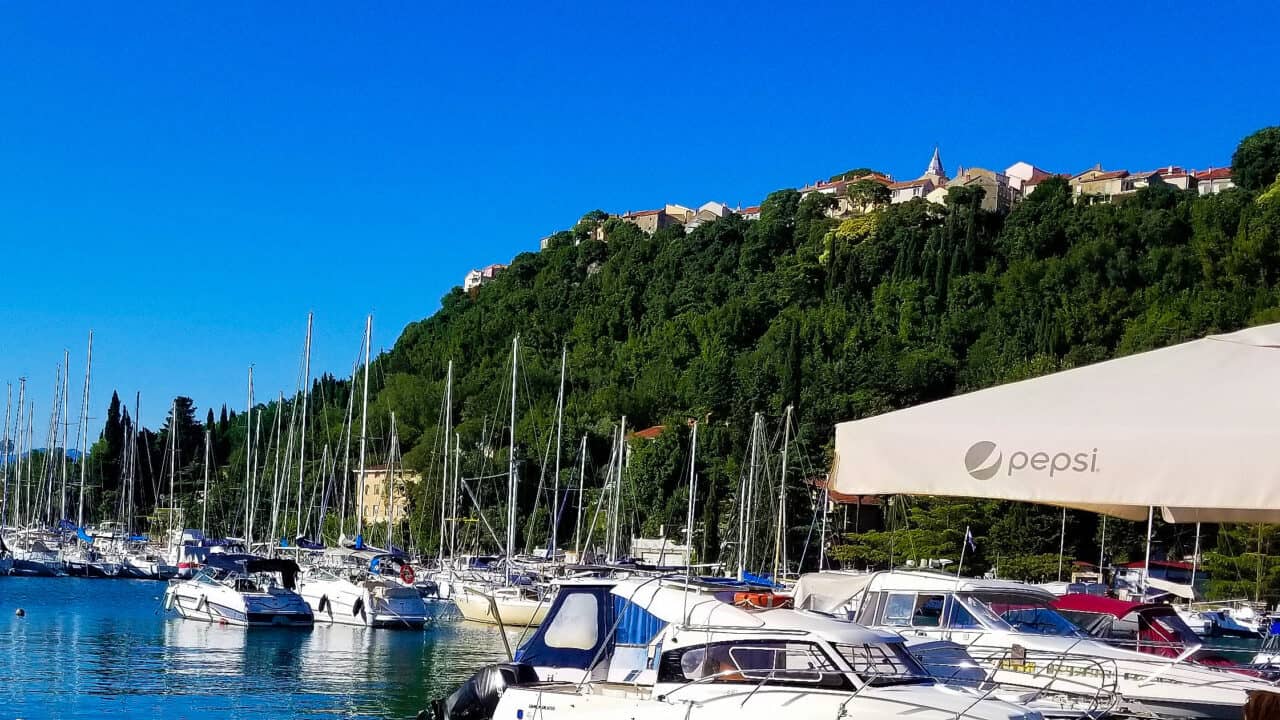 This is a quick update to let everyone know that Mike and I are back in Croatia in our RV.
Mike and I left Toronto at 11pm Wednesday night. The plane was absolutely jammed and the lineups at the airport were awful. Luckily, other than a lot of standing around we didn't have any problems leaving Canada like we did last year during covid. The worst lack of social distancing was when our full Boeing 787 landed and everyone got ready to disembark. The aisles were packed and the passengers were literally crushed together. We arrived in Croatia at 5pm Thursday. We showed our vaccination paperwork to immigration and got right through. That was a breeze. Hopefully all border crossings on this trip will be as easy. One of our two suitcases was the last one to come off the belt. Everyone else had left. We were a little concerned for a few minutes. After the airport we had a 3 hour drive to our RV and a lot of work that had to be done before we could sleep. It was about 11pm Thursday night before I got to bed. I had been up since 9am Tuesday at this point. I could hardly walk straight. We are actually staying behind Nautička Centar (a marine storage and service company). Nautička Centar was a great place to store our RV and car. Last March we had parked the RV next to a large boat storage warehouse where it would be protected from any high winds. When we arrived last night, everyone had gone home but Nautička turned their security system off and left the keys to our RV and car where we could access them. That said, we couldn't move the RV because it was boxed in by a boat, our own car with a flat tire and another camper, and we couldn't reach the electrical power pole to plug in! I had an AWFUL night in the heat. Mike turned on the generator a few times during the night so that we could charge the fridge as it tried to get down to temperature. We didn't run the generator long enough to cool down the bedroom. At just after 6 AM we finally decided to leave the generator on (it is right below the bed) and get cooler. Running the generator for hours is quite expensive on fuel. I am thinking that we won't be wild camping or dry camping this season when it is this hot during the night. Even with the generator noise I slept until 9:30 am. Three hours was the most I had slept since Tuesday night. I could go without sleep much easier years ago than I can now. In future, if it is going to be really late when we arrive at the RV then I think we will stay in a hotel for the night and drive to the RV the next morning. Mike doesn't want to do that because we always come back with a lot of luggage. We go home with no luggage and come back with all sorts of stuff. There is a lot that you can't easily buy for our RV in Europe so we pick up many different items (filters, spare parts etc.) while we are home. I also bring over half a suitcase filled with my meal replacement shakes that I drink a lot.
I have told Mike that if I get everything unpacked and put away and our rental car returned today, followed by dinner out, then I will be doing well. Croatia just opened up indoor dining last week. Mike drove us to the Island of Krk after we landed yesterday when we hadn't seen a bed in over 30 hours. He then worked on the RV until 11pm and got up this morning and has done all sorts of things. He has been to a car repair place to fix the flat tire). He also has been to a Home Depot equivalent (Bauhaus), out grocery shopping, and visted several other stores for supplies so far today. I am writing this sitting in my recliner in the RV while Mike is still out in the car. He obviously has more energy than I do at the moment.
We were originally going to leave Nautička on Friday morning but I wasn't ready so Mike asked them if we could stay until Saturday. He then went back and asked if we could get electricity somehow. Remember all we have paid for so far is winter storage, none of this extra "camping" stuff. I now want to stay here until Monday. Mike isn't at all happy about asking Nautička if we can change our plans yet again. I am going to try and find someone Saturday morning. Hopefully they will be around. There is a small marine store on the premises so they should be able to contact someone in authority. We are heading to Plitvice Lakes National Park next. It is a big tourist attraction in normal years and I would rather not arrive on a summer weekend. Also, we are quite close to two cities Opatija and Rijeka. We have visited them both in low season. I would like to spend one summer day in both of them just to see if things are different on a weekend in the summer. When Mike and I were in Riga in Latvia we happened to visit it in August and again in September. There was a huge difference in the live entertainment all around the city during the summer months. I would like to take the chance to see if that is true here as well. We don't spend a lot of time in the summer in big cities. We will probably stay in Croatia for a week or so and then head into Austria if covid agrees.