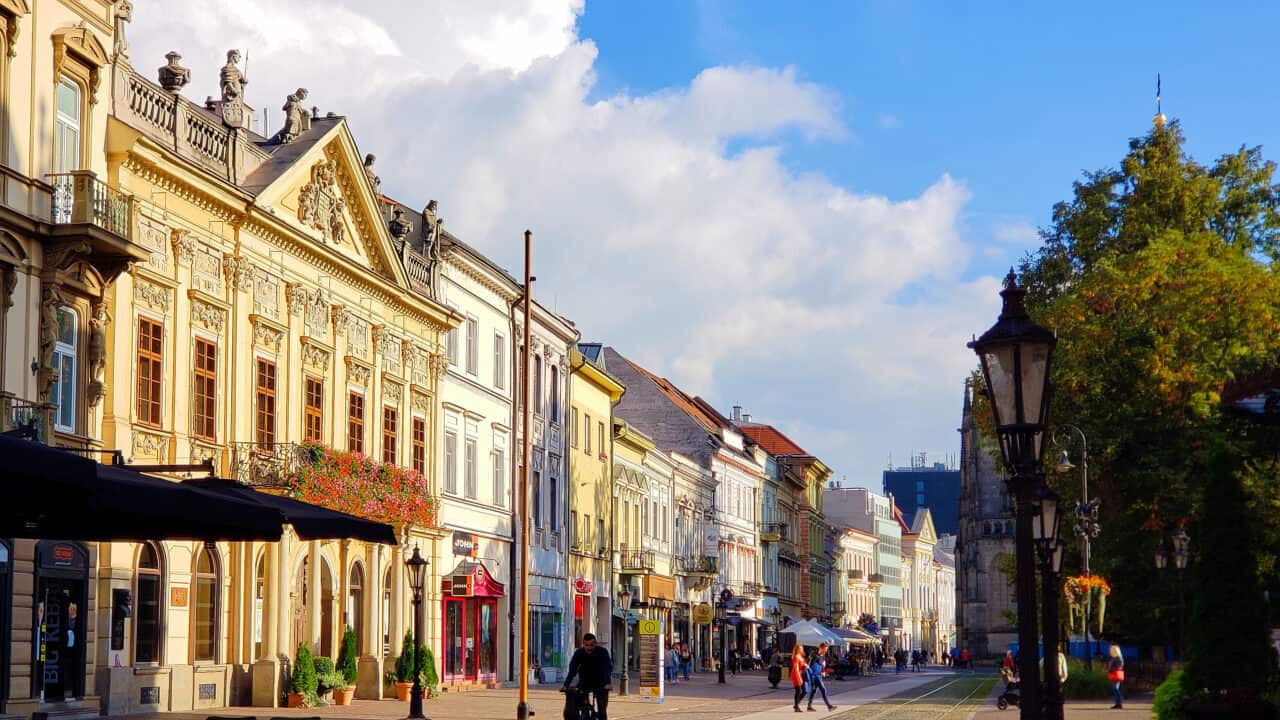 As you probably know, Mike and I had anticipated being in Czechia (Czech Republic) now and not still in Slovakia. It turns out that Prague has become a red Covid zone and the country is having a coronavirus spike so we decided to bypass Czechia. We are going to see a little more of Slovakia, then back to southern Austria and then we expect to return to Slovenia. We are currently in the southeast region of Slovakia in a town called Košice. Košice has one of the loveliest historic town centres that we have seen. Our campsite is 4 ½ km or about 3 miles from the historic centre of town which is a very easy ebike ride.
The weather hasn't been the greatest. We actually spent a full day indoors which isn't Mike's favourite thing to do. He has been going through withdrawal recently since the bikes haven't been unfolded in over two weeks. There is supposed to be a proper bike path into the historic town from our campsite. We think that we will finally get to try it tomorrow, Saturday. You will get an update below. I am starting this post on Friday night but will add more to it as the week progresses. We have actually been here for five wet days so far.
On our first full day in this area, we took the car into Košice. I had found an audio guide of the town on the internet. It had two "walks" that we could follow, one through the centre of town and one around the old town walls. We listened to, and followed the path in the historic centre and will follow the one around the town walls later. We saw a lovely singing fountain whose spray of water synchronously responds to both its own continuous music and to a carillon of 22 church bells that ring every hour. It might not be the Bellagio in Las Vegas, but it was very nice to sit on a park benches and just relax in front of the fountain in the historic centre of Košice.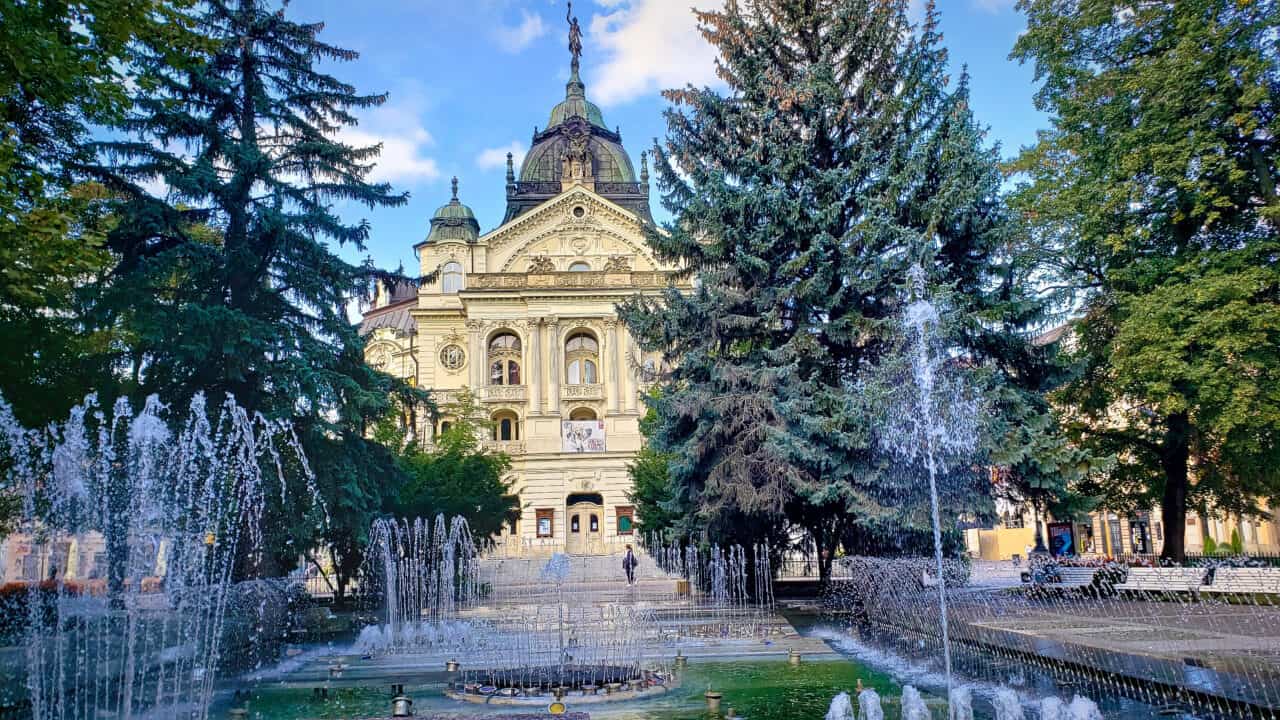 Košice has about 250,000 inhabitants and is home to three universities with 21,000 students. At the south end of town is a shopping mall just outside the original town gates. It is a great first view when you can see the glass of the modern day shopping mall and just past it the spires of the various old churches. The first main church that you come to is St. Peter's. It took a hundred years to build in the 14th century and it was worth it. I think it is absolutely gorgeous. Right next to it is the much older St. Michael's chapel. Košice's coat of arms is said to be the oldest coat of arms in Europe. It has an angel holding the shield which contains ½ of an eagle which looks a little strange.
The weather improved towards the end of the week and we cycled back into Košice a few times. On Sunday we arrived in town near the end of the Košice Marathon. It is the oldest marathon in Europe and the second oldest in the world after the Boston Marathon. It completely took over the historic centre of the town so we did the city wall audio tour and got back to the historic centre later in the afternoon. The race often has 10,000 competitors. I have no idea how many it had this year with the coronavirus but I am sure it wasn't that many. The streets were cleaned up far too fast to have had that many people around. The next night, which was our last evening in the area, we cycled into town for dinner in an Irish Pub and to see what the buildings looked like lit up after dark. The singing fountain with its coloured lights and the cathedral were both lit really nicely. The rest of the area had pretty street lights but nothing special.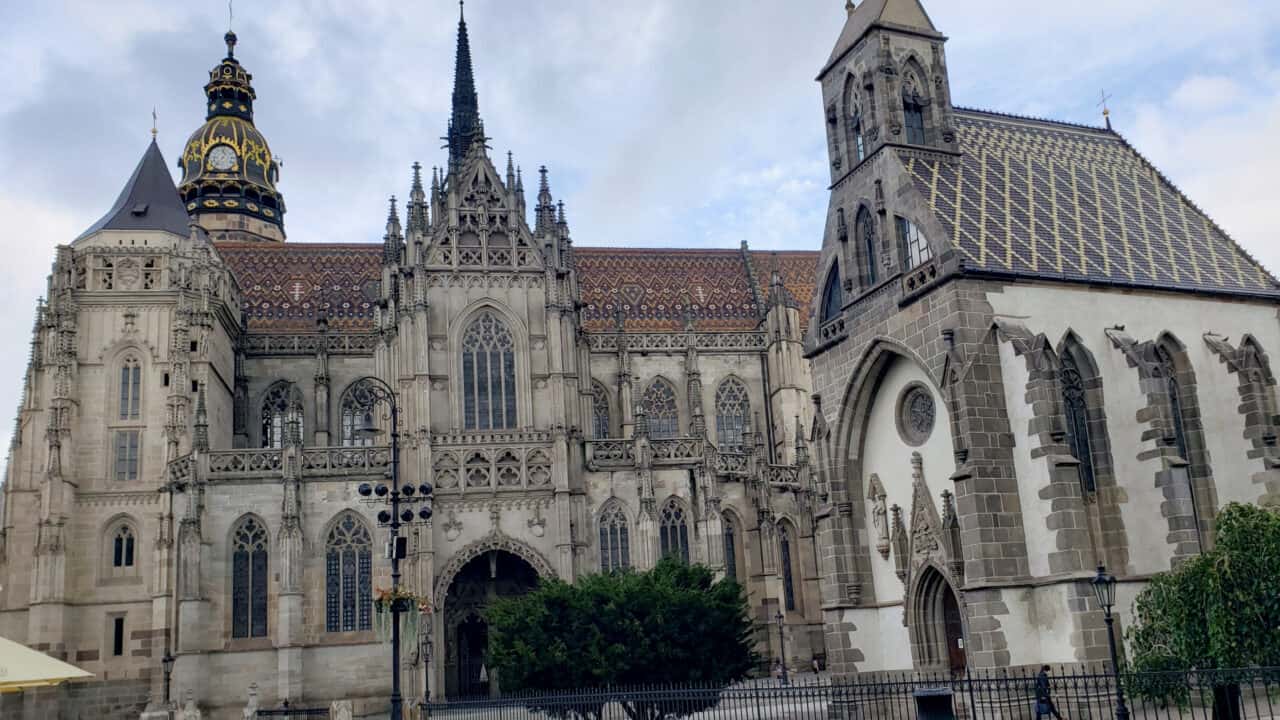 As I said, the historic centre of Košice looks great. The streets surrounding the pedestrian area, but still inside the old walls don't look as nice. Outside the walls is a typical town with some lovely old buildings, new malls and a little too much graffiti.
There are a lot of caves around Košice that are open to the public. Mike and I picked two that looked a little different to tour while we were here. We thought that would be a good thing to do in the rain. One cave was one of the largest ice caves in the world. The other was one of only three aragonite caves discovered in the world so far. We decided to go and see the aragonite cave on October 1. That morning I looked up some information about the cave online and found out that all the caves were being closed on October 2 because of new coronavirus restrictions. Mike and I decided that if it wasn't safe to visit the caves on Oct 2 then probably visiting them on Oct 1 wasn't the greatest idea. As always, our plans are flexible. Instead of going to the caves we drove about 40 minutes to the city of Presov. We thought that if it rained too hard we could always skip the historic pedestrian area and find an indoor mall for lunch.
Most of the people that we saw on the streets and in the cafés in Presov were quite young. We correctly deduced that this must be another university town. We saw more people outside wearing masks than we had ever seen before. After reading about the caves closing and then seeing all these masks outdoors, we decided that it was better to be safe than sorry and we wore our masks outdoors as well. I should mention that most of the countries in Central Europe, include Czechia which we avoided, might have increasing Covid cases but their levels are much lower than ours in Canada and there is no comparison with the US. Even the red zones are probably safer than our green ones at home.
I couldn't find an audio guide of Presov in English which was too bad. We did find some information in Slovak. We cut and pasted it into Google Translate and then had Google read it to us. It was actually a much simpler process than that sounds. We did this while sitting in a café having the most delicious meringues with chocolate mousse in the centre that I have ever had. They were nothing like the overly sugary ones that we buy in Canada. These deserts were so good that we bought two more to indulge in that evening.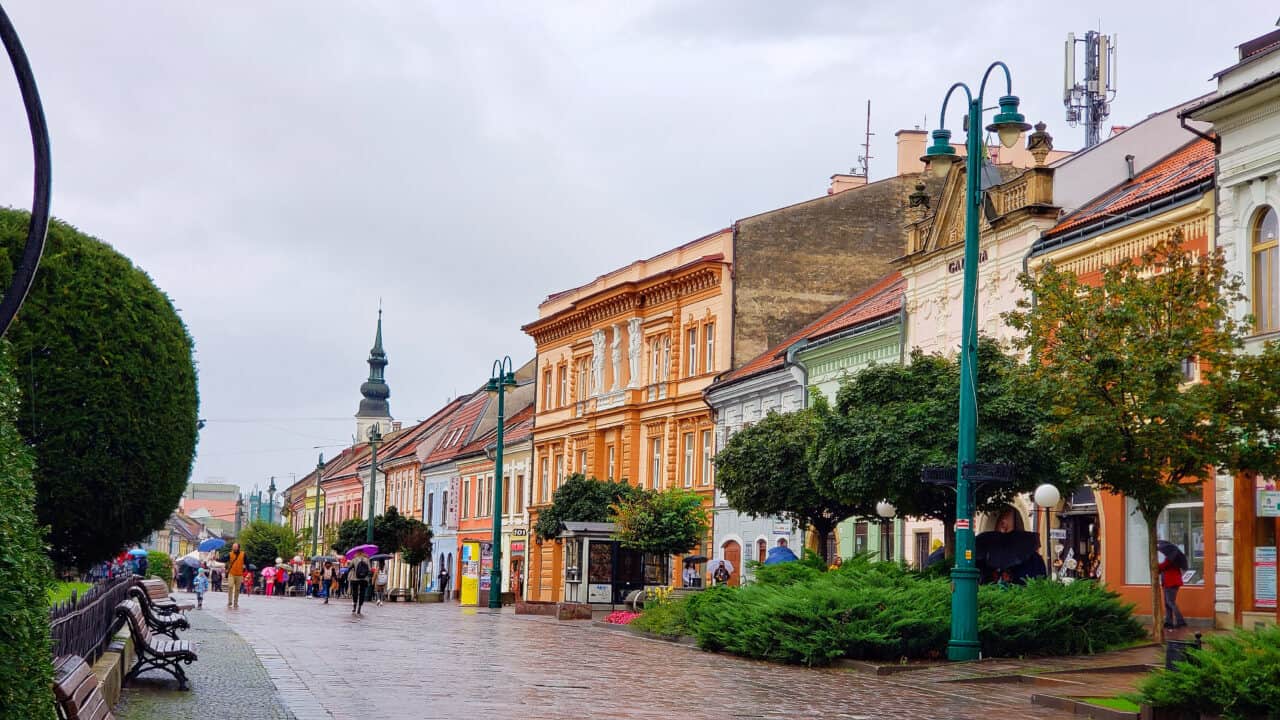 I was looking at some new RVs on the web. No, I wasn't looking to buy, I was just interested in what is out there and what is changing and I was very bored with Trump. NONE of the RVs have the views while sitting and watching TV that Mike and I have. Many of them now have a TV that rises from below and then basically covers the main window. A lot have a nice window behind the main seating area which doesn't help when you are seated. Mike and I spend a lot of time with the television turned on. Our pictures are always on the screen if we aren't actually watching something. Our music is controlled from the TV. We can, but don't, play games on the TV. All in all, it is the central point of our living area. TVs where you have to twist your neck to watch are not an option for me. It makes me appreciate our 6 year old RV even more. We still have that one window that is shattered with the pieces held in place by layers of packing tape. The new window has arrived from the US and is waiting for us in the campground in Vienna. The campground manager even paid the duties for us on delivery, trusting that we would pay him back when we arrive in a few weeks to pick it up. How nice. People talk about how small our living space is in the RV, this is only true until you lose something!

We have had a few issues in Slovakia with campground rates changing from what was published or committed to. The last campground we stayed for 9 nights but were charged for 10 because the original receptionist made an error recording the date. The previous one, we were charged extra because of our size. This was not posted and not mentioned when we checked in. This morning, our current campground wanted to charge us more than they had told us at check-in. Luckily, this time they found a piece of paper confirming the rate we had been given. This is not at all a money issue as the campgrounds are quite inexpensive, it just leaves a bit of a bad impression. Just as an aside, we have been in three countries so far this year, for a total of 102 nights. Our camping has averaged between $25 and $30 Cdn per night. Remember that we don't stay in the huge campgrounds that can handle thousands of people. We don't need or want the extras. We are happy with electricity, water and somewhere to dump the sewage. A great view is always a nice extra.
I wanted to mention a vending machine we saw in a mall in Košice. It sold N95 masks. They cost about $11 Cdn for two masks. This vending machine didn't take cash or credit cards. You had to have an app on your phone. If it was like the parking apps, you also needed a local bank which eliminates Mike and I.
Driving around the countryside we saw our first few poor communities. The people living in them appeared to have very dark and swarthy complexions which may or may not have been significant. We have also started to see a little begging in towns. This isn't something we have seen before. In addition, while driving around we see all sorts of castles, mainly ruins, on the top of hills and of course, many interesting churches. Mike particularly liked this one with all the gold leaf. One restaurant we stopped in had a 10 foot long aquarium. When you walked up to the aquarium all the fish swam towards you. As you moved, the fish moved with you. Mike was quite fascinated.
I am finishing this article off in the RV as we leave Košice and head for Zvolen, a town right in the centre of Slovakia. Obviously our plans to tour the south of Slovakia have had a change. This was due to a lot of factors, including roads, open campgrounds, distances etc. The drive today is almost three hours which is probably the longest we have done this year. Zvolen is half way between Košice and our RV window in Vienna that we dearly want. We don't know much about the area but we will see what is around. I should mention that the roads and the few bike paths in Slovakia are not exactly smooth. That has made it really difficult to type this article but I would like it almost complete before we arrive at our last stop in Slovakia. Bye for now.