A Taste of Rural Slovakia
Wow, what a great start to our time in rural Slovakia.  As we drove into the campground, the campers were all out to watch us arrive.  Some of them came around before we had even plugged in to look and say hi – in Slovak!  The campground adjoins a small lake and a park where we could see people and a few tents.  We walked down, hoping to get lunch as it was 3:30 pm (15:30) and Mike was starving.  We were given a great welcome by a man who seemed to be running things.  He spoke a little English, welcomed us and announced the arrival of Canadians over his loudspeaker.  He visited Toronto 4 years ago and was very friendly.  He told us that the food we could see being prepared wouldn't be served until 6 pm.  Most of the people there didn't have much (any) English but we were greeted with big smiles and lots of gestures. 
It was a lovely summers day.  It looked like there were about six groups preparing different foods, possibly in a competition.  There was Slovak Goulash being made by one group and a reindeer soup or stew made by another group. This group gave us a taste of the soup before it was finished cooking and it was delicious. We walked around for a bit and then went back to the RV for Mike to have a snack while we waited for 6 pm. We could hear the live music playing in our RV and it was great. At one point they played "Sloop John B" and sang it in Slovak. That was interesting. We wandered back down a couple of minutes after 6 pm and saw no food anywhere. There was a lot of drinking going on at the picnic tables but no food in sight. The people with the reindeer stew had all their cauldrons loaded on the back of a pickup truck, but they were now empty. The Slovak goulash team stood beside an empty cauldron and the candy store truck was completely closed up. We don't know what happened but we were quite disappointed and very hungry. Luckily there was a proper restaurant beside the park.  The live music was great, a combination of 50s, country and some ballads.  We got to listen to it all night while we were playing cards with friends in Canada. We spent a week camping next to this lake and never once did we go down and sit on the chairs under the umbrellas and just watch the world go by.  That just isn't Mike or me.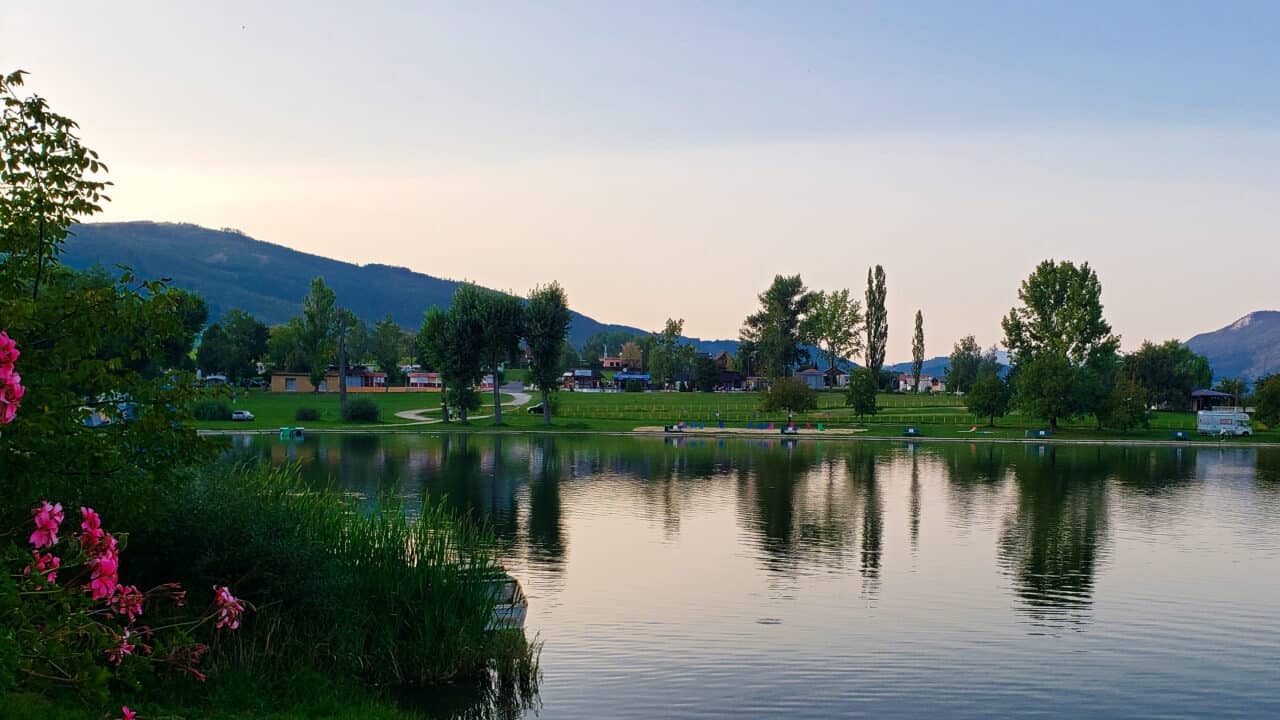 The next morning we had a visitor, who spoke no English, but was very friendly.  Stefan arrived before we had made the bed and before I had had my first coffee. That wasn't a good start.  He invited us to his cottage for coffee.  I wasn't particularly keen on going but what do you say. We said we would try later.  As it turned out Mike was walking by his cottage that evening and did end up going in and having a coffee.  A few days later Stefan visited us again saying that he had been looking for us for two days but we hadn't been around.  All this through Google Translate.  This time he brought us a gift and another invite for drinks and dinner.  This didn't happen, but Mike did take him some Canadian maple syrup and Canadian souvenirs on the morning we left.
Day 2 improved dramatically after having such an early visitor. Mike and I decided to just bike around the local area and see what the villages here look like. We were riding past a park when I saw a group of people in traditional dress playing music and singing. The park had a small fence and gate, presumably for the children, but I didn't want to go through it in case this was a private celebration of some kind. We stood just outside where there was a table with some desserts on it. A gentleman leaned over the fence and offered me a beer, which was easy to understand, even without a common language. I politely refused and ended up with a very large orange juice.  A couple of ladies, who didn't speak a word of English, came out to offer us some of the snacks on the table. As soon as you tried one snack, they wanted you to try another. I think that the older lady was trying to tell us to pick up a lot of desserts and put them in a napkin and take them with us. Given that I wasn't really positive that was what her sign language meant, we politely refused. The music was fun to listen to and seeing everyone in traditional attire was nice. We have no idea what the purpose of this gathering was but we were really pleased that we had come upon it.
Lunchtime just proved what we already knew, food is always cheaper in the rural areas. A "menu" in these countries is an inexpensive daily combo special. Mike and I share nearly all our restaurant meals. Originally we didn't feel right sharing the daily special because we weren't spending enough money, but that disappeared once we saw the quantities. We paid 4.90 € or $7.50 Cdn for soup and schnitzel and, after sharing, we still had leftovers. I will admit, that was one of our less expensive meals.

The next day we cycled to a nearby town.  On the way there, Mike NOT ME, had a flat tire.  We don't know what is happening but Mike has bought a few items to try and prevent this in future.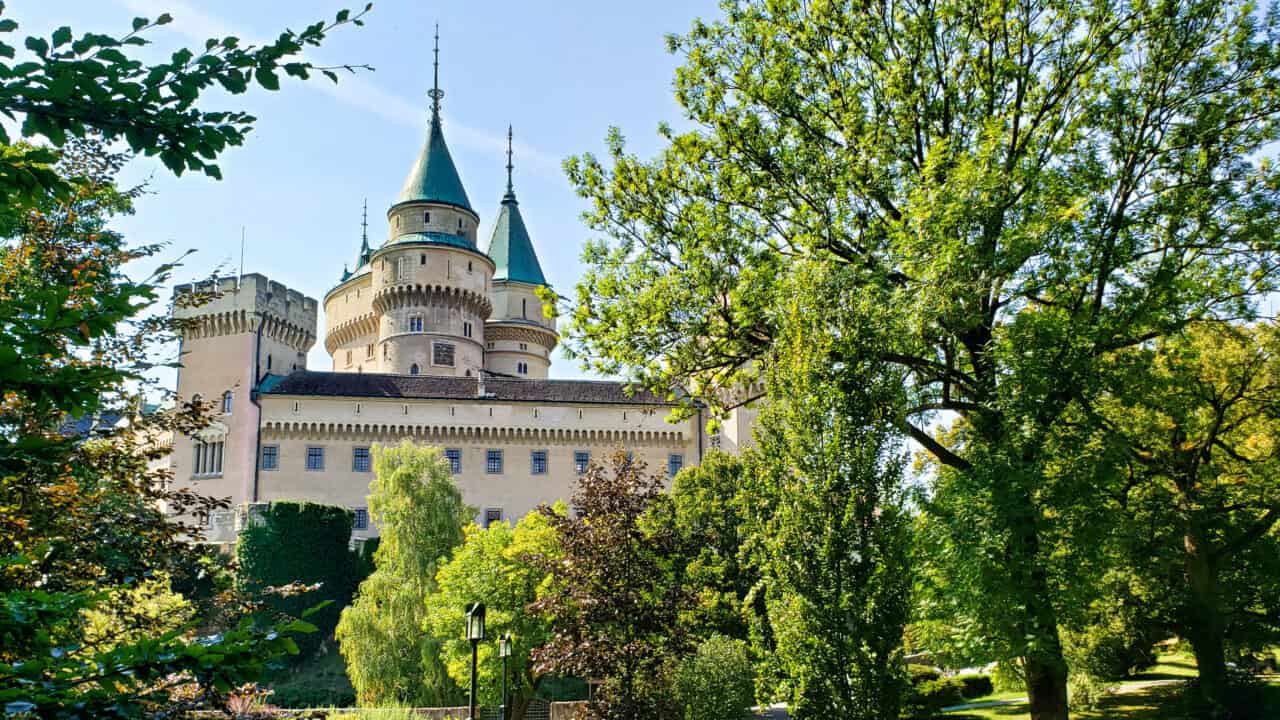 I always thought that Walt Disney could have based his Magic Castle on Balmoral in Scotland.  This castle overlooking Bojnice would have been a close second.  It is one of the best preserved medieval castles in all of Europe.  It is lovely looking.  Others must agree with me since it is often used by filmmakers.  We toured the castle and watched a show with falcons and other hunting birds.  It was all in Slovak, but that didn't matter.  We spent some time in Bojnice, the nice little touristy town at the foot of the castle and rode around the grounds of a large spa built next to the castle before we road back home. I had picked the route and wanted to go on a different path returning home.  That was a mistake given we were in a mountainous area with very few roads and no bike paths.  We did end up on some high grassy plateaus with gorgeous vistas for miles around which was very nice.  We also had to walk our bikes up and down steep mountain slopes and across a couple of small streams for about 4 km (2 ½ miles) which was not so nice.  The bumpy, muddy tracks filled with tree roots were way too steep and hazardous for us to ride on.  Just to add to everything, the temperature was 30°C or 86°F. 
We had arrived in this area on Saturday.  On Monday I sent an email to Vienna asking about the status of my new PC.  I found out that it had actually arrived before we left Bratislava.  This was really disappointing as Bratislava is less than an hour from Vienna whereas our current campground was over three hours each way.  We made the trek the next day.  So, I did get my PC but it wasn't a very pleasant experience.  They didn't have the tax rebate forms that they needed to fill out for me.  Before we ever ordered the PC I had told them that I had to have these forms filled out by them.  I had reminded them that I needed the forms when I said we would drive almost 7 hours round trip to pick up the laptop.  We ended up driving around Vienna for an hour, in rush hour, in order to get blank forms and get back to the dealer who had to fill them in at the time of the sale, before the dealer closed.  We made it with about 8 minutes to spare.  Anyway, suffice to say that I have the computer, it is missing a few features that I expected but the dealer wasn't going to do anything about that, and at least I have a PC that works.  It will take me a long time to transfer all my apps over.  I am already having problems with moving the license of some of the apps that I paid for a few years ago.
One day, a couple, both in their seventies, knocked on our door.  Mike said that the husband could speak English quite well but his wife, who was "talking" with me had almost no English.  The husband was wearing what looked like a brand new baseball cap with the word "Canada" emblazoned above the brim.  They showed us pictures of them with her brother, who lives in Oakville near Mike and me, on a boat in Lake Ontario with the CN tower in the background.  Mike and I have almost the identical photo taken on our boat.  They also had photos of time spent with her brother at his cottage in the Muskokas. It took a while to figure out the word Muskoka based on pronunciation but we managed.
On our last day in this area, we were driving to visit yet another small rural town ?.  All the traffic was being stopped and made to move off to the side of the road.  It turns out that the 3rd stage of Slovakia's cycling "Tour of Slovakia" was due to come down this road shortly.  We met a couple of men, while we were trying to find out what was happening, who happened to speak a little English.  One of them had visitors with him from Mexico which was interesting.  That day's race included about 126 competitors and lots of support vehicles carrying spare bikes, tires etc.  It looked like a few of the riders were intermingled with the support vehicles and were slipstreaming, but that is unlikely.  Mike disagrees with me, but I can't believe that you could be allowed to slipstream using a car in a cycling race. The 3rd stage was about 181 km long and included going up and down 3 mountains.  It is the 64th year for the Tour of Slovakia.
When we got to enter the well-preserved medieval town of Kremnica, we were immediately met with very impressive huge stone walls which are part of the original castle complex built in the 13th through 15 centuries.
The castle represents a unique example of a very well preserved fortification system in Central Europe. In the 14th century, it developed into a multifunctional complex of buildings and became the centre of local administration, religious life, and defense.  These buildings now house the oldest still-working mint in the world which was founded in 1328.  The mint started producing golden florins and later the famous "Kremnica ducats", which were used as an international means of payment as a result of their consistently high purity of gold. It was the most important mint, and later the only one, in the Kingdom of Hungary at that time. Today it is the only mint in Slovakia.  Thanks to the cycling race and lunch we arrived 5 minutes too late for the last tour of the castle and/or the mint.
While we were walking around we saw a new machine being delivered to the mint. Construction workers were knocking a hole in the castle complex walls because the doors nearby weren't big enough to get the new machine in.

Next we head into the mountain area known as the "High Tatras".  Everyone who has given us suggestions on where to visit in Slovakia have all mentioned that we shouldn't miss the High Tatras.  We expect to enjoy ourselves.