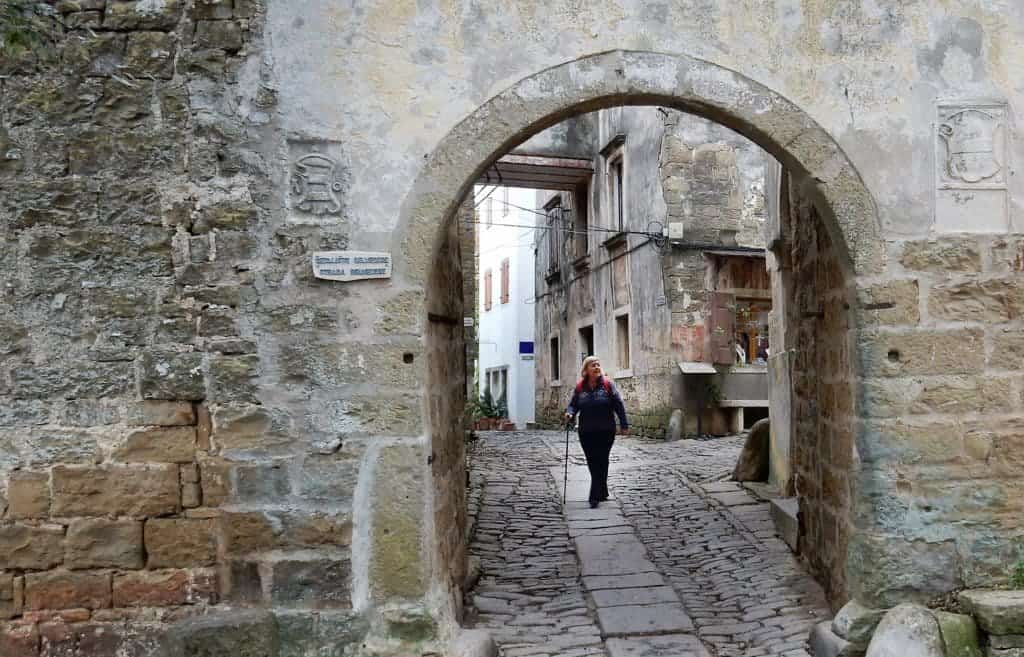 Yesterday Mike and I headed to Pula, a town about one hour south of us. I had bought another app for my phone and used it to put together a historic walk through the town. This is the town that we stopped in briefly a week or two ago with the Roman Amphitheatre that I posted pictures of. I wanted to see more of the town and inside the Amphitheatre on this visit. We decided to take some of the smaller roads that we hadn't been on before. On one road, in the absolute middle of nowhere, we came upon the ruins of a large castle complex. We debated whether or not we were even going to get out of the car to have a closer look. We did, and in the end we spent quite a long time exploring these ruins. They were extensive and impressive. Continuing on, we started looking for an open restaurant for lunch. That is so much harder than you would believe. As we have previously mentioned, very few places in town actually sell food, they sell coffee and drinks. We did eventually find a restaurant and stopped for lunch. In many of the restaurants I have ordered from the children's menu and they haven't had any problem with that. They aren't so considerate in Canada. Luckily over lunch I tried to show Mike the new app with the historic walk that I had created on his phone, only to find that he had deleted it. It took almost an hour in the restaurant to get his phone reloaded and setup.
By this point in time it was getting late in the afternoon (we didn't start very early ?) and it was a very overcast day. We figured that meant that we probably only had one or one and half hours of daylight left. Since we were still over 30 minutes from Pula, we decided to change our plans and head back towards our RV on even smaller roads, through little villages and see if we discovered anything else like our castle in ruins. We would come back to Pula another day. It is very nice to be able to be so flexible and to have the time so that you don't need to cram things into long days.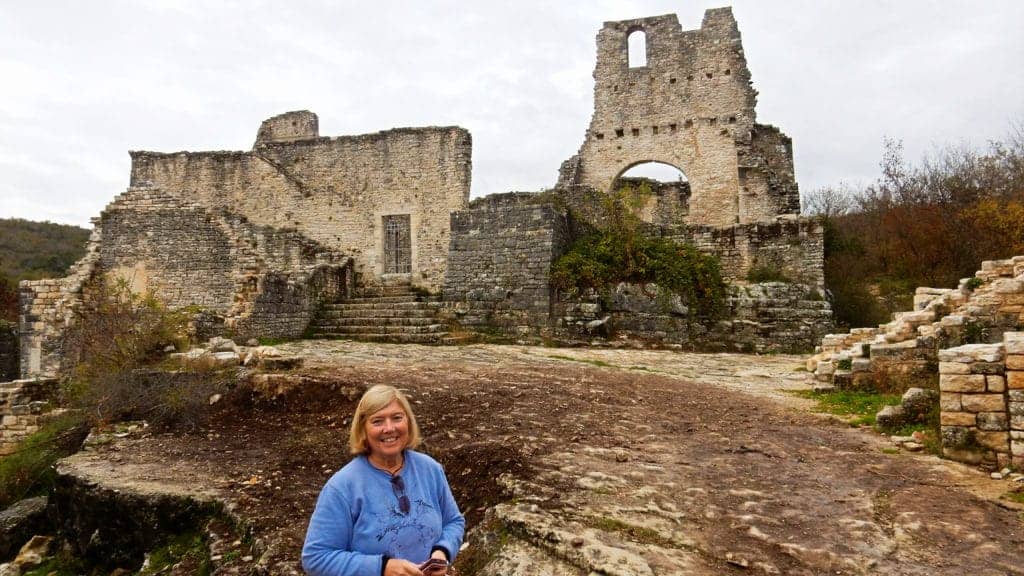 This is the first country that I remember driving around in where you often drive along the ridges on the top of the hills. As you drive along these ridges there are drop-offs on both sides for long distances. It makes for fantastic scenery.
One day we drove to Učka Nature Park. I had planned a few short two-kilometre walks in the Park. We drove to the highest point in Istria, about 1,000 feet below the top of Mount Učka. When we left the car, we found out that the temperature was much lower than expected. We weren't dressed for the cold. It was a little damp, quite cold and the hike looked to be heading upwards a lot. At this point we decided to take pictures from the viewpoint where we were and give up on the hike. I regretted our choice afterwards.
A few days ago, we took a tour of Brijuni National Park. It is a group of islands where Tito had his summer home and lived for almost six months a year. Tito was greatly admired both during his lifetime and still today by Croatians. I am sure that the very little that we learned about this period in school wasn't very positive. Our schooling in North America has a very definite, and at times inaccurate, bias. The Non-Aligned Movement, an official organization of countries that didn't want to be aligned with any of the super powers, was started in Yugoslavia in 1961. It was created by Yugoslavia's President Tito, India's Prime Minister Nehru and Egypt's President Nasser. This organization is still in effect today with 125 member countries and 24 observer countries. Having joined the EU and NATO, Croatia is not among them.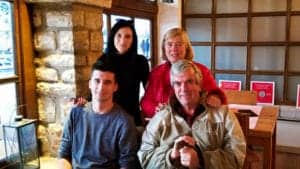 Once we got off the boat in Brijuni National Park, the tourists were split into two groups, those who spoke English and those who spoke Croatian. It looked for a moment like we were going to have a private tour guide when a second couple joined us. This couple was actually Croatian, but they also spoke some English and preferred our very small group to the much larger Croatian tour group. It was great for us because we spent much of the day asking this couple questions. After the tour we stayed together for a meal in town. He is in IT and she is a hairdresser. When Mike and I return to Canada, this young lady will be leaving to join a cruise company for 9 months. She will work as a hairdresser on different boats. She has been told that she will have time free in the various ports. She has no idea which boats or what routes she will be assigned to. Her boyfriend told us that he thought the best thing about Croatia was the outdoor nature i.e. the mountains, rivers, coastline, islands etc. He said that Yugoslavia was a nice country but filled with stubborn people, and the break-up of the country didn't change that at all. Interestingly they both thought that all their politicians were very corrupt, and they were quite unhappy about it. It is hard to tell from one conversation, but it sounded like Croatia is a lot less socialistic than the Scandinavian countries we were in last year. It sounded similar to, or possibly with even fewer social programs than Canada.
While we were touring Brijuni we saw an olive tree that was over 1,600 years old and still producing olives. Somewhere else here is an olive tree over 2,000 years old, biblical times. This sounds almost impossible.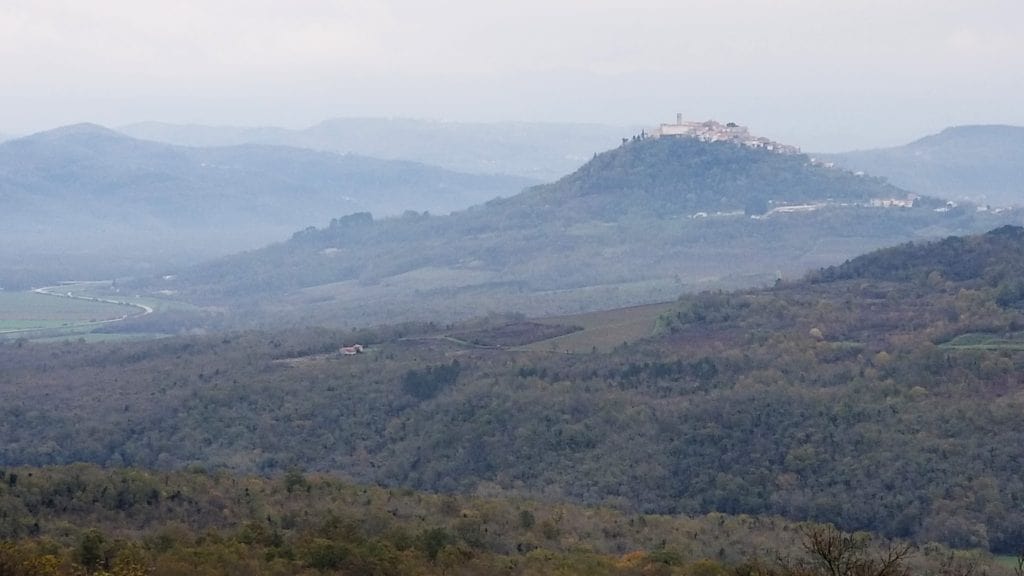 Driving in this country is made much more "interesting" by all the winding roads and the cars that pass on blind corners. They just do not know how to build straight roads here ?. We had an interesting meal in a restaurant. We ordered soup, wienerschnitzel (chicken) and a side order of vegetables. We planned on sharing all of it. The waiter took our order and left. He came back a few minutes later and told us that wienerschnitzel was very common and maybe we should try their local speciality, deer and wild boar stew with dumplings. We said that was fine. Two minutes later the waiter was back to recommend that we order the fresh wild mushrooms that they had. We said OK and switched our veggies for the mushrooms. It was a great local meal and the mushrooms were outstanding, but it was certainly different from what we originally ordered. The dumplings were smaller than potato puffs, quite different. We asked if there were any restriction on hunting. We were told there were restrictions on hunting deer but not on the wild boar as there were far too many in the area. The wild boar eat everything including the grape vines, which is a problem since wineries are a big industry over here.
One of the things that has not impressed us so far in this country are its "sculpture parks". I think that Henry Moore might have been influenced by them!
Two or three restaurants have offered us a free drink (schnapps, cappuccino, liqueurs) when we ask for the bill. The first time we saw this I was pleased to get a free cappuccino. We returned to the same restaurant a day or two later. I ordered a cappuccino after my meal. I thought that they might give it to me for no charge. They didn't. What they did do, was wait until we said we were finished and wanted the bill and then offered us the drink for no charge. They would have given me a second cappuccino, but I was paying for the one that I had ordered.
An interesting side note about Croatia is how many movies have been filmed around this country. These films have been shot in both the medieval hilltop towns and the seaside areas. We just walked around a small town where Kelly's Heroes was filmed. That was interesting because it was filmed in 1969 when this area was communist and led by Tito. The town has quite a few medieval buildings still standing. Near Zagreb was the old town where Fiddler on the Roof was filmed two years later. That was a show that I loved. Over this winter Mike and I are going to give Game of Thrones a try. It was filmed in Dubrovnik, Croatia which we will be visiting next year. Apparently, it has given Dubrovnik quite the tourism boost. The newest James Bond film is also being shot in Dubrovnik. Movies shot in Croatia include Mamma Mia 2, Star Wars, and Robin Hood among others.