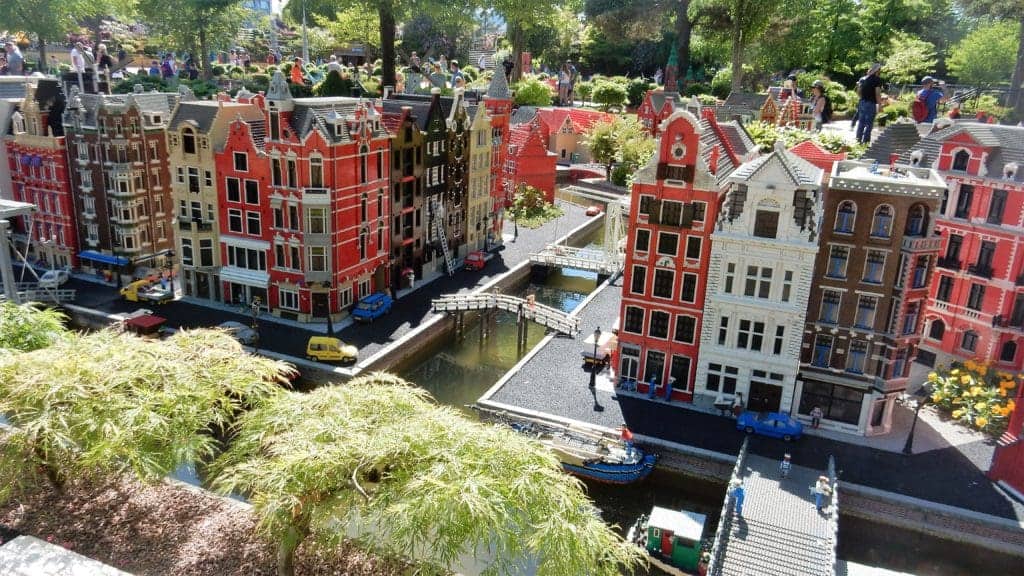 We have visited various Danish attractions in the last few days.  We spent some time in Ribe which is Denmark's oldest town.  It is still off-season here, as it is at home, and everything is very sleepy.  The pedestrian malls in towns close very early and if it is a Sunday they are deserted.  Eating out is very expensive and will apparently get more so in Norway.  At a McDonalds Mike ordered a bacon, cheeseburger about the size of a quarter pounder or Big Mac.  The burger without fries or anything else cost about $14 Canadian.  We are trying not to look at the prices in restaurants but that is very difficult to do.  Oh well, it is all part of the adventure and new experiences.  We haven't been able to barbecue yet as we have a different propane adapter on our barbecue than the Europeans use and we haven't found an adapter.  I think we should buy another small barbecue but Mike isn't ready to do that yet since he has read that the adapter does exist somewhere.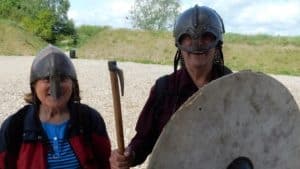 Near Ribe was a Viking Centre that Mike and I biked to.  It is very well set up and has a great activity area for kids.  There was a sign posted where the falconer trains his birds that said that it is forbidden to keep Danish bird species in captivity and therefore the Ribe Viking Centre only displays foreign birds of prey.  Am I the only one that finds this strange?  Another sign that made me laugh was a shoe store called "Tops". Shouldn't that be "Bottoms"?  I had forgotten that much of Europe allows dogs in restaurants which is not allowed in North Americans.  We saw that a lot in Germany and the Netherlands.
Many of the houses here in Denmark have flagpoles.  I guess they use them for special event days.  You will see a lot of skinny, long pennants flying.  The pennant has a collapsed version of the Danish flag on it.  Denmark is very bicycle oriented, as is all of Northern Europe.  I am still not used to see tiny children biking more confidently than Mike and I down the road.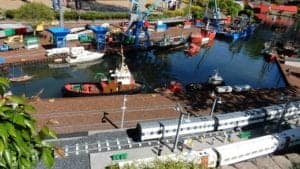 Legoland is a big attraction here.  The day we visited was the best weather we have had so far.  One area contains displays of different towns, airports, boats, harbours, locks and to scale models of world famous buildings and structures.  The display was actually similar to the miniature train display in Hamburg except that everything was built out of Lego blocks.  In both cases the term miniature is relative and doesn't mean really small.
We had another Danish couple over for drinks last night.  They were just great.  They offered us access to the internet via their cell phone data, how nice.  We heard again, very definitively, that they don't mind their taxes at all as long as they are used appropriately for the benefit of all and as a safety net for those who need it.  Tuition at college is free.  If students don't live at home they are given about $800/month from the government to go to school.  They told us that although they might stare, the Danes won't be as quick to come over and visit us as others have been.  They are firm believers in privacy but are also very friendly and will talk a lot if they think you would like that.  They don't think it is appropriate that North Americans ask "How are you" to everyone.  It becomes even worse when people don't really seem to care about the answer.  The children here start learning English in school at about 7 years old and a little bit later they add German to their curriculum.  The various Danes that we have talked to all seem to be very happy in Denmark and think it is a great country.  This bears out the statistics in the last article I wrote about the happiness level in Denmark.
This couple introduced us to Jante's Shield or the Law of Jante.  This concept came from a 1933 Swedish novel trying to put into words an attitude that had been part of the Nordic countries for centuries.  The 10 laws or rules encompass the idea that "You are not to think you're anyone special or that you're better than us".  The idea is that individuals who break these rules are looked on with suspicion and some hostility as this would go against the desire to preserve harmony and social stability.  As you can guess these aren't my words but are taken from the Wikipedia article we were pointed to.  It is an interesting read at https://en.wikipedia.org/wiki/Law_of_Jante.
Below is a huge sculpture of 4 men, two of them are directly inline in the picture.  According to the town of Esjberg's website this depicts "Man, innocent as from his mother's womb. Man before rising up and beginning to act. ".  They are impressive but this certainly wouldn't be my description.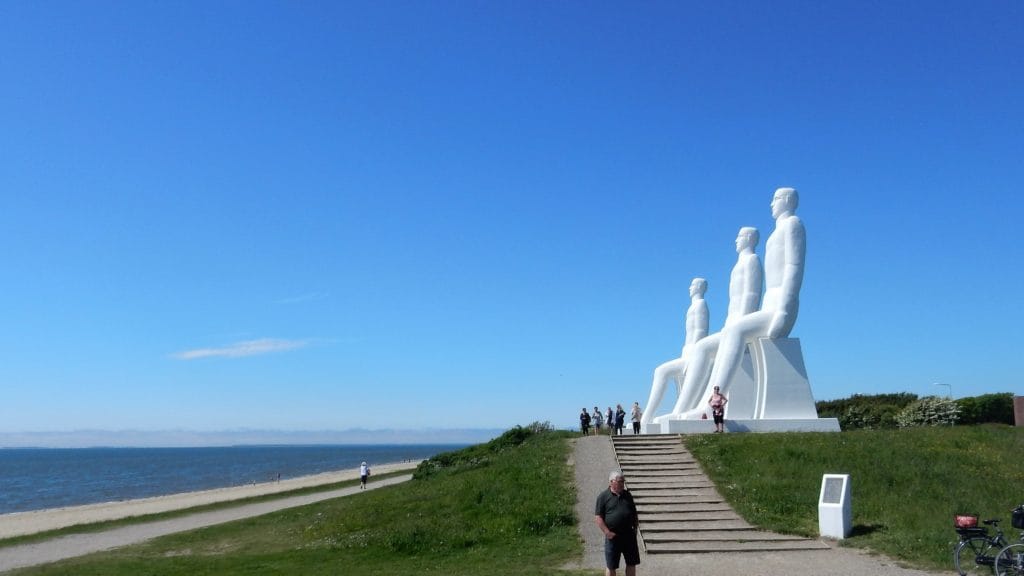 As expected we are finding that most of the Danes speak quite good English.  People have told us that France will be the worst place for us to communicate.  Supposedly the French might know how to speak English but often won't.  Does that sound familiar?
Our plans are extremely flexible and sometimes change multiple times before we actually depart in a morning.  We are going very slowly and there is a chance that we won't make it through Sweden and Finland this summer at this pace.  We have decided that we would rather leave Finland and even Stockholm if necessary till next year rather than rush this trip.  We will get there.  This is supposed to be about living here and not vacationing with a tight schedule.
Two Days Later:
After changing our minds twice we headed for a campground in Silkeborg in the Danish Lakes District.  The weather had been so great in Legoland that we thought we might take our boat out and also do some biking in this area.  The weather didn't cooperate and it is still too cold to go out in a boat where you are quite likely to get wet if it is windy.  We had six of us for drinks in our RV last night.  We represented Denmark, the Netherlands and Canada and I was the only person uneducated enough to speak just one language.   How depressing.  Although the retired couple staying next to us owned a camper, for some unknown reason they were using their tent on this trip.  Like us they are heading to Norway.  They had just biked about 50 km that day for fun.  People here are amazing.  The vegetation and the look of the rural areas is extremely similar to Southern Ontario except possibly a little flatter.  Norway and Sweden have the more dramatic scenery.  As I write this we are driving north in construction – also like Southern Ontario.  You would think that highways were fine for us and they are until they narrow due to ongoing construction.  I am finding the narrow roads more uncomfortable than I like.  Mike says that he would appreciate wider roads but he is doing great.
A few hours have gone by and we are now parked at a marina in Struer.  We expect to utilize marinas a lot when we get to Sweden.  I love them.  The marinas don't have all the extras that campgrounds have like swimming pools and kid's activity areas etc. but we don't use any of that.  In this specific marina we have internet, electricity, there is water and a dump site for us and the view over the water and the boats is great.  An hour after we arrived we had visitors who are living on their boat in the marina.  They are justifiably very proud of their country and basically have the same attitude to life that all our Danish visitors seem to have.  They are both retired with good government pensions.  They own a house, a live aboard sailboat and an old camper and know that they are doing great in this life.  They credit the Danish social system for what they and other Danes their age all have.  Sorry if I bore anyone with all the people we meet but they are a huge part of the experience over here.
This marina has a new automated system where you register your license plate, specify what amenities you want to use, pay by credit card and then get a pin code.  This code turns on your electricity and allows you access to the various amenities  such as the showers, laundry, toilets etc. and also to the sailing club, all without any attendant.  It is very well done.
Mike and I went grocery shopping this evening and couldn't get many of the items we wanted, specifically some of my lower calorie ones.  It was the first time we had looked for these items in Denmark.  Maybe part of the Danes happiness in life is that no-one worries about weight ?.  We are going to drive into a larger town tomorrow and hope that helps.  If not, then we will just have figure out how to make do.  It is past time for me to upload this and join my husband in bed.  Good night to all.