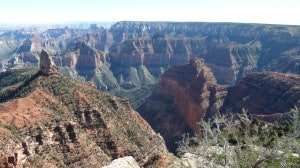 What a fabulous day! We spent today driving and walking around the North Rim of the Grand Canyon. It is a few thousand feet higher than the more popular South Rim at 8,400 feet above sea level (2,560m). The north rim is closed all winter. During the winter time the North Rim will see about 12 feet (3.7m) of snow while the South Rim sees about 5 feet (1.5m) of snow. This is why, as soon as the first major snowfall occurs, the road into the north rim area is closed. The North Rim doesn't have the tourist infrastructure that the South Rim has which makes it even nicer in my opinion. In many places in the last few weeks there have been more people than I really like at the lookout sites and trails. I cannot imagine what these tourist spots are like in mid-summer when families with children have to go. I couldn't stand those crowds anymore.
At 8,400 feet of altitude Mike and I are breathing in about 1/3 less oxygen than normal. This means that everything takes more effort. Mike thought that he could feel a shortness of breath due to the altitude but I thought that it was just us being out of shape. The walks at the various parks are all graded from easy to moderate to strenuous. Mike and I have stuck with easy on this trip. There was a "moderate" difficulty walk of four miles that I wanted to do at the North Rim. After we walked for 1 km (.6 mi) on basically level ground I knew that Mike was right and we were noticing the altitude in our breathing. We weren't huffing and puffing but you could tell that you had to work more to breathe even with this level of exertion. This made us change our mind and decide not to try the more difficult and much longer four mile walk.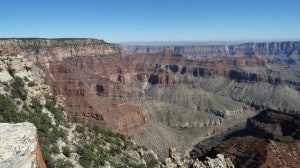 As everyone knows, the Grand Canyon is just lovely. The last time Mike and I were here was about 30 years ago in our small plane. At that time they allowed planes to fly low over the canyon and we followed the Colorado River through the canyon for a long way flying just below the lip at around 6,000 feet. It was spectacular. Due to an increase in aviation traffic this isn't allowed anymore. Everything about the Grand Canyon is vast. The canyon averages 10 miles across and can be as much as 18 miles across. It averages about 1 mile deep which is mind boggling when you sit on the edge of the rim. Mike and I stopped at one lookout point that had a bench placed right on the edge of the rim. There was no one else there and we ate lunch sitting on the bench. It was great. To me the big difference between the Grand Canyon and somewhere like Bryce or Dead Horse Point National Park is that in the Grand Canyon the formations and colours are a long way away even when you are standing at the edge of the canyon. You don't have the cliffs and rock formation going up a thousand feet right next to you. Actually, if you were way more energetic than we are you could do a hike to the bottom of the canyon and get that effect and more but the vast majority of people see the canyon from the top looking down. You get a much better idea of the scale of things that way but it isn't quite the same as standing at the bottom looking way up. There are no roads, at least not for normal vehicles, that I know of at the bottom of the canyon.
Late in the afternoon Mike and I stopped at the Grand Canyon Lodge for a coffee. The lodge is at the very end of the one road into the north rim. It was purposefully designed so that approaching the lodge all you saw where forests. You would get your first view of the canyon when you entered the lodge and looked through the lodge right out over the canyon. It is a very impressive entrance. They have a restaurant and sitting area with big glass windows and a couple of large decks.  We spent an hour or so first listening to a forest ranger talk about the local geology and then just resting in the sun drinking coffee and looking at absolutely gorgeous vistas. We drove about 40 miles through the forest to get back to our campsite. We saw some deer playing in a field enroute which is always nice. All in all it was very lovely and a great day.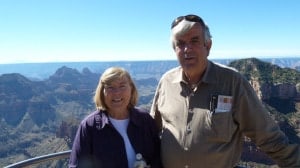 The whole area that we have been in for the last few weeks is part of a geological area known as the Colorado Plateau. Usually when ground rises a lot due to tectonic plate movement large folds occur in the earth often creating mountain chains such as the Rockies. For some reason the Colorado Plateau was basically lifted as a single block. Major erosion caused the wonderful rock formations and colours that Mike and I have been seeing. The US has more national parks and national monuments in this area (largely Utah) than anywhere else in the country and it has been easy to see why.
We are leaving the Colorado Plateau area and as far as I know there are no more major national parks on our route. I would have liked to have seen the cliff dwellings which we haven't seen in quite a few years but I am not sure if that is on our way or not. From here we head towards Albuquerque which is in the middle of its annual Balloon Fiesta. This is a huge event. It is an international hot air balloon fiesta that doubles the population of Albuquerque for the week and doubles all the rates in the RV campgrounds as well. Last year they had almost one million visitors to the fiesta. Our plan was to visit friends of ours in Los Alamos, NM which is about two hours north of Albuquerque. It isn't working out quite as well as planned since our friend's work schedule has her out of town when we would have been arriving and we can't afford to stay for a full week at this point. Luckily she and her husband have agreed to come and join us in Albuquerque for a night and day before she leaves town. I am afraid that they will have to find a hotel because, as you know, our RV is set up to only sleep two people which is just fine with us. We are looking forward to seeing them and to seeing a sky filled with balloons. We are also really, really, looking forward to some internet and cell phone coverage. I have really missed that the last little while.