Banff or Yellowstone – which will it be


Mike and I have just left Yellowstone where we have had no internet and largely no cell service for four days so I am way behind on our trip.  You could write a book about Yellowstone and many people have but I won't.  I decided to write a few short articles each about a specific aspect of the park that we enjoyed.  For my first entry I thought I would give you a brief comparison of both Banff National Park and Yellowstone National Park based on what we saw.  The three pictures here were all taken in Yellowstone since I have previously written about Banff and Jasper.  On a slightly separate note I have been asked by a few different people to post more pictures so I will be looking into this in the future.  This is all very new to me.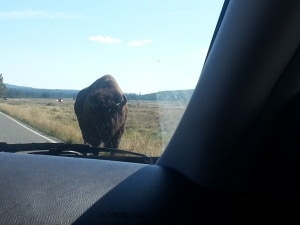 Let me start this entry by saying that both national parks are superb and absolutely worth visiting.  You won't go wrong in either one.  Complementing one park does not imply a negative for the other park at all.  At a very high level although both parks have wildlife there was really no comparison and we saw far more animals in Yellowstone than we did in Banff National Park.  While Yellowstone probably had more varied scenery and wide open vistas, the mountains in Banff were much more dramatic and spectacular.  The turquoise coloured glacial lakes such as Lake Louise and Moraine Lake are simply gorgeous.  Yellowstone has a lot more hot springs and it also has geysers and mudpots.  Now these are very interesting to see but they aren't especially attractive.  In actual fact Mike says that the hotsprings and mudpots look more like environmental disasters than lovely scenery.  Think tailing ponds and you might get the picture.  The town of Banff is a really nice break from the nature walks and drives.  Yellowstone has nothing similar within the park but there is the town of Jackson outside the park.  Jackson is great but, depending on traffic, it can actually be many hours away from parts of Yellowstone.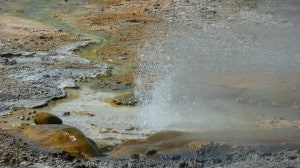 As an aside for other RV people, it seemed to me that Banff National Park had a lot more full service RV sites.  Yellowstone had one campground only that have full service for RVs and that only had about 300 – 400 sites.  As a point of interest Yellowstone and Grand Teton national parks total just under 4,000 square miles.  The Banff and Jasper parks are about 6,800 square miles in size.  Both have plenty of space to visit.  Both parks have far too many people and traffic in July and August and are getting too many in June and September now as well.
Bottom line is: we thoroughly enjoyed both but Yellowstone wins by far for wildlife and Banff for dramatic and spectacular scenery.