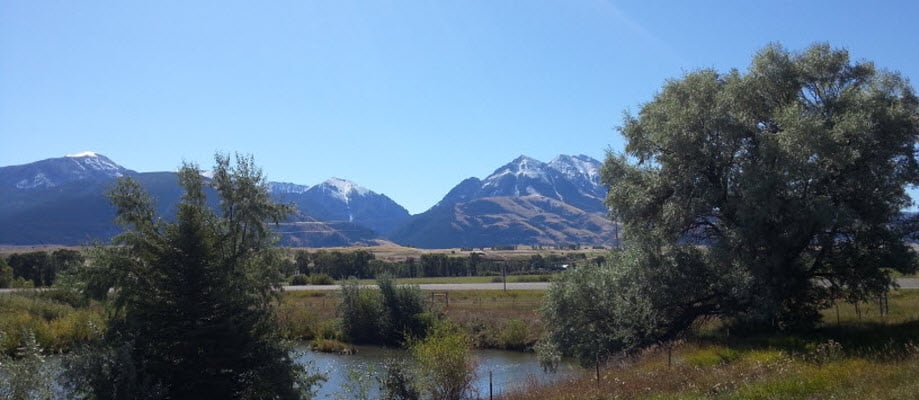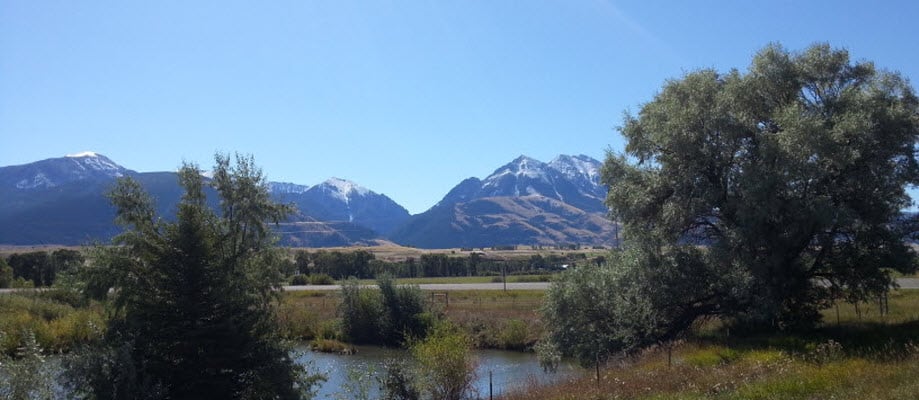 We have been in the US for a couple of days and are just heading into Yellowstone National Park.   On our first full day in the US we drove through three states Washington, Idaho and Montana.  Actually we came into the US from British Columbia and spent the first night in Spokane, Washington.  We then drove southwest through Idaho which is quite skinny in the north into Montana.  We have been driving through Montana for the last day and a half.  They call Montana "Big Sky Country".  The picture below was taken from inside the RV, by Mike, while he was driving a 60 foot long vehicle(s).  This isn't a habit that I encourage.  We have driven through huge fertile, flat plains with snowcapped mountains in the background.  It is really nice to see.  The picture at the top was taken in the campground where we spent last night in Livingston, Montana.  Our campsite was over a mile above sea level.  You often see a large white letter on the hills that I think is the first letter of the name of the nearby town.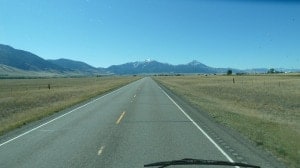 They are very hardy people here.  We have actually seen snow once near ground level on the slopes.  I went into a large K-Mart store to buy long sleeved white warm underwear and they said they sold them but that they hadn't started stocking them for this season yet.  At below freezing in the nighttime I would expect longjohns to be in stock before now.
Mike is going nuts.  It is time to change the oil in the RV.  In Spokane we drove to 2 Ford dealers and 3 RV service places to see if they could do it.  The replies were yes but not for 8 days, or next month etc.  What would we have done if we had needed urgent repairs?  We got smarter in Montana and used the telephone to call half a dozen places and they all just said no.  Now we need to find someone to sell us the right filter and lots of oil and Mike will do it himself.  This obviously won't happen until after we leave Yellowstone.
We passed a big sign on the road for the Testicle Festival and no I don't have any more details.  They have signs about preventing forest fires and our campground had one that said "Only you can prevent speed bumps".  I thought that was cute.  Every little gas station and bar calls themselves a casino.  At first I thought that meant that they had one-armed bandits.  When I saw another sign at one of them that said "O-Aces" I assumed this meant that there are card games as well as being a pun.  None of them look like places that we wanted to spend any time in.
We are getting closer to Yellowstone and the roads have a lower speed limit at night than they do in the day.  I am guessing that is because of wildlife.  Actually we have just seen deer a couple of times at the side of the road.  I have to stop writing this now.  I want to look around more.  We have just entered Yellowstone Park and the small river next to the road is steaming.  The park is just full of hot springs, apparently the earth's crust is thinner here.  I will tell you more about Yellowstone in a day or two.  We are here for at least three or four nights and then leave to go south to Grand Teton National Park.