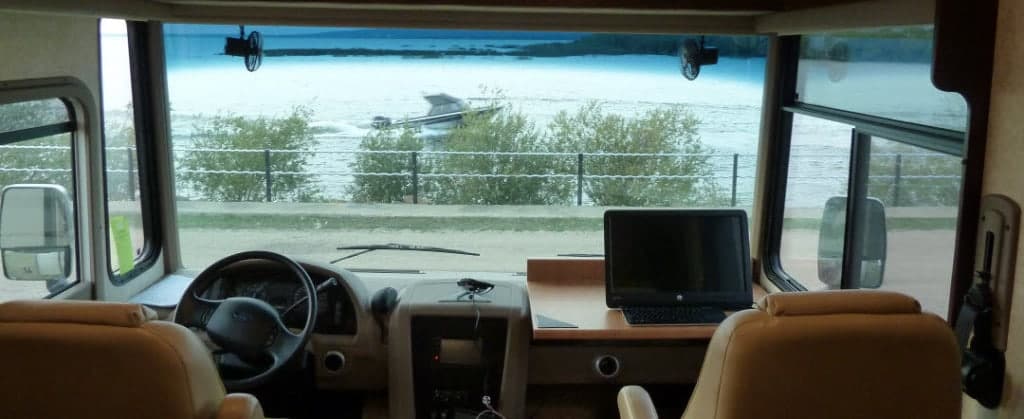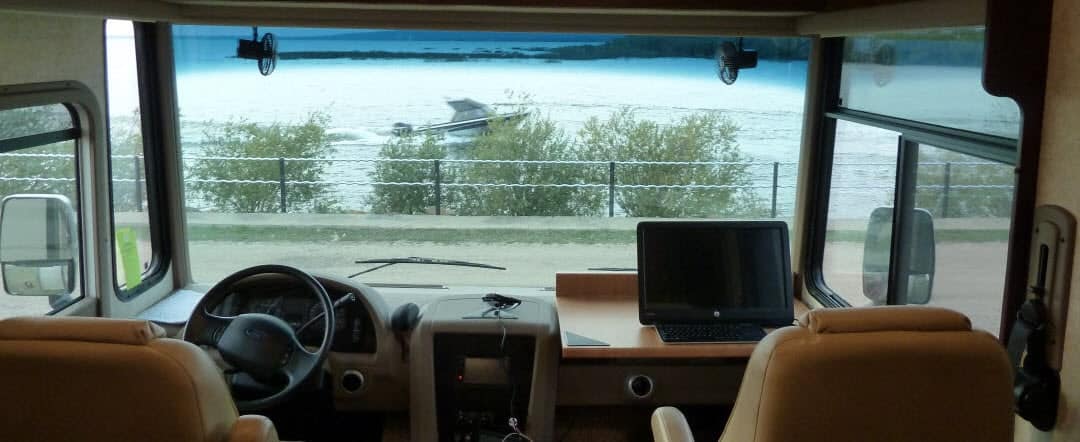 On Tuesday morning we left Fort McMurray for the second time.  Our route had changed and we were now heading for Slave Lake to buy four tires for the car.  It was about 450 km or 270 miles of very slow driving as we towed the car with the small spare tire installed.  We got to Slave Lake about 20 minutes before Canadian Tire closed.  For just over $600 they sold us four tires (on a really good sale) and installed them.  In Fort McMurray the Ford dealer had charged us over $400 to remove a special Ford nut.  What a difference.
I had purposely picked a campground in Slave Lake that was really close to town and we could bike to Mike's A&W for his ice cold root beer.   The road was really flat, it looked great.  It didn't happen.  My bike had had a problem with the chain coming off earlier in the trip.  This time we made it about five minutes out from the campground when the chain came off.  It happened three more times in the next couple of minutes.  We figured out that as long as I stayed in one gear and kept pedaling it was OK.  If I stopped pedaling for any reason I was in trouble.  Of course, on the way back to the campground I decided that I need to reposition my bum on the bicycle seat and stopped pedaling momentarily.  Off came the chain again.  Even if we get the bike fixed shortly I don't see us using it in the Jasper, Lake Louise or Banff areas.  I know that many others do and it would be a lovely bike ride but I can't imagine that there are many flat areas for me.
The town of Slave Lake is actually on a lake called Lesser Slave Lake presumably to differentiate it from the more well-known Great Slave Lake further north.  When we entered the campground Mike asked the attendant why it was called "Slave" Lake.  Had there been slaves there at one time?  Had it been a stop on the underground railway from the US?  The attendant didn't know or care why it was called Slave anything, he just wanted to know why they were "Lesser".  It was actually quite funny to listen to this conversation.  As you can see from the picture above, our campsite was right on Lesser Slave Lake at the mouth of the river.  We could watch the boats go past us into the small marina that was part of the campground.  It was really nice.
About three years ago Slave Lake had a major fire, I remember hearing about it on the news.  450 homes were destroyed.  You can see what looks like new subdivisions of houses from the road.  Lots of the boats in the marina are new, apparently replaced by the insurance company.  Not everything has been rebuilt yet.
Tomorrow we are heading to Jasper but will spend one night somewhere enroute.