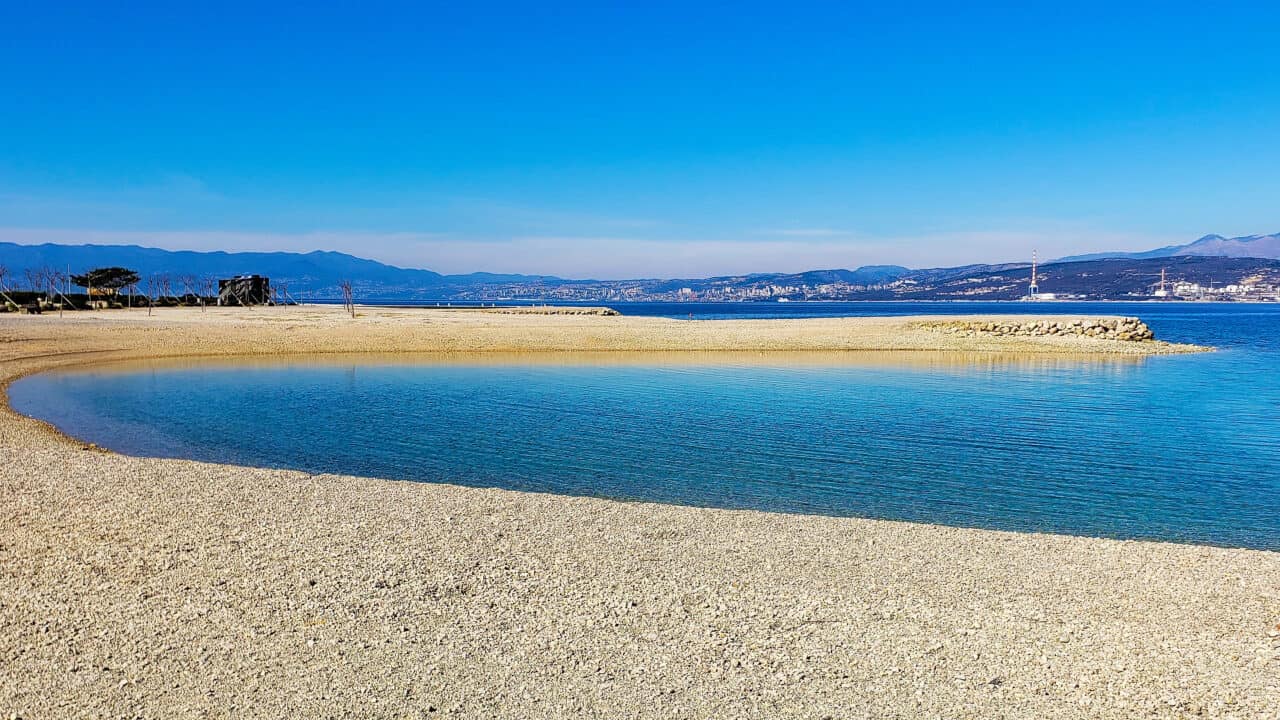 It has been one month since Mike and I left our winter camping spot in Funtana, Istria. We are now a couple of hours away, still in Croatia, on the Island of Krk. For most of the month that we have been here, we have been the only inhabitants on a campground set up for almost 1,000 people. It has really brought home how nice it was, over the winter in Funtana, to have our English bubble of friendly faces to chat with or just say hi to.
We arrived on the Island of Krk on the warmest day that Croatia has ever had in February. We are camped on the Bay of Rijeka, in the Adriatic Sea. The day we arrived the water in front of our camper was like glass. We were thrilled to think that we might get out in our inflatable boat for the first time in two years. We charged up the electric air pump, put the gas can in the car and actually moved our camper to be right next to the launching area. This way we could roll our boat in and out of the water and not have to put it away every day. This was Friday. On Saturday the temperature had dropped, and we were in the middle of a wind storm. By Saturday evening the storm was so bad that we decided to try and move the camper slightly so that it was facing into wind which meant getting out to unplug our electrical cord. Mike couldn't even safely open the main door of the camper. Luckily, we had paid a lot to have a driver's door installed when we purchased the RV. I wanted a second emergency exit. We managed to reposition ourselves and we brought in all the walls. There is a six inch awning over each of the slide-outs to keep water and debris away from the moving mechanism and the interior of the RV. Even with the walls in, it sounded like this little bit of material was going to be torn to pieces. When the bedroom slide-out is pulled in, the end of the bed slides underneath our closets and drawers. At six feet tall, Mike was a bit concerned about sleeping in a much shorter bed. At five feet tall, I had no concerns.
Sunday was still extremely windy, by Monday the wind was slowing down. The problem was that the waves were still too big for our very low inflatable boat to handle. By the point in time, we weren't sure we were ever going to get the boat in the water. They call the cold north wind the Bura in Croatia. On the next weekend, like clockwork, the winds came up again. This time we closed up the camper around 9pm, moved it to align with the wind around 10pm and then, at almost midnight, disconnected everything and moved the entire camper behind a building on the campgrounds for some protection. The weekend ended, as did the winds and we did get the boat in the water twice in the next week which was great. On our first ride, it was quite cool on the water, so I decided to put my coat on. I sit on the floor of the boat with the sides right up against me, so I really can't move at all. With the winds and my position in the boat, I was having a hard time putting my coat on without it blowing away. I remembered watching our four-year old visitor in our last campground putting on her coat. Mike and I would laugh when she laid her coat out in front of her, upside down, put her arms in the sleeves and lifted the whole thing over her head. Well, I won't laugh anymore. That worked just great for me while sitting, squeezed in the bottom of the boat. We were hoping for a quite a bit more time in the boat but on our third weekend here the winds came back again. We hid behind a building again and the next morning decided to move the RV to a different spot on the campground. We had discovered that camping out near the dock might be convenient for boating, but it was far windier than the rest of the campground. In our new spot, it was still bad enough, with gusts over 75 km / hour, that we had to pull the walls in, but we didn't have to run for cover again.
Here is a 360° view of our campsite and of the Island of Krk that I found. We are in Camping Omišalj. If you look at the far end of the campsite you will see a dock with a very small boat launch. That is where we were camping.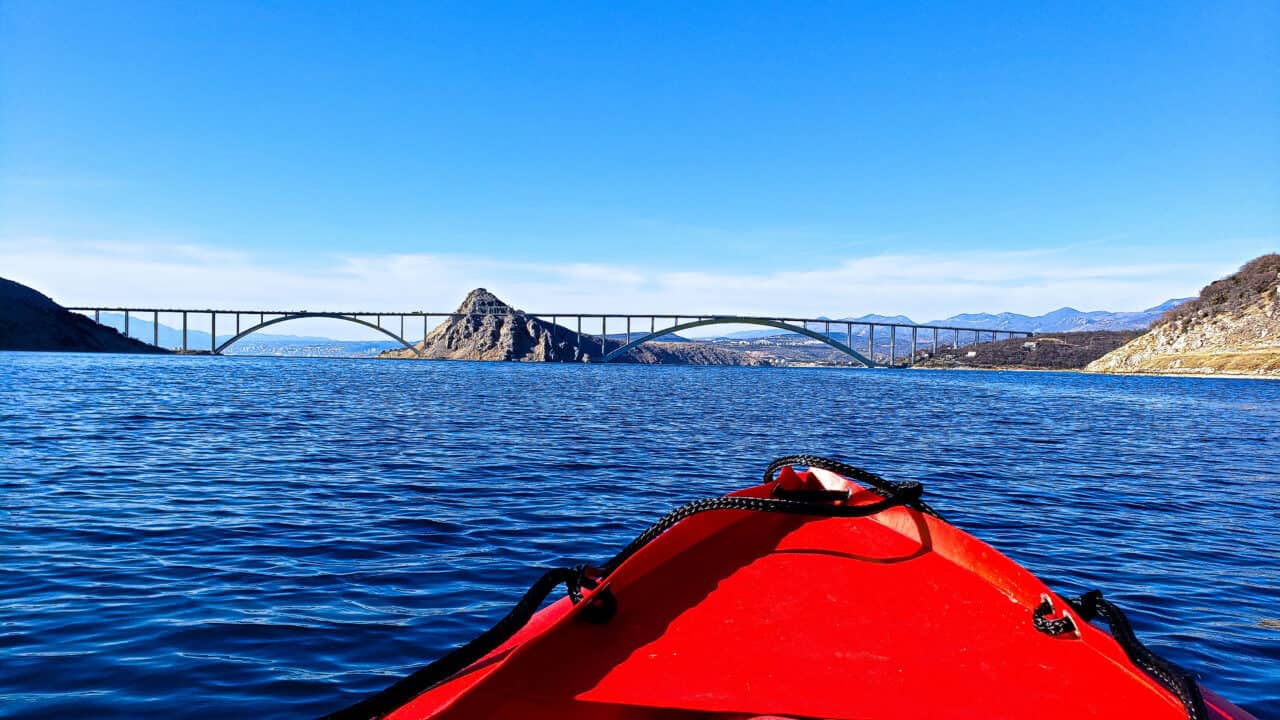 It is an easy drive to the bridge over to the mainland. Croatia's third largest city, Rijeka, is less than a half an hour drive from our campsite. It has made it easy for Mike to run over to Bauhaus, the European equivalent of Home Depot, whenever he wanted.
The first time that Mike and I drove over to Rijeka to continue our ride along the coast we discovered that my bike had no seat. I had removed it the night before and brought it into the camper to have a look at the padding on the seat and I forgot it. That was a bit of mess, but we did have a nice walk through Rijeka. Along the coast near Rijeka is a path for pedestrians. Since it is out of season, Mike and I biked along it without complaints. Other areas in Croatia also restrict the smaller waterfront paths to pedestrians due to the high volume of people most summers. Mike and I have been enjoying these seaside rides this winter.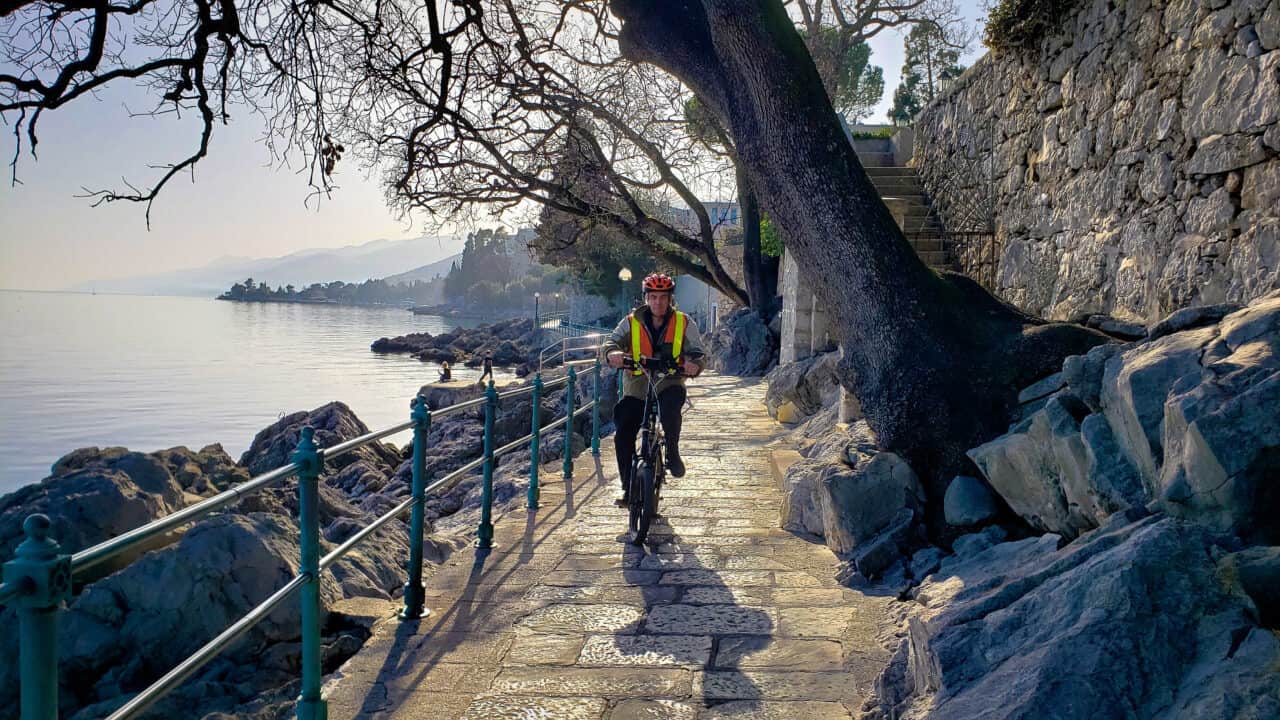 One day while we were riding inland, three wild horses ran across the road in front of us which was quite interesting. Because this country is so mountainous (small mountains) we can be riding inland and still get views out over the Adriatic. It is lovely. On one ride, we climbed for 1,020 metres (3,350 ft) and then had to descend. I think my hand almost cramping on the brakes made the very long descent worse than the climb which had help from an electric motor.
Some of the islands near here are basically void of any greenery or vegetation due to the cold, vicious at times, Bura wind. Portions of Krk are like that. Here was an interesting road that we drove down, until it was no longer a road and when it became a rough path we had to try and figure out how to turn around and get back out. Our Lincoln is not meant for these countries. It is way too low to the ground and too wide. When we bring the RV back to Canada, probably at the end of 2022, I want to buy a very different car for towing. The Lincoln is starting to have problems. Currently the heat is either full hot or full cold, the car's choice not ours.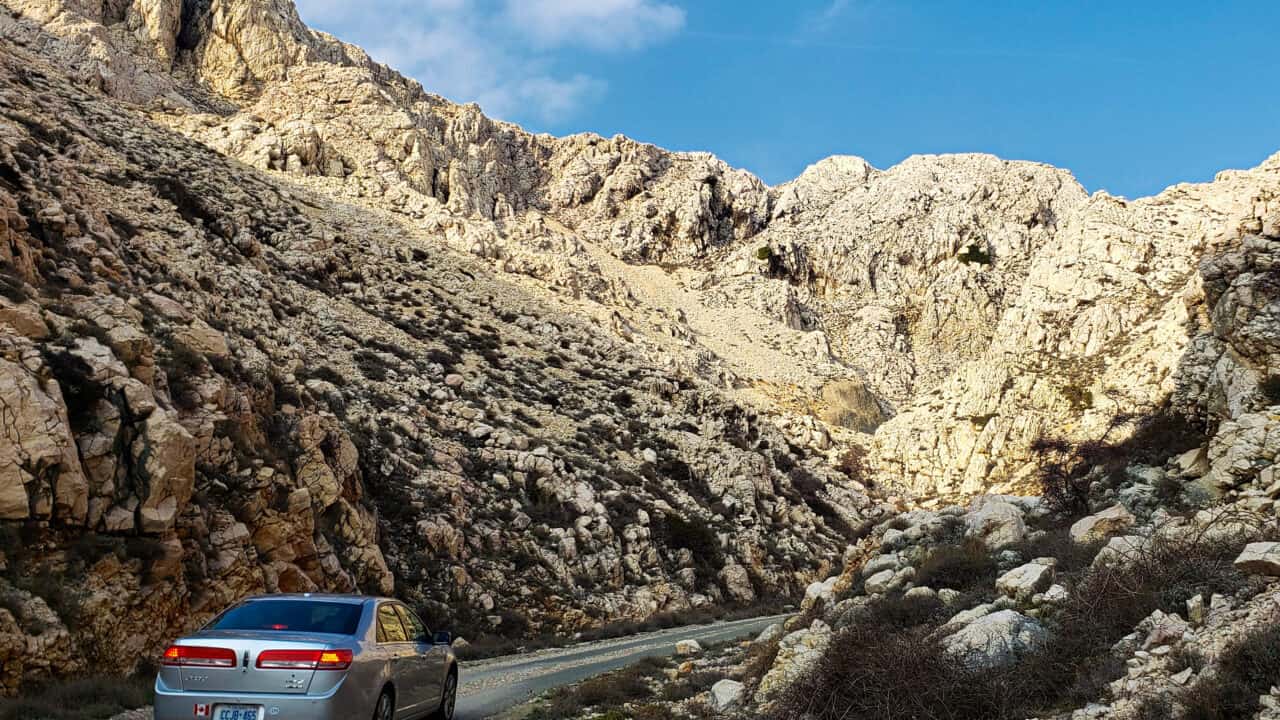 A couple from Switzerland were able to come to Croatia because it is considered a coronavirus safe or white zone which meant that they would be able to return home without problems. To get here they had to travel through countries that weren't as safe. You are given permission at the borders of these countries to transit the country, but you have to go straight through, no stopping overnight and no detours. In some cases, you have to exit at border control within 12 hours of entering the country. The Swiss couple drove 12 hours straight to get to Croatia where they could finally crash for the night. A few days ago, we met a young couple from the Netherlands. They had the same issues and arrived here just exhausted. Janna had just gotten her driving license a few days earlier and taking her turn driving a van for hours at a time must have been extremely exhausting.
We have now spent over 300 days in Croatia, which was never our intent. We have been back here multiple times. The first time we came to join friends at a campground in Croatia. Last year was our time to travel through the country, exploring it. Twice we have left our RV in this area for the winter and this year we spent many months here in lockdown due to the coronavirus. Luckily for us, Croatia is widely regarded as one of the safest countries in the world and was named among the safest in the 2020 Global Terrorism Index. Croatia has the lowest reported crime rate in Europe. It also won the medical tourism destination award at the world's leading tourism fair.
If you have to spend a lot of time in one area, Croatia was a good one to choose.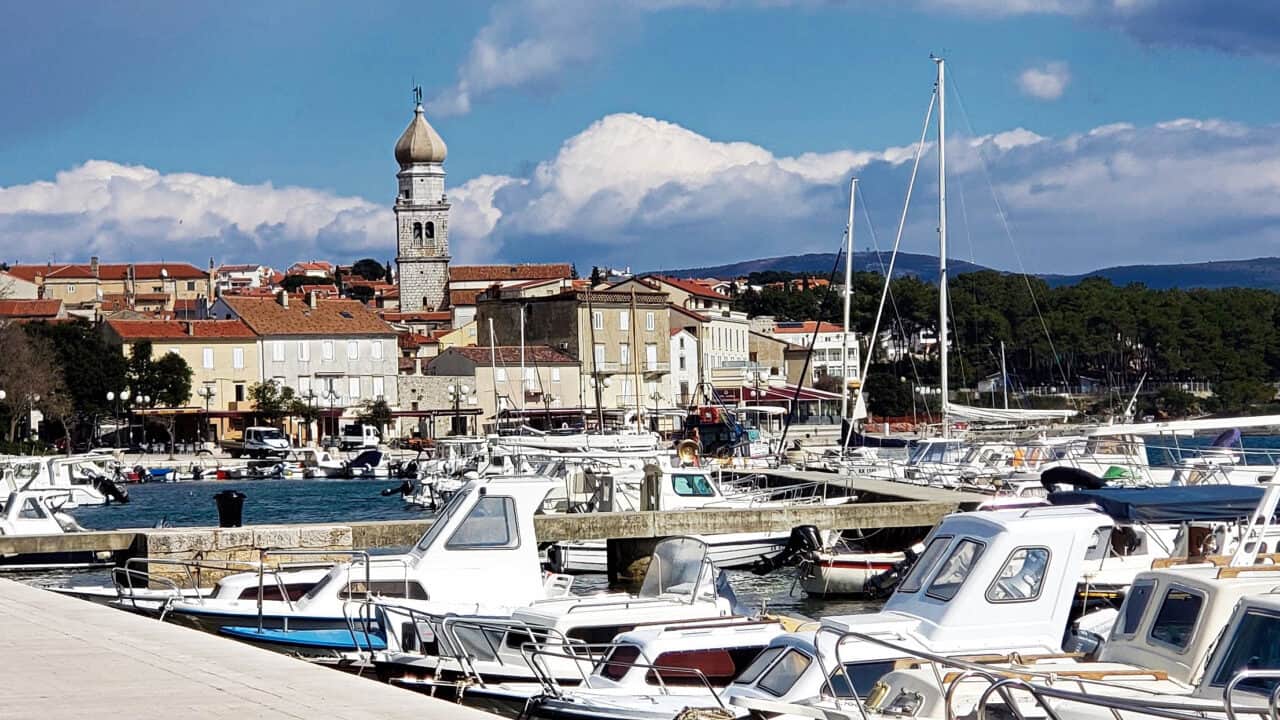 Addendum: Mike and I left Croatia for Canada shortly after this article was written. We now consider our time in Krk as part of our extended 2020 season and will start a new set of postings when we return in early July.