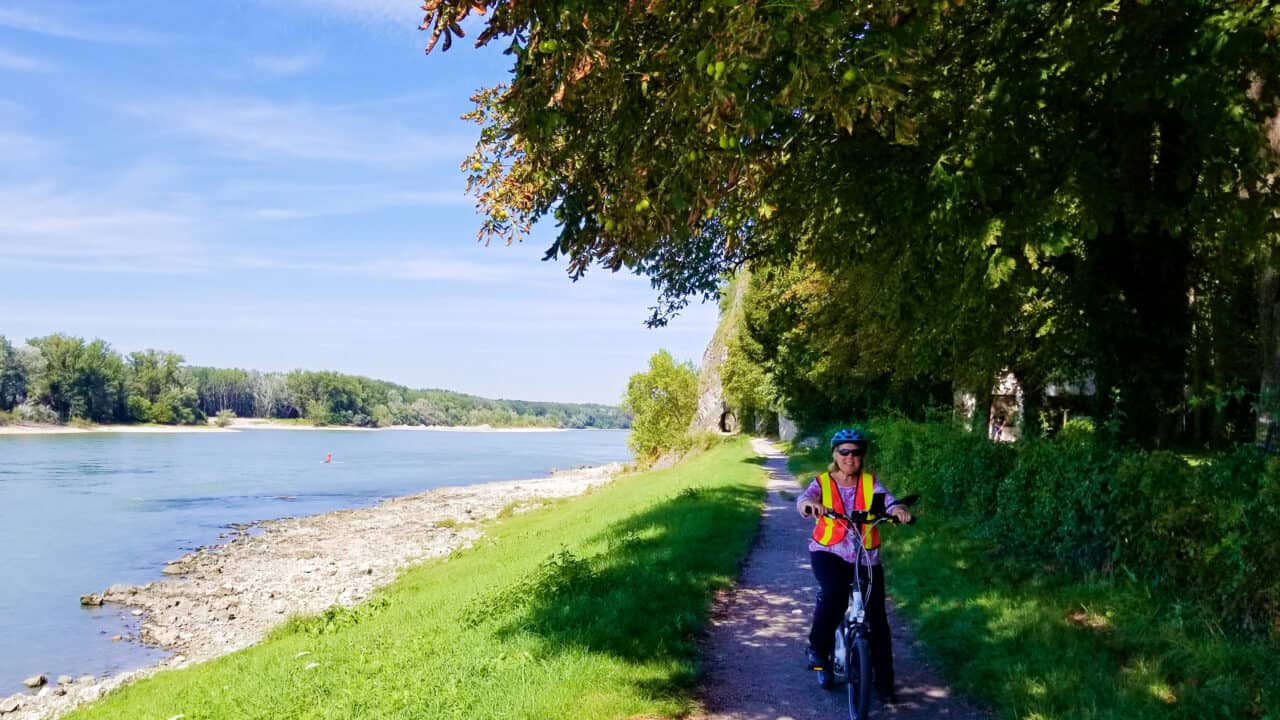 Jackie riding on the Danube
As many of you know, last year Mike and I started what we call "long distance cycling", essentially trying to create one very long continuous path across part of Europe. In mid-July 2019 we stayed in a campground with an international bike trail (Alpe-Adria) that was paved and ran right past our camp on an abandoned rail embankment. It was our first experience on an easy to ride path that seemed to run forever beside mountains and rivers. During the year we biked on the path south through Italy all the way down to the Adriatic. We also biked into Slovenia and north into Austria up to Salzburg. We did this 30 – 45 km at a time and used trains to get back to our car at the starting point of each ride. After Salzburg we road east along the Danube right across Austria to Vienna. In the beginning of August this year we picked up the ride in southern Austria and biked north to join last year's track in Vienna. Now we are continuing east on the Danube into Slovakia. This one single track may end there which would be a disappointment but is dependent on the roads and bike paths available where we are camping. On our first year of trying to continuously cycle we rode 1700 km or over 1,000 miles. In August 2020 we have biked over 600 km or 400 miles along this single route. This has us spending a lot of time outside and Mike figures it is the healthiest thing we do.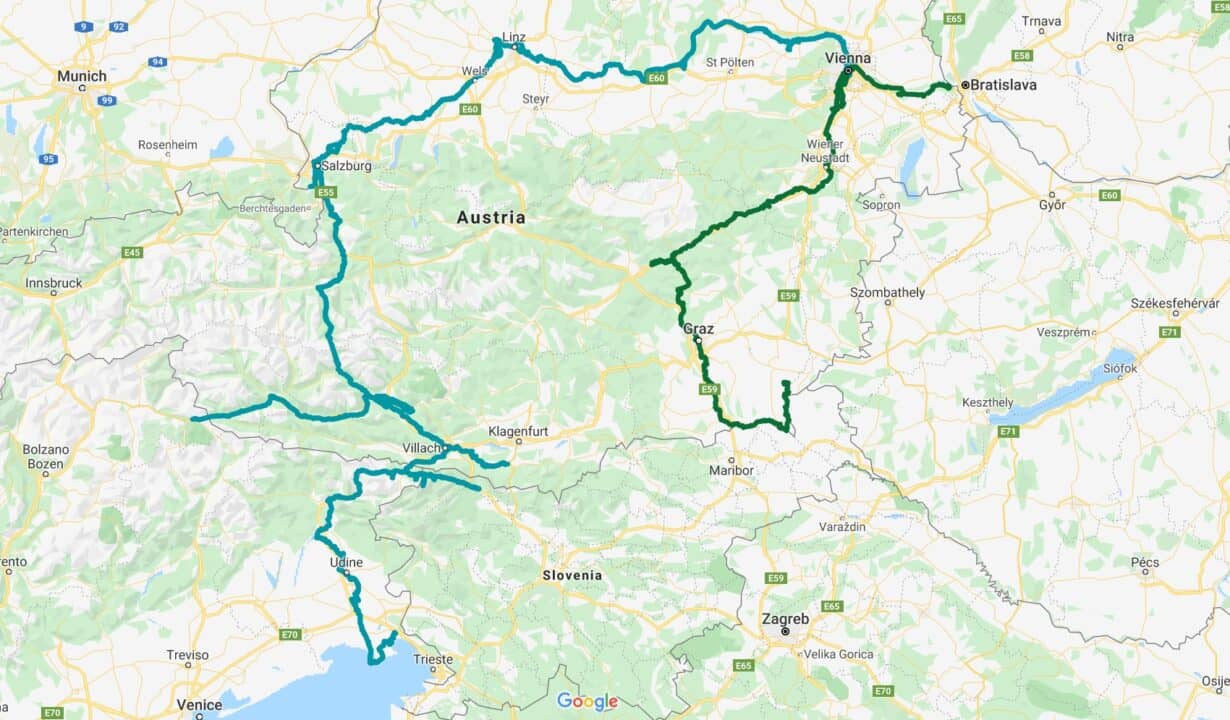 We road on the official Danube cycle route for 35 km today. The temperature was round 30°C or 86°F which is too hot for me. Luckily, the wind was blowing, and you didn't notice the heat until you stopped riding. I thought that I would give you an idea of what we see and do on these rides. Hopefully, for my family and others that are not bike riders, you will understand why Mike and I are enjoying this so much.
We started today's leg by downloading the route from the internet into an app on our phones called "Bike Computer Pro". We really like this app both during the ride and then using the data to put on our map after the ride.
We drove the car to a tiny train station in a small town where we ended our last leg.  The station had no real building and no people working there.  There was a machine to take your money and print your tickets.  The biggest problem at this point was that this train station had no electronic displays to tell us which track to go to, there were only two but since the train only came once an hour you had to get it right.  Mike assumed that we would be using the same track as last time and luckily his memory was better than mine. Everyone on the train has to wear a mask. We haven't seen any protests or people having issues with wearing masks where required.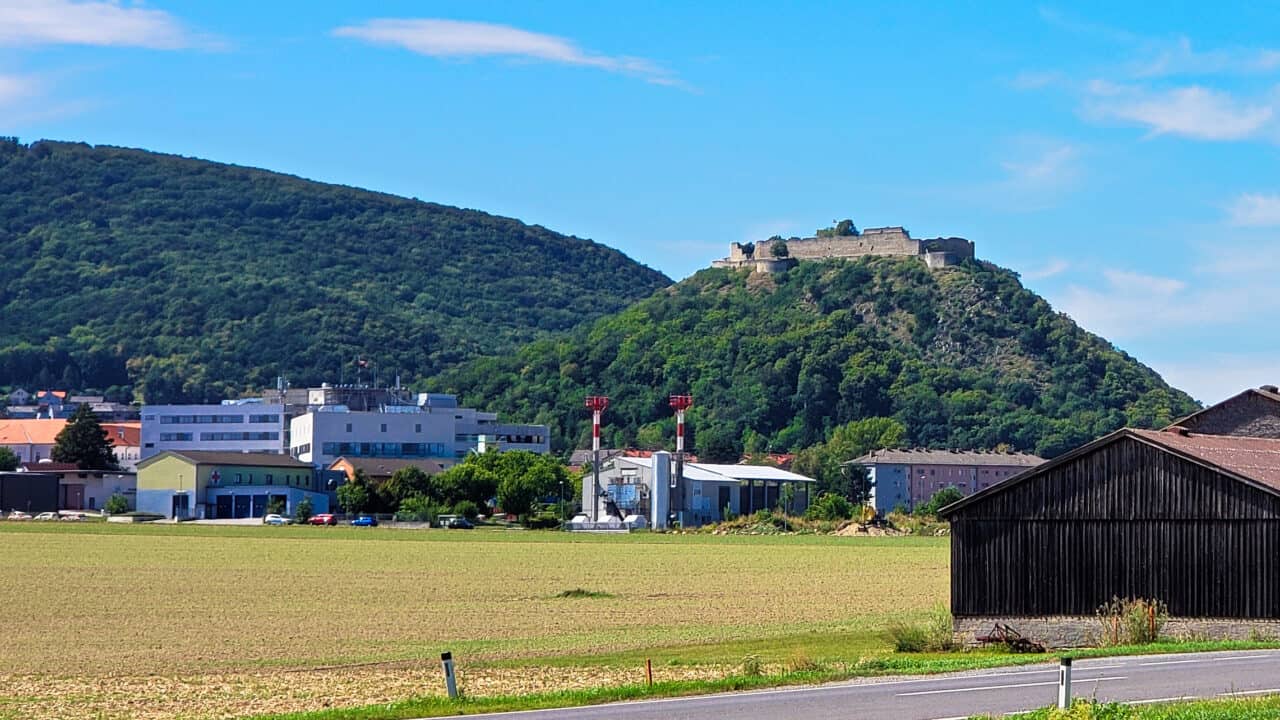 On the train we saw an old castle high up on a hill.  We plan to come back with the car and explore this castle further at another time.  When we got off the train, we biked for half an hour on the Danube route and found a little café right on the Danube for lunch.  The picture down at the top was taken on the Danube just after lunch.  After lunch we rode through a few villages that appeared to be completely deserted of people.  It almost reminded me of an Alfred Hitchcock movie. I will admit that it is nicer when we bike through the small towns with the nice pedestrian town squares and stop and explore.
At one point during the ride we came upon a Roman ruin. There was one side of a four-sided structure still standing. It had been built around 360 AD. There were info boards with quite a bit of information around the structure. The write-ups were in German, English, a third language that I have forgotten and Braille. It is embarrassing to admit that this was the first time that Mike and I had thought about Braille being a printed text system and that you would need English and German Braille write-ups if you wanted to cover both languages. I guess that I had never really thought about it before. I know that American Sign Language is a unique language unto itself and never really thought about Braille in terms of English or German which is bad of me. After we left the Romans and the past, we rode through fields of windmills which felt a little more futuristic. The problem with the windmills was that the paths through them were gravel. We really prefer paved pathways. After many fields of these windmills we finally stopped and figured out a way to get off the bike path we were on and out to some larger roads.
Twice during our ride, we stopped to walk the bikes for a short distance. Mike figured that this would help the blood get flowing and help my sore backside. He was correct. I do think that starting out biking 40 and 50 km a day for a few days in a row, when we hadn't done anything like this for over six months, physically bruised me and my bruises have never yet had a chance to get better. We have invested in a few items this week to try and help (new seat, seat post etc.). I figure that a week of solid rain would probably be the best treatment ?.
When we arrived back at the train station where we had left the car, we folded up our electric bikes, put them in the back seat and headed home. This time we avoided the highway and took a slightly longer route on the smaller roads. We arrived back almost 6 hours after we had left of which about 3 ½ hours were on the bike path including our stop at the café.
On a really hot day we got a car and train ride, both with good air conditioning. We spent an afternoon outdoors. We had a windy bike ride where we ate on the Danube, saw Roman ruins from 360 AD and biked through some windmill farms and also some lovely parks. We biked through small villages that would have been a little nicer with more signs of life and we discovered some areas that we would like to go back to and spend more time exploring. Overall, it was a pretty typical ride on our bikes.
P.S. I really owe you a write-up on our first week in Vienna which is a beautiful city. I just haven't figured out what to say yet ?