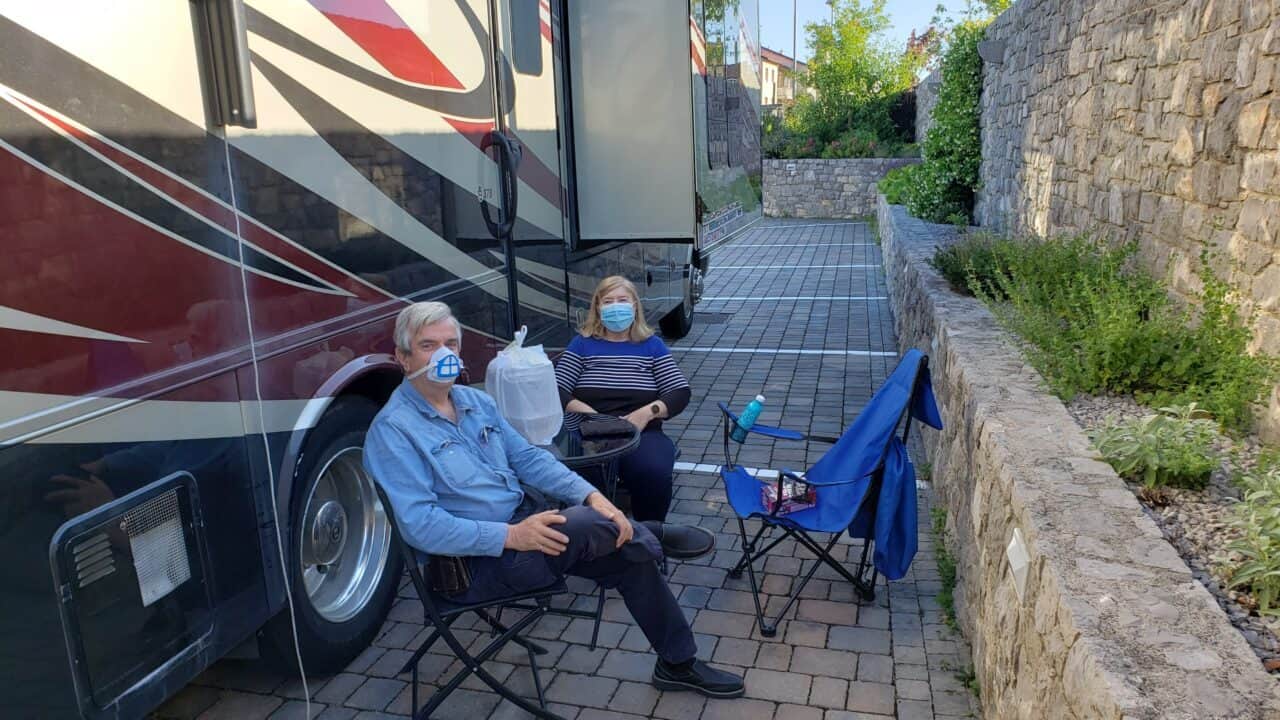 Two more days to go! On Friday morning our quarantine in Slovenia comes to an end. Trying to find out who to contact in other countries about our entry is much more difficult than you would think with conflicting information all over "official" websites.
The official guidelines for quarantine in Slovenia state that the hotel will bring you your dinner in plastic bags and leave them outside your hotel room. Well Mike and I go and sit outside about an hour before our supper arrives. The hotel staff then bring us our meal and put it on our table – in PLASTIC bags. I guess that if those are the rules, you just have to follow them.
The last two weeks could have been much worse, we could have been home in Canada! The humidex, where we live in Port Credit, Mississauga, near Toronto, has been in the high 30s and low 40s (over 100⁰ F) for much of the time we have been in quarantine. There has been an extreme heat warning in effect ever since we left home. I thought that it was too warm here in Slovenia at 27⁰.
Actually, if the local police had continued to insist that we spend our quarantine in the little hotel room where we are it would have been pretty disastrous. In addition to having major back pains with nowhere to properly sit, I don't think I could have done it. As I have said earlier, at 4m or 13 ft wide our living room is a reasonable size. Luckily, over the last few years Mike and I have got used to being together 24 hours a day without getting on each others' nerves.
The front lights on our bikes in Europe are quite weak so we brought two new lights with us from Toronto. This was a big mistake. We have no idea how we acquired these lights, but they have to be cranked to work. One minute of cranking gives 10 minutes of light. The lights cannot be cranked while they are on the bike. This mean that if it gets dark and you are away from home, every 10 minutes (if you are lucky) you have to stop, remove the light from the bike, crank for 1 minute, reattach it to the bike and then ride for 10 minutes before you do it all over again. I am not sure why Mike even installed them. We will be looking for better lights as soon as we are out of quarantine. (note: I told Mike that I was writing this after he had the first light installed and was starting on the second. The lights have now been uninstalled and the plan is to give them to a couple of children to play with when we are allowed to talk to people.)
As I mentioned, the food here has been quite good. Last night's dinner was particularly nice, wrapping up with two chocolate crepes. When we returned the dishes, I told the waiter that we liked the food and really appreciated the chocolate crepes. He told us that they were his idea, as a treat for our last night. Given this was on Tuesday night and our 14 days doesn't end until Friday I was quite surprised. I am afraid that he just got it wrong, not that we are being allowed to travel sooner.
If we can get in without a problem, our thought is to head to Austria and continue back towards Vienna as we intended to do when we left last year. We either want to leave here first thing Friday morning when we are "freed" or stay put for the weekend. It looks like the camping places in Slovenia are really busy right now and I expect the weekends to be the worst. We often stay in parking lot type places and we like to be right over to the end so that we can open up our slide-outs over the grass and not impose on others. This might be a problem if we arrived in the middle of a weekend. We will play it by ear. We need to find out what this hotel will charge us to stay plugged in for a few extra days without meals etc.
Next update – after we are out of quarantine, starting our journey and finally taking some interesting pictures.