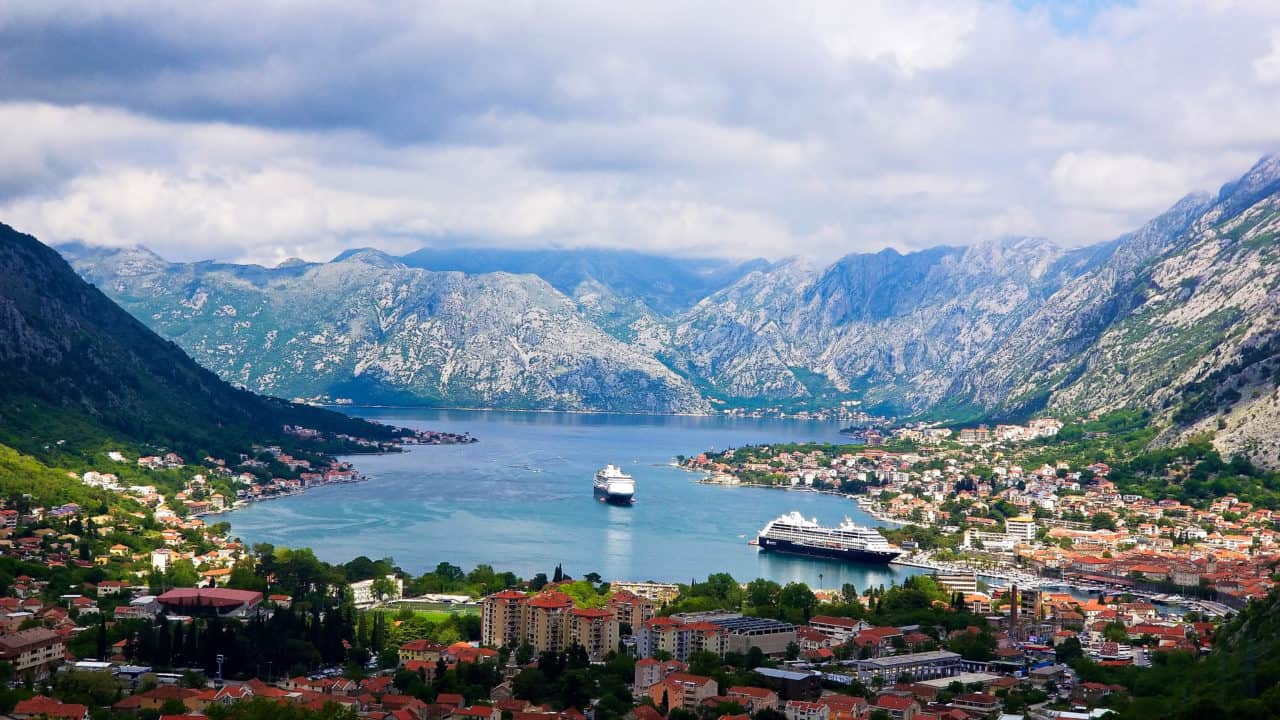 Let me start by saying that Montenegro is mountains, sea, stunning fjords, medieval towns and walled cities and is just gorgeous. While the "fjords" aren't technically fjords as they weren't created by glaciers, this area reminds me very much of Norway.
Mike and I are staying on the Bay of Kotor in Montenegro. We love this part of the world, but we have been made to feel really unwelcome from the only two proper campgrounds in this area. Before we actually moved into Montenegro, we came for the day in the car to check out the roads and the campgrounds. We had heard that some of the roads were very narrow. I think that is true in the mountains but the roads to get to the Bay of Kotor were fine. Montenegro is working to get into the EU but is currently not a member, so you have to go through customs and border control. For some reason our vehicle insurance has stopped covering many of the non-EU countries in this area, so we had to purchase new insurance at the border. When we got to the border we tried to ask where we could buy insurance for our car. We were getting nowhere in our conversation when we finally figured out that we were at the Croatian border stop for leaving the country. Montenegro's border entry was another 2 km away. Our phones lost their internet access as soon as we left Croatia and I hadn't downloaded the Google Translate dictionary for Montenegro. The person selling us the car insurance didn't speak English and I completely forgot that all the languages in the vicinity, including Montenegrin, were almost the same. We could have used our downloaded Croatian dictionary to communicate. It took almost 1 ½ hours to go through the two border checkpoints and the really slow road construction at the border. We followed a stinking pig truck for a long way into Montenegro which wasn't the greatest.
Many of the advertised campgrounds turned out to be for tents with washrooms and showers but no electricity and water.  We stopped at Autocamp Naluka  and talked to the manager there.  The campground even had a small launching ramp to a river leading right in to the bay for out little boat.  We were quoted a rate.  Although many of the spots were quite small, we found one pitch that was ideal for us.  We asked about a rate for the 6 days that we would be in Norway and were told to speak to the owner.  Mike called the owner and at the end of the call agreed to send him an email.  In the email, we included photos of the RV even though we now knew that there was no problem with the size.
When we finally arrived with camper and the car the manager looked quite unhappy with our size.  I think he would have sent us away if he could.  He refused to let us have the spot that we had agreed to earlier.  When the owner arrived that evening, we asked again if we could move to the spot we had originally talked about and he said no.  He wasn't very happy to have us in his "little" campsite as he called it.  Two days later the owner comes and tells us that the next day is May 1 and the rate for our camper would be almost double then.  We found out that the rate was only going up on May 1 for Mike and I and no-one else.  It is uncomfortable to feel unwelcome so looked around for another campground and found one.  The next campground we found quoted us the same rate that Autocamp Naluka was going to charge us.  We fit in here quite nicely.  We are at the back, so we aren't blocking any views.  We only take up one spot, even though we are larger than other campers.  The campground is almost empty and is right on the Bay of Kotor with easy launching for our small boat.  We weren't happy with the rate and were even more annoyed when we found out that we are paying more than any other camper at the campground.  A couple of days later we found out that the two campground owners know each other and that they colluded on setting the price for our campsite.  An extra $15 a night isn't going to kill us, but it's certainly annoying to find that we are paying much more for the same size site as everyone else.  Furthermore we don't use their washrooms, showers, or kitchen facilities.  It just leaves a bad taste in one's mouth which is too bad given that the area is lovely, and we want to stay for quite a while.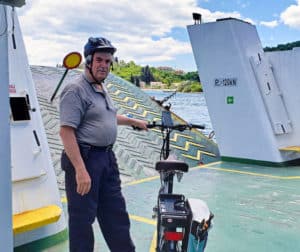 In one area, the Bay of Kotor is so narrow that in medieval times a chain was slung across it to control shipping. We are camped quite near these narrows. There is a ferry here that we have taken multiple times, both with the car and with our bicycles. The ferry is more like a conveyor belt than a ferry. There are often three ferries in the dock at once. One will have just finished loading and be about to leave, one will now be loading and the third might be unloading. So far, we have never waited even one minute to drive onto the ferry. You just drive on to which ever one is loading and then a minute or so later it leaves, and they start filling the next ferry. I read that there are six ferries running 24 hours a day in the summer months. The total trip is less than 1 km or ½ mile and lasts about four minutes. There is no charge for passengers, cars are $7.00 Canadian, and bicycles are $1.50. We were the last car squeezed on once and they couldn't raise the ferry tailgate properly because, while all our wheels were on the deck, the trunk of our car stuck out over the hinged tailgate.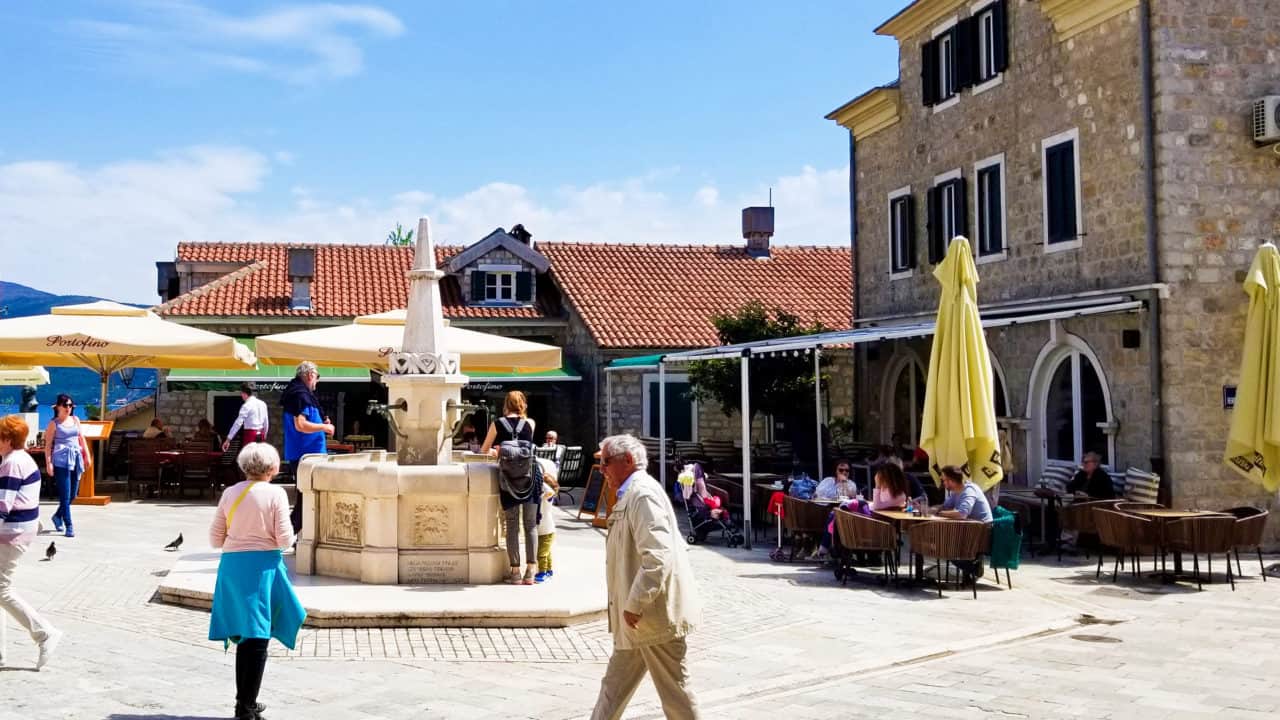 When we first drove into Montenegro we drove past the town, Herceg Novi. It had all sorts of tour buses parked near it so of course we had to return to visit. The weather in our first week has been extremely wet. One night I woke Mike up at 1am to take in the awning (he had screwed it down somehow) as the wind was so bad, I was scared it would get ripped apart. Another night we were trying to watch television when the rain and then the hail got so loud that we had to turn the TV off and give up. One afternoon when it looked like the rain had stopped for the rest of the day, we decided to take the car and visit Herceg Novi.
We are still having same problems we have had for months, trying to find out where to pay after we park our car. The locals all use a text messaging app, but you need to have a local bank account for that. Typically, Mike goes to try and figure out how to pay while I stay with the car so that we don't get a ticket or get our wheels locked up again. After we parked in Herceg Novi Mike went looking around for a parking machine that would take our money. A uniformed parking enforcer sent him to a restaurant that was a 10-minute walk down a narrow busy road. Like all these places you have to decide ahead of time, how long you want to pay for your parking. This is very tricky when you have never been to these touristy towns before and have no idea how long you will be there. In this case we bought 3 hours worth of parking tickets from the restaurant. As we got back to the car to put the ticket on the dash, it started to rain. We decided to wait it out in the car. The rain just got heavier and heavier. Eventually, we gave up and left, throwing away our unused parking ticket that we had spent over ½ hour buying. Luckily the parking only cost about $2.50.
Later in the week, after we had moved to the second campground, we had a lovely sunny, but cool day. We decided to take advantage of the small, not very busy road that we were camped on and try again and bike to Herceg Novi which was only about 13 km away. That worked out really well. It was great to get back on the bikes and very nice to have a level road along the sea to ride on.
Herceg Novi is well known as a spa and health center; and has an abundance of "healing sea mud". From Mike's and my point of view, it was the fort built in the 1300s and the city walls that were much more impressive. I just can't picture my husband in a pool of "healing sea mud". I can't even get him to a normal masseuse! Visiting towns with a documented history of a few thousand years has almost become the norm now. Hearing about "new" buildings that were built in the 1800s still makes us smile.
After more days of rain, we had one sunny day and we decided to bike in the opposite direction to Kotor which is said to be the most beautiful town on the Montenegrin coast. It is a UNESCO listed city/region. We had previously driven through Kotor in the car. The road goes between the city walls and the Bay of Kotor. You really don't know what is inside the walls. To get there on our bikes we had to take the little ferry mentioned above. That was very interesting. The ride to Kotor was 15 km and just lovely. We rode mainly on another small, level road without a lot of traffic right along the water's edge with views right across the bay. On the way there we laughingly tried to race a gorgeous yacht. On the way home we were tracking alongside a cruise ship. It was a slower bike ride than normal, often when we heard any traffic we would pull over and stop until the car passed us.
We found a bit of a tour on the web that told us all about what we were seeing in town. When we walked through the medieval gates, it was like walking into another world. It was a lovely town to wander in. I expect that if we stay in this area for much longer, we will return to Kotor. Actually, if the weather is nice, we will definitely do the same bike ride again, it was lovely.
We learned something new, at least new to us. Neither Mike nor I realized that Easter falls on a different date in the Christian Orthodox religion than it does in the western church. This year we celebrated Easter on April 21. Orthodox Easter fell on April 28. The difference is that most Orthodox Churches still use the Julian calendar instead of the western Gregorian calendar. Interestingly, Easter is celebrated with Easter Eggs and bunny rabbits by the members of both churches.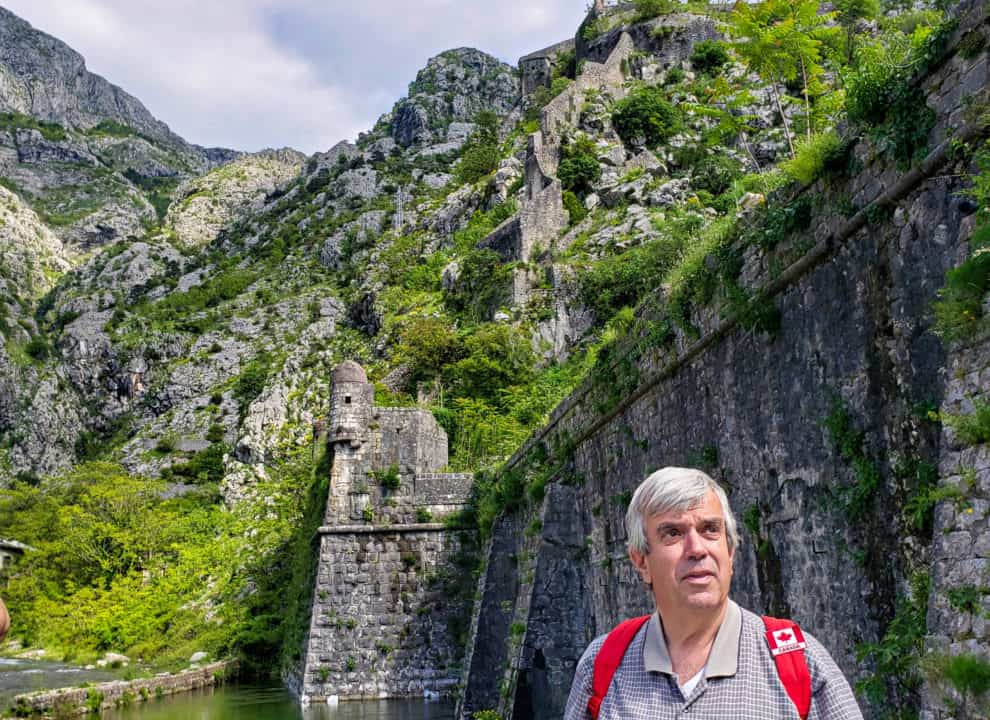 In lots of places in Montenegro we have seen signs duplicated in different alphabets. When we were in Norway, we were surprised to learn that Norwegians have two different forms of their written language, but I believe that they both use the same alphabet. Montenegro has the Montenegrin alphabet, which isn't really one alphabet but two. It is the collective name given to the Montenegrin Latin alphabet and the Montenegrin Cyrillic alphabet. Luckily for Mike and I, although both alphabets enjoy equal status under their constitution, the government prefers to use the Latin script. At least with the Latin script we can try and type words into Google Translate. We are totally lost when we see some signs and information only in the Cyrillic alphabet.
We met Derek and Sissie (hope I spelled that right) just as they were leaving our campground. I wish that we had met them earlier. They are from Arizona and had also shipped their camper on a boat to Europe. It is a more standard, European sized camper without slide outs. Like us, they had a license plate stolen while the camper was in transit across the ocean. It was interesting talking to someone else making a similar journey. Derek and Sissie don't have a car so they don't stay as long in one place as we do. Being able to leave the camper parked and setup in a campground all the time, gives you a home to drive back to at night. That is very nice.
Tomorrow morning, we leave to drive to Dubrovnik airport to visit friends in Norway. We are only an hour's drive from the airport, but we have to allocate at least an addition 90 minutes for the construction and customs delays as we drive back into Croatia. Our next report will be on our time in Norway without our camper.