Norway's West Coast Fjords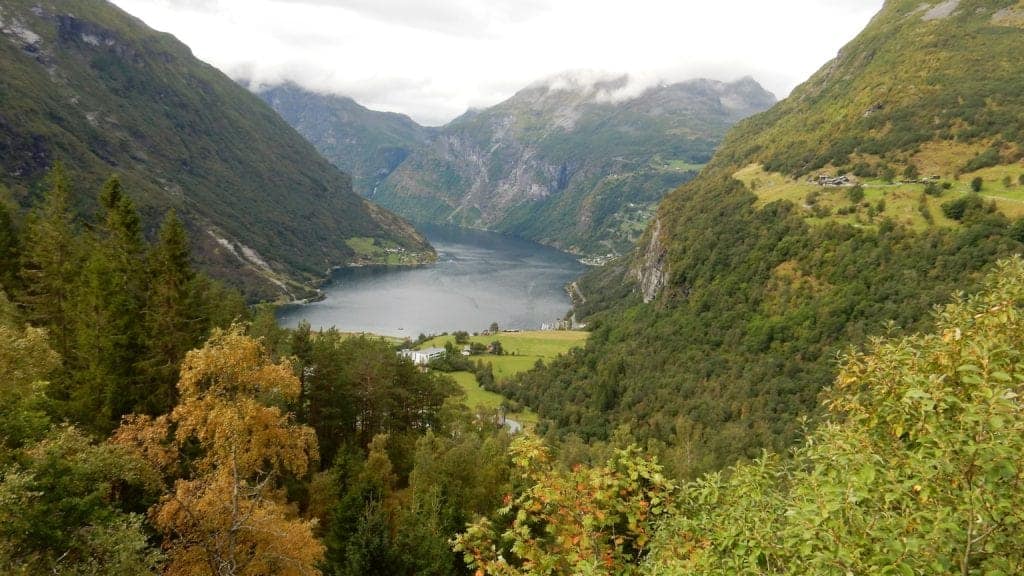 Mike and I are now travelling around the area we most wanted to see this summer – the western coast of Norway with all its beautiful fjords.  After we left Helge and Elin's house we spent 5 nights near the Hardangerfjord.  It is a lovely area.  One day we drove up a long, narrow road to the Fonna glacier.  There was a ski resort there for summer skiing.  This was in August and, in Norway, the summer season was considered over.  We were told that glacier skiing at this time of year was not fun and almost the only people skiing where from the Norwegian national ski team.  One man that worked there told us that the glacier retreated 13 metres every year.  If that is true that is huge.  He said that the T-bar ski lift was built on top of the moving glacier and had to have major maintenance and rebuilding every two years.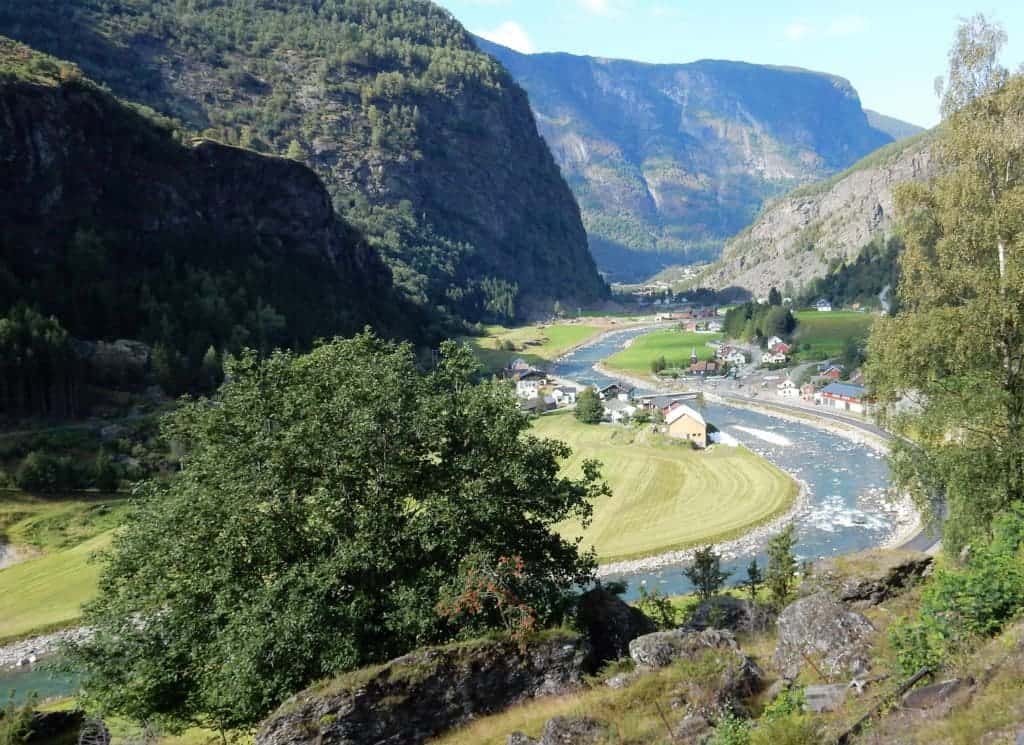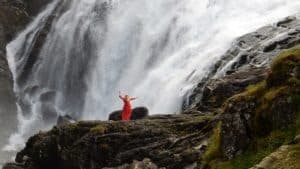 One day we took a ride on the Flam railway.  In 1992, freight services on the railway were terminated, and due to low ticket prices and high operating costs, the line was nearly closed.  In 1998 ticket prices were increased dramatically and it is now, almost exclusively, a major tourist attraction.  The train has a very steep incline as it goes through the mountains with beautiful views.  It climbs from sea level to 866 metres, almost 3,000 feet.  It is over 20 km or 12 ½ miles long.  The train crosses one bridge and goes through 20 tunnels.  18 of these tunnels were built by hand.  On average, these tunnels took one man month of labour for every one metre of progress.  The train goes very close to a few large waterfalls.  At one of the waterfalls a train stop with a platform has been built.  Just before you arrive at the waterfalls you are told about a Norwegian folk legend that involves women at the falls attracting unsuspecting visitors, very much like our sirens and mermaids.  A few minutes after you get off the train music starts up and all of a sudden you see a woman off in the distance slowly dancing to the music.  She disappears and seems to reappear in a different spot.  It is all done quite well as a short treat for the tourists.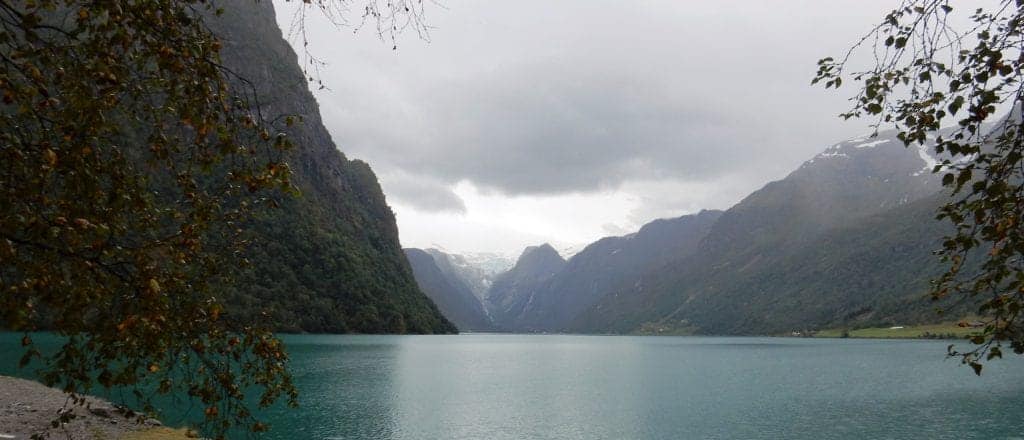 After Bergen Mike and I toured around Sognefjord which is the longest fjord in Norway and the second longest in the world.  One day we hiked up past waterfalls to an arm of Norway's largest glacier, the Jostedalsbreen.  On our last afternoon in the area we were going to take a four-hour drive around part of the Sognefjord.  This included a one-hour cruise on a tourist ferry.  It had to be a drizzly, overcast day which was very disappointing.  The ferry ride was still lovely and the rain stopped for most of the ride.  When we got back in the car we headed up to a large viewing platform via a very narrow switchback road which took us to an altitude of 1500 metres (5000 feet).  Apparently this is the highest fjord viewpoint in Europe that can be reached by car.  The problem was WE WERE IN THE CLOUD!  We had no view of the fjord at all.  I will admit that standing in the cloud was quite interesting.  It was very wet without it actually raining on us.  An interesting experience but I would have preferred the spectacular view that we had been promised.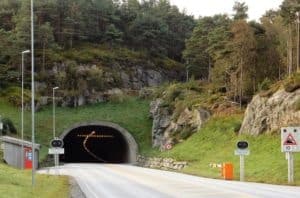 Norway is tunnel mad!  Everywhere there are tunnels, they go through mountains, under the water, anywhere they can fit one ?.  The tunnels range from about 20 metres to 25 km long.  In many cases the tunnels are either replacing ferries or old, very narrow roads that used to get congested as vehicles had to wait or actually back up for traffic coming from the opposite direction.  In a lot of respects Norway has much better roads than we do in North America.  They are nearly all recently paved with no potholes.  Everything would be fine if they were only a little wider.  Teasing aside the narrow roads are causing us real problems.  Everyone tells us that our vehicle is too large for Norway roads and they are correct.  Our large RV with our car in tow is really not appropriate for Norwegian roads.  At one point we actually looked into cutting our visit to Norway a little short.  It turns out that we have passed the point of no return.  There are not many roads between Norway and Sweden and if we don't want to go back we might as well continue up to Trondheim.  The "big roads" have a yellow line down the centre to demonstrate two (narrow) lanes.  Lots of roads are only one lane or one lane and a bit wide.  Even on the "big" roads the RV drives with one set of wheels on the far right line so that we don't go over the centre line due to our width.  This means that our mirrors, which are each a foot wide and don't fold in, are considerably past the edge of the road.  Sometimes this is OK but when you are driving beside a mountain it can be a problem.  Often there are guard rails on the side of the road.  The problem is that the guards rails are frequently just a few inches from the white line.  This means that when Mike drives on top of the white line he is, at most, 3 or 4 inches from the guard rails which says that he can't lose concentration for even a second.  It makes it tense and tiring for Mike and means that he doesn't get to indulge in the fantastic scenery that we are passing.  I also don't get to see the scenery because I can't stand looking out the window and seeing the guard rails just a few inches from my RV body and paint.  Our mirrors are beyond the guard rails.  It isn't comfortable.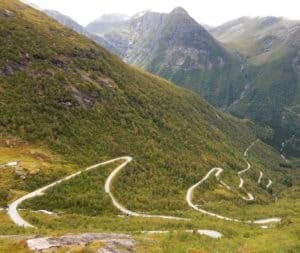 We expected narrow roads in Europe and we were fine with them in every country until we reached Norway.  Norway doesn't even pretend to have enough room for vehicles to pass on many of the roads and we can't back up with the car in tow.  Even the major roads that normally have the yellow line down the centre have sections (in many instances several kilometers long with blind curves) where the road narrows to one lane (i.e. no yellow line).  Our concern is how often this happens as we continue north.  We are told by everyone that the roads in Norway get narrower the further north you go.
I said that Norway was tunnel mad.  In addition to building tunnels for cars and trucks everywhere they have just approved the first tunnel in the world for SHIPS.    They are planning on building a tunnel almost 2 kilometres  or 5,600 feet in length.  Inside, the tunnel will be 49 metres high (161 feet) and 36 metres wide (118 feet).  The Stad Ship Tunnel will be able to accommodate freight ships and cruise ships.  The current plan is that leisure boats will also be allowed and the tunnel will be free for all ships less than 70 metres.  The tunnel will cut through a peninsula.  The sea around the outside of the peninsula is one of the most dangerous along the coast of Norway.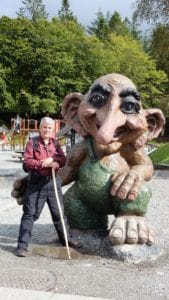 One thing that I haven't mentioned so far are the trolls, yes trolls.  They are everywhere and in every souvenir shop you see.  I remember reading fairy tales with trolls in them when I was a kid.
Mike and I do have one big concern at the moment.  Our coffeemaker is making really bad noises.  Now coffeemakers aren't that expensive (this one was) so you would think that it wouldn't be a problem replacing it.  The problem is that our motorhome runs on 110 volt and all the coffee makers are 220 and apparently won't work properly even with adapters.  I am rather concerned.
Mike and I spent last summer driving around the Canadian island of Newfoundland.  It was lovely.  Newfoundland is known in Canada as "The Rock".  After seeing the rocks here I think Norway must be Newfoundland's big sister.  One of the things that we loved in Newfoundland were all the walking or hiking trails everywhere.  We took some sort of walk through the woods or by the ocean every day.  It isn't that easy in Norway.  They have some major hikes but they don't have a lot of the smaller ones.  In lots of places we have a lovely setting for camping overlooking the fjord but we can't walk anywhere.  Remember those narrow roads, without proper trails the alternative is usually walking along the road which I won't do here.  There isn't enough room for two cars never mind adding me into the mix.  Mike doesn't particularly like it either but he does occasionally give it a shot.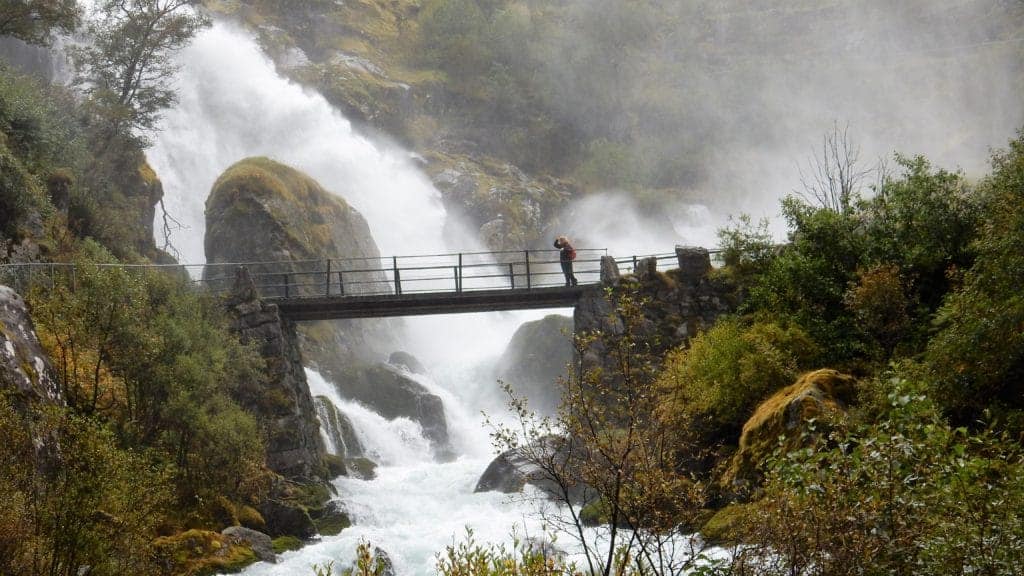 This trip is really making us appreciate Canada.  Canada has glorious mountains, two oceans, small lakes and rivers and very friendly people, at least in Newfoundland.  I will admit that what we don't have is the culture and the history that is a major part of Europe.  Exploring here, meeting the people, learning our differences and similarities makes for a tremendous time.