Mike and I have spent the last two weeks in northern Germany.    Our thanks go to Clemens, our friend from Hamburg, for pointing out towns that we shouldn't miss in the area.  At his suggestion we visited a lot of "L"s: Luneburg, Lauenburg, Lubeck and Laboe and all were great.  We would leave our motorhome setup in a central campground and take our car into nearby towns for the day.  We wandered through towns with cobblestone lanes and pedestrian areas and rathaus's.  A rathaus is the city hall.  I won't comment on the appropriateness, or not, of the term.  Originally northern Germany wasn't really in our thoughts at all.  It was simply somewhere we had to cross to get from the Netherlands to Denmark.  Now it may have actually changed our entire route for this summer.  Our original thoughts were to go to the very north of Norway, beyond the Arctic Circle and then come south through Finland.  We may now decide to spend additional time in the more populated areas in the south rather than driving to the extreme rural north.  We will see.
Because of the narrow roads, we are traveling a little differently than we did when we were in Newfoundland last year.  In Newfoundland we just meandered from place to place without any plan at all.  We loved it.  Now we are traveling on the bigger roads with the motorhome and we pick somewhere to aim for each day.  Of course things do change enroute.  The other day we decided to try and stop at one small town for lunch and liked it so much we looked for a campground in the area and stayed for a few nights.
What a difference technology makes.  We saw some large road atlas's in a store and remembered a time when we used to buy them.  Now we download maps to all our tablets and GPS devices and navigate without paper maps and without the internet.  Our new European GPS includes all sorts of information about campsites and gas stations and low bridges or roads that can't take our weight.  It routes us around any potential concerns.  I must admit that twice now we have aimed for one campground, stopped for the night and found out later that we were in a campground near the one we were actually aiming for.  Our phones have the German language downloaded so that we can use Google Translate.  We have used this a lot both to translate our questions into German and to read German signs and menus.  We have a long-range WiFi antenna mounted on the back of the RV.  I am not sure that it actually pulls in longer range signals like it is supposed to but it does act as a hotspot and allows for really easy access from all devices within the RV.  Thanks to internet access in many of the campgrounds we can phone home even without a SIM card.  It isn't high tech but Mike and I have a set of walkie talkies that we use to find each other without cell phone access.  Europe uses different frequencies than North America so I don't think they are legal here therefore we use them sparingly.  They are a nice safety net.
Electricity is often metered in the campgrounds and you purchase a certain number of kilowatt hours at once.  Of course we have no idea how many kilowatt hours we use so we just put in a bunch of coins and hope for the best.  The other night, at midnight, the TV went off.  We had just run out of electricity.  Mike was in bed and not leaving it.  You should have seen me with a flashlight and a few coins creeping around the campground in the dark trying to figure out how to open the meter box and make all this work.
Lots of the towns in northern Germany were bombed during the war.  80% of Hamburg and Laboe were destroyed.  Lubeck had one main night of bombing and 20% of the historic medieval city was destroyed.  One of the churches, St. Peter's, wasn't rebuilt until 1987 and by then it was a church without a congregation.  It is now used mainly for art exhibits.  It is really hard to see the results of the bombing whether it is in London or Germany. Lubeck is designated as a UNESCO world heritage site because of its 12th century city centre.  Mike and I downloaded an audio/video tour of the town onto our phones and used it while walking around.  It was great.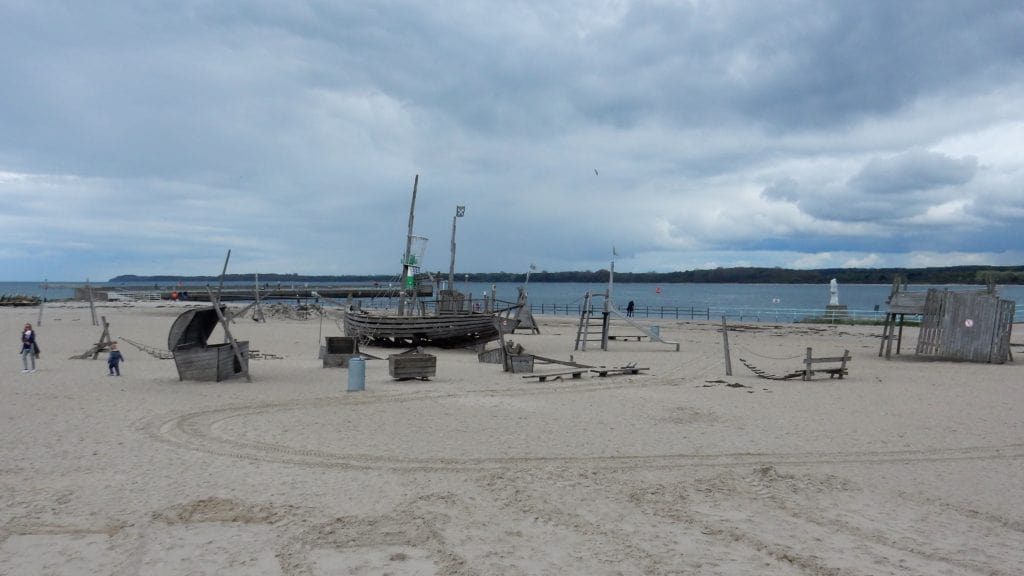 The lack of English at tourist sites has really surprised us.  We obviously don't expect it in normal retail outlets but none of the brochures in the Tourist Information Centre were in English.  The photo books on sale about the towns have all been in German.  Normally I would expect tourist information in multiple languages.  One exception to this trend was the European HanseMuseum in Lubeck.  This museum uses what is called participatory museum technology. Every visitor is given a card with an RFID chip in it.  You put your card in a reader and you select what language you want used during your tour (German, English, Russian or Swedish).  You also select what city in the region most interests you.  I picked Lubeck where we were and Mike picked Amsterdam.  You then say whether you are more interested in people and the way they lived, commerce, sea faring etc.  When you get to an exhibit you tap your card and the headsets or the text is then presented in your language and sometimes tailored to your specific interests.  The museum was on the site of an old castle, turned convent, turned hospital, turned jail and more.  The museum was largely about the countries that came together for trading purposes, how that worked and about the people that lived in the area from about the 13th century to the 17th century.  Your cards are used to open doors to get through the museum.  We waited at the first door until the computer decided that the couple in front of us was far enough ahead that we wouldn't conflict badly.  I don't know how this would work when the museum was busy but it worked really well when there weren't many people around.
Bikes and bicycles paths seem to be just as common in Germany as they are in the Netherlands.  The majority of bicycle riders sit upright as opposed to bent over in the racing style that is more common in North America.  Sitting upright is much easier on the back for those of us not into racing.  Somehow these old cities with narrow roads still found room to install bike paths.  It would be really nice to see more of them at home.  We have seen lots of very small children on two wheel bikes with no trainer wheels.  A few children, maybe two years old, where on bicycles with no pedals.  They sat astride and walked them.  Pedestrians and bicyclists pay much more attention to traffic lights than you see in Canada and the US.  I have to keep holding Mike back at red lights with no traffic coming ?.
We are staying near the Kiel Canal, known in Germany as the Nord-Ostsee Kanal.  It is the world's busiest artificial waterway, known by some as Europe's Panama Canal.  It is almost 100 km long and connects the Baltic Sea with the North Sea.  As an aside I understand that it has a bike path along the length of the entire canal.  Great Idea.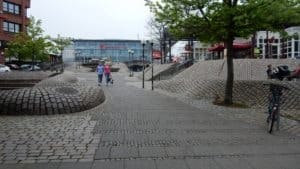 Germany uses a lot of bricks in both buildings and walkways.  They use dark and light coloured bricks in buildings in very attractive patterns.  A lot of pedestrian areas contain shapes built from bricks.  These forms are a lot more rounded than we see at home.  When we build steps into the side of the road we would do it using straight lines, here curves are used much more often.
I had forgotten that much of the world charges different rates for a cup of coffee if you have it standing up or to go versus sitting and drinking it in the café.  Mike and I sat in the town centre in Lubeck having cappuccinos that cost €2.70 each.  As we were leaving I saw a sign that said the same coffee would have cost €1.90 if we hadn't sat down.  Mike has developed a definite taste for "curried ketchup".  Ketchup here is typically a chargeable extra.
We decided to have a down day without doing much of anything today.  Due to our size some of the campgrounds fit us in a far corner away from the standard campsites.  The privacy is a nice benefit.  The campground we are in at the moment is actually not very attractive.  It is overcrowded except where we are.  I am sitting writing this right now looking at the cows in the fields near the camper.  Mike is out walking next to the Baltic Sea getting a head start on the 10,000 daily steps we aim for.  There is a bike trail on top of the dike beside the Sea.  I expect that we will go for a short ride later this afternoon.  We haven't done very much riding yet and I think the ground is only going to get hillier as we go north.
We will spend another few nights in Germany before we get to Denmark and start the Scandinavian portion of our trip.  We are really looking forward to this but I must say our time in northern Germany has been an unexpected bonus.