Parting Thoughts of Newfoundland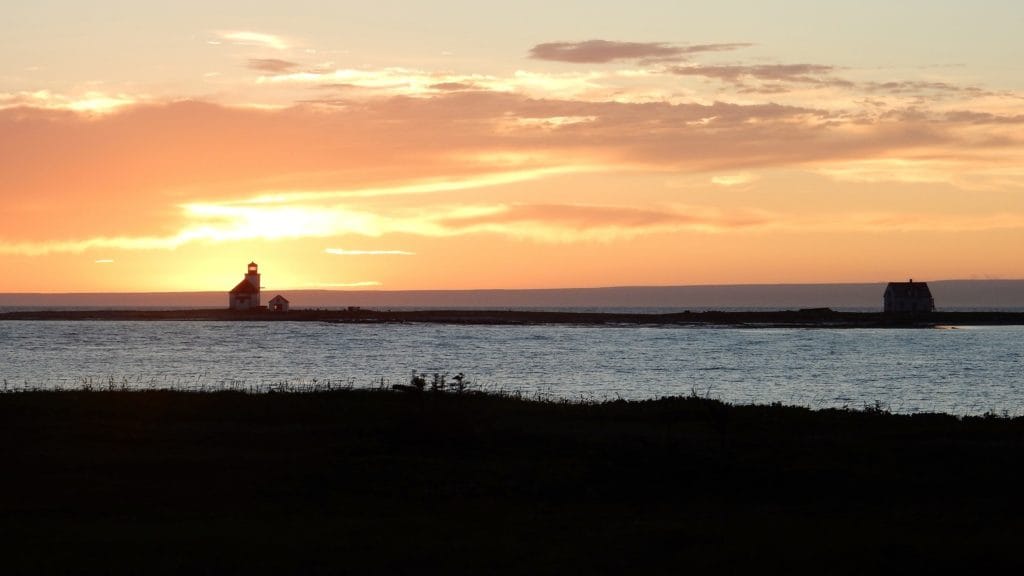 I don't want to write this entry because it means that our time in Newfoundland and Labrador is over for now.  Mike and I absolutely loved our time spent here.  If I had to summarize the highlights and our favourite memories they would be found in the people, the scenery especially the ocean and the music including the theatre.  That is one short sentence for months worth of new memories.
Let me start with the people.  We cannot say enough about the hospitality and friendliness of everyone over here.  Co-incidentally when we get home one of the first things that we are doing is going to a new play with friends about the hospitality of Newfoundlanders to thousands of strangers during the 9/11 crisis.   During our time here we ate dinners cooked for us in three homes, had drinks with others.  We had many people into our RV for drinks and talks.  We were given 2 platters of moose steak, fresh cod, flash frozen cod steaks, lobsters, cakes, offered freshly picked Golden Chanterelle mushrooms.  When you visited homes you had to think about what you admired, if you weren't careful you would be walking out with the item.  Quite honestly it is the people that made the trip unique and different.  We have seen lovely scenery in many parts of the world and that certainly was a major source of enjoyment within this province but the number one highlight had to be the people.
It isn't only the friendliness but the character as well.  Newfoundlanders are said to be the funniest people in Canada, the sexiest people in Canada (Maclean's Magazine Survey), and even with their financial difficulties they are the most giving people in Canada according to Stats Canada.  There is a huge pride and sense of identity in being from Newfoundland and Labrador.  This came through loud and clear in conversation, music, theatre, tourist highlights and more.  Although there is a lot of pride in being a Newfoundlander they don't forget that they are also Canadian.  We have seen more Canadian flags in this province of half a million people than we have seen probably in total in our travels across Canada.  You will often see both the provincial and federal flags flying together.   The events and the history of WW1 and WWII seem much closer here.  What happened during the wars still has significance and the soldiers and veterans and memorials are treated with a lot of respect.  You don't feel like the soldiers that died in the wars died a hundred years ago.  There history seems much more current.  One of the plays we attended was about the devastation of life in Beaumont Hammel in WWI.  During the play the audience stood up and sang "God save the King".  Everyone, of all ages, joined in.  I would be very interested to know if the majority of teenagers in Ontario could sing "God save the Queen" or not.   If I get the time and energy I would like to write an article about there being two countries at one time; the Dominion of Canada and the Dominion of Newfoundland, and how they ended up being one.  This is still controversial today.
Newfoundland is known as "The Rock".  Mike and I have decided that it should really be called WIND, rock and hills.  The wind near the coast, which is where the population lives, is almost nonstop.  At times it was exhilarating but it also turned cool days into cold ones at times.  The days were cooler than I expected but it had a really good side benefit.  As many of you know, Mike and I plan on taking our RV to Europe in 2017 for 2 years.  I was looking for somewhere quite warm to spend the winters in Europe and not really finding many choices.  It now appears that Mike and I like the cooler weather for walking around.  This will give us a lot more choices when we get to Europe.
The ocean and shorelines with their coves, bays and arms is marvellous.   Where Mike and I would refer to the land or peninsula that we were driving around the locals would talk about the Bay or body of water that we were near.  What really struck Mike and I were how many hiking trails there were around the entire province.  These ranged in length from 1 km to hundreds of kilometres and from easy to difficult.  There is a whole network of trails along the coast in the Avalon that it would have been great to have had the time to do.  It is amazing how these little villages of less than two hundred people maintain their trails. Because people and the roads are all near the coast you almost can't go on a walk and not end up doing at least part of it along the ocean.  The walks are beautiful.   The ocean is extraordinarily clear in most places and the sky is really blue.  I wonder if this is because of a lack of industry and pollution.  The sky colour really is noticeable.  For future visitors, if we had to pick our favourite walks they would be the Skerwink Trail in Trinity East and the walk down Signal Hill in St. John's but honestly you can't go wrong almost anywhere.   Being an island,Newfoundland doesn't have a huge amount of native animals although some imports have taken over.  Moose were introduced in 1878 and when that didn't work two pairs were brought over in 1904.  From those four there are now  150,000 on the island.  Squirrels were introduced in 1963 and have now colonized the whole island.  Chipmunks were introduced in the same timeframe.  There are no snakes, skunks, deer, porcupines or groundhogs.  Out in the ocean at different times of year you can see more than 20 species of whales and there are huge bird colonies.  Mike and I didn't have any close encounters with whales but Mike did see some in the distance quite a number of times.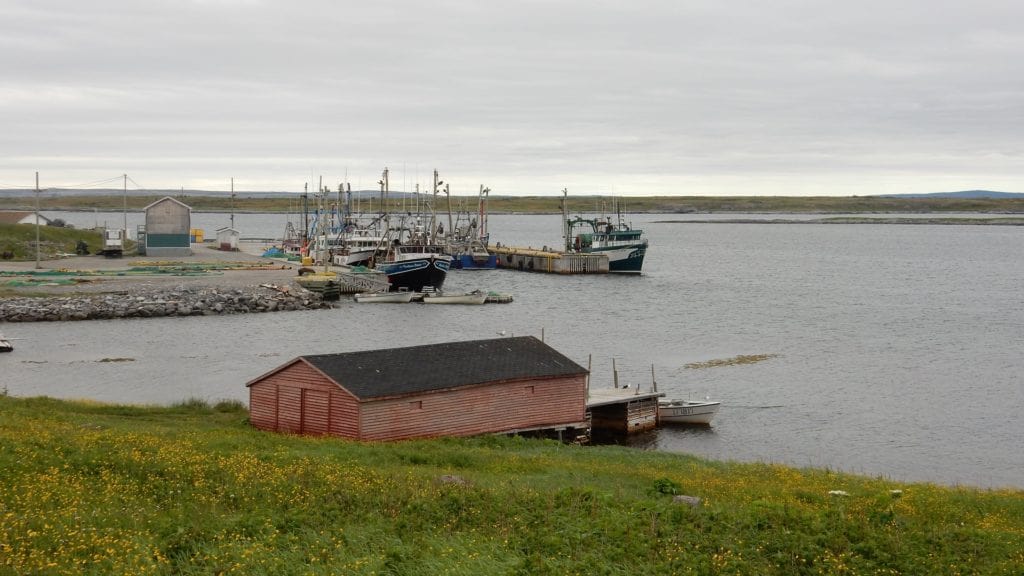 In Newfoundland, or at least the Avalon, you have the Baymen and the Townies.  The Townies are from St. John's and the Baymen are from outside the city or "around the bay".  We talked to lots of Baymen or people from rural Newfoundland including teenage girls, young millennials, parents and retirees.  One common factor among many of them was that they couldn't imagine ever living out of site of the water.  The people here are very outdoors oriented.  They often have a cottage on a lake that they call a cabin on a pond.  You can see why Newfoundland is the only province to have its own dictionary J.  ATVs are extremely common.  In some towns there appear to be more ATVs than cars on the roads.  They also talk about their shacks which are often just across from the house or cabin but are directly on the edge of the water.  We spent an evening having drinks and talking and listening to music in one of these "shacks".  This is not a shack as the rest of the world thinks of one.
Family seems to be really important to Newfoundlanders.  People move away because they have to for economic reasons but they are still Newfoundlanders and often find some way to come back home.  From what Mike and I have seen mother-in-law doors appear to be an interesting and unique feature to Newfoundland.   The positioning of the houses in the small villages fascinated Mike.  A few might face the road, others might line up with the coast and others looked they were just dropped out of the sky.  Mike thought that this higgledy piggledy look was really interesting.
As you drive around you see many more churches and cemeteries than you see pubs or coffee shops.  For windshield tourists (a term we just learned) this makes life a little difficult.  It you aren't on the highway and are traveling around fishing villages you are likely to go hungry and thirsty.  If you are traveling in a motorhome Newfoundland is just great.  Outside of the cities you can pull over almost anywhere, put out your sliders and spend the night.  Most nights we spent beside the ocean.  We had some great views, great sunsets and great walks all from where we were parked for no charge.  Luckily we are largely self sufficient.  Every few days we would need to stock up on fresh water and empty our sewage and grey water.  Many towns in Newfoundland have places, specifically for RVs, to do just that.  There is a website www.sanidumps.com that is really good at telling you where you can get freshwater and get rid of your dirty water.  Mike and I managed to contribute a few more dump sites to this website which felt good.  Funnily enough, the other country that is quite well set-up for motorhomes is also a country with phenomenal scenery and really friendly people and is also another island(s).  That is New Zealand.  The one downside to traveling in a motorhome, or even worse our 58 foot long parade, is the condition of the roads.  Many roads were rough with very large potholes.  Many, many dead ended somewhere.  That somewhere not being anywhere you could turn around our 58 foot long train without separating the pieces, turning the individual pieces separately, and reattaching everything again.  We did get pretty good at executing this maneuver however, and could usually manage it in about 5 minutes.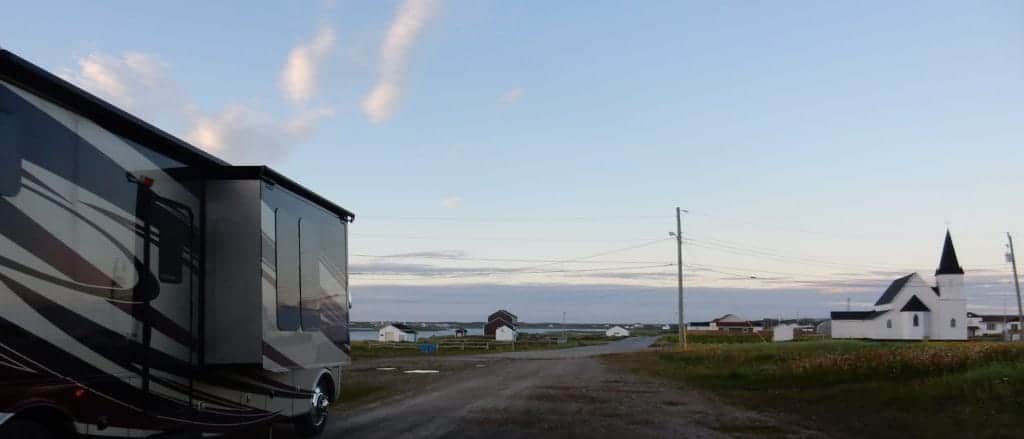 Leaving the scenery and terrain aside, last but not least, on our highlights list was the music and theatre.  It is everywhere and it is great.  We have been seriously impressed with the level of acting that we found on the island.  If you are here during the "summer" season which is basically July and August you can find musicians and various shows all over Newfoundland.  Outside of the tourist season and when the students have gone back to university you need to be in the bigger towns for the theatre.  Music really seems to be integral to so much of life here.  If a Newfoundlander can't sing, they learned to tell a good tale, which can be equally entertaining.  I expect to find the same thing when we get to Cape Breton next.  Someone laughingly told me that Cape Bretoners were displaced Newfoundlanders who had left to go to Ontario and never made it.  From what I hear they certainly have a love of music in common.
The problem with writing this article is that I am sure to think of a hundred other items that were bigger highlights, or more important or something like that.  If it is really serious I may actually amend this afterwards.  As my niece pointed out yesterday, documenting periods of your life is great for tracking and remembering later.
One tourist told us that as they were landing in Newfoundland the pilot told them to "put your clocks back 30 minutes and your mind back 30 years".  This isn't being nasty.  Life here does seem to be at a slower pace which is really nice and relaxing.  That doesn't mean that life is easy for families living off the sea because it isn't, but it is rewarding.
All in all it was great to spend a few months living in Newfoundland and Mike and I could easily have done this for longer.  For now we have to say good-bye to Newfoundland and say hello to Cape Breton.  Cape Breton will be the only other area where we  may get to spend a little bit of real time before we also become "windshield tourists" (I love that phrase) on the drive home.  At this precise moment Mike and I are thirty minutes out of Cape Breton on the ferry and I must go.