Back to Civilization – Almost: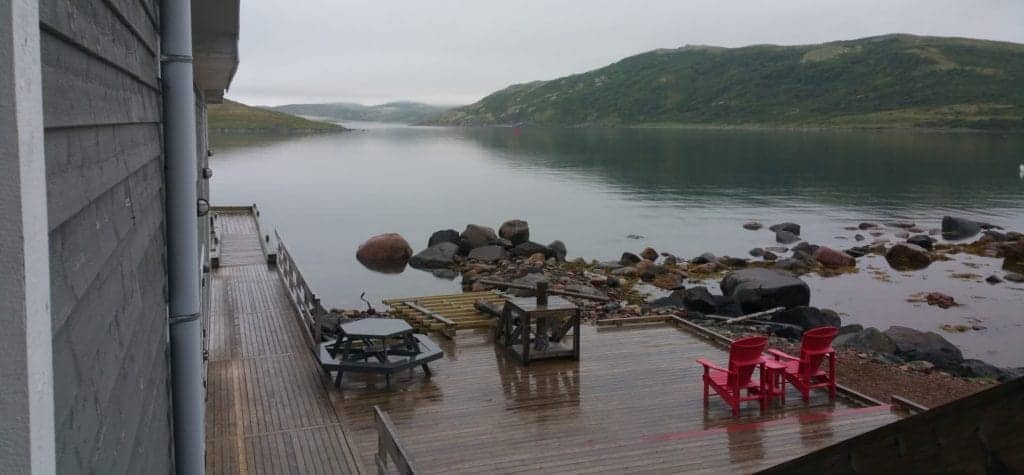 Paved roads and intermittent cell phone coverage, my new idea of civilization :-). Some great times and a few not so great times during this second last leg across Labrador. In Red Bay, Labrador, population less than 300 we had the best cod fish and chips that we had ever tasted. We are now ruined for fish and chips anywhere else. This small town has won all sorts of awards for their cod and rightly so. It was drizzling and misty when we wandered around Red Bay. It looked just like it could have been the setting for the great set of TV commercials that they have been running for the past year for Newfoundland and Labrador. We spent some time talking to a resident of Red Bay. He was telling us about his daughter's new house. It is a 3 bedroom, two story with basement, bought for $46,000 (CDN!). The same house in Goose Bay, Labrador would probably be half a million. His son has just bought a fixer upper at $7,500. He has spent about $3,000 adding a foundation or basement. Older homes often go for 7 – $10,000. Mike loves seeing the homes along the shore lined up with the coast itself and not the road which makes for an unusual line of houses. Mum, as you can see they still have mother-in-law doors here in Labrador as well as in Newfoundland.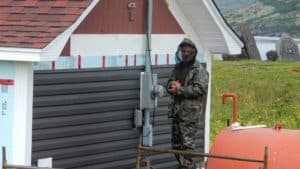 Labrador has huge black flies that swarm around our windscreen when we stop. In those locations I stay in the RV. In addition to mosquitoes they have really tiny flying bugs that you don't always feel biting you but you find all sorts of bites later on. One local gentleman called them "Labrador piranhas". They get in your hair and then bite your scalp. They are the most non desirable aspect of Labrador. You see fishermen walking along the road, and construction folks all wearing nets over their heads. A good wind blows the bugs away. The only walks we have taken have been when it is windy out. They aren't as bad in the villages as they are outside the towns. One woman told us that if it isn't windy she chooses to stay indoors all summer. Luckily the coastal areas have a lot of wind.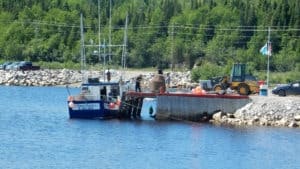 Mary's Harbour was larger than Red Bay with a population of almost 500. We actually did a bit of walking there, saw a large iceberg in the water and got a lesson on small commercial crab fishing. The fishermen have a pound quota and one set of people we talked to had just finished fishing for the season. I gather that the quota was shrunk this year because of supply. We talked with the mayor of Mary's Harbour who was also a fisherman and had just got back in from fishing at 4 AM that morning. The netting on the pots are designed to allow the smaller crabs to escape and to trap the larger crabs. A section of each crab pot is designed to dissolve in sea water after 90 days. Apparently it isn't unusual for some of these pots to be "lost" in the ocean and this allows the crabs to escape after 90 days.
We toured a local museum where they had recovered a 500 year old Basque whaling boat from the bay. This was a really significant find as it is the only well preserved Basque whaling boat from this era found anywhere. What amazed us was that after they spent years cataloging and retrieving this boat they then spent years putting it back in the water. They covered it with silt and then marked and covered the area. The waters are so cold here they felt that this was the best way to actually preserve the boat. Models were made of everything they retrieved.
Yesterday was our not so good day. It started nicely with a long walk along the beach where we had camped in a provincial park. You could see the Newfoundland coast or outline in the distance. We left the park and drove about 30 minutes until we came to a town with some gas at $1.27 per litre. By the way, this looked cheap compared to over $1.60 per litre at an earlier gas station. While we were putting gas in the RV Mike noticed that his bicycle was gone. We hadn't latched it properly and the velcro holding one of the tires had broken. It must have come off during our half hour drive. We couldn't believe that the Lincoln had zero damage and showed no signs of anything hitting it. We always assumed that if anything caused the bikes to fly off the rack then the front end of the Lincoln would be ruined. We went back but we couldn't find the bike. Hopefully it landed in good enough shape that some kid is now enjoying it. Mike obviously isn't very happy. It will be a while before we get anywhere big enough to buy him another one. When we were checking the Lincoln very carefully Mike decided one tire had a slow leak and was low on air. We filled that and then checked the RV tires. One of the inside tires that you can't see normally was flat. Luckily, across from the gas station in this village was a garage. It turns out that we had a large hole in the inside tire and a leak in the outside tire as well. They tried to put a plug in the large hole but that didn't work. They sent us to a larger garage 20 minutes down the road. We filled the tires with air and hoped we could make it to the next garage without ruining anything. We did get there. They didn't have any replacement tires that would fit but they did patch the tires quite well. They checked and no-one in Newfoundland or Labrador has a tire of the correct size for us to buy. Hopefully the patches will hold up. This is what a thousand kilometres of gravel roads do to tires I guess. Between 3 leaking tires on the Lincoln and motorhome and one missing bicycle Mike was more than a little frustrated by the end of the day.
Today we started driving around the "touristy" part of Labrador. It is called the Southern Coastal drive. It is a road of maybe 50 kilometers. People take the 1 1/2 hour ferry from Newfoundland to Southern Labrador and do this little scenic drive and then go back to Newfoundland. We took a long hike up to the top of a hill (felt like a mountain) for a great scenic view of the area and our old campsite. Tomorrow we are going to see and possibly walk up the tallest lighthouse in Newfoundland and Labrador and possibly hike up to see a waterfall. The latter is dependent on the wind. No wind, no hiking. Tomorrow is Friday. We will probably take the ferry over to Newfoundland on Saturday. Apparently there can be a long lineup for the ferry. I will feel sorry for the folks waiting potentially for hours in cars when Mike and I will be able to wait in our motorhome. One or two more days in Labrador and then on to Newfoundland. The people here have been great.