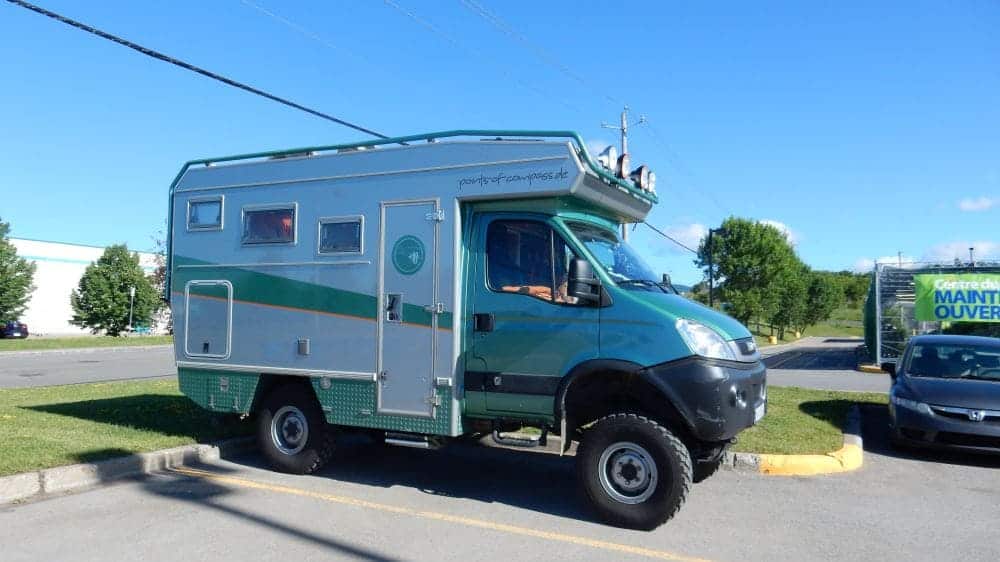 Walmart parking lot – what a great place to meet interesting people 🙂
In Quebec City we decided to stay in a Walmart parking lot. We arrived in the evening and were leaving to go into town in the morning so we had no need of a nice green campground. It was also during the long weekend so we probably couldn't have found a campsite if we wanted one. A number of other motorhomes were all parked overnight in the same area. Mike and I went out for a walk and met this couple from Germany parked nearby. They came and spent the evening in our RV. What a fascinating story we heard.
They had just shipped their vehicle from Germany over to Halifax. They are planning on spending three years in the Americas. If it works out they would like to get down to the southern tip of Argentina but, like us, they will see what happens enroute. They were currently driving west across Canada and were then going to go through the US, through Mexico and Central America and through much of South America to get to Argentina which they would like to see. It makes our two years in Europe seem like child's play.
In addition to the countries and locales they will travel through, they are doing it all in a much smaller vehicle than we are. Not only are their two adults but they are also traveling with one large dog. Their camper is considerably better for travel and parking and it looks really durable. Ours always seems a little fragile to me and is really long and a bit awkward when towing a car but it is very comfortable to live in. For some reason, although I find our new living area in our apartment smaller than I would like, I don't feel at all cramped in the living room in our motorhome. I guess expectation has a lot to do with it. Anyway, Mike and I chose comfort over practicality and the couple we met went for being practical. They think they have plenty of room for 3 years and so they probably do.
You can see more details about their adventure at http://points-of-compass.de. The site is currently in German and the Google translation isn't great. It is so true that the more you travel and meet people from around the world, the more you realize how fundamentally compatible and interesting we all are. Best wishes to Andreas, Sandra and their dog Luke.