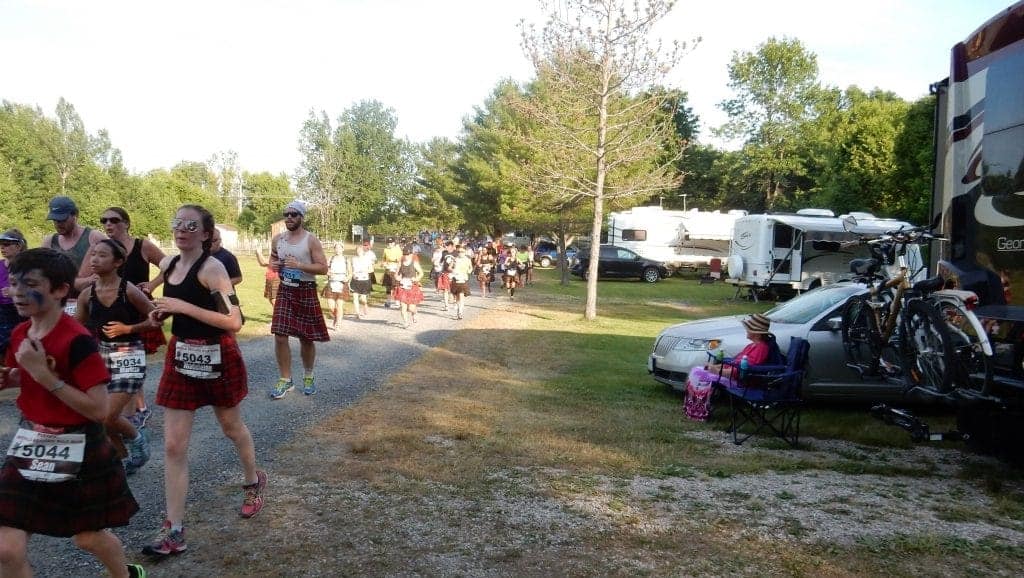 We were again heading for Ottawa when we stopped for lunch in Perth. The waitress told us about what they hoped would be the largest Kilt Run in the world happening the next day. There would also be a full Kilt Marathon and a small Celtic Festival in the park. Of course we had to stay. Perth was hoping for about 6,000 runners – all in kilts! The basic run was 8k although the runners only needed to complete a "Royal Mile" to count towards the Guinness Book of Records.
We arrived at a campground in Perth and, after a few problems, set up in an available campsite. We were nicely settled in when another vehicle pulled in next to us. I wasn't exactly sure if that was a second spot or part of a very large one that we were in. They knocked on our door, told us that they had paid for the whole spot and were expecting their parents in a tent later on. The spot was supposed to have been marked reserved although it wasn't. They hoped that we would move since they had already paid. Since we hadn't paid yet we told them we would if they could wait 15 minutes or so while we finished something we were in the middle of. About 5 minutes later they were back at our door saying that if we didn't mind they thought there was room to add their parent's tent even with us there. We gave them half the money that they had already paid for the campsite. They were great and we visited around their campfire both evenings. Parents and kids were all entering the run. The mother was running pushing a stroller with their youngest in it.
The campsite was the best we could have got, even if we ended up there accidentally. We were at the 6k mark on the 8k run. We could sit comfortably in our chairs in front of our RV and watch everyone run by. Given the temperature was in the 90s (low 30s) it was really hot to be running 8k. Across from us was a spot where the "warrrior class" runners broke off. They had to carry a sword & shield for the entire 8k. At the 6k mark they had to participate in a caber toss (small), javelin throwing, hurling, and more. I think there were a few additional events for them in other places. After doing all this extra physical activity they then joined back into the run.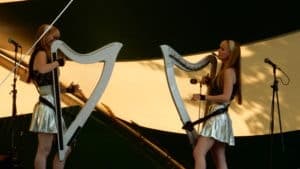 Just before the race was a small Celtic festival at the park. It was a lovely afternoon. Mike and I brought our chairs from the RV, put them under a tree not to far from the stage and watched, listened, read, slept (Mike). Occasionally we would leave our chairs in their prime location and wander around the town for ice cream and other enjoyments. We watched multiple acts one of which was the Harp Twins. They are identical twins who play electric harps attached to their bodies. They have a very interesting background and apparently have quite a few videos on You Tube. You should have a look.
We left Perth en-route to Ottawa and this time finally made it. We found a campground with good internet and some television for the first time so far. The internet is what is allowing me to get this website up and running. Between the three amigos conference and getting ready for Friday's July 1 celebrations the town is in a bit of an uproar. We may stay for Friday's activities, I will update you on that later.