Day 3 to Swastika, Ontario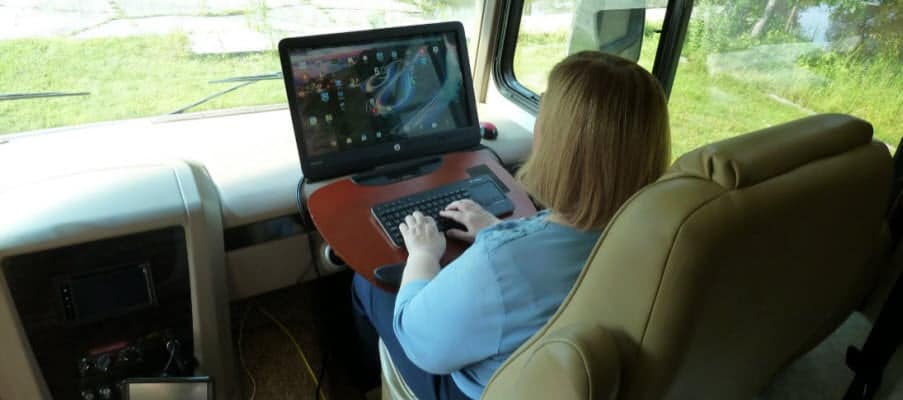 Day 3, holiday Monday, and we are heading north. Since Mike hadn't heard back from his friend in Sudbury we decided to keep to the idea of following Hwy 11 to its end.  This will take us to towns like New Liskeard, Kapuskasing, Temiskaming and more.  I have heard about these names on the national news for years but have never been up here.  We will still end up in Thunder Bay as we would have done taking the more "southerly" route through Sudbury.  It will just take a little longer to get there.
Today we drove along Lake Temiskaming which borders Quebec and Ontario for a while.  We went through a small, very nice looking town called Hayleybury.  On the way into town was a large billboard that announced "Hayleybury, Home of Leslie McFarlane.  First author of the Hardy Boys books.".  I thought that was an interesting claim to fame.  If I remember correctly the names of the authors of series like Nancy Drew, Hardy Boys and Doc Savage were all false names used by the publishing company which hired many contract writers to write the various series.  The writers were simply paid for their work with no ownership rights.  In most cases there were many writers writing under the one name.  In Leslie McFarlane's case he actually wrote about half of all the Hardy Boy books.
Part of what I have been doing is trying to get my passenger seat set up appropriately in the RV.  Whereas Mike likes to drive, I like my toys.  I was doing some typing for this blog and was having problems with my laptop keyboard as well as finding the screen too small to work on while bouncing around in a moving vehicle.  Specifically for this trip, or at least that was the justification, I had bought a new 21 1/2 inch monitor.  It can be a monitor for my laptop or it can be a standalone, very large, Android tablet.  It is great.  One button and I switch from Windows to Android and back again.  We have it sort of mounted on the large dash in front of the passenger seat.  I have a lap tray that supports my bluetooth keyboard. I am all set. I can see over the screen without a problem which is surprising. I have a cigarette lighter adapter that I can plug the monitor into as it does require power to work.  Tonight I want to set it up so that I can run both the monitor and the laptop off the 12 volt system while we are driving.  Mike is a bit concerned that I will blow a fuse that we haven't located yet.  We also have two tablets and two smart phones running off the car battery during the day. Oh well, we will find out. Nights are not a problem, we are either on shore power or we have the generator going.  In either case all the 110 volt outlets work.  I have been installing "charging stations" for all our smart phones and tablets around the RV.  I wouldn't want to be more than a cables length away from my devices and power :-).
I made a lovely cappuccino in the RV last night.  How civilized.
Much of the drive today was along a road with lakes and rivers off to both sides, sometimes in view and sometimes hidden by the trees.  We were wondering exactly how the surveying for the road was done.  Did they have the benefit of the view from an airplane?  If not it would have been even trickier trying to plan how to get the road between all these bodies of water.  Motorhomes are extremely common on the roads in the "near North" as I found out this area is called.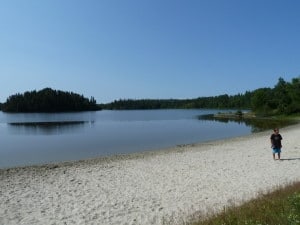 I am working on adding a map to the home page that shows where we are and links to our full track.  I haven't go this figured out yet.  Suggestions are always welcome.  This internet stuff takes a lot of time when it is new to you.  Luckily I can do a lot if it while Mike is driving with our current set-up.
We are stopping for the night in a lovely little campground near the town of Swastika. Again I don't think it has all the entertainment and amenities to be highly ranked and we like it that way.  It is surprising that Berlin renamed itself to Kitchener and yet Swastika kept its name.  The connotations aren't really very great.  The photo is of the very nice sandy beach next to our campsite.