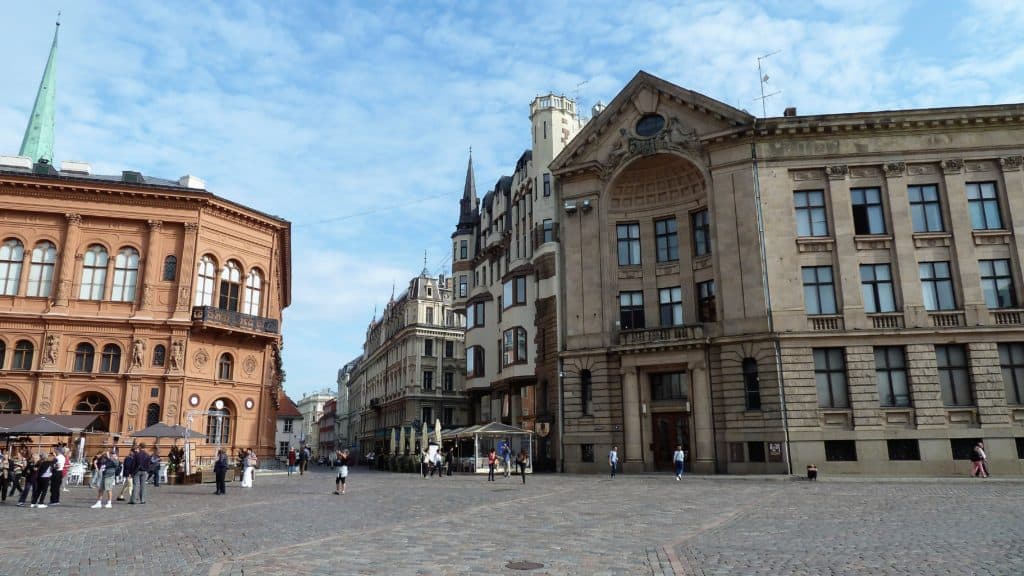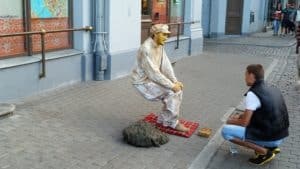 I am really too tired to type this now but it is our last evening in Riga and tomorrow we start on the RV portion of the trip.  I want to try and get some thoughts about today down while I can still remember them.  As I mentioned previously we were going to spend today with a woman whose brother I had exchanged business emails with.  Well it turned out that there were 5 of us all day.  The person in Lithuania that I had contacted was Gabriel and he was in town visiting his sister and we will see him again when we get to Vilnius.  His sister is married and her husband actually drove all day.  They took us to a "local" coffee shop outside of the tourist area.  They did the same thing at lunch and introduced us to a typical non-tourist restaurant.  The 5 of us spent the first half of the day at a "Pioneer Village" type place near Riga.  It was very interesting and Mike and Gabriel had a great time figuring out exactly how the windmills that ground the grain worked and anything else remotely mechanical.  Unlike our version of "Pioneer Village" this one was set in the woods with each building quite a distance apart.  It was lovely walking through the trees.  They had some games children used to play that Mike enjoyed trying.  I wish I had some pictures of him rolling a wooden wheel trying to knock an apple off a stick.  We then drove past Jurmala,  a well-known sea-side resort, and continued on to a deserted section of the Baltic coast.  We went for a nice walk through a pine forest to get to the sea.  We had a great time but this isn't what I wanted to tell you about the day.  Our three "guides" were all from Lithuania even though we are currently in Latvia.  Gabriel and his sister are Lithuanian but they are considered Polish because that is their family background.  They are all younger than Mike and I so when these countries gained their independence from the Soviet Union in 1991 they were probably still in school.  Getting their perspective on this independence was fascinating.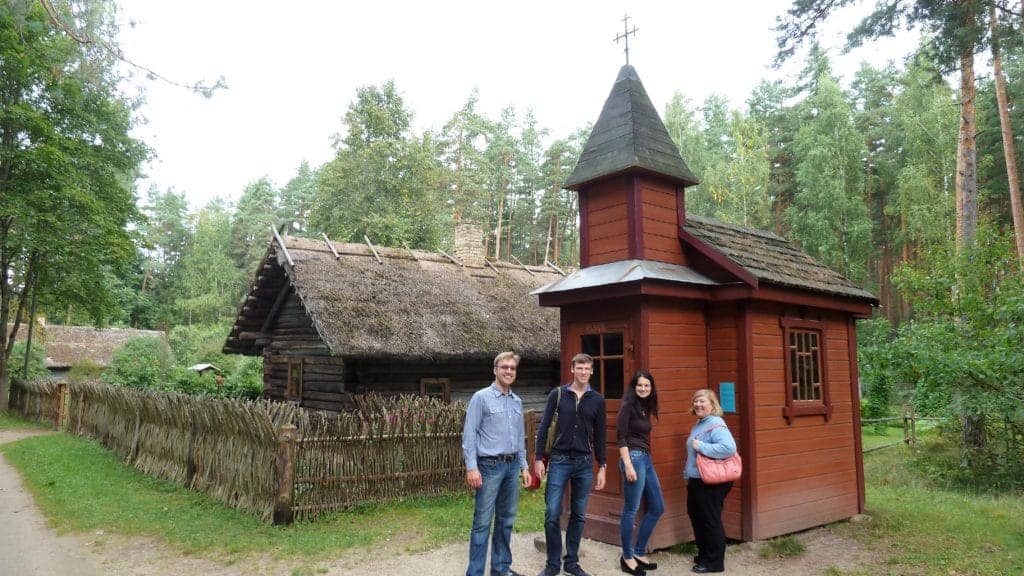 Under Soviet rule it was illegal not to have a job and if you didn't go to work one day you could find the police coming to the house and taking you to work.  The apartment that you lived in was built, paid for and owned by the Soviets so you had no rent.  Often, after you finished University you would be sent somewhere else for a job and training for a few years.  You were then free to travel anywhere in the Soviet Union assuming that you had work.  Who you knew was important even then.  Russia invested heavily in the infrastructure in the Baltic and built a nuclear generating station, manufacturing plants, roads, apartment buildings and much more.  With the limited population in these countries the chances of them having been able to afford to build a nuclear station on their own would have been impossible.  After independence, people all of a sudden had bills they had never had before.  They didn't have to go to work anymore but nor did they necessarily have work to go to.  Pensions paid by the government disappeared.  It was quite a mess and a lot of people are still not convinced that the old system wasn't a better system.  Of course there are two sides to everything.  If the Soviet didn't like your politics you were deported to Siberia and this happened to about 130,000 Lithuanians.  When Lithuania declared their independence or "Restoration of Independence" it had been recommended that all permanent residents be given citizenship.  This didn't happen.  Lithuania has a lot of "ethnic" residents.  Many of these were actually born in Lithuania or Latvia but their heritage was Russian or Polish or other ethnicities.  A lot of these families were sent over the course of many years from Russia to dilute the percentage of pure Lithuanians or Latvians in the population.  These people, many whom had voted for independence, were refused citizenship.   By 2011 a large percentage of them had eventually gained citizenship but 14% of the population (Latvia numbers) have not.  These are people who were born in Latvia possibly with a Polish or Russian background, they have no citizenship in any country in the world and cannot vote in Latvia even though they have lived here all their lives.  They were a large part of the success for the actual vote for independence and yet couldn't properly participate in the new country.  One comment, when the Russians pulled all their forces out of this area, the people living in the apartments were allowed to keep them with full ownership.  The manufacturing plants, the nuclear plant, and all the infrastructure was simply left behind for the local economy.  For many years unemployment was about 20%.  It is now down to 13% but that is still quite high, especially when you think that 25 years ago every single adult in the country had a job.
I thought these were interesting thoughts about communism and are somewhat different from the American point of view.   Here is one other comment from the internet on exactly the same thing occurring in Estonia.  "The switch (to a free market) was achieved at remarkable speed but at painful social cost, with a minority making fortunes from the transition while the majority eked out a living on meager wages.  Runaway inflation, soaring unemployment, plummeting purchasing power, bank collapses wiping out savings, and the end of basic but universal Soviet social welfare system…".  Something to think about.
Day 4
Well we picked up our motorhome today.  After a super day yesterday, today didn't go quite as well.  We had problems getting to the motorhome depot and I wasn't thrilled with the motorhome when we got there.  The furniture and the coverings aren't really clean – just age I think but it feels slightly uncomfortable.  There is no microwave or oven which has never happened before.  There is a 3 gas element stove and a fridge.  There are a few minor problems with the RV and there is the lack of a starter kit.  Nothing is major, it just all seems worse because it is a very wet day and Mike and I both have headaches.  I have had a few bad nights so I was falling asleep in the RV at the end of the day which isn't what you want to do when you are sightseeing.  The first campground was empty, we tried it anyway but the power was turned off.  When we got to the second one it was pouring out.  Poor Mike got drenched trying to hook up power and a few other things for the first time.  The site does look lovely though.  We are right on a big bay on the Baltic Sea.  If it wasn't so wet, arriving here at 7:00pm would have been great.  Hopefully tomorrow we can walk along the beach.  Tonight Mike doesn't know what to do with himself.  He will be in bed before 8 is my prediction.  Of course that says he will be up at an ungodly hour also.  Talk to you tomorrow.  I am sure we will both be in cheerier states of mind.
A few final bits of trivia, I think that there are slightly more people in the GTA than there are in Estonia, Latvia and Lithuania combined!   While food and apparently clothes all seem quite expensive the internet is dirt cheap.  They have internet offerings that I dearly wish we had in North America.  Next year when Mike and I take the 3 months to travel there is no mobile internet plan from any provider that will let us watch Netflix and other streaming programs from the RV.  Over here, for less than $32/month pay as you go I could get almost as much data as I get at home in a month on a two year contract.  It just cost us under $2 for a week's worth of normal internet, email etc.  If I didn't want access while we are driving in the RV we wouldn't need to pay anything.  There is free wi-fi almost everywhere.
Day 5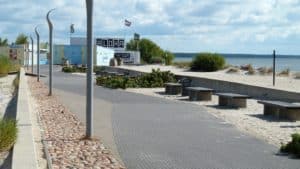 Well the day started to bright sunshine.  What a difference.  We had breakfast looking over the Baltic Sea and then went for a lovely walk on a deserted sandy beach.  We left this site and also Latvia and arrived for lunch in Parnu, Estonia.  This is Estonia's big seaside resort.  It was quite deserted today, which was the first day of school.  I gather that it was really buzzing just one week ago.  The photo was taken from our RV when we ate lunch next to a surfing school on the beach.  Surfing means windsurfing with some kite surfing thrown in.  Windmills are used a lot over here.  We went for a walk on the lovely wide boardwalk you see in the picture after lunch.   We next went into a shopping mall briefly to buy an Estonian internet card and to buy me foam padding for the mattress.  My hips were insisting on it.  Later on we drove to a well-known local island that we wanted to visit.  I started getting concerned that we were already going to run out of time and this island would probably take almost 2 days.  We decided to just wait and see what the ferry cost and what the schedule was.  Well we drove up to the ferry terminal, they asked for 12 Euros and said the boarding was almost finished and to hurry so we ended up on the island with no further discussion.
One of the homeowners near the main (only) city on the island has turned their large backyard into a campground where we are staying for tonight.  We went back into town and ate a traditional meal inside a windmill built in 1899.  We had wild boar stew and barley oatcakes. I thought that the comment below from the menu was really interesting.  "This windmill was in working order until 1941.  When the war began the sails were sawn off in order to avoid the enemies to use them for signaling.   It is known from the history that during World War I the French, using the sails, gave signals about the movement, direction and even about the number of enemies to their own troops."  I didn't know that.
Mike was introduced to a drink called Kvass in Latvia.  It is fermented from rye bread and has supposedly severely hurt Coca Cola sales locally.  This may be true but lots of places haven't had it in stock, much to Mike's disappointment.  We bought some for the RV.  We went to our first restaurant today in Estonia and found out that they have the same drink but here it is called Kila.  It could take a few days to find it when we get to Lithuania if they have a different name yet again.
If anyone wants to know where we are at the moment look for Estonia on a map, then find the island of Saaremaa and its only town Kuressaare.  You may have noticed that they like their double letters here.  Apparently Estonia is somewhat close to Finnish whereas Latvian and Lithuanian aren't close to anything else except maybe Sanskrit – believe it or not.  So far in Estonia we have seen signs that read STOPP, HOTELL and a few other words like that.