This is NOT our photo. It is one we found on the internet. None of the pictures in this article were taken by Mike or I. Every picture that we took of this lovely country has disappeared from my computer. You can imagine how that made us feel. And yes, I tried all sorts of recovery software and they are gone.
Mike and I were looking forward to spending one or two weeks in Luxembourg. It is a country that we had never been to and didn't know much about. We planned to cycle down the length of the entire country. Mike emailed a lovely campground right in Luxembourg city and told them how long we wanted to stay, our size etc. and asked if they had room for us. They said yes. When we turned up we were told that we had 5 days to explore the country as they were closing at 10am on the 6th day for the year. You would think that they could have told us this a little earlier. We did consider moving to another campground but instead we crammed everything into the 5 days.
Luxembourg is a very small land-locked country surrounded by Belgium, Germany and France. It is mainly rural with dense forests, rocky gorges and a large river valley. There is greenery everywhere. Luxembourg consistently ranks 2nd or 3rd in the world in wealth. The people we met where quick to tell us that Luxembourg is the wealthiest country in the European Union, per capita. Apparently the standard of living is quite high. Luxembourg also ranks among the top countries in the world for wine consumption even though their wine isn't as cheap as the wine is in France. The capital where we stayed, is a very interesting city to visit. The Grand rue shopping street has been called Grand rue since 1621. What a history.
In Luxembourg, all public transportation within its boundaries is free. This includes buses, trams, trains, funiculars and this elevator that takes you from the lower portion of town to the upper. It is an actual elevator up the cliff side that you can take your bicycles on. Luxembourg City, is famed for its fortified medieval old town perched on sheer cliffs. Mike took a few pictures of this elevator which were better than this one but, of course, our pictures are no more! The first thing that the campground told us when we arrived was that we should take the local bus and not our car into the city. They said that the city wasn't great to drive around in, and parking was expensive. We said that we planned on biking in. We saw lots of bus and cycle only lanes in town. Between free buses, expensive parking and bus only lanes and great cycle paths, Luxembourg really encourages public transportation and bicycles which are good for the environment and nice for the pedestrians as well.
We ate lunch at a Portuguese restaurant one day just around the corner from the elevator. Luxembourg has three official languages: Luxembourgish, French and German. Yes Luxembourgish is a real language even if neither Mike nor I had heard of it before this trip. I was asking the restaurant owner about the languages in Luxembourg. He had immigrated from Portugal and spoke English as well as we do. He came for three months, loved it and never left. He said that French is the most commonly spoken language, although due to the number of foreign companies and immigrants in Luxembourg, English is fairly common. Almost 40% of the Luxembourg population are immigrants. The majority of people coming to Luxembourg are from Portugal, which surprised us. We also heard that many people live in the city during the week and go home to another country on the weekend as Luxembourg has good tax breaks for corporate head offices.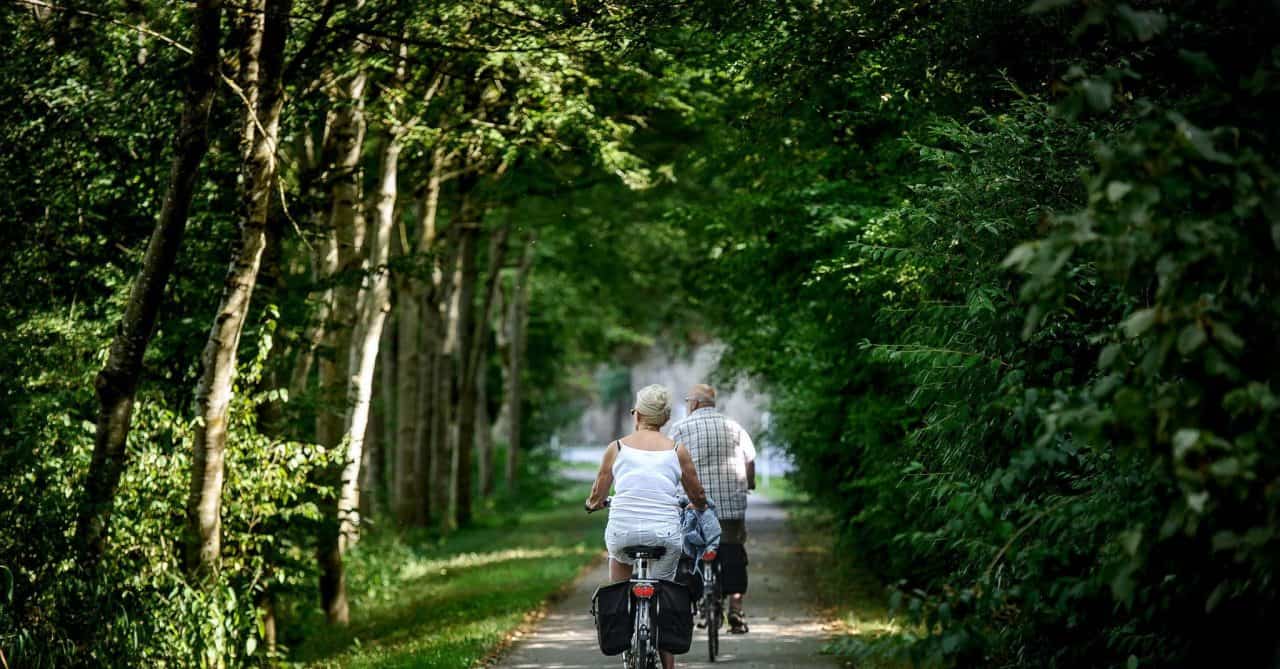 Pretend this is Mike riding through the trees. Our campground was really nicely situated to bike into the centre of Luxembourg. It was a 5km bike ride along bike paths beside roads or just over 10km on a path beside the river. Nearly all the marvellous bike paths throughout the country were paved and lovely. We took the river route most of the time. One day I stopped to take a couple of pictures of Mike riding along this paved route, under the trees, beside the River Alzette heading into town. Pretend this was the picture, it was taken in the same area.
As I said, Mike and I wanted to cycle from the north of Luxembourg through to the south. To do this quickly, we would take the train for 30 or 40 km, get off and bike back to the car. We had to use the train to help us move our bikes and continue the ride each day. On one ride, more than 30 km was on excellent paved bike paths in the woods, along rivers and fields. It was lovely. Drivers in Luxembourg are really great with cyclists. They don't pass you on the road unless the way is completely clear. Twice a bus stopped to let us cross the street even when we weren't at a crosswalk. This really surprised us. It reminded me of drivers in Newfoundland stopping to let me cross the street when I really didn't want to. I felt that I had to cross just to show my appreciation. We cycled from the south up to the centre of the country when we ran into a problem. The train going further north was replaced by a bus due to maintenance on the line. We didn't know if we could take our bikes on the bus and there was no time to try and do much smaller loops to continue our ride. I must say that Luxembourg is super for cyclists. They currently have more than 600 kilometres of cycling routes and 700 kilometres of mountain bike trails which Mike and I avoided. These paths are constantly growing. It was easy and felt safe, not only exploring the countryside but also the capital city.
On one of our bike rides north of the city we encountered a Google Street View car. We don't think that we were caught on camera but we will certainly have a look in the future.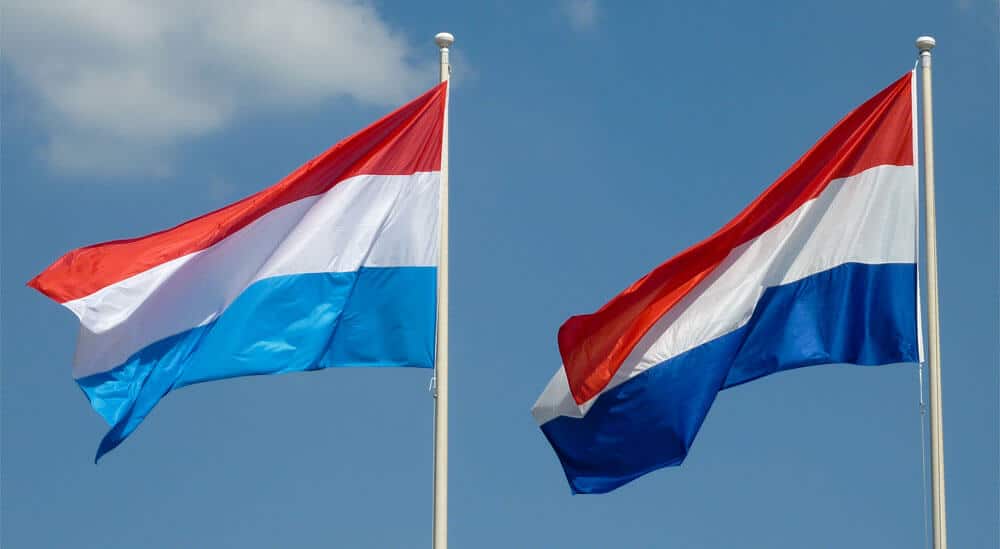 You are looking at the flags from two different countries, Luxembourg and the Netherlands. Side by side, with two new flags, you can see some slight difference. If you only see one flag and if that flag has been out in the sun for a while who knows what country it represents. The Luxembourg flag is actually a little longer than the Netherlands flag and the red and blue are slightly paler. The red, white, and light blue colours were derived from the coat of arms of the House of Luxembourg.
Luxembourg tried to remain neutral during both World Wars but the Germans ignored their neutrality and still invaded and occupied the country in both wars. This may have helped Luxembourg becoming a founding member in both the EU and the Schengen Zone. For those that don't spend much time in Europe, the Schengen Zone comprises the 26 European countries that have abolished passport and any other type of border control and allow you to travel freely. EU citizens can spend an unlimited amount of time in any of the countries in the Schengen Zone. Citizens of other countries, such as Canada, the US and now the UK, can only spend 90 days out of every 180 days in the Schengen Zone. Since Brexit, this has caused a problem for the British who winter in Spain every year. Mike and I are lucky that he has a Dutch passport, as well as a Canadian passport. That allows us to spend more time here. My British passport helped for the first year but now does me no good at all. Interestingly Schengen is the name of the small town in southeast Luxembourg near where Luxembourg, France and Germany all meet. The treaty was signed on a river-boat near Schengen.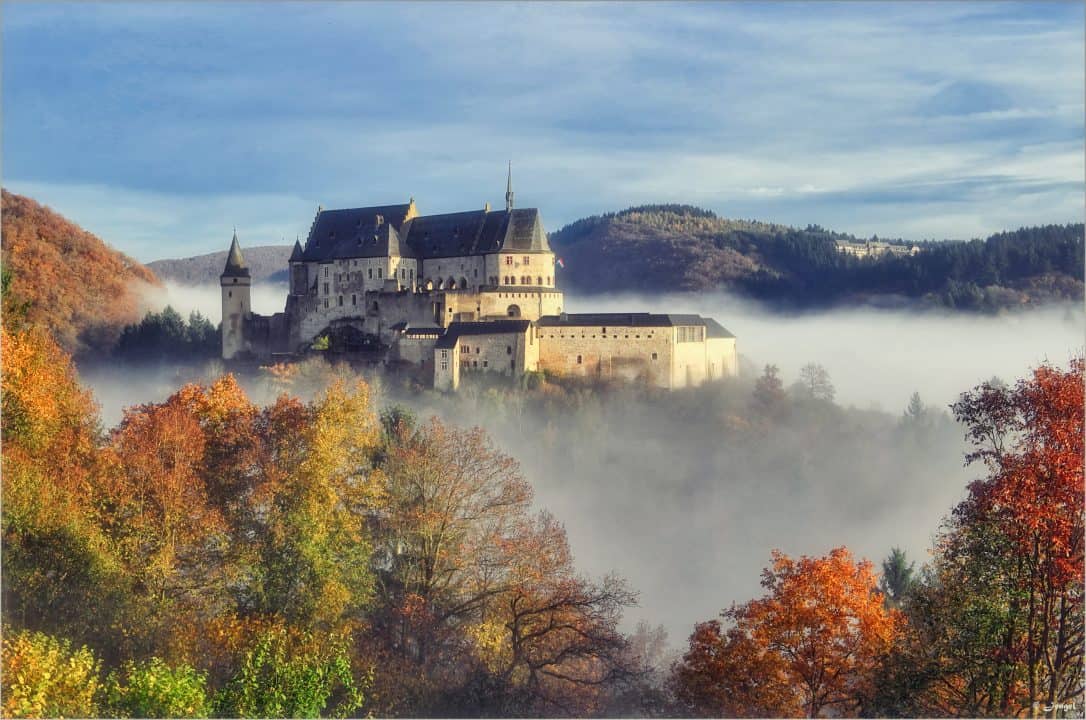 Mike and I didn't just explore Luxembourg City, we also visited some of the smaller towns and drove through the countryside. Vianden is a town on the Our River. It is known for its hilltop castle, the Chateau Vianden, that you can see above. My guess is that our pictures of Vianden weren't quite as good as this one. CNN elected this chateau as one of the most beautiful castles in the world. There was a chairlift in Vianden that climbed above Our Valley. We didn't ride on this chairlift. The day we toured Vianden the weather was low overcast with drizzle which suited Mike who doesn't like chairlifts anyway.
Another town we visited was Echternach shown below. It is said to be the oldest town in Luxembourg. As we were driving between Vianden and Echternach Mike all of a sudden asked "Are we in Germany?". He had seen a line on his GPS that he thought might be a country border – and it was. How different from our travels 40 years ago with our large paper maps and our passports. At least in those days you knew what country you were in!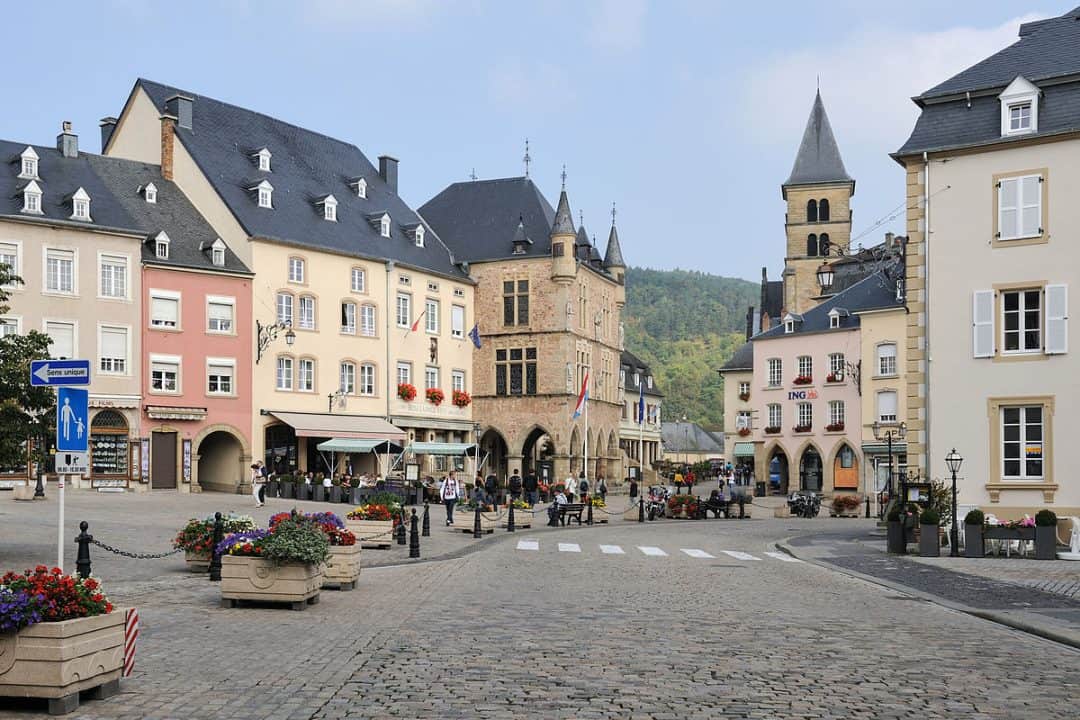 Mike kept saying that Luxembourg was too little to be a country so I did some digging. Here are a few dry statistics.
Population: 632,000 for the country including 100,000 in the capital city
Area: 2,586 km² (999 sq mile)
Length: 82 km (as the crow flies, a lot longer on bike paths and river routes)
Width: 57 km
Total length of borders: 356 km
To make these numbers more meaningful to all of us: for Canadians Luxembourg is ½ as big as Prince Edward Island or about ¼ the size of Cape Breton Island. You could fit the country of Luxembourg 12 times into the island of Vancouver and still have room left over. For my American friends, Rhode Island is 25% larger than Luxembourg and Oahu Island is 50% larger.
Scotland has announced that they want an independence referendum next year. Many people say that Scotland is too small to be a country. It is physically 30 times the size of Luxembourg and has more than 8 ½ times the population. Don't forget that the people of Luxembourg enjoy a very high living standard in one of the richest countries per capita in the world.
Other people obviously wonder about the size and viability of Luxembourg as a country. It has been invaded and occupied by various other countries over the centuries. This makes its official motto very interesting "Mir wëlle bleiwe wat mir sinn" which means "We will remain what we are".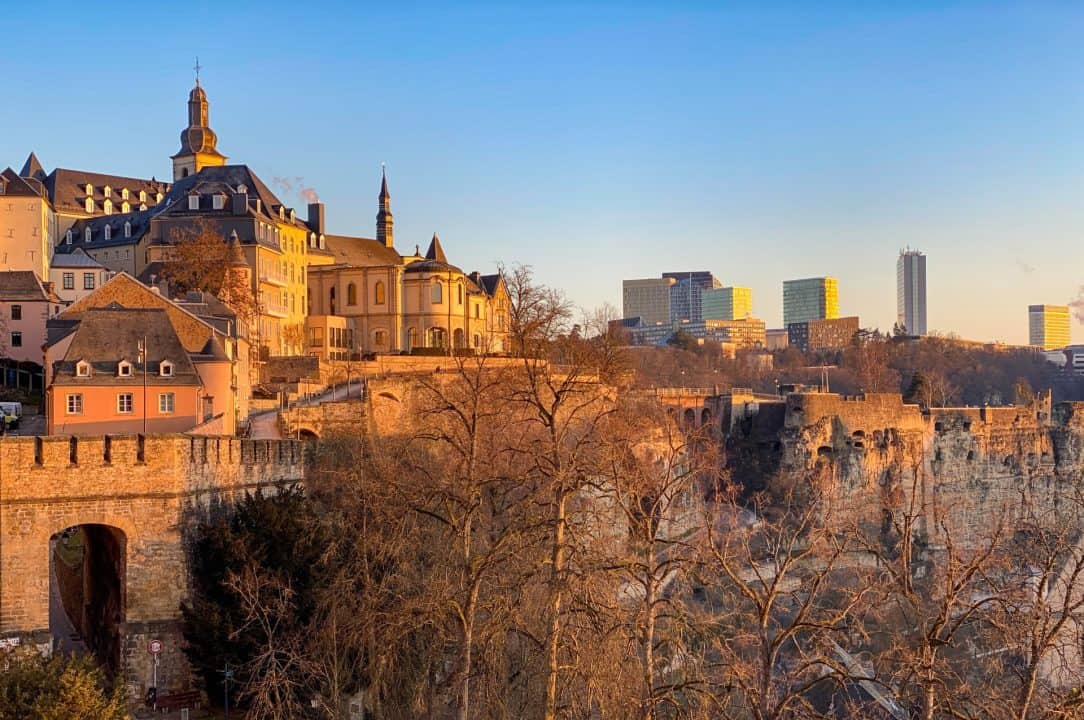 I mentioned earlier that Luxembourg was one of the founding members of the European Union. Luxembourg hosts a high number of EU institutions such as the Secretariat of the European Parliament and the Court of Justice of the EU. Many of these buildings are in what is known as the "European Section" of Luxembourg. If you look at the picture, you can see the modern, tall buildings to the right. This is the European Section in the upper part of Luxembourg. Mike and I enjoyed our time in Luxembourg and really wished we had had more time to spend there.
I want to wrap up by telling you about something that has nothing to do specifically with Luxembourg, it just happened to occur there. Given the weather forecasts, Mike and I knew that we might be getting a little wet on some of our bike rides. On one ride back to the camper from town we got caught in a light rain. When we arrived back at the camper I got off my bike and it decided to take off on its own. I was still holding on to the left handlebar and instantly applied the front brake, which is supposed to stop the motor. It didn't. My back wheel starting climbing the RV steps and the front tire was rolling up the side of the RV, all while I was hanging on to one handlebar for dear life. Mike came and grabbed the handle bars all the while the back tire is still spinning and the bike is trying to get away up the RV. In the meantime, I let go and managed to remove the key from the bike which shut off the motor. I am sure that this would have looked unbelievable and probably hilarious to anyone watching. After this, I was a bit leery about riding in the rain again. I don't think the controller on my ebike likes getting wet. We already knew that Mike's controller didn't like getting wet as his bike had tried to take off when he was riding in the rain on a previous occasion. However on that occasion applying the brakes had stopped the motor. Once they were dry both our ebikes performed normally again. Now that it is all over, I really wish we had a picture of this bicycle climbing up the steps and wall of our RV.
Note: After looking at this article and the pictures, Mike wants to know why we bother taking our own photos.