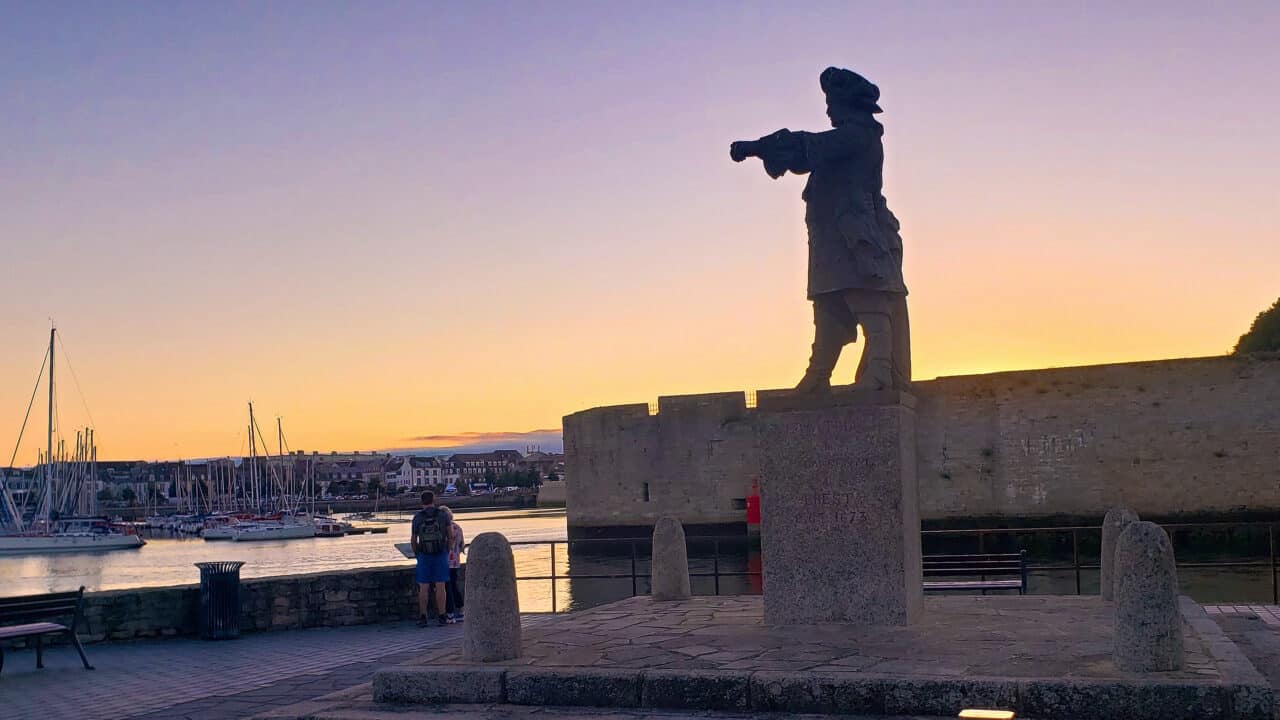 Mike and I camped in Nantes for two weeks. We might have stayed longer if the campground hadn't been fully booked. Nantes is the region's capital city and we were camped only 4 km from the historic centre. This is so much better than camping in Canada. As far as I know there are ZERO campgrounds in Toronto and not much more than that in the entire Greater Toronto Area. Europe is so much better set up for campers wanting to visit different cities.
Much as we would have liked to have spent a few more days in Nantes I wasn't upset about leaving the campground. Don't get me wrong, the campground itself was fine but it was a little crowded. The BMX world championships were taking place just a couple of kilometres from the campground. The competitions ranged from children starting at 9 years old, up to "normal" adults and then up to the actual world champions who come equipped with full support teams. Mike and I spent one day watching the 9 – 13 year old girls and boys competing. If we could have stayed a few days longer we would have enjoyed going to see the world champions compete. The campground was full of adults and children competing in these races. There were too many people and way too many kids zipping around on bikes and scooters for us. I should say that it is was fun to go to an event that we had never watched before.
We managed to complete our bike ride along the Loire Valley from Orleans to Nantes and then biked north to Rennes where we will continue our ride to the English Channel at a later date.
We left Nantes for the medieval city of Concarneau on the Bay of Biscay in the Atlantic Ocean. In French the historic centre is known as "Ville Close de Concarneau" which translates to the "walled city of Concarneau". It appears that the English took some liberties with the translation and the town is now known as the "Closed City" presumably from "Ville Close". Actually the name fits because the walled city is built on an island or more appropriately an islet. The entire islet is surrounded by big walls and ramparts and is attached to the mainland by a fortified bridge. The city was built in the 15th and 16th centuries. Again our campground was only about 2 km from Concarneau and less if we took the little ferry. They called the ferry the world's smallest cruise with cruise being a bit of an exaggeration. Toronto claims the title (probably in error) for having the world's shortest ferry and I will admit that this one in Concarneau wasn't much longer. In the courtyard when you entered the gates on the island they had a lovely quartet playing music which added to the atmosphere.
The picture at the top was taken on an easy evening stroll along the coast from our campsite to old town of Concarneau. You can see the "modern" city on the left.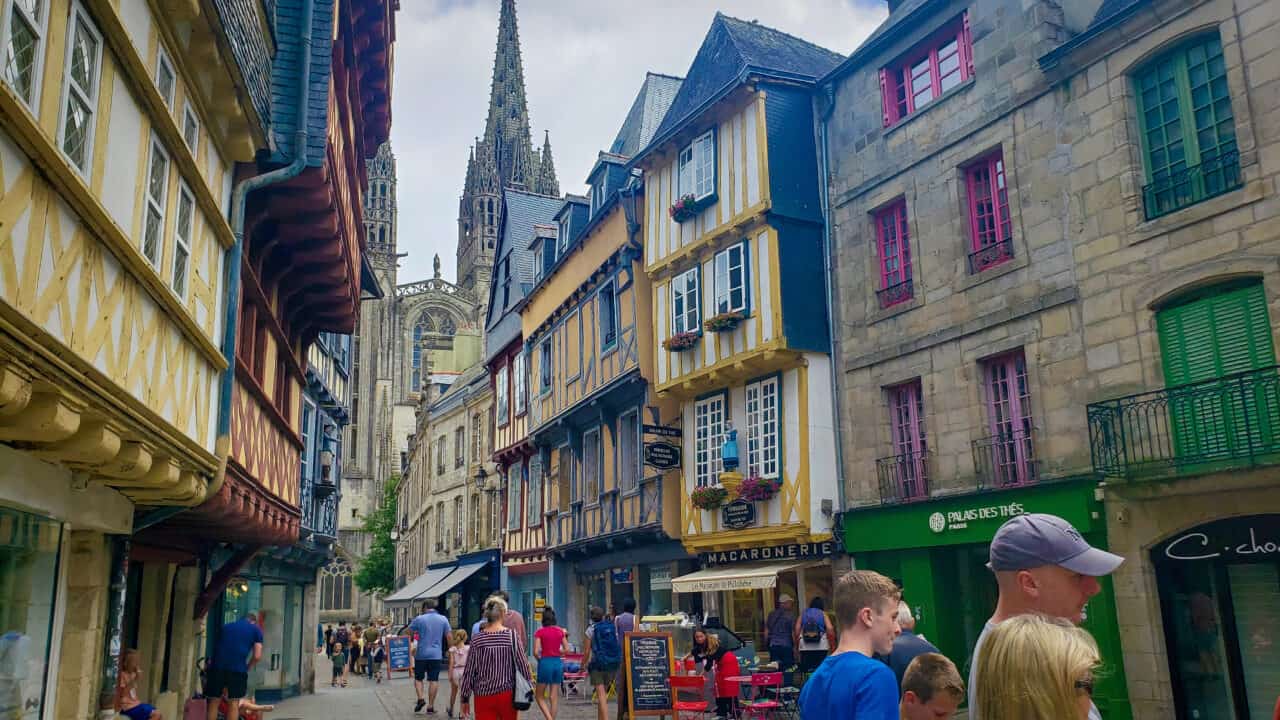 We spent six days in Concarneau and a lot of that was visiting some of the very interesting places in Brittany that had been recommended. The town of Quimper was particularly lovely. A river and three tributaries meet in the town. It has a very large pedestrian area which Mike and I always enjoy. There are lots and lots of small pedestrian bridges crossing the water and each has flowers all along both sides. It makes for a very picturesque scene.
Quimper ranked as the second best city in France for living in. Their cathedral is really lovely but the other buildings are all so close around it that you can't get a good picture. As is true almost everywhere in the world, you can't fly drones for fun over large groups of people and therefore can't take a picture from above. Wandering around this lovely city filled with interesting half-timber houses with flowers and water everywhere was a great way to spend an afternoon. As a bonus, for once we arrived early enough to have lunch before all the restaurants closed up on us.
Locronon was another lovely medieval village that was recommended to us. It was well worth a visit. Locronon had an interesting carousel (we have told you that they are everywhere in France). It was "powered" by a woman riding a bicycle while playing a frame drum.

If you are looking up a French city in Wikipedia it turns out that you should use fr.wikipedia.org/wiki/ instead of en.wikipedia.org/wiki/ . Your browser will hopefully translate the French language. I had always thought that the different versions of Wikipedia were simply translations of one another. This isn't true. When you look up a town in France there is often a lot more information in the French version than in the English version. This is probably true for every country. Also, a lot of "local" websites, including campgrounds, that offer their content in multiple languages don't always present the same content. In France you may have a lot of details and links in French and only one overview paragraph in English. Thanks to Google Translate you can easily read the local version.
I laughed when I saw a very large advertisement for "SUMMER KEMP". I guess they couldn't decide if their audience was going to be the English or the French.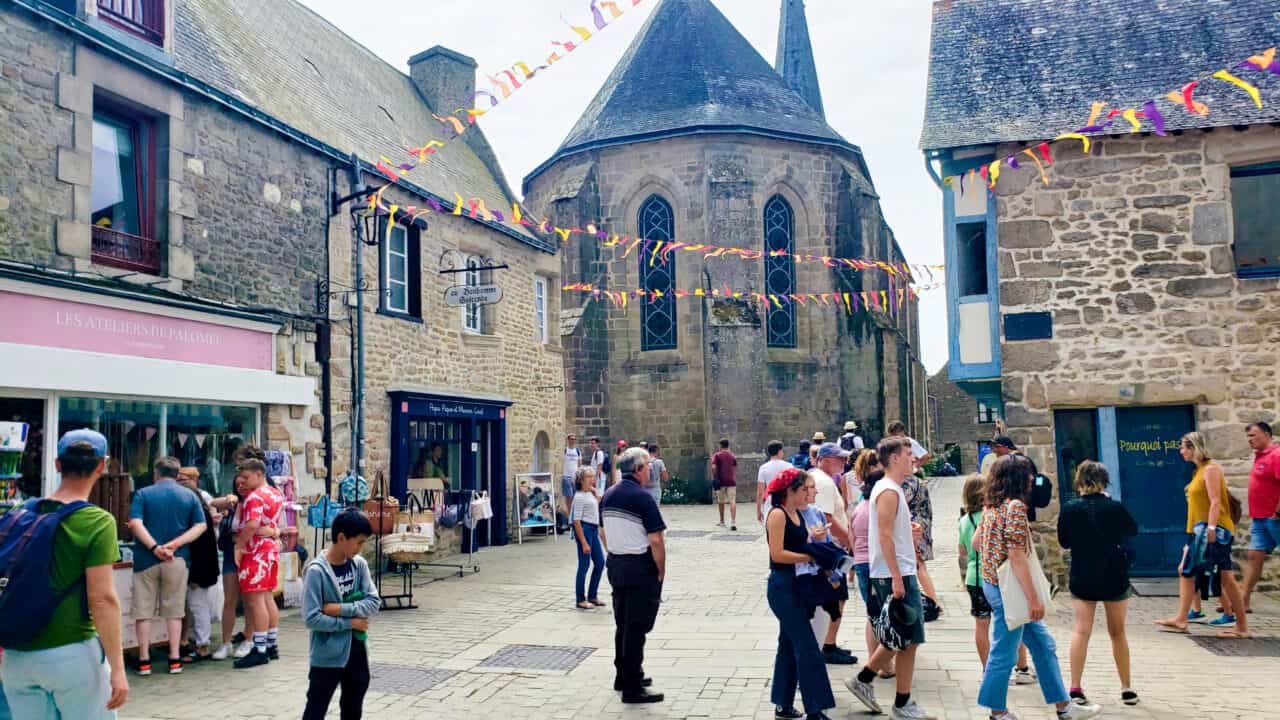 We visited another town selected because we had access to a self-guided audio tour (IZI Travel) of the town. Guerande was really nice but you won't find any medieval homes there. In the 17th century the rich merchants of Guerande decided that they wanted more luxurious homes in the style of the day. To build these they destroyed all the medieval homes. The town was very touristy but still very nice.
One day Mike and I drove to Brest, a city in the NW corner of France on the Atlantic Ocean. As we got close to the city we saw a very large tanker called Tulip. Who would name a ship that size Tulip? Much of it was painted a light green. Mike thought that maybe it was intended to be the shade of tulip leaves.
Brest is a city that revolves around the water and has a large naval base and naval academy. Before WWII the French were building submarines at Brest. When the Germans invaded, the French destroyed anything they thought would help the Germans including bridges and four submarines that were partially built. When the Germans took over Brest, they built their own submarine bunker that would eventually contain 22 U-boat pens with a roof that was 20 feet thick. Brest was bombed 165 times during WWII and the old city was completely demolished. The submarine base was bombed at least 80 times. It wasn't until 1944 that any bombs penetrated the thick roof and even then very little damage was done.
When you think about the allies bombing this area because the Germans had taken over, it makes you think about what is happening in Ukraine. The Ukrainians themselves are having to destroy some of their own historical buildings and areas that the Russians have occupied. Since they aren't "allowed" to use their bombs and weapons outside of Ukraine they have to attack the Russians where they can get to them. All that beautiful history destroyed.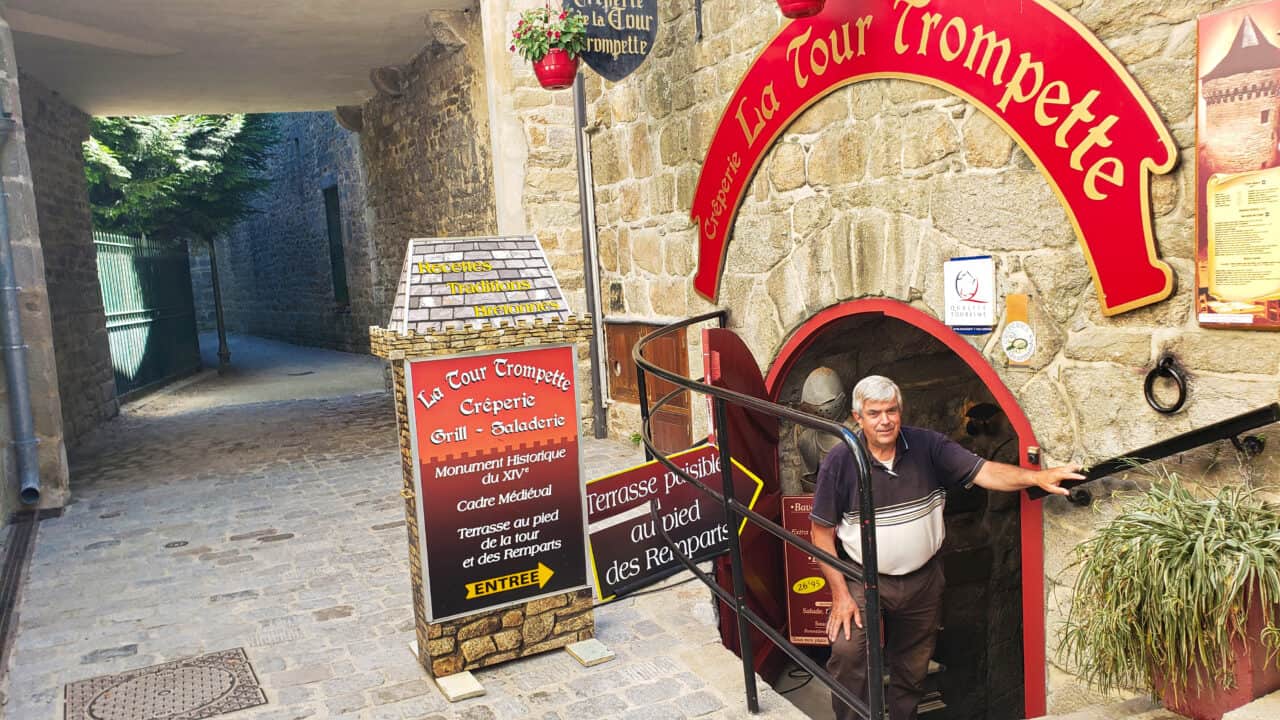 Last but not least we visited the town of Vannes. It is an old town, enclosed within its ramparts, grouped around the Saint-Pierre cathedral. The entire area has been converted into a pedestrian zone. Lots of shops are located in the half-timbered houses that we find quite interesting to see.
This picture is a restaurant that Mike and I ate lunch in. It is located in La Tour Trompette or the Trumpet Tower which was built in the 14th century. Obviously many renovations have been done but the basic structure remains. The role of the "trumpeter" of the city was to sound the invasions.
Mike and I are now leaving the Atlantic coast and the Bay of Biscay and heading inland to Rennes, the capital of Brittany. We have found a campground in a very large park in the NW corner of the city. Again, we have very easy access on our bikes down to the historic centre of town. We saw Rennes very briefly a couple of weeks ago when we cycled there and were too tired to do any exploring. We decided at that time that we had to come back and see it properly. This is our chance to do that. We also hope to continue our cycle trail from Rennes north to the English Channel and possibly visit some of the towns on the coast. I don't know if we will do our coastal explorations from Rennes or from a campground on the coast. We will see. As per usual our plans are somewhat fluid.
Happy August to everyone.